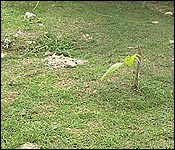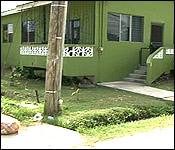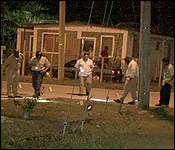 A city man was gunned down and killed last night on Western Avenue. We had told you about the shooting in last night's news but today we have more details. Courtney Weatherburne went to find out more about this latest Southside
homicide.
Courtney Weatherburne, reporting
It's beside this sprouting palm tree that 21 year old Jason Cortez struggled to stay alive.
Cortez was walking on Western Avenue last night when a man shot him several times. Cortez ran off after he was hit but he didn't get too far. He collapsed in this yard at corner of Western and Electric Avenue.
Inspector Fitzroy Yearwood, Police Press Officer
"Unfortunately he got most of it to his body, the chest, the abdomen area, back, he was rushed to the KHMH and succumbed while undergoing treatment."
Reports are that the gunman followed Cortez as he walked down Western Avenue. Now Neither Police nor his family know where he was heading. His sister says Cortez didn't say anything when he went off yesterday evening. But not too long after, they got the terrible news.
Deborah Cortez, Sister
"He came by my mother's house about after 5. He spends about 15-29 minutes the most, then he jumped on his bike and then he went. As the minute he went around the lane, we got the news that he was on the street lay out."
"I knew that he knew his killer and I know that he saw who did it, but if God could have only give him one more second, he would have told us that this and this happened. I can say that he has his up and down with the law, everybody. No one is perfect, no one is special, but whoever did this didn't have had to do it that way. At least shoot him on his foot or somewhere he could serve time - give him another chance, but don't kill him like a dog."
At this point, Police can't confirm what the motive is but they have detained one person this murder case.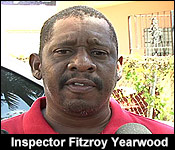 Inspector Fitzroy Yearwood, Police Press Officer
"We are definitely looking at various possibilities and various angles."
As we told you, one person has been detained. Cortez had just turned 21 last year December. Just to note, 25 year old Alrick August was also shot on Western Avenue last week on the 8th. But he survived the attack. We will continue following this case