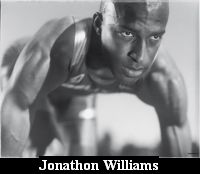 There is triumph and trouble to report tonight from the Beijing Olympics. First- to the triumph where earlier today 24 year old Jonathan Williams, who wasn't born in Belize but is of Belizean parentage and is running for Belize, advanced to round two of the 400 meter hurdle. He made history because no other Belizean running for this country has ever advanced at the Olympics. Jonathan finished in a time of 49.61 seconds which beat his old personal best of 50.51 seconds. That however only placed him fourth, behind the United States, South Africa, and Brazil. Still, fourth place guaranteed him a spot in the semi-finals for the 400 meter hurdle tomorrow night. Again he made history and we spoke to him via phone from the Olympic village in Beijing this afternoon. It was just after dawn in Beijing but he seemed like he was still excited.
Jonathon Williams, Advancing to Round 2
"It was a good race for me. I had to pretty much deal with the cards that I was dealt. I was in lane 8 so I had to get out pretty hard and just try to finish as close to qualification as possible. I had a little bit of trouble before hurdle 10 but I just stayed with it and I actually dove to the line. I actually got in with a dive but it was a pretty good race."
Keith Swift,
How does it feel to know that you made history?
Jonathon Williams,
"It feels pretty good. Like I said, when I first started running for Belize I told Miss Flowers that I want to put Belize on the map somehow and now that I've done that, it is now getting closer and closer, making Belize known for more than just the vacation spot, that also we have some good athletes."
Keith Swift,
In a few hours you will be racing in the next round, how do you feel going into that?
Jonathon Williams,
"I feel pretty good. I am a little banged up from the fall but I feel pretty good. I feel I got a better lane, I know the mistakes I made last night and I can just go out and correct them tonight and just hopefully I make it to the finals."
Keith Swift,
How does it feel doing this for Belize, a country you weren't even born in?
Jonathon Williams,
"Even though I wasn't born in Belize my whole family is Belizean and I love and cherish them so I represented them, I represented me, and it was a good feeling. It was good to put our country on the big stage and being able to compete with the Jamaicas and the USAs and so it felt good to represent such a small but great group of people."
Again Jonathon Williams has little time to celebrate. We spoke to him at 4 pm Belize time, which was 6 am in Beijing. He will race in the 400 meter hurdle semi-finals at 9 pm Beijing time which will be early tomorrow morning Belize time. Jonathon has been running for Belize for two years. He was born and lives in Los Angeles where he is a counselor at UCLA. His parents are from Belize City.