Coast Guard Officer Arzu Shot In The Head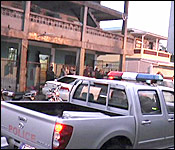 There was a shooting in Belize City which has landed one man in the hospital tonight. The victim has been identified by his family to us as Daniel Arzu, a Coast Guard Officer.
The incident happened in the vicinity of Penn Road. According to the sister-in-law of the victim, who preferred to remain anonymous recounted what transpired in what she says was a fraction of a minute:
VOICE OF: Sister-in-law
"My brother and I, who was a coast guard, we were in the house. I was on the chair watching a movie and my brother was sleeping when I heard my brother in law vehicle came, I knew the sound of it because he stays here. When he was coming inside I saw his face turn towards the door because he was talking to somebody but I thought it was the guy who comes to collect rent but it wasn't him. When I looked up I saw a tall dark skin man come in the house but I didn't see his face because I saw him point a gun down. When he point the gun, I saw my brother trample back way to get a stance back and I horridly woke up my other brother who was in the chair. That was when I heard the shots start to go off in the house, so we ran in the bathroom and we locked the door but we still heard shots being fired. The same time I was trying to call control but I started to panic so then I heard somebody knocking on the bathroom door. It was my cousin who is police and lived next door. He asked me what was happening and I said 'somebody just came in shooting in the house and shot my brother in law'. When I came outside I saw my brother in law leaning over the chair with his head up and I could see stuff like shots in his head. I ran outside when the rest of police came over and they stopped a pick up that was passing so they could hurry take him to the hospital."
Reporter
"Do you recall more or less how many shots were fired?"
VOICE OF: Sister-in-law
"Like maybe 3 or 4."
Reporter
"Did you manage to see what kind of weapon the person came in with?"
VOICE OF: Sister-in-law
"No, all I know is that it was a gun, I didn't know what kind it was. I just saw it and broke away because the way how I was, I could have easily gotten shot as well."
We will have a much more detailed story on our subsequent newscast.

Capital City Business Man Claims MIT Extortion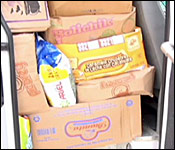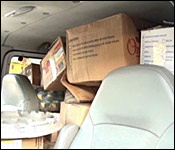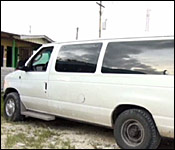 Residents of Belmopan may know businessman Raul Acevedo. He's an importer who travels to Mexico regularly to import various items for sale. Right now, he currently moves 500 kinds of goods over the border at different intervals. He claims that he was returning this weekend, from one such trip with his wife, when he was intercepted by officers of the Mobile Interdiction Team. He had already cleared customs in Corozal and paid duty, but he did have one undeclared box of perfumes. And that's what got him in trouble with the MIT - except he says they weren't looking for a customs offense, he claims they wanted a bribe.
He says that after hours in detention, they they played on the fear of his wife, who didn't want to go to jail for contraband, who convinced him that they would let him go if he paid them $2,000. He admits that he eventually did pay it in 16 thousand Mexican pesos, but that's after he knocked down the price; they originally wanted $5,000 dollars.
So, here's Acevedo account of how it happened. He said that after finishing business on Friday, they stayed a little longer to watch a movie. They passed the Corozal Border at around 6 p.m., and after some 3 hours of driving, he passed the Hattieville Boom road. He says that at around mile 25 on the George Price Highway, he was intercepted by the MIT vehicle. they stripped down the vehicle and found the unaccustomed goods - and the officers then took him from the mile 25 area to their headquarters on the Police Training Academy Compound in Belmopan.
That's where, according to him, they convinced him that they had already reported him to the Customs Department, and they were threatening to lay an additional criminal charge on him. They allegedly offered to forego the charge if he agreed to pay them. Yesterday, he gave his account of the persistence of the officers who were allegedly determined to extort him: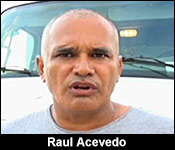 Raul Acevedo, Claims MIT extortion
"I just told them what kind of problem I have and they said I have contraband, I have this and that and if I wanted to come out of that I'd have to come up. I asked 'well how do you mean come up?' and they said 'well you have to come up with some cash'. Then they said if I gave them $5,000 I can get through with the journey I'm going on. I told them 'well listen I don't have that kind of money and I can't pay it because I have nothing illegal in my van'. They told me 'well you have to face the consequences' and I said 'okay then we'll have to do that'. so my wife started to get scared and asked me to arrange something with them so I went back to them and said 'listen what's going on?', they said if I don't come up with that money in 15 minutes, they'll just take me station or call customs. They told me that I have 2 charges, one for having illegal stuff and one with them for committing a crime. I said 'okay well what's the crime?' and they said 'there's an additional charge for that crime'. they said I committed a crime and they can charge me, so to prevent that charge id have to give them $2000 and they'll release me to customs. I told them 'but I didn't commit any crime' and they said 'well that's it we'll have to charge you'. they said they were going to put charges so my wife got a little scared and told me to hand them over but I told them 'I have no Belize money on me'. They told me I had because they had already searched me and I had over 150 thousand pesos in my possession, roughly about $14000 in my pocket. They told me that they don't mind taking pesos and I said 'alright I will do the figures and I'll give you 16,000 pesos'. I gave them 16,000 pesos which was equivalent to $2,000 BZD. I gave them that and they told me they would not press charges on me because I had an additional charge when I committed no kind of offence, no crime but I still did give it to them because my wife was kind of scared. we have 4 kids at home that we have to take care of so my wife told me she obligated me to do so, I never wanted to do it but my wife said it because she was scared at the time and they hand cuffed both of us."
We did verify with the Customs Department that they were called in to assess the unaccustomed goods which was negligible.
Today, we contacted a member of the Mobile Interdiction Team who completely refuted Acevedo's story. That officer told us, quote, "It is a false accusation."
Acevedo assures us that he will file official reports with police internal affairs, and with the Customs Department to get it on their record. He added that he will also seek the advice of an attorney.

Accused Rogue Cop Vindicated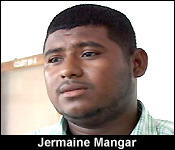 You may remember Police Constable Jermaine Mangar as the cop who was accused by his police bosses of masterminding a crime ring which was suspected of conducting a series of high-profile robberies back in 2010. A few months later, he was freed of the first charge, which was being used to connect him to that case, and today, he was finally able to leave court for the last time after the DPP's Office withdrew the second charge.
You'll remember it as the case where the cops supposedly caught him in the act supposedly after setting a sting. He allegedly planned a robbery of Chon Saan Restaurant, after the police foiled that crime, they turned one of the alleged accomplices into an informant who reportedly lured Mangar out to an arrest. The cops say that they instructed the accomplice to get Mangar to expose himself. He supposedly did this by phoning this mastermind, and telling him that the proceeds of the robbery, which didn't happen, was being shared out, and he was to come get his cut.
So, Mangar has been quietly attending all court adjournments for over 5 years, and today, when he showed up before Justice Troadio Gonzalez, the crown counsel from the Office of the Director of Public Prosecutions told the court that they had decided to withdraw the charge of conspiracy to commit robbery against him.
It's an embarrassing end to a case in which no less than the then Police Commissioner, Crispin Jeffries, and Prime Minister Dean Barrow, confidently asserted that the police had exposed and foiled the operations of a ring of crooked cops. Right after the hearing, Mangar's attorney, Dickie Bradley, granted us an interview to discuss why he believes the DPP's Office had no choice but to discontinue their prosecution against his client:
Richard "Dickie" Bradley, Attorney for Jermaine Mangar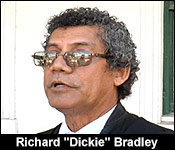 "Many years ago there was a major press conference in which even the prime minister was involved in saying to the nation they have in fact been able to bust a ring of rogue police officers. Nobody has ever been successfully prosecuted. All those officers have had their names scandalized, slandered, defamed and now finally after all these years the last one is saying 'we don't have any case against you'. Jermaine Mangar is a police officer, he's an interdiction for the past 4-5 years because it was alleged that he was a principal in a case of burglary/robbery involving going to Chon Saan Restaurant in Belize City which he didn't do. The person that went there was on camera and this would have been an interesting case up until this morning. I was saying to the crown council 'you know Belize half way with entrapment, in American life you trap somebody if you entrap them', set them up if you would say, the court will throw it out. Jermaine Mangar and another person were accused of committing these offences in which something was stolen from somebody and there was some attempt to go in to Chon Saan Palace to rob them, hold them up and go and do surveillance there. He was set up and someone called him on the phone to say 'I have something to do if you come here'. When he went there he was surrounded by police, he is then at gun point taken in and charged. That is the evidence against the man, there is nothing they caught him red handed. The person who was assisting the police to trick and trap this man is in fact a carrier criminal. He's a serving police officer, they will have to pay him for all those years that he has not been on his job and his name has been dragged through the mud when this first thing happened. So basically what transpired after coming to court all these years for a simple matter, the prosecution informed the trial judge, Justice John Gonzales that they will not be proceeding with that matter. So he has been told it had ben Nolle pros and he's free to leave the court."
Daniel Ortiz, 7News
"While a Nolle pros is in effect, freeing you client of his charges not exactly a full vindication which would have been to be found not guilty?"
Richard "Dickie" Bradley, Attorney for Jermaine Mangar
"Yes but at the end of the day they could not proceed to trial after years and years."
Daniel Ortiz, 7News
"Sir is your client intending to proceed with maybe defamation suits?"
Richard "Dickie" Bradley, Attorney for Jermaine Mangar
"Most certainly yes."
With the outcome of this case, the police department owes Mangar 6 years and about 6 and a half years of back pay, 6 years increment and salary increases. He had been on interdiction with half pay for the entire duration of this court case. He also confirm to us that indeed his will be bringing a lawsuit for the ordeal he endured. He added, quote, "(I) can't wait to continue serve my country and my people." End quote.

Promising Bravo Technician Dies In Motorcycle Accident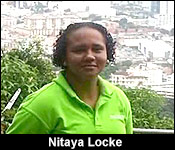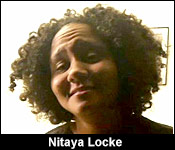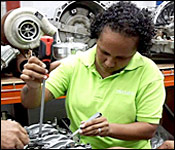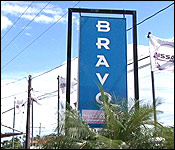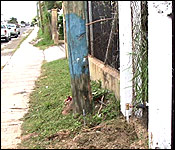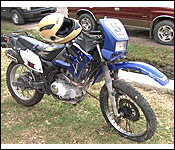 Tonight a family from Fresh Pond in the Belize Rural area is mourning the loss of their loved-one who died from a motorcycle accident. The victim is 26 year-old Nitaya Locke, who was recently living in Lords Bank Village, and according to friends of the deceased, the accident happened between 11:30 p.m. and 12 midnight on Friday, October 21.
Locke was heading home on her cycle when she crashed in front of the Triple A Security Firm's office, which is located at Miles 2 and a half on the Phillip Goldson Highway.
Today, our news team visited with her family and friends to find out what went terribly wrong. Courtney Weatherburne has that story:
Courtney Weatherburne reporting
Nitaya Locke had been working at Bravo Motors since April. She was the first certified female Junior Technician and she definitely left an impression.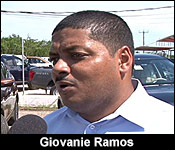 Giovanie Ramos, Service Manager, Bravo Motors
"She always wanted to learn something new, in fact she took on the challenge. She actually came into my office about a week before saying 'you know what Mr. Ramos, we can't have only 2 guys doing installations'. She took the challenge and learnt it in a couple days. That was what caught my attention quite often, her willingness to step outside her comfort zone and do more than we expected her to do. The first time she walked in to do her interview I was skeptical, I was saying 'how can this young lady hold her own' and of course she put that to rest quite quickly. She came in and blew everybody out the water."
And it is at this work station that Locke did her best work. She was repairing the transfer case on this vehicle on Friday, one of her many tasks. But now her colleagues will have to finish the job for her. That's because Locke died in a motorcycle accident on the Phillip Goldson Highway.
Reports are that Locke was hanging out with her sister and some friends at the Pickwick Club on Friday night. But she left around 11:00 and as she was riding on her motorbike along the Northern Highway, she slammed into this post in front of Triple A.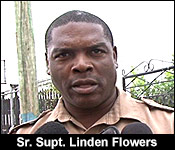 Sr. Supt. Linden Flowers, OC, Police Precinct 4
"The investigation is still ongoing and it has revealed that Ms. Nitaya Locke of a Lord's Bank address was travelling from the direction of Belize City towards Ladyville when she lost control of the motorcycle which caused her fatal injuries."
Courtney Weatherburne, 7News
"We understand she didn't have on a helmet."
Sr. Supt. Linden Flowers, OC, Police Precinct 4
"Yes she did not have the helmet on however the helmet was attached to the motorcycle. I am at the scene and I asked the officers who were on the scene if they had seen anything that indicate any skid marks or any collision with any other vehicle and those were inconclusive and no I do not see any skid marks."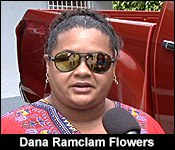 Dana Ramclam Flowers, Service Advisor
"I am still on shock because I don't believe it. Friday we saw her, we were teasing her, to just wake up Saturday morning to a news like that. It was really shocking, I had to text our service team and whatsapp to ask if anybody heard of her. It was then that everybody confirmed that happened."
But Locke's mom is still trying to figure out what exactly happed because she says she is not convinced of the reports she got.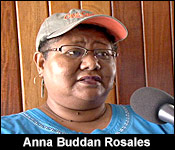 Anna Buddan Rosales, Mother
"They said she was not riding with her helmet, I don't believe that for a minute. I passed her many times on the road and I don't know that it's her because she has on the helmet on her head. She was very cautious and so I kind of find this hard to believe. I have more questions than answers more than anything else because what they are trying to tell me and how interpret it are two different things. She is not someone who is reckless. That child can drive anything, she has her license in 6-wheeler, standard, automatic, cycle, anything you can think of, she was that kind of child. I will miss her with all my heart, she was my world, but I pray that God will give her the strength to go on because last year I lost my dad, three weeks after, my children's grandmother died, last month my brother died, now my daughter is dead Courtney. Sometimes I just don't know how to go on."
Locke had just returned from a technician training in Panama.

Still No Meeting On Strike Fund Compromise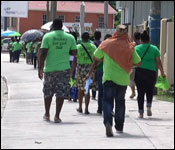 Payday for the teachers is coming up on this Friday, and all teachers, even those who went on the 11-day strike, won't have to worry about this paycheck being docked for their industrial action. But come next month, it is uncertain whether those teachers will be paid for those 11 school days at the end of November.
There is a proposal on the table from Minister of Education, Patrick Faber, for the the BNTU to use its strike fund to pay those teachers who didn't go to work. If the fund does not have all the money to cover the entire amount, that's when the Government will be willing to step in and supplement with monies of their own.
The BNTU hasn't gotten back to him as yet, and all the checks we've made says there has been no change as yet. Faber has indicated that he his ready and willing to meet with President Luke Palacio at whatever date and time is convenient for him, but BNTU representatives tell us that the union's council of management has not met yet to give him the mandate needed to attend this meeting.
We were also informed that Palacio was seeking a meeting with the Managing Authorities of the different schools countrywide, but that dialog could not happen today due to logistical reasons. As we told you, the court has ruled that those Managing Authorities still have the discretion to pay teachers, even if they take industrial action. We'll keep follow up to find out how this salary matter becomes resolved.

Coast Guard Officer Alleges Rape Attempt
Earlier in the newscast we told you about the shooting of a coast guard officer, well another coast guard officer was allegedly almost raped by 2 men in Ladyville. 24 year old Ronald Hernandez was hanging out at the home of 2 men when they allegedly grabbed him and tried to rape him. Reports are that Hernandez fought them off with a chisel and a machete. Ladyville police told us more about this rare case.
Inspector Juanito Cocom - OC, Ladyville Police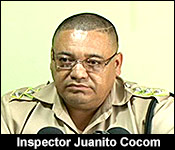 "This morning about 12:30am, Ronald Hernandez, 24 year old Belizean Coast Guard of Palmar Road Orange Walk District arrived at the Ladyville Police Station in a grey Toyota Hilux. Upon his arrival, it was noted that he was fully covered with blood. He stated that he was socializing with two persons at a residence of Perez Road in Ladyville when he was sexually accosted by the two men. He claims that they attempted to rape him and that he fought them off. Shortly thereafter a person arrived at the station bringing two male persons bleeding profusely. Both men are of #14 Heckler Wood Road, Ladyville Village. Both were immediately transported to the Belize City and are presently at the Belize Medical Associates undergoing treatment. They received wounds to the head and are listed in a stable condition."
"Police then visited the residence on Perez Road where the incident had occurred. It was processed, a machete, a chisel and other items were received. So far we have still not managed to get a proper account of the incident from the persons at the hospital. As we speak, police officers are interviewing them to see their side of the story."
All 3 men are recovering at the Belize Medical Associates. Police still need to get the other side of the story to confirm if these men actually tried to rape Hernandez.

Hattieville Cops Got Sawed Off Shotgun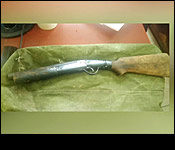 Cops from the 3 Eastern Division Jurisdictions of North Side, Southside, and Rural were active this weekend, and they each took illegal guns and drugs off the street. And, it's all due to accurate police intelligence.
We start first in Hattieville where the police made a gun seizure. The Officer Commanding the Ladyville Police shared a few details: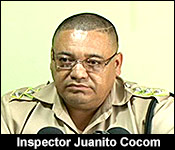 Inspector Juanito Cocom - OC, Ladyville Police
"Hattieville relief personnel confiscated a saw-off shotgun at a yard in America Street, Hattieville Village. Presently an investigation is being carried out as there is information of who might have placed that firearm there. If no evidence is obtain to link the person to the firearm, it will be deposited as found property."

Hattieville Cops Seized Weed Peddler's Cargo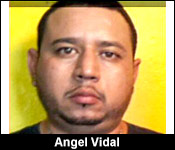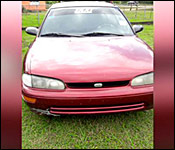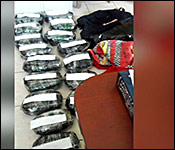 Rural cops then busted a man with 32 pounds of weed on Sunday morning. It happened around 9:35, when Police stopped Benque Viejo resident Angel Vidal at the mile 15 check point on the Western Highway. They searched his vehicle and found several parcels of weed in his trunk. Police told us more about this major bust.
Inspector Juanito Cocom - OC, Ladyville Police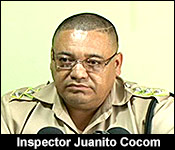 "At 9:35am in Sunday, 23rd October, Hattieville police on a vehicle checkpoint at mile 15 on the George Price highway stopped a red Geo Prism vehicle driven at the time by Angel Vidal, 30 years, Belizean taxi driver of Central America Street, Benque Viejo. At the time he was accompanied by a minor. Searches on a luggage in the trunk of the vehicle revealed 16 parcels of suspected cannabis, amounting to 14.870 kilos. Both persons were arrested and charged with drug trafficking. They were arraigned today at magistrate court Belize City where Vidal pled guilty. He was fined $10,000 to be paid by 24th October, 2017. In default, 3 years imprisonment. The vehicle was forfeited as well and the charges against the minor were withdrawn."

Southside Cops seized Guns/Drugs Out of Lake I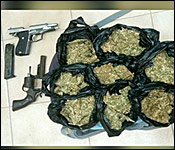 Eastern Division South also made their own drug and firearm busts in the Saint Martin De Porres. This morning, the Southside Police Commander told us that they came upon the illegal items due to assistance of the general public which has embraced their community policing efforts:
ACP Chester Williams - Commander, Southside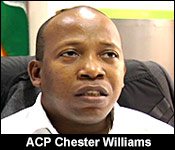 "Over the past couple of months, the public has been very supportive of the work of the police on south side Belize City and that relationship that we have fostered with the public continues to pay dividends for us and yesterday was another example where on 3 different occasions police received information and acting upon those information received, we were able to confiscate from the streets of Belize City yesterday 2 firearms; that is a 9mm pistol with 18 live rounds and one .38 revolver. The incident, we seized a total of 925 grams of cannabis from the streets. So I want to continue to give thanks to the public for helping us in making Southside Belize City a safer place and we want to be able to build upon that relationship that we have built to ensure that it remains at a level where the police can provide the level of security that the citizens of south side Belize City deserves. We know that both firearms are functional and most naturally someone had put them there to have it out of the reach of the police. But again, like I said, the public has been very helpful and we call upon others who may know of firearms that is being concealed by those persons who are known to be involved in gang activities to let us know."
Police say that the guns will be tested to see if they have been used in any recent crimes that the police are currently investigating.

Island Cops Seize Handgun
San Pedro police were also on the prowl for interdiction opportunities, and this morning at around 1:30, they busted island resident Forest Green with this handgun, which was loaded with 4 live rounds of 9mm ammunition.
He has been arrested and charged with keeping an unlicensed firearm, and keeping unlicensed ammunition.

Tourism Minister Discusses Public Outrage On Seismic Testing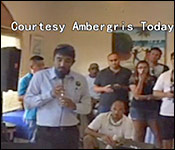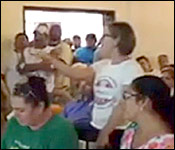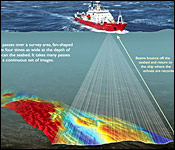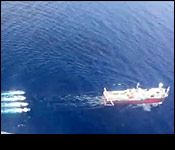 Last week, faster than you could say, "wheel and come again" government had to reverse its position on undersea seismic testing - and send the Northern Explorer vessel away, pronto. The vessel had already gone out into the seas, which incensed the conservation minded citizens of San Pedro. They made their displeasure known to their area representative Manuel "Junior" Heredia - at a stormy consultation in the island town. Within two hours of getting an ultimatum from the San Pedranos at the consultation, Government had to issue sheepish release, saying the seismic survey would stop immediately. It's the kind of real-time public-policy reversal which you just don't see - and it's indicative of a weary government which can scarcely afford any more public pushback, and a populace which is fed up with what they see Belmopan's high-handedness. Now, Belmopan got the message, alright, but the messenger also faced a kind of public political lynching. On Saturday, we asked Juniour Heredia about the quite remarkable sequence of events:...
Jules Vasquez, 7News
"You spoke earlier about listening to stakeholders. You had a very strong dose of that earlier this week at the town meeting in San Pedro town. Explain to me, how do you feel about your standing in the community after you were braced at the consultation, and then you had to go and, ah, as they say, wheel and come again, quickly."
Hon. Manuel Heredia, Minister of Tourism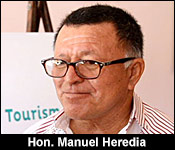 "Jules, I believe that people put us over there to govern and to try to do the best for this country and for the constituency that we represent, but again I have to admit that I am a part of cabinet and decisions are taken there. Whenever a cabinet paper is tabled, it means to say that it has gone to your technical people to advise you as to what is best."
"The minister responsible had every confidence that this is something that will not necessarily cause damage to marine life as is being said. That it will not damage our reef. And I personally believe indeed that this survey wouldn't have caused any damage to our reef."
"But people feel otherwise, Jules. I have to respect the wishes of the people. And I think you have seen that we are a government that listens. One thing that I must say I personally believe that we were short in the consultation or presentation to the public, that I believe and I have to admit that there was not sufficient, or probably, proper consultation with the public. Again, you will find that, ehm, NGO's like my good friends in OCEANA, I think they went a little too far as to what they were telling to the public, but admit they did a fantastic job in trying to mobilize. They have the money, noh, more than government probably, so they can mobilize it."
Jules Vasquez, 7News
"Minister, what was your conversation like with the Prime Minister after that rough consultation where you were braced by your community. Did you call him and say, "listen we got to shut this down!"
Hon. Manuel Heredia, Minister of Tourism
"You know, it's never easy to do. I called him and I said what is the situation, and it is not an easy thing for me when you have people from not only my constituency but from other NGO's form the length and breadth of this country arriving over there in the second part in the afternoon. In the morning it was terrible, and that is where I definitely cannot agree with the behavior of people when people don't even want to look at a presentation, or are saying we already decided our minds what we want, and no matter what."
Jules Vasquez, 7News
"That's also because you consulted after you made the decision, after the boat was already in the water."
Hon. Manuel Heredia, Minister of Tourism
"There was consultation with OCEANA, there had been, even though they said "none" noh? But that is why I said earlier we lacked some consultation but again, people shouldn't behave that way. We have to ehm, we have to give and take in life man. And I have been very good t that giving and taking, but i was totally depressed with the manner and the attitude of many of the people around there."
Jules Vasquez, 7News
"But those are your constituents."
Hon. Manuel Heredia, Minister of Tourism
"No but I believe there was a political agenda within what was being done, right?"
Jules Vasquez, 7News
"But then if there was a political agenda, that means it shows that you are weak or that your government is weak because if just a crowd, a roomful of people can push back a national initiative to do seismic testing it's indicative the government is weak, it had to run around in two hours."
Hon. Manuel Heredia, Minister of Tourism
"Look, confrontation, I don't believe in confrontation, right? And what these people had in mind to go and, ehm, barricade the boat over there, the immediately as a fisherman and knowing San Pedro and knowing the people over there, that wouldn't be anything nice. The idea was to go over there, do the, probably an accident might happen over there and then to say, you see this is what this government wanted, that was the main idea behind. And if we have enough already with what we are passing through as a government, and I believe we cannot allow any more of this to be happening as a responsible government even though you might say it looks weaker, there are times when it is better for people to say that you are rather than a disaster happening at sea, and the lives of people are endangered. That is the last thing that I believe should happen."
We noted that Northern Explorer belongs to the Global Seismic Testing organization, Seabird Explorations. We understand that Seabird Explorations was subcontracted by the American company, TGS, to conduct the seismic surveys in the 3 countries that are partners of this regional data gathering project. Sources from the conservation community tell us that the Northern Explorer arrived in Belizean waters ahead of schedule because they completed their survey work in Mexico's exclusive economic zone a bit early.

Offshore Oil: Development Vs Conservation
Now, government has said that it will "suspend seismic testing until proper consultations can be held," and that's because Government is determined to extract offshore oil if it can be found outside protected areas and world heritage site. Heredia discussed the conflict between the development dilemma and the conservation agenda:...
Hon. Manuel Heredia, Minister of Tourism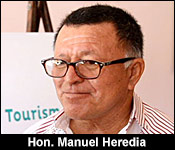 "There has to be other alternatives. Why don't we come together, find areas where we can find common goals where we can work together to bring more economic prosperity to this country. It's just about just not saying, "no, no, no" to everything. You want to do a project a nice hotel like the DiCaprio one, and there are people that are saying forget about that. Then where will the jobs go?"
OCEANA has said the pushback is not against seismic testing, it's about the prospect of offshore oil exploration - which many oppose.

Hon. Heredia Says He's Ready For Senate Inquiry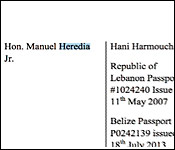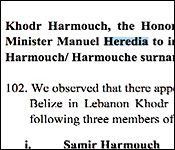 He may have backed down when the residents of San Pedro braced him at a consultation last week, but Tourism Minister Manuel Heredia isn't backing down when it comes to the Audit of the Immigration Department. His name appears almost 30 times in the Nationality Audit - but he says he will face any Senate probe confidently because he did nothing wrong:
Jules Vasquez, 7News
"There is going to be a senate special select committee, your name is in the reports a number of times, the favors you've done for the Hamze family, are you concerned?"
Hon. Manuel Heredia, Minister of Tourism
"I have walked a straight line I will continue to walk a straight line. Those reports that are there is nothing, and I am willing to stand before any senate committee and give testimony of what they want and I told you also that I am seeking legal advice and if need be, I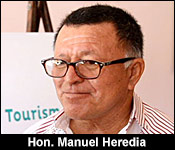 will also make sure it goes to court for clarification. Because there is nothing bigger than the name of a person. Whatever I have to do to clarify my name I will do Jules."
We note that Jules said Hamze, the proper name is Harmouche.

Police Make Arrest In Student Stabbing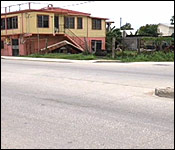 17 year-old Belize City student, Kenroy Daly continues to receive medical treatment after he was attacked and stabbed in the chest by a group of young men.
Police investigating say that on Friday night at around 11:50 p.m., Daly was riding his bike on Raccoon Street Extension where he was attacked and stabbed multiple times. Today, the Southside Commander told us that his investigators have already made an arrest in the case:
ACP Chester Williams - Commander, Southside
"On Friday night, sometime after 11pm, the police received information of a male person who was seen lying down on the street in the area of Raccoon Street and Boulevard. Police responded and upon arrival they found the person to be one Kenroy Daly, a 17 year old. He appeared to have been severely beaten and stabbed. He was rushed to the KHMH by the police and he is currently admitted in a critical but stable condition. We are hoping for his full recovery. Police investigation has so far led to the arrest of a 16 year old in respect to that matter. He was charged with attempted murder and dangerous harm."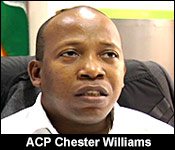 "Like I said the victim is in a critical, but stable condition and so far the police have not been able to ascertain from the victim exactly what transpired. But we were able through our investigation gather statements from people who were around and it is on that basis that we were able to make an arrest in that matter. From our investigation without going into too much details, it would appear that the issue was over a female."

A Final Farewell To Michael Young
This evening, family, friends, colleagues of Senior Counsel Michael Young gathered at the Wesley Methodist Church to pay their respects at the Funeral Services. It was not a state funeral, but with all the government officials, and the members of the legal fraternity who joined his family in the church, it might as well have been.
Among the speakers this evening were Prime Minister Dean Barrow, his brother Denys, and his law partner Rodwell Williams. Each men made sure to tailor their remarks to encapsulate a different aspect of his personality and his accomplishments as a distinguished Belizean. Here's an excerpt of what they said:
Michael Young was laid to rest at Homeland Memorial. Tomorrow, the judges will suspend all court cases to hold a special sitting of the Supreme Court in his honor.

Tourism Industry Conference
Every year, the BTB holds its Tourism Industry Conference. It's a time for the BTB as nominal industry leader to sort of set the tone for the coming year, and offer guidance in marketing strategies to a cross section of stakeholders from international consultants. And while that happens in the daytime, at night, they host the annual Tourism Awards. This year, the daytime event was all about riding the wave of record arrivals and figuring out how to keep growing, but, also to keep up with the growth. Alex Courtenay reports:

Hon. "Clear The Land" Now A Full Minister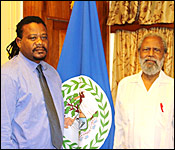 Last week we told you about the changes that the Prime Minister is making to fill that void left behind by Gaspar Vega's tumble out of his Cabinet. Today, Edmond "Clear-the-land" Castro's promotion was made official. The former Minister-of-State was officially sworn in as the Minister of Works, Transport and NEMO.
Castro's shift was just the first in the Barrow Cabinet's reshuffling. Former Minister-of-State for Youth Sports and Culture Elodio Aragon is moving to the Ministry of Home Affairs, now under the Prime Minister. Godwin Hulse has been assigned to the Ministry of Agriculture, Forestry, Fisheries, the Environment and Sustainable Development. And Hugo Patt adds the Ministry of Public Service, Energy and Public Utilities to his portfolio.

BDF And the Multilateral Security Conference
As a key area in the Southern border of North America, the capabilities of the BDF is important in the security of the entire continent. That is why the BDF is hosting the Multilateral Security Conference, where ally countries send their military representatives to discuss what Belize needs in order to maintain peace in the region. Here's what Brigadier General David Jones told us about the conference...
This was the first year that the Dutch and Mexican militaries attended the conference. Each allied military commits to assisting the BDF in terms of performance, especially when it comes to training officers in specialized positions.

BEL Sympathizes With Anna Carde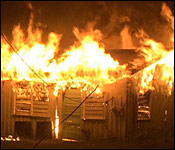 On our Friday newscast, we told you about plight of Belize City resident Anna Card. Her house completely burnt down on Thursday night after she forgot a candle burning in her home. She explained that she was forced to use them after BEL cut out her power. They did it, she said, because they suspected that someone was stealing electricity, and she couldn't afford to pay the bill.
Well, determined not to live up to the appearance of corporate indifference in this matter, the electricity company sent us another public statement to note their attention to the case. That press release says, quote, "Belize Electricity Limited...expresses sympathy to a family who recently lost their home in a fire, which is suspected to have started from a candle. The Company is deeply concerned by the fact that, in 2016, Belizeans still continue to lose their homes, valuable possessions and risk the lives of their entire family through the use of candles.
BEL provides opportunities for customers and potential customers to access safe, reliable and affordable electricity through the following offers:
1. Customers who are unable to pay their bill on time, may visit or call any BEL office countrywide to make a reasonable payment arrangement.
2. Persons who cannot afford a service entrance, which is needed for safe and proper connection, can apply to BEL for assistance. Interested persons must make a firm commitment to paying their electricity bills, to be eligible for BEL's service entrance program." End quote.

The company closes with the comments, quote, "The Company also reminds that:

1. Customers are liable for any power that is consumed through their service entrance, even if it is consumed by a neighbour.
2. If you are aware of others who are using power illegally and unsafely, call BEL to make a report.
3. In cases where customers are found stealing power, they will be disconnected. However, once they accept liability and agree to a reasonable payment plan for the power consumed, they are immediately reconnected." End Quote.

Local Cubs Fans Rejoice
The Chicago Cubs - if you didn't live in Belize City in the early 1980's - you might not understand the weird connection that city residents feel to those loveable losers. You see, for city residents, when television first came in 1981, one of the only two channels on the air was locked in to Chicago's WGN around the clock - and that channel showed every Cubs game, all 162 of them. Now, this is pre-cable television, pre-internet, pre cell phone, pre colour TV in many cases - I mean, shucks, we only had one radio station!...if you can imagine all that.
So if you wanted to watch television from March to October there's a 50% chance you'd be watching the Cubs. That's how Belizeans developed an almost spiritual connection to the Cubbies; a connection, which, for many, continues to this day. And right about now, those Cub fans are in baseball heaven, because their team has made it to the World Series - major league baseball's crowning event. Now, what's the relevance of this right now? Well, the Cubs haven't won the World Series in 108 years, the longest championship drought in any major US sporting league. So, on Saturday night when they clinched the National League Championship series in style, it was like a religious experience for Cubs fans. Alex Courtenay sat in with a few of them to experience the thrill of victory, and share in the hope that, finally, this will be the year that the dreaded curse of the Cubs comes to an end:

Home | Archives | Downloads/Podcasts | Advertise | Contact Us