Penner Gets Stoned With Egg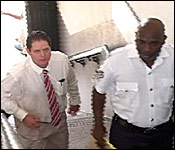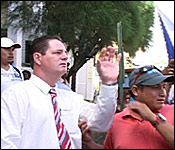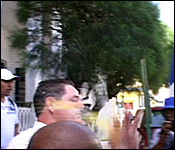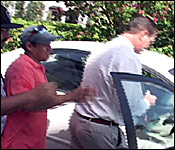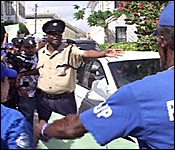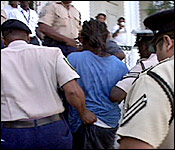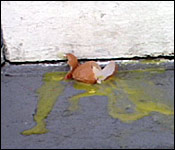 Disgraced politician Elvin Penner appeared today in the Supreme Court before Chief Justice Kenneth Benjamin. The "CJ" had ordered him to appear for the criminal appeal against him. That's the one where activists turned private prosecutors Geovannie Brackett and Nedal McLaren are trying to overturn his acquittal by Belmopan Magistrate Aretha Ford.
The case turned on the decision from Magistrate Ford to refuse an application from the prosecutors' attorney, Kareem Musa, to summon Police Commissioner Allen Whylie. The prosecution wanted the court to order him to disclose the police investigation file into the passport scandal.
Today before the Chief Justice, Kareem Musa, the attorney for COLA and Penner's attorney, Tricia Pitts Anderson, made their case for and against the Magistrate's decision .
But all that "legalese" took in the background for today's hearing, because in the foreground, there was Penner marching up the court stairs to a media mob he has so long avoided. With municipal elections only days away, the PUP and its Mayoral Candidate took the opportunity to stage a protest against him. It ended in a confrontation where one protester threw eggs at Penner, and others threw water at his head. A dramatic day for sure, but we start at the very beginning, when Penner first arrived at court. Daniel Ortiz reports:
Daniel Ortiz reporting
Elvin Penner made his way up the steps of the Supreme Court unchallenged, and without anyone trying to get into his face, but in the background, insults were being thrown at him. He then entered the Chief Justice's courtroom.
Inside Battlefield Park, the PUP crowd of about 60 persons protested, shouting at the top of their lungs.
Their chants were loud enough for the observers sitting inside the court room to hear what they were saying.
2 hours later, after the attorneys had their say before the Chief Justice, Penner exited the court room, no doubt intending to leave as quickly as he could.
The media seized upon the opportunity to press him for a public statement on the Citizen Kim affair - something which this elected official had refused to do for the past 16 months.
Hon. Elvin Penner - Accused of Immigration Offences
"I have nothing to comment at this point in time."
We kept pressing him, and by the time he reached the front steps of the court house, Penner relented, finally. But instead of talking about his case, he shifted the focus to another criminally accused member of the House, Dr. Marco Tulio Mendez.
Hon. Elvin Penner - Accused of Immigration Offences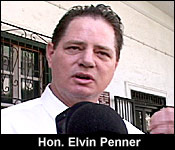 "I cannot comment during the time when the trial is in process and I am not going to say if I will even comment afterwards. All I can say is that still the procedures is in at the magistrate and I cannot comment. I am satisfied with how the case is going so far. What I will advise to the media is try to go and chase something out there that is not a ghost. We have a person in Orange Walk, that has been charged for an offence that is my view by far greater than anything that has been alleged against me. Why don't you chase that matter the way you chase this matter here?"
Daniel Ortiz
"A crime is a crime."
Hon. Elvin Penner - Accused of Immigration Offences
"It's a prioritization. I cannot make a comment, it's in the courts. I am satisfies with how the courts' proceedings is going so far. I cannot comment anything on the case itself."
By that time, the PUP crowd rushed up to give Penner a piece of their mind and, one man threw an egg at Penner, ending any further engagements with the press.
His priority then became to get into his vehicle and quickly drive away. The PUP muscle kept hurling insults at him, and before he could escape, someone else threw water at him.
He eventually was allowed to drive away, and police officers at court immediately detained man who threw the egg at him. He was placed in the holding cell to cool down and to dial down the heightened emotion of the crowd.
The crowd made allegations against those responding officers, accusing them of being heavy handed.
Yolanda Schakron - PUP Mayoral Candidate, Belize City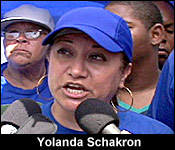 "We are out here, we are standing against injustice. As a mayoral candidate, I am talking about good governance and I am here because I want to see that from our leaders, but today, another travesty of justice was committed against us, the people of the city. We were out here and we just wanted to voice our opinion. I mean, this man see our passport to a criminal. Nothing has been done. He is here and we were very much abused by some of the police officers. I will not say all of them because most of them were very nice. I was hit in the head by a police officer. I have his number. We try to make a complaint. We don't have any voice anymore. People are very upset. This man took and sell our patrimony. This man laughs in our face. I cannot control how the crowd feels."
Daniel Ortiz
"What we can see is that election season is here and you are out here with you people. It's a great publicity stunt."
Yolanda Schakron - PUP Mayoral Candidate, Belize City
"Not at all, it's not a publicity stunt. I have been here many times before. I have stood up for the Belizean people log before politics."
COLA personality Geovannie Brackett says that he's more interested in the principle of the case than the politics behind it.
Geovannie Brackett - Private Prosecutor, Passport Scandal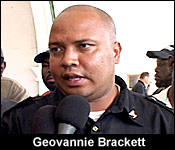 "You are tying in the protest with ours. That is an independent protest, not sanctioned by COLA and the opposition have every right to do what they want, but those were not set and design by COLA. You will know our crowd when we bring our crowd out. In relation to the social aspect of what has transpired here today, is that you have seen that this has been a very strenuous exercise. Strenuous because, we have the parts of a system that supposed to be easy to get to fight for justice. However, we've seen that a court had to force a commissioner to do his job, a DPP who has gone underground - we are no longer in communication. I mean she has stop replying to our request and its very strenuous because you have ordinary citizens trying to get justice on behalf of the nation with individuals who seems to be above normal and supernatural. Mr. Penner, like any other Belizean, has been found with a stick of weed or so, should be brought before the courts."
The Penner case, as is widely known, all goes back to September of 2013, when Penner, as a Minister of State in the Immigration Ministry, facilitated the issuance of a fraudulent passport for South Korean Fugitive Won Hong Kim.
Penner claimed that he was deceived into doing this, but all indications were that Citizen Kim never entered the country because he was in a Taiwanese Prison at the time. Information suggested he never touched foot on Belizean soil, so he couldn't have qualified for a passport.
And so, while that was the action outside the court, inside, COLA Attorney Kareem Musa submitted 3 grounds of appeal to convince the judge that he ought to overturn the acquittal. Those were that the trial magistrate erred in law when she refused to summon Police Commissioner Allen Whylie, that she unfairly exercised her authority to deny the prosecution's request, and that her decision to do so was unreasonable, given that in their opinion, sufficient evidence was produced to convince her to do so.
Chief Justice Benjamin reminded Musa that no judge or magistrate sanctions a fishing expedition, so Musa had to convince the court that this application to summon Whylie was more than that.
After the hearing, we spoke with Kareem Musa outside of court, and he explained why in his opinion the Magistrate should not have refused the application to summon Whylie to court:
Kareem Musa - Attorney for Private Prosecutors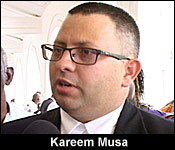 "The magistrate ordered that she did not have the jurisdiction, I believe is what she said, it is our submission that she does have that jurisdiction under section 30 and that is what we argued today, that she does have that jurisdiction to summon him because he has material evidence in his possession."
Daniel Ortiz
"Sir, but the judge himself warned that no judicial officer can allow a fishing expedition against a defendant."
Kareem Musa - Attorney for Private Prosecutors
"I don't find that is what the judge found. That particular case that Ms. Pitts Anderson relied on, spoke of discovery as between the defendant and the prosecution. This is not that case. This is an instance where the prosecution is asking the Commissioner of Police, who is not a party to these proceedings, so it's entirely different. It's not discovery, it's rather for him to deliver material evidence over to the prosecution."
Daniel Ortiz
"So, when does the right for justice oversteps the rights of a defendant to his fairness to be treated under the law?"
Kareem Musa - Attorney for Private Prosecutors
"There are different sections of the law that allow for different procedural applications. This is one of them, where you have a stubborn commissioner of police, who does not want to cooperate even though he has been ordered to do so by the supreme court, then you have applications and that was what was make at the magistrate court's level, an application for him to deliver over those files - that's the application, because we know that he is in possession of material evidence."
"We feel very confident with the applications and the submissions that we have made. We feel that it is our right under section 30, that the magistrate ought to have exercise that discretion, so really and truly, the Chief Justice will be considering whether or not she exercise that discretion, or whether or not she didn't. So, that is what will be determined at the next court date. The decision will be handed down on March 13th."
In Penner's defence, his attorney, Tricia Pitts-Anderson submitted that for any Magistrate contemplating such an application, the prosecutor has the burden to show what material evidence Whylie could have given which would have been beneficial to the case. The weight of that evidence would justify whether the magistrate should summon him. Next, she submitted that COLA's eagerness to find out what was the evidence in the police investigation file is not enough to justify the summons. She also reminded the court that the prosecution has the burden of proof.
Chief Justice Benjamin will hand down his decision on March 13th.

Lord Ashcroft Appears, Here For The Beer?
And while that was happening at the Supreme Court, just across the swing bridge Michael Ashcroft made a surprise appearance. He showed up unexpectedly at a press conference on the decriminalization of marijuana. But he wasn't there to talk about weed, he was there for the beer! He told me about it:..
Lord Michael Ashcroft
"The reason that I landed up in the middle of a press conference here is that I was coming by on a boat and I saw Jeremy Spooner standing there and I called out to him and he suddenly said, "If you come ashore, there's free beer. " Well, that was enough for anybody, wasn't it? And then I found of course that it was in the middle of a conference on the decriminalization of marijuana, so I have nothing to do with the subject at all."

Lord Ashcroft: "Would be very surprised" at Campaign Financing
And while he had no opinion on marijuana, what we wanted to hear was his view on the upcoming municipal election. Dating back to the 90's, Ashcroft has been perhaps the most influential campaign financer in Belize's history. The billionaire has pumped millions into both the PUP and UDP. But now his fight is with the Barrow Administration, and so, we wondered - with just days to go before the election - is he here to weigh in decisively for the PUP - which is starved for campaign cash? He told me, that's not what this trip is about:..
Courtney Weatherburne
"In terms of political funds, or funding for campaigning for either party, would you care to comment on that?"
Lord Michael Ashcroft
(Laughs)
"Well over the years and in many countries including the United Kingdom, I've made political contributions and it's fairly well known in Belize that over the years I have helped both parties. Uhm, I don't believe that one party should be dominant in a small country, because when party is dominant, it can lead to excesses in many areas. And I believe there has to be a thriving opposition. So, in cases where perhaps a government has twenty something seats and an opposition has a handful, then I think oppositions at least need something to put their case, ah, to the public."
Courtney Weatherburne
"Ok, great, and there's no point I should say expectation from either party in terms of for you bringing in or coming in at the last minute to give funds?
Lord Michael Ashcroft
(chuckles)
"Ha, no, I would be very surprised."
Courtney Weatherburne
"If they would actually be that way..."
Lord Michael Ashcroft
"I would be very, I would be very surprised."
Courtney Weatherburne
"Anything else you'd like to add in terms of your position, any outcome, or preferred outcome in terms of the election, or any vested interest you have in terms of the outcome of the elections?"
Lord Michael Ashcroft
"No, I would just like to see…Belize has everything going for it and what Belize needs is strong and honest leadership that can really pull this country forward. And I just hope that eventually when there is a general election, that the electorate make up their mind as to who is best for the country."
Ashcroft is Belizean citizen - who, after mostly staying away for some time after the UDP won in 2008 - has indicated that he will be a more regular presence in Belize in 2015. Ashcroft spent some of his childhood years in Belize while his father was a colonial civil servant.

City Shooting Happened In View of Schoolchildren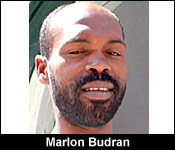 There was another shooting in the city this morning. It wasn't fatal but it was very disturbing. That's because it happened in plain sight of a group of Wesley Primary School students who were lined up for a school trip.
At 7:20, when they were about to get on the bus, 37 year old Marlon Budran of a Wagner's Lane address was standing on the corner of South Street and Wagner's lane when 2 men on bicycles rode up towards him and opened fire. Budran was shot twice - one of the shots to his head. He was rushed to the KHMH where he is in a stable but critical condition. The commander of Precinct one, Superintendent David Chi today told the media what police know:..
Supt. David Chi, OC - Precinct One
"Sometime around 7:30 this morning, today 27th February, police visited the A&E at Karl Heusner Memorial Hospital, where they saw one Marlon Budran, 37 years old, of a Belize City address, suffering from two apparent gunshot wounds. Police carried out an investigation to the matter where he reported that he was walking in the neighborhood when he was approached by two other male persons on separate bicycles, who inflicted those wound son him with a firearm. He manages to run away, where he was not injured further."
Reporter
"Sir, a motive behind this crime?"
Supt. David Chi, OC - Precinct One
"As I said the police are investigating the matter. At this point it a very young investigation."
Reporter
"Do you believe that this has relation to do with the previous shootings in form of retaliation or so?"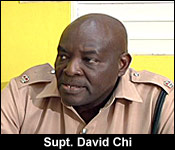 Supt. David Chi, OC - Precinct One
"No. This is separate situation totally. This is an isolated incident from the other two that happened earlier in the week."
Reporter
"Is Mr. Budran known to the police as someone involved in criminal activities?"
Supt. David Chi, OC - Precinct One
"He is a citizen of Belize City. He may have encountered with police before yes, but he is a resident of this neighborhood of Precinct One, so he is known."
Reporter
"The extent of the injuries, you said he was shot. Can you speak to the specifics of his injuries at this time?"
Supt. David Chi, OC - Precinct One
"He received one to the head and to the right incept."
Reporter
"Are there any suspects being sought at this time?"
Supt. David Chi, OC - Precinct One
"Yes, we are, but I won't reveal any names in respect to that at this point. We are looking for some persons of concern."
Reporter
"Mr. Budran was in Crips gang, do believe that it has any ties to do with that? Because apparently, he was on his way to work when he became a target of gun violence."
Supt. David Chi, OC - Precinct One
"As I say, we are investigating the matter and I cannot say if it's a gang related incident. So far we have no indication if it's a gang related incident, so, I cannot say that."
Budran is no stranger to the law, and that isn't because he is a resident of Belize City. In 2008 he was busted by police with a 9mm pistol loaded with 7 live rounds. And in 2006 he was charged with attempted murder and robbery.
His family declined comment.

Pulling Police Teeth To Find Out About Shooting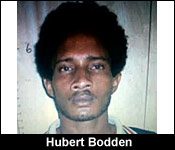 And while at the press briefing this afternoon, Superintendent Chi also briefed the media on the yesterday's murder on Cedar Street. That's when 29-year-old Herbert BOWDEN was killed in a yard by a gunman. Chi told us what police know.
Supt. David Chi, OC - Precinct One
"On yesterday's date about in the afternoon hours, police visited the Karl Heusner Memorial Hospital again, where they saw the body of one Herbert Bodden, 29 years old, resident of Belize City, suffering from numerous gunshots wounds to the body. Investigations reveal that sometime yesterday afternoon whilst in the vicinity of Cedar Street, he was accosted by some male persons where one of them fired shots at him causing his demise."
Reporter
"In relation to that, any leads as to what could have been the motive behind his murder? And if there is anyone that the police are looking for in connection with this murder?"
Supt. David Chi, OC - Precinct One
"We have somebody in custody as we speak. I won't reveal his name at this moment, but we have somebody in custody as of concern in respect to that investigation. Again, it's a young investigation and we continue to follow up all leads in respect to that investigation."
Reporter
"No motive?"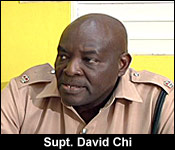 Supt. David Chi, OC - Precinct One
"I said, we are investigating the matter at this point."
Reporter
"Is Mr. Herbert known to the law?"
Supt. David Chi, OC - Precinct One
"Mr. Herbert is a resident of Belize City, so he is known by police officers. I can assure and the public, Precinct One area, that the police will continue, not be afraid to move around. The police will continue to do their patrols, stop and searches and do whatever we can within the scope of the law to deal with these situations. So, there is no need for any panic or alarm. We will continue to do what we do. This is an isolated incident that occurred. Yes, there are two murders at this point, but we will continue to uphold the law within the city. So, resident may not be in fear."
Bowden - who is from Tibruce Street - was in a strange neighborhood - but his family says he went to drop money for the mother of his child. They say the gunman was aiming at someone else and caught him.

Will GOB Legalize It?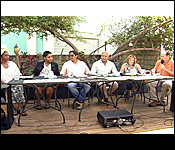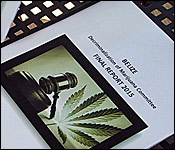 Very regularly on the news you hear about people being caught with negligible amounts of marijuana and made to face fines or confinement for it. And it leads us all to wonder, is it time that Belize like other countries decriminalize the possession of small quantities of marijuana? Well the Decriminalization Of Marijuana committee launched its final report today and if it is approved, many will be getting off the hook. We were at the launch today where the committee unveiled the report after almost three years of gestation.
Rhea Rogers, Committee Member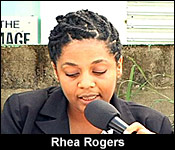 "Let it not be a criminal offence for anyone to be found in possession of up to 10 grams of marijuana and such individuals should be subject to administrative penalties as referred to in section 2 below."
Courtney Weatherburne Reporting
This is just one of 11 recommendations that the decriminalization of Marijuana Committee proposed in their report.
Today their final 2015 report was launched at Spoonaz Coffee Shop -
An informal and unconventional setting for a topic that challenges convention.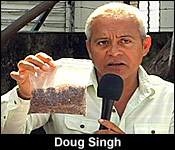 It is the first formal report of the committee and if these recommendations are approved, some marijuana users won't have to worry about criminal penalties.
Doug Singh, Committee looking into decriminalization
"What we have in this very small bag here is essentially 10 grams. An idea of what the recommendations are of making, that anyone in possession of this, should not carry any criminal penalties. By way of comparison, I just like to mentioned, I believe as of yesterday Jamaica's parliament enacted into law the decriminalization of two ounces which is about 59 grams plus, which is equivalent to this amount and essentially 6 times the volume in the document that we are recommending."
But others are not so much in support of what the document is recommending.
Clinton Pulu Lightburn, Discussion Participant
"I was talking to a person who has 6 kids, a women, and she buys a quarter pound of marijuana and she it takes her two days to sell. She spent $50 and she doubles up. So, she makes $50 in two days. She is making $25 a day. That's not even taxable. How in the world are you going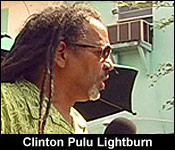 to send somebody to jail for 3 years plus $10,000 who is doing a $25 a day marijuana business. These people while they are selling you, they are still begging you. Marijuana is the only thing that keeps them stable when there is no crumbs falling from the table. They are sending a woman with 6 kids in Jail for 3 years and charged her $10,000, because of ignorance."
According to Doug, it's a combination of that ignorance and general misconceptions about the report that has fueled disapproval and discontent.
Doug Singh, Committee looking into decriminalization
"It's not a report to legalize marijuana. It's not a report that makes any such recommendation. It's a report that makes a recommendation to remove the criminal penalties associated with possession of a certain amount. Meaning that, if you have marijuana in your pocket and it's under 10 grams and you are walking on the street, you are still breaking the law, but I can't take you to jail for it and you would not get a criminal record as a result of being charged for it. It would be like a ticketing infraction. It's quite similar in fact to what Jamaica has recently legislated. Its recognizing that it's still not a legal activity, but there is no reason why people should go to jail for it and that was the impetus of the exercise."
"We recognize on the onset when we announced the initiative that there was a misinterpretation of what the focus of the committee. People heard decriminalization, but really look at its removal of penalties as legalization. I some context it is also called de-penalization - removing the criminal penalties associated with it and we had to put some clarity on that. I am afraid that I don't think we were very successful in doing so, because I think people still saw the exercise as legalization to a certain extent and I think some of the comments we had here today at the release of this document is reflective of that. There were people who felt we did not go far enough. At the same time though, I have to reflect the opinions of people who we interviewed, who felt that legalization is going too far."
You can read the report online at mybelize.net.

SSB Board OF Directors Meets (Finally)
And we also got to ask Doug Singh about his other job, as chairman of the social security board. As we've been reporting, the Board of Directors had been unable to meet because the unions were boycotting meeting after government rejected their board appointee. That's because he is the General Secretary of the Christian Workers Union which represents Social Security Workers. Well, that difference has been put aside, but maybe only for the time being. The board met yesterday and Singh told us how it was done:..
Doug Singh, Chairman - SSB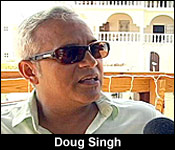 "This is my understanding that they have issue a new letter to the Prime Minister requesting the appointment of Ms. Emily Turner and Mr. Tate and the substantive director and Mr. Floyd Neal as the alternative director. So they have shifted it and they've put a caveat in there that, that will be for as long as the collective bargaining agreement is being negotiated. I would imagine that that means that, after the completion of the negotiation of the collective bargaining agreement that, they would expect that they would then change their recommendation and have them be a substantive member. That recommendation still goes against the principle that the board is advocating. The board believes that representation on its board should not be allowed for anyone that represents the union, so whether he is an ultimate capacity or whether he will be after the collective bargaining agreement, it would still be in conflict."
Singh says they did discuss union related matters at yesterday's meeting and both union representatives abstained on the vote.

Yolanda "Bex" 'Darrell's Missing Hilux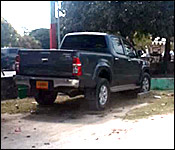 You may recall that grey 2013 Toyota Hilux that Mayor Darrell Bradley started driving in November 2012. It was a sore point for Belize Waste Control at the time because the City was struggling to pay the sanitation company for its services. It owed half a million dollars to the company, but the City Hall found $60,000 to purchase the Hilux for the Office of Mayor, and that earned the mayor the criticism that the he didn't have his priorities in order.
Well, now the PUP is saying that the vehicle has been significantly damaged. We heard reports of it on Monday and so, we contacted the mayor for comment via text. He didn't respond, and today, his opponent, Yolanda Schakron reminded the mayor that he hasn't said a thing about it.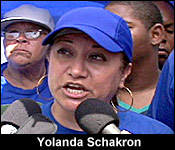 Yolanda Schakron - PUP Mayoral Candidate, Belize City
"Mayor Darrell Bradley, we have heard that your vehicle was totaled, well, it's not your vehicle. It's the vehicle of the Belizean people, because it's us that pays for it, the 2014 truck. Where is it? We can't find it. I heard that one of your councilors totaled it. Come on, this is the people's money. You need to answer questions. Tell us how you spent that 20 million dollars."
We contacted the mayor once more for comment today, and like the last attempt on Tuesday, we copied all the City Council's Public Relations Personnel to ensure that the request reaches him. Neither the Mayor nor any of the 3 other CitCo staff responded to our text message requests.

Rosado Vs. Sanchez, Resolved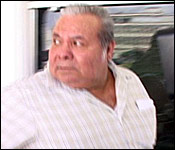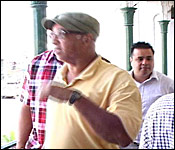 Viewers may remember that back in July of 2014, the founding Directors of the Ariel Rosado Memorial Foundation ended up in litigation and an ugly public fight where one pair was accusing the other pair of financial mismanagement. That's an especially serious allegation since the foundation goes around soliciting funds in the form of donations, and to properly run their social programs, they have to keep the confidence of their donors that the money is being used for the purposes it was given.
That's what Bruce Sanchez Sr. and son, Bruce Jr., were accusing Dr. Alvaro Rosado and his wife of doing, and they sought to prove it by disclosing certain cheques which they found questionable. Dr. Rosado, his wife, and other board members held a press conference the next day in which they carefully explained every single money transaction that the Sanchez men were complaining about.
But, it has left a taint on the objective behind the formation of the foundation. It was created in memory of the Late Ariel Rosado, a prominent cyclist who was killed in a traffic accident in 2011. Its business is to provide worthy candidates an opportunity to finish their education.
Since then, the case has been making its way through the courts, and during that time, in order to keep the foundation's work going, the Board members were using another registered organization, the Ariel Rosado Education Foundation. That's another point of contention for the Sanchez's who say that Dr. Rosado was trying to circumvent the democracy of the board to make unilateral decisions. Dr. Rosado and the remaining board members say that because Bruce Jr and Sr. stopped giving their written approval for the disbursal of funds, the programs were in danger of failing, so they had to do something to keep the scholarships going.
Well, the litigation concluded today via a mediation session, and we spoke with the attorney for Dr. Rosado, who is also one of the board members. He explained the resolutions arrived at today:
Dean Molina - Attorney for Alvaro Rosado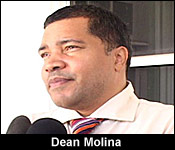 "The parties came to an agreement. Essentially what they agreed is that the money that is in the bank account that had been frozen for the past two years will be released to the institutions where the students are currently attending, so basically the high schools will be pre-paid for the next two years."
Reporter
"Can you tell us the amount of that money?"
Dean Molina - Attorney for Alvaro Rosado
"I believe somewhere in the vicinity of $23,000."
Reporter
"Is this fair rule for you party?"
Dean Molina - Attorney for Alvaro Rosado
"At the end of the day, the money is for the benefit of the students. It was never the position of the client, that the money would have been for their use. So, whether its paid in advance, or its paid as its due, it makes no difference to us."
Reporter
"How much damage has this litigation has done to the foundation?"
Dean Molina - Attorney for Alvaro Rosado
"In terms of damage, I would not say that there has been much. I think a lot of people know the parties involved and know the situation well enough, to know exactly where fault lies."
Reporter
"What happens now?"
Dean Molina - Attorney for Alvaro Rosado
"It's back to business for the foundation. The ride is set for April and we are in the planning stage right now to get that moving."
Reporter
"What happens to Mr. Sanchez and his son?"
Dean Molina - Attorney for Alvaro Rosado
"As a part of the settlement, the foundation name is still in the name of the Sanchez's and the Rosado's. The Rosado's have gone ahead and form a new foundation. So, the Sanchez's have access or they are able to use the foundation name. However, not without approval from the Rosado's, so I don't think that they can continue any way. The two names will exist."
The 2015 Ariel Rosado Ride to raise funds for the scholarship programs takes place next month.

Maud Williams Students Get A Big Break
Maud Williams is not one of the elite schools in Belize City - and that's why it's news tonight that two students have gotten a big break to go on a special trip! Along with three other high school students in the city, they were chosen to represent Belize at the Central America Youth Ambassadors Seminar. They leave for Washington DC this weekend. These students will get to travel to different states and engage in leadership workshops with youth from other Central American countries and America. Today we spoke with two of the recipients who are beaming with excitement. They told us what they expect .
They leave for Washington on Sunday. They will be traveling to Idaho and Alabama. They return in 3 weeks on March 22nd.

La Immaculada Sick Out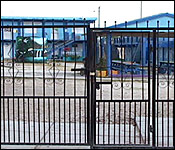 Students at the La Immaculada RC Primary School showed up for classes today in Orange Walk, but they had to go home because all the school teachers and the administration failed to report to work.
Reports are that they are not happy with the local Catholic Management over the reinstatement of a student who was suspended. Our colleagues from CTV 3 News in Orange Walk tried to confirm if that is indeed the reason that the teachers decided to stage a sick out, but neither the principal or the President of BNTU in Orange Walk would address it.
Here's what the BNTU Branch President did tell them about the sudden decision not to have classes today:
Otillio Munoz, President - BNTU O.W. Branch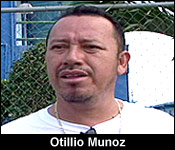 "I come and make presence here just to find out exactly what's the situation, just to find out that administration/teachers decided not to open the school today. What I can tell you and I will limit myself, is that it is a serious concern, that take them to make that decision not to open the school today. And they have had a meeting with management until Monday and I believe that Monday is too long. When there is a problem, you need to face the problem."
The teachers at Trial Farm School also stayed home today. In total, forty three teachers did not report to work, concerning because the children should have been on their second day of review week.
The school administration is expected to meet with the General Manager on Monday of next week to iron out whatever differences led to the sick out.





Home | Archives | Downloads/Podcasts | Advertise | Contact Us