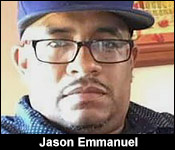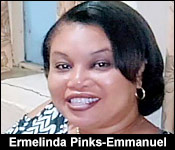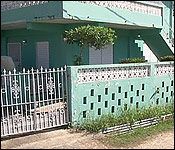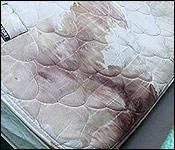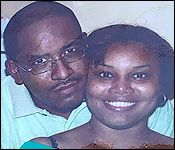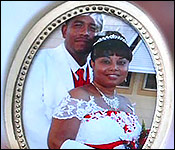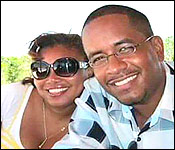 In a city that has been numbed by so much violence, it is the rare crime that can still evoke a strong wave of public concern. And so it was on Saturday when police found the bodies of a husband and wife locked inside their Belize City home in the Saint Martins area. Both had been shot to the head.
43 year-old Jason Emmanuel, and his 46 year-old wife Hermelinda Emmanuel were the victims. Police found a weapon beside the husband's body, and that's when a narrative start to form.
It is believed that Jason killed his wife, Linda, and then committed suicide, but at this time, there is no absolute confirmation of this.
Our news team has been following this tragic story that now has 2 families grieving, and wondering what went wrong between late Friday night, and Early Saturday morning. Daniel Ortiz has that story:
Daniel Ortiz reporting
From all indications, 43 year-old Jason Emanuel and his wife, 46 year-old Ermelinda Pinks-Emanuel, lived a very private life. These photographs of the couple, very brief snapshots into their relationship, suggested that they were happy together.
But on Saturday, something terrible happened behind the closed doors of their Rose Lane Apartment in Belize City.
Ermelinda was found dead on their matrimonial bed; she had suffered a gunshot injury to the left side of her head. They found Jason's body on the floor of the bedroom,. The cops found a gunshot wound to the right side of the head. They also found a 9mm pistol right beside Jason's body.
ASP Alejandro Cowo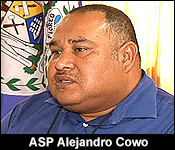 "Police processed the scene there where they recovered a firearm beside Mr. Emanuel's body, and likewise, they found 2 expended shells, and several ammunition on the bed, and inside of the magazine."
Immediately, that suggests that this may have been a murder/suicide that was committed Sometime late Friday, or early Saturday.
But, the police spokesperson was uncomfortable with that suggestion being put to him.
Reporter "Going back to the murder/suicide incident on Saturday, can you share with us?"
ASP Alejandro Cowo - OC, OCB Belize City
"I did not say say it's a murder/suicide."
ASP Cowo's demeanor clearly suggests the delicacy with which they want to proceed, not wishing to offend either of the 2 grieving families who lost loved ones in this deadly domestic dispute.
But while the cops aren't willing, without proof, to concede that this was what happened, it's certainly what many believe at this time.
Daniel Ortiz, reporter
"We have to ask, do you and your family think that he killed her, and then killed himself? That's the speculation in the streets, but nobody knows for sure."
Voice of: Patrick Meighan, Ermelinda brother
"Thinking back, there was one time when I used to live with them, when I was a little bit younger, she took me in, I was staying there….There was one time, he was taking us home. He was cursing, saying everything, and he made a threat, and he said that, 'Linda, you don't know me. I would kill you, kill him, and kill myself. That way, nothing will come out of it.' And, it was, yes a couple years back, not knowing that this man would live up to his promise."
The cops also gave neutral details which indicates that the shooter had to be one of the two spouses.
ASP Alejandro Cowo
"We understand that the house was locked from inside. Both persons had their keys, so we suspect that something might happened between the couple that was inside of the room. At this moment, I cannot tell you which one of them, conducted - or did any - or injured anybody. At this moment, we're still looking at that angle, and based on what the post-mortem will indicate to us, probably afterwards, we can comment on it."
So, what leads Linda's family to believe that he was the shooter?
Voice of: Patrick Meighan
"For one, we know that he was intoxicated because of the way they found him. There was - it was - he threw up in the room, and what's not. He had bands on his hand from some event or club he was, while his wife was at home sleeping in her bed. He was out there doing whatever he was doing, what he always does."
And from their account, they also saw other warning signs, indications that any loving family would allow disputing couples to resolve on their own, instead of getting into their business.
Voice of: Patrick Meighan
"At first, everything looked normal. But, as years go by, you started to see little things. As I far as I know, I didn't see any physical abuse, and in any relationship, you will have your ups and downs, you'll have arguments. So, it could turn out being more verbal than physical."
Daniel Ortiz
"Did you ever get the sense that maybe there was a bit of too much control being exerted on your sister by her husband?"
Patrick Meighan
"Yes, there was. He's insecure, and I don't know. Maybe it's because of the type of wife he has, how beautiful she was, make him feel that type of way, but he was an insecure person. And he felt that - I don't know how the explain it. But, he was insecure."
Linda's family said that his behavior is a stark contrast to hers.
Voice of: Patrick Meighan
"She did what was to be done as a wife. She was at home. She took care of her home, cooks, cleans, and do whatever needs to be done inside, while on the weekends, or whatever, he goes out and party."
Daniel Ortiz
"We understand that she was a career woman as well, that she was that she was a member of the Belize Coast Guard."
Voice of: Patrick Meighan
"From me growing up, knowing myself, she worked in the Government service, and up to this day, the last place she was at the Coast Guard. She was dedicated to whatever job she was placed at. Whatever was given to her, she executed it as best as she could at a professional level. That's the way she used to work. She doesn't leave her work for no one to talk about it. She tries to do it flawless, so that when you look back, I did that, and I did it well. That was the kind of woman she was."
We got in touch with Jason's friends and family, but they told us that they would prefer not to speak at this time.
Of important note is that police believe that the couple bodies were inside their bedroom for several hours before they were discovered dead. Linda's family told us that she had made plans to spend time with them on Saturday. When she didn't show up, and she wasn't answering her phone, they went to her house to check on her. We understand that her sisters spotted their bodies through the bedroom window, and they called the police. When the cops arrived, they broke open the door, and that's when their Rose Lane home became a crime scene.
This case has re-opened the discussion about domestic violence, and several prominent Belizean women have shared their views on social media.
They are joined by the PUP's United Women's group, which sent out a press release.
Their statement, says, quote "This tragedy... has once again revealed the need to re-engage in the conversation on domestic violence, to sustain the discussion and to advocate for changes to be made in the law and in our culture. When a spouse kills another, it is the worst form of domestic violence. It is murder. When that spouse then commits suicide, it doesn't end the cycle of violence... Ms. Linda's life was savagely taken and cut short."
The Pinks family tell us that Jason and Hermelinda did not have any children. But he does leave behind a son from a previous relationship.
Murder of a Man Called "Ese"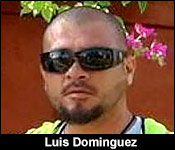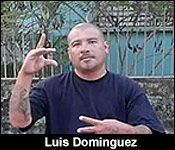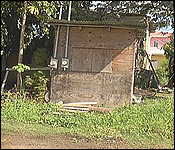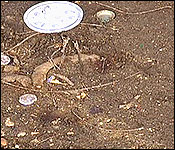 And before Saturday night ended, there would be another murder in the city.
Close to midnight, 35 year old Luis Dominguez was murdered in the King's Park area.
According to police a man with dark skin complexion entered the residence and fired several shots at a sleeping Dominguez. Today we found out more about the man they called "Ese":
Sahar Vasquez reporting
Before the clock struck midnight on Saturday 35-year-old Luis Dominguez or Ese, as many knew him, was murdered at a family friend's house on 8th Street.
Dominguez was at the home for a memorial, too tired to drive his bike home he sat on a table outside and started dozing off.
Shortly after, those around him heard the shots and hoped to go outside and find dynamite being blown up but instead, they saw Ese on the ground with bullet holes all over his body.
Voice of: Family Friend
"The party was finished at the time. My grandmother said that when she heard the gunshots she thought it was dynamite because of the Chinese New Year. My grandpa said no that doesn't sound like dynamite it sounds like a gunshot. My uncle was out at the time. She peeped out but heard Esse moaning. When she pushed open the door all she could do was scream out and ask for help."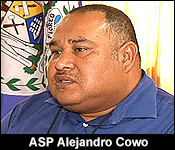 According to the police, the killer went right up to Dominguez and pulled the trigger.
ASP Alejandro Cowo, OC-CIB Belize City
"A male person approached him and fired several shots at him. The person then ran from 8th Street into 12 street and fired four more shots in the area. What we understand is that he was hanging there from earlier in the day and was along with other persons at the time of the shooting."
Dominguez was an employee at Belize City Council in the works department and councillor Leslie said the 35-year-old was nothing but a hard-working man who was turning his life around.
Dion Leslie, City Councillor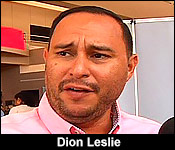 "He was just so excited for the job. He said that he was changing his life and he is happy that we the council gave him an opportunity to do so. All around he was just someone that was happy for life and wanted to change. It is so sad that his life came to an end this way. As we all know he is a good guy and we will miss him terribly."
Dominguez's family and friends are still in a state of shock. They will greatly miss everything the man they called "Ese"
Voice of Family Friend
"I will miss everything about Esse. Everything about him because he never thought negative about us so we will miss everything about him."
Dominguez was a known figure to police. He had been arrested a few times for minor incidents. Dominguez leaves behind one son and an unborn child.

And Literacy For All
How can we get children to read more? It is not an easy task but parents and teachers have to be crafty and creative in getting kids engaged in reading and writing. That is the whole idea of the Education Ministry's literacy campaign - it's an attempt to renew and refresh the existing initiatives but to also incorporate new strategies in the classrooms. Courtney Weatherburne was at the launch and here is her report.
Courtney Weatherburne reporting
Today the Marion Jones Stadium was transformed into a colorful space much like the classroom. Of course the kids were very comfortable, working on their spelling
And getting in some online reading. But these kids aren't just here for the fun activities. It's the launch of the Education Ministry's literacy campaign. Now there are several ongoing initiatives promoting literacy but this is the first full-fledged collective effort.
Dr. Carol Babb, Chief Education Officer

"Today we are recommitting with a more strategic plan in mind to ensure that students are reading at their grade level. One might say that literacy is already the responsibility of the Ministry of Education and that is true, but today we are recommitting our efforts with all our partners to ensure that literacy is a reality for all our students."
Many students have been struggling and continue to struggle with English and Math throughout their educational life. These challenges are reflected in the PSE results. According to the statistics, 25% of schools have a history of low performance. Now getting everyone back on track with literacy is certainly a mammoth task, but student assessments have already started in city schools and will extend to other schools countrywide.
Hon. Patrick Faber, Minister of Education
"There are nine schools that we are working with right now in the city, yes. And you have also heard from our director of QUADS about our move to do a kind of diagnostic test at standard one, at the start of standard one to make sure that children at that stage are reading at that level and above. And if they are not we are going to put in place the corrective measures that are needed to make sure they do not move beyond that point without getting the support they need."
"This is a pilot and of course we are making sure we have the friendly environment for children. But as we often say while we pilot these things this is what our daily work is in the ministry, teachers across this country should be working to make the learning environment more child friendly."
But the responsibility also lies with everyday citizens to promote and inspire literacy.
Hon. Patrick Faber, Minister of Education
"If you are riding on the city bus beside a child, walk around with a little book in your bag and read to the child while on the bus. If you are going to market, if you are going to the bank sometimes you have to wait in line, sometimes you have to sit and wait whatever it is that you are doing. If you don't have your own children deal with your nieces and your nephews or your neighbors, grandchildren or whatever it is whoever it is you can find to spread the love of literacy. And I also want to point out when we talk about literacy we are not only talking about reading and writing we are also talking about numeracy and you have seen the ministry push financial literacy repeatedly. It is a main push for the ministry but we want our children to be good with numbers to be good in math as well."
Scotia Bank donated 15 computers to the Ministry of Education as part of this collective effort.
In other news from Scotia, Belize's only international bank today announced that it will be closing its branches in Spanish Lookout and Placencia. Spanish Lookout - which has been robbed twice - will be closed on April 20th, while Placencia will close on June 22nd. A statement from the bank doesn't offer much by the way of explanation - and only invokes some corporate speak, saying, quote, "Scotiabank continuously reviews its operations... to ensure we meet the needs of our customers while maximizing operational efficiencies….We are also committed to supporting our employees through this transition..."

Succotz Man Killed Near 'Ranza
A man was knocked down and killed out west on Saturday night. 46 year old Succotz villager Arcenio Itza was walking along the highway from Central Farm towards Esperanza Village when a vehicle, that was going in the same direction hit him. Itza suffered severe head and body injuries and the driver just sped off, leaving him to die. Police continue to investigate.


Cops Found Half-A-Key Of Coke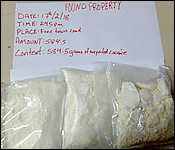 Police often find weed stashes in abandoned lots all over the country. But this weekend, they came up with half a kilo of cocaine. On Saturday afternoon, they searched an abandoned house on Freetown Road and found three transparent bags cocaine.
The bags weighed a total of one pound - which has a street value of over ten thousand dollars. No one was present at the time of the discovery so the drugs were deposited and labelled as found property.

Mario Vernon's Family Not Letting Up Pressure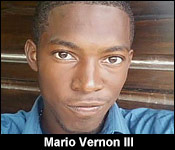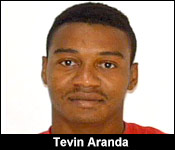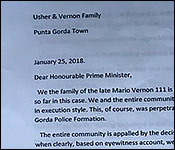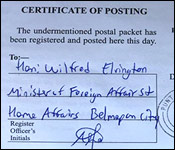 The family of slain Punta Gorda resident Mario Vernon is keeping up the pressure on authorities. Today his aunt told PGTV that they have written many letters to various government leaders demanding that a proper investigation be done and that police behave honorably. Here's more:...
Vincent Nunez, Mario Vernon's Aunt
"I've sent letters, registered letters, I've sent an email and there has been no response. We sent a letter to Minister Elrington, one to the Prime Minister, and one to Mr. Aragon. We also wrote a letter to Clement Cacho, the OC here in PG because this thing happened under his nose and he should have some answers. I just think this is all a part of a cover up and this needs to stop. What has happened is that the PG police are intimidating and harassing witnesses. I think the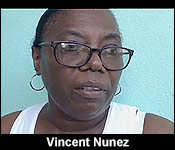 dragging of the feet of the Justice Department goes right along with that. I think they are trying to paste this thing out to see if we're going to give up but we will not give up. Mario's life was a life, yes he was not perfect but he was a human being and all human beings have a right for life."
The head of the Professional Standards branch, ACP Chester Williams told us he is scheduled to make a visit to PG this week.

Quick Trial Date For Kashief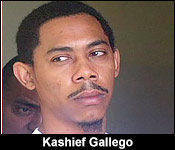 We're used to murder trials taking five or six years to come up for trial - often resulting in acquittals because witnesses disappear, lose their courage, or their memory.
But, the court rules have changed to ensure speedier trials - and that was proved today when Twenty-five year old Kashief Gallego was committed to stand trial in the April session of the Supreme Court, a mere 10 months after he allegedly killed 36 year old Jermaine Franklin.
The East Canal resident allegedly stalked and fatally shot Franklin while he was looking at some DVD's at Teddy's Music Store on King Street.
His committal proceeding was held today before Senior Magistrate Aretha Ford. It includes a caution statement from Gallego. Before being committed, Gallego was asked if he had any alibi witness or witnesses he wished to call. He submitted the names two witnesses.

Capital Cops Caught Phone Snatcher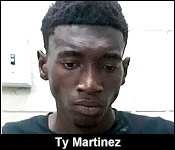 The Belmopan neighborhood watch got militant last week Thursday when a robber tried to snatch a phone from a 22 year old male. Around 10:00 that night, he was walking alone on the walkway, but at Independence park two men ran up on him and tried to wrest away his phone. The 22 year old fought back and was assisted by one of the City's Neighborhood Watch members.
The police were called and two patrol teams raced to the area to catch the culprits. The cops were able to capture one of the suspects shortly after - and they also tracked down the other one.
Both Ty Martinez, and 18 year old from Mahogany Heights, and a 17 year old minor were charged with attempted robbery. Both were granted bail of $3,000 dollars and the case was adjourned for April ninth.
In other news from Belmopan- reports say police there have found an SUV that was stolen from Guatemala - but fraudulently licensed in Belize. Reports say it could be linked to a law enforcement officer.

Ladyville Armed Robbers To Court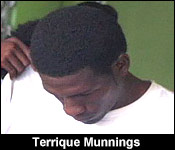 On Valentine's day at around 1:30 pm, four robbers - two of them with guns - and with shirts over their faces robbed Bowen and Bowen delivery men of $2,500 dollars, and a storekeeper of nine hundred dollars. It happened in Ladyville at Mike's store.
Well, police say they have two of the men who participated. They are allegedly 25 year old Terrique Munnings and a 17 year old minor. Today in court they were charged with 2 counts of robbery and pled not guilty. They were remanded into custody until May 18. The minor told the court he was beaten by the police and was pepper sprayed. The left side of his face was swollen. Munnings and the minor were represented by attorney Ronell Gonzalez.

A Nine On The Northside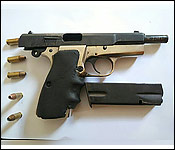 Caye Caulker police today retrieved a nine millimeter pistol. At around 5:00 this evening, the police visited an area at the North end of the Island where they found this chrome and black pistol, with no brand and no serial number, along with five Luger brand hollow point rounds of ammunition. The firearm was retrieved and deposited as found property.

PUP Takes Sides With Tour Operators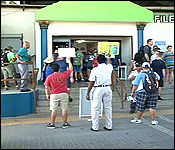 For months now, we've been reporting on the consultations with the tour operators vendors, and guides who congregate outside the gates of the Fort Street Tourism Village. The cruise lines, the BTB and the FSTV owners have been complaining about them for the longest time - but, the thing is, there's nowhere else to put them. The idea of the Memorial Park has been floated without any buy-in, and now there's a recommendation to relocate them to the Marion Jones Stadium.
That one hasn't exactly gone down with a spoonful of sugar - and today, the PUP Mayoral candidate for Belize City seized upon it - holding a press briefing to say he stands with the tour guides:...
Bernard Wagner - PUP Mayoral Candidate
"We don't want our tour guides to be relocated at the Marion Jones Stadium, that's a no. We at the PUP City Council want to provide support for the tour guides in this plight that they are currently facing."
Jules Vasquez, Reporter
"You're positioning yourself or your council to get those men's vote."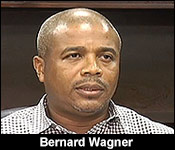 Bernard Wagner - PUP Mayoral Candidate
"Its politics season you would say, but we take our business very seriously at our council. We take it very seriously and we are always focusing on ensuring that our people get a piece of this pie. It can't be a situation where the tour operators are already behind the fence making their share of the pie. Why now are you going to take away the small amount that is left out there for our people and put them in an adverse situation? That to us is against our policy. We are about the people and even if people would leave here saying politics, well its good politics."
The city council today put out a release saying - the proposal is for the Marion Jones to be used, quote, "as as a staging area for parking, while still allowing Operators to have a set number of vehicles at the Memorial Park awaiting passengers to load. This is to alleviate the parking congestion for residents and business owners. This component is still being ironed out and a stakeholder meeting will be held hopefully mid-March."

PUP Mayoral Candidate Says Convention Bump Is Real
Candidate Wagner - who we haven't seen at a press conference before - is coming out - right before nomination day - and 8 days after his party held a buff national convention in the city. He says there's definitely a convention bump:..
Bernard Wagner - PUP Mayoral Candidate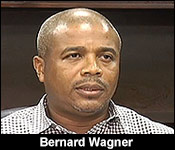 "Particularly after the convention, there's an upbeat, a surge, people want this change, they are calling for this change and they are telling us on the campaign trail that change is coming. The convention reinforced that and people see us as a viable option."
Jules Vasquez, Reporter
"But what people want is goods and services, they want a little bit of handling."
Bernard Wagner - PUP Mayoral Candidate
"We will never be able to match the war chest of the incumbent government, but with the help of the business communities out there and with the help of our party, we have been able to survive."

Who Will Win On Nomination Day?
Wagner hopes to ride that momentum into nomination day on Wednesday. But the UDP - who have dominated this day in the city for at least, the past 10 years - say that it will be their day to flex, and out muscle the PUP:...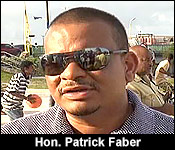 Hon. Patrick Faber, Deputy Prime Minister
"Well it is always for us a very important event, it is the motivation in the whole election season for me and for my constituency and I have taken on the task of working with the Lake Independence constituency as well and I can tell you Lake I is fired up and ready to go for the ride as well. So, we are going to be coming out in full numbers on the 21st that's next Wednesday. I think we get to go in the afternoon, if I'm not mistaken and so we get to finish it all up and we get to see the opposition's crowd in the morning and we to top it in the afternoon. I am very optimistic that we will be able to deliver this city once again for the United Democratic Party."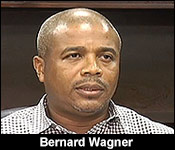 Bernard Wagner - PUP Mayoral Candidate
"Wednesday, we are expecting a massive turnout and these are people who are genuinely, authentic they are not been paid, they are not been bought. These are people who are bought into this PUP slate. They just love this slate. They want to come out and support the slate and they want to support the People's United Party. So, we look at Wednesday as a big day for us."

Can Faber Stem The Blue Tide In Lake-I?
And as you just heard Faber say, he's embedded in the Lake Independence area. That's a part of the UDP strategy to try and contain the PUP's lead in its most dominant city division.
But, Wagner says Faber should be staying home instead of wasting his time in the Lake:...
Bernard Wagner - PUP Mayoral Candidate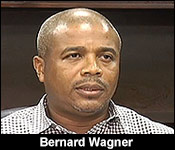 "Actually Jules I don't see him play in any role in the Lake I. As a matter of fact I think he is an none entity in the Lake I area. He showing up there is like next to nothing. While he is concentrated in Lake I, he might pretty well be losing ground in his own division. So he should be spending more time in his area."
The UDP hope to somewhat contain Lake I and then counter with numbers from its strongest divisions in Collet, Mesop and Queen's Square.

CCJ Judge Scolds GOB On Maya Rights Case
About 4 months ago, we took you back to the Caribbean Court of Justice for the regular reports that the Maya and the Government of Belize were required to make. They were supposed to be reporting on the progress they've made in the implementation of the CCJ judgement to make Maya Customary Land Tenure a real thing, and not just a order of the court.
You'll remember that the spokespersons for the Maya basically went before the Court and said that the Government was dragging its foot to implement Maya Land Tenure. As one attorney explained it to us, it is as if the Government proposed to the Maya, got married, and is now refusing to honor the commitments it made to them.
The Government disagreed, and made the point that these things take time, and that they can't rush without considering all the possible unintended consequences of the change that would be required.
Well, the two sides went back before the Court, and the Government was supposed to have filed a draft working plan to implement the judgement. The Government also committed to hold 2 meetings with representatives of the Maya Communities so that they could offer suggestions to improve that work plan.
But, when the two sides showed up for the teleconference hearings today, the court was informed that the Government only held one of those meetings, and they did not file this work plan. Basically, they had broken their own commitments to the court, and it appears that the judges will not accept any more excuses.
Today, nearing the end of the 41-minute hearing, Justice Jacob Wit informed the attorneys for both sides that he will be meeting with them personally to resolve one of the big issues that's been causing the implementation to lag behind. He told them that he wants to help them come up with an alternative dispute resolution after Maya Customary Land Tenure is implemented.
Here's that part of the hearing via teleconference where the judge, in his explanation of his intentions, said that nearly 3 years without any real progress cannot continue:
CCJ Judge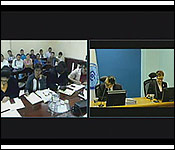 "A dispute resolution framework needs to be established. We ask you to do so. We got a dispute resolution proposal from the government's side and a letter from Mrs. Coc-Magusson reacting on that. The idea is that we will sit together, you and I and I propose that that will happen this week. if possible on the 22nd Thursday same time as now. So 11 o' clock our time, 9 o'clock your time. I will give you some thoughts how I want to get this done, because after 3 years the party have not succeeded in getting anything done in this regard and this cannot continue. So I will give you my ideas so that you can start thinking about that."
"Dispute resolution framework that is proposed is much too complicated. I think there needs to be an authoritative person and I think that could be a retired judge from Belize, somebody of that stature. That is in short, succinct way the direction I would like to discuss with you, and I insist that we get to some sort of results as we cannot continue in the way that we have continued up to now. Of course you do not have to agree with me, but it would be advisable that in some way you do."
Justice Wit will meet with both sides on Thursday in a private session. The judges have imposed a deadline of March 9th to file that draft working plan, and on March 15, they will go back before the court for another report.

A Trio of New Ambassadors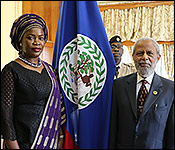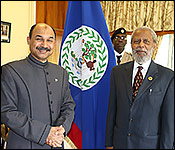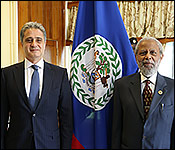 Three new Ambassadors presented their credential today. They are Janet Olisa from Nigeria; Yasser Morad Osman Hosni, from Egypt; and Tasawar Khan, from Pakistan.
The Governor General welcomed each of the diplomats and expressed that Belize shares their same interests in diplomatic relations and cooperation.

BEL's New Deal With CFE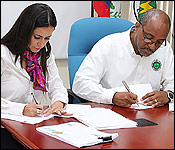 Your power company, BEL was doing its own kind of energy diplomacy today. It welcomed a representative of CFE - the Mexican power company that it has been buying power from for decades.
Now, through an affiliate of CFE called CFE Calificados, BEL will also be able to sell energy to Mexico.
Both sides signed a Power Purchase Agreement today. It will permit BEL to purchase more power from Mexico when prices are low and allow BEL to trade energy in the Mexican market.
The agreement was signed at BEL's Corporate Headquarters with witnesses from Belize and Mexico's Ministry of Foreign Affairs.

Home | Archives | Downloads/Podcasts | Advertise | Contact Us