Flashmob On Front Street?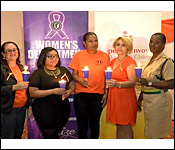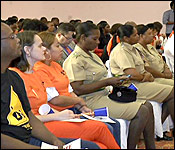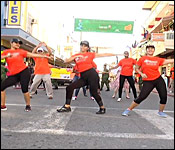 The 16 Days of Activism to end gender based violence kicked off on November 25th. Today the Office of the Special Envoy for Women and Children and the US Embassy teamed up to take it to a "whole other level."
The staged a flashmob in the middle of Belize City. Now, if you don't know what a flashmob is, it's a group of unassuming folks spontaneously bursting into dance in a public place. Now this wasn't quite that; this was more of a performance in the middle of Albert Street - and apart from stopping traffic, it sure did turn heads!
The US Ambassador, Carlos Moreno, the Prime Minister's wife Kim Barrow, the BDF and other stakeholders took the street as a stage, danced to soca music and invited bystanders to join in.
We asked them how the flashmob ties in with the 16 Days of Activism and eliminating gender based violence.
Kim Simplis Barrow - Special Envoy for Women and Children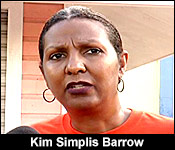 "We started from November 1st actually with several campaigns and it's the Orange the World campaign where we tried to get companies to put their orange ribbon, or buy a flag to end domestic violence. It's going really well, I should say. I noticed that a company like Benny's has like 3 banners on the front, and we must commend these companies who have supported the campaign because it really goes to show that they are taking a stand against gender based violence. That's one of the thigs. We did a Let's Have the Talk with High School Students very, a very candid discussion. We learned so much from our young people, and the wealth of information that they have is quite impressive. And then we did the launch last week Friday to open the 16 Days of Activism where we featured, our guest speakers were survivors of gender based violence, and again that was a very inspiring day. It really brought to the for front that anyone can be a victim at any given point, and so it's important that we know the facts on gender based violence and that we try to do something to eliminate gender based violence."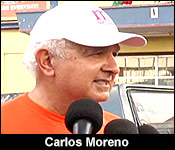 Carlos Moreno - US Ambassador
"Well this fits in perfectly with the embassy's campaign and the country's campaign led by the First Lady, co-lead by her to really commemorate but also to highlight the campaign the 16 Days Against Gender Based Violence. We thought we would have a little fun today dancing, it felt like dancing with the stars but I certainly wasn't one of the stars, but we really have to bring awareness to this particular issue that really passes across all ethnic groups, nationalities and countries. It's a worldwide issue. SO, if there's anything we can do as an Embassy, and the First Lady can do to really highlight this question in Belize, I think it's something that simply has to be done. So I hope by today's effort, by stopping traffic if you will and dancing crazily in the streets that we've sort of taken one step in that direction."
And this isn't the last of these activities. The US Embassy will be hosting a Mannequin Challenge Event on December 16th in Belmopan as part of the campaign to eliminate gender based violence.

Did Hon. Castro Cause BSCFA To Be Fair Trade Blacklisted?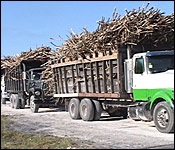 Right now, the Belize Sugar Cane Farmers Association is scrambling to reverse a suspension they received from the international accreditation agency, "Fair Trade." If they don't fix it, the BSCFA could lose about 1.2 million dollars in financial assistance.
So, first, here's how Fair Trade works. The UK based agency asks consumers in developed countries to pay a premium on products produced in developing countries. These consumers do this conscientiously with the intention to assist the smaller farmers in these developing countries to improve their standard of living.
But, to get Fair Trade certification, there are strict regulations, and they regularly check on organizations to make sure everything is on the level. It was in one of those Fair Trade audits of the BSCFA that they found what is being referred to as "phantom farmers". These are farmers who buy a portion of another farmer's quota, and deliver the cane as if the quota were theirs. So, for example, if a farmer has 1 tonne of cane, and no license to deliver it, they would approach someone with a license for 3 tonnes, who maybe is only able to deliver 2 tonnes. It's a widespread practice in the sugar industry, but under Fair Trade it's a major "no-no." We're told that in a recent report, the Fair Trade Auditors flagged cane farmer Eloy Escalante. For the past 3 years, he had not been delivering cane, but he had a quota, and sold it to Minister Edmond Castro's son.
Reports are that Eloy Escalante admitted this to the Fair Trade auditors, and it played a role in BSCFA being suspended from Fair Trade, since he is a member of the association.
So, was the Castro Escalante deal the reason why over a million dollars is in jeopardy for all the rest of BSCFA's members? Edmond Castro disagreed today when we spoke to him via phone:
Hon. Edmond Castro - Minister, NEMO & Transport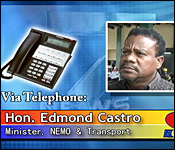 "My name doesn't appear nowhere at no cane farmer period. But I am second generation cane farmer. My father was a cane farmer from the 70's all the way to the 90's, we were cane farmers. Step out of it for a little bit, my son, we got back into the cane business during the time of the massive drought that we had in Belize Rural North where our cows were dying because we didn't have feed. We start back with cane to feed the cows and assist some of my farmers in the constituency, we went ahead and we buy out Mr. Eloy Escalante quota. My son buy out Eloy Escalante quota of a hundred and 37 tons. We reported that to the sugar board and all the other organization and agency who needed to know. We buy out Escalante. Escalante has not been reproducing for the past 2 or 3 years. He had on the books a hundred and 37 ton quota. We buy him out. The sugar board said, you have to run this thing as administrator for next year. Next year we will do the name change. All they will do is one name change, but they refuse to do because of their political mischievousness. The BCFA (Belize Cane Farmers Association) - my son purchase a hundred and 37 quotas from Eloy Escalante. The following year they should have kicked off his name from their books, because he has not been producing sugar cane. He doesn't have any he's not delivering any. They changed the game and say we are not changing any names this year and then the following year and the following year. That's why they get screwed because of foolishness."
We are told that some 60 other farmers were flagged by the Fair Trade Audit. We've tried to contact the leaders of the Belize Sugar Cane Farmers Association, but they told us that they cannot comment because they are awaiting a response from Fair Trade about the corrective measures they intend to take, so that the suspension can be lifted within the 30-day window.
So, why didn't Castro and his son simply go to the Sugar Cane Production Committee for their own licenses? That's what we pressed him on today, and the interview took an interesting twist, to state it mildly. Here's how that question and answer went:
Daniel Ortiz, 7News
"Sir, doesn't the person who allows for quotas, who gives license for quotas, isn't that the sugar cane production committee?"
Hon. Edmond Castro - Minister, NEMO & Transport
"Yes sir, this is a straight business. People sell quota all the time, but they have an unwritten rule. You can't say you are buying the quota which is foolishness. We bought Mr. Escalante quota of a hundred and thirty seven ton. Last year on that quota, we had it over one thousand eight hundred canes we delivered to the factory. We are producing cane. Eloy Escalante is not a cane farmer."
Daniel Ortiz, 7News
"But sir why didn't you or your son simply go to the sugar cane production committee and ask to be..."
Hon. Edmond Castro - Minister, NEMO & Transport
"All that was done, every year. Every year that was done. You have changed the name Eloy Escalante is no longer a cane farmer. We bought him out. They know, they said the following year they will change it not to worry about it."
Daniel Ortiz, 7News
"As far as I am aware the sugar cane production committee is the one who gives licenses. Your Castro family should have been able to get their own licenses so you don't have to buy out Mr. Eloy Escalante's quota."
Hon. Edmond Castro - Minister, NEMO & Transport
"My brother, business is business."
Daniel Ortiz, 7News
"The sugar cane production committee gave you all a reason as to why they don't want to register or give your family a license to deliver cane so..."
Hon. Edmond Castro - Minister, NEMO & Transport
"We have the license. If we did have the license then we can't deliver."
Daniel Ortiz, 7News
"But sir as far as I understand the license you are using is Mr. Eloy Escalante's license for quota."
Hon. Edmond Castro - Minister, NEMO & Transport
"Sir, we purchased Escalante."
Daniel Ortiz, 7News
"But I am simply asking did they not give you all a reason as to why you do not..."
Hon. Edmond Castro - Minister, NEMO & Transport
"Daniel, this is why you get into foolishness, you are asking one thing as if you are retarded over and over. Go and speak to the sugar board, go and speak to the cane farmers association. They can answer you that. I can't answer for them."
Daniel Ortiz, 7News
"Understood sir."
Hon. Edmond Castro - Minister, NEMO & Transport
"You are a bright man, don't sound as if you are retarded, you are saying the same thing over and over. Move on, next question."
We understand that farmers also use this practice of buying and selling quotas as an additional source of income - which does not go to the bank. The farmers get to pocket that part of their production earnings without the Bank requiring them to put it up as part of collateral to secure their loan.

Brian Brown, GSG Kingpin Cleared of Charges In GSU Search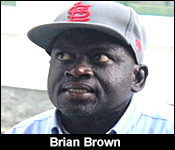 He's a notorious street figure, but 40-year-old Brian Brown walked free from 8 criminal charges today.
In May of 2012, the GSU raided Brown's home on Jimmy Dyer Avenue and found found 307 grammes of crack cocaine, 17 grams of cocaine, a bong used for smoking weed, along with several "catches" of weed, and a bullet proof vest.
Brown wasn't there when -police turned his house upside down. Brown eluded arrest for days after the search. But was it his house indeed? That's the question that was put before the court during the trial. The sign on the front said Brown's Enterprises, but Brown claimed he didn't live at the address in question and at the time of the search he had no control of the premises.
In his ruling, Magistrate Carlon Mendoza said, quote, "The fact that…Brown was not present when the GSU did the search brings doubt in my mind. .." He added, quote, "The GSU should have done a sting operation to make sure that no one else lived there except for Brown." He even noted that even though Brown's expired passport and birth paper were found there, he is not sure that someone else wasn't occupying the house at the time.
With that he pronounced Brian Brown "Not guilty," of all charges.
Brown, who was badly burnt in 2015, left court a free man after a trial which lasted 7 months. He was represented by two attorneys. He is considered to be a major figure in a Belize City gang.

Pregnant Mother Expecting Twins Accused of Drug Trafficking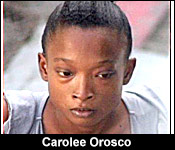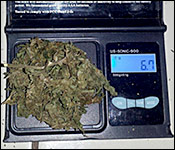 Today in court a pregnant mother who is expecting twins was accused of trafficking half a kilo, or more than a pound of weed.
22 year old Conch Shell Bay resident Carolee Orosco is expecting in February, but police arrested her yesterday on Ebony Street. They said she was responsible for 544 grams of weed found inside a bathroom.
Police say Orosco told them she was just using the bathroom of a friend's house, and when police searched it they found the stash of one pound and four ounces of weed.
Orosco was charged for Possession of a Control drug with intent to Supply to another. She received bail of $5,000 plus one surety of the same amount which she met by 12 noon. This is not the first time she is being charged for charged for drug trafficking. 2 years ago, she was arraigned on a single charge of trafficking almost an identical amount of weed and in that case it was also found in the bathroom. She is on bail for that offence.

Mediating and Mercy Instead of Arresting and Charging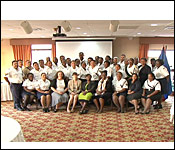 This afternoon at the Radisson, 36 police officers finished a 5-day training workshop on mediation and conflict resolution. They were being trained by professionals from Riverdale Mediation, a well-respected firm from Toronto, Canada.
The training is a continuation of the Canadian Government-funded program known as the Improved Access to Justice in the Caribbean, or IMPACT Justice for short. These 36 officers are the first cohort of police trained in alternative dispute resolution. They're being asked to use mediation as a policing tool, instead of the hard knocks approach of simply bringing criminal charges against accused persons.
Today, at the closing ceremony, one of the lead facilitators shared with us what the officers learned in their last 40 hours of instruction. Here's what she told us:
Hilary Linton - President, Riverdale Mediation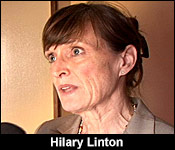 "The intended purpose is to equip the officers with skills to help them handle conflict more efficiently more effectively within their work and communities. So, we took them to 5 days of very intensive training. We taught them how to understand conflict, how to understand what's driving conflict, how to help people feel comfortable, resolving conflict together, we taught them negotiation skills. We taught them mediation skills and we taught them how to conclude settlements with people in a fair and useful way."
Daniel Ortiz, 7News
"Is this the formal structure? These mediators, I know are certified. What does the certification say and what does it allow them to do?"
Hilary Linton - President, Riverdale Mediation
"They have been provided with a well known internationally set of skills, set of values, set of principles, so that these officers now are representing a way of evolving conflict that is internationally recognized."
Sr. Supt. Bart Jones - Legal Advisor, Police Dept.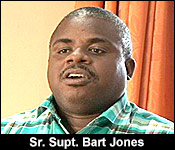 "Every day we deal with conflict, if it is when we are in the store, we negotiate prices. We go to the store, the shop keeper says the tennis cost a hundred dollars. We try to negotiate. So, you see that we have been doing conflict negotiations in our everyday life. Now we are certified in doing it a formalized way. Some people say a soft kind of policing but it is not. It is the change that we must adopt as we go into this new era. We have seen that the traditional policing has created by itself additional conflicts. So we employ you to use this knowledge as you go back into your respective communities. Up in the north, you will be called upon, maybe to deal with conflicts with the cane farmers, neighbors having fire spreading from one cane field to the other, creates conflict and throughout Belize there will be some conflicts that we can mediate. There are times when there may be minor offences committed by persons and sometimes we charge and even after someone has been charged or convicted there still remains that conflict, that animosity between neighbors because they still have to live in the same community. So mediation is an avenue for which we believe that can help to resolve conflicts and further deescalate situations within the community in which we serve."
The Officers are expected to get their training certificates early next month. IMPACT Justice has already facilitated mediation training in Barbados, Dominica, Grenada, Guyana, Jamaica, St. Kitts and Nevis, St. Lucia and St. Vincent and the Grenadines. In October, IMPACT Justice facilitators were in Belize conducting training for rehabilitation for criminals, both juvenile and adult.

Et Tu, Erwin?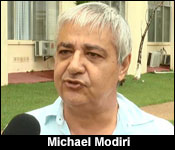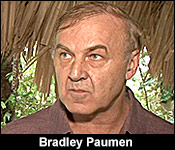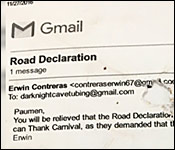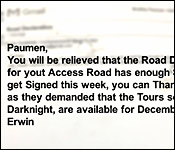 There is an intriguing development in the Michael Modiri/Bradley Paumen land fight which continues to play out in Franks Eddy Village. Modiri is still blocking the road across his property, while Paumen's million dollar Dark Night tour company is taking a major hit in the bank book and his hundreds of employees are languishing.
Just yesterday, we saw a picture of an email from someone claiming to be Trade Minister Erwin Contreras. We say "claiming" because the minister told us that's not his email address - and indeed our records show him using another similar address for the past few years.
It is sent from contreraserwin67@gmail.com, which - again - Erwin Contreras says is someone impersonating him, and it is addressed to darknightcavetubing@gmail.com. The mail is titled Road Declaration, and it says, quote, "Paumen, you will be relieved that the Road Declaration, for your Access Road has enough Support to get signed this week. You can thank Carnival, as they demanded that the Tours sold through Darknight are available for December, Erwin"
So, why is this road declaration important? Well, as we've reported, Paumen runs his operation from a road which passes through Modiri's land. The Government acquired the land for public purpose, but Modiri sued and the court ruled that the Government unlawfully acquired the land for an improper purpose. The court reversed it and at the start of this current cruise tourism season, Modiri set up a blockade right where the road enters his land. So, Paumen has been forced to suspend all tours, because according to him, it is not financially feasible to go around Modiri's land.
Now, Paumen's employees have held protests twice in 6 weeks to beg the Government to intervene and declare the road public. That would force Modiri to end his blockade, and that's the context of this mystery email. Modiri tells us that this printed copy was pinned to his gate as a sort of threat, as if to send the message that he will fail in his effort to stop the Dark Night operation from passing through his land. When we contacted Paumen about the letter, he gave a contrary account, saying that someone trespassed on his property and took that of a confidential letter. He didn't dispute the authenticity of the letter.
Turning to the effect of Modiri's enforcement of his private property rights, Paumen said that he tried to go around Modiri's land through an alternate route, but it's not economically feasible. He says there are persons working in the "background" trying to preserve his employees jobs. And in that vein, when we spoke to Minister Contreras, he did mention that Paumen has been reaching out to his other colleagues in the Cabinet to try to get them to intervene. Contreras said he has helped Paumen with permits in the past, but he is not involved in this instance.

Saldivar, Working Up A Sweat On Southern Tour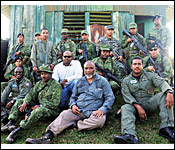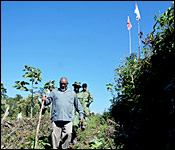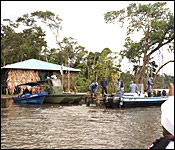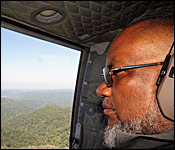 He may be coming off a Cabinet suspension, but that hasn't caused John Saldivar to break his stride - though, judging from recent, pictures, we'd say it's clear he has broken a massive sweat!
This is Saldivar after a rugged two-kilometer uphill hike to the BDF Camp at Machaquilha in the remote southern part of the Cayo district. He was accompanied by CEO in the Ministry of Defence Lieutenant Colonel Felix Enriquez, and BDF Deputy Commander Colonel Steven Ortega.
They got to the nearest landing area by BDF helicopter, which then took them to the BDF border Camp at Santa Rosa in the Toledo District. This camp sits on a hill and overlooks two Guatemala settlements: Jalacte and Santa Marta Chacte.
After that it was off to another border post at Cadenas near the Sarstoon River. That's where the minister braved the night, and then in the morning, made the steep downhill descent to the river. That's where the Coast Guard picked the team up and they headed to the Forward Operating Base at the river mouth. After that the next stop was Punta Gorda, Fairweather Camp, and then by helicopter to another border post, Tree Tops which overlooks Santa Cruz in Guatemala. After that, the Ministerial delegation took a trip down the new highway to Jalacte, a place where black market free trade and free crossing is the norm.

The Coast Guard Crucible
Crucible: That's the name of the final challenge in the Coast Guards Best Warrior Competition. It began on Wednesday. There are 2 events each day and this morning it started off with the 9 mile March and Shoot and ended this afternoon with what is called the crucible. We stopped by to see how the 6 teams of 8 fought through the grueling obstacle and we also found out why this event is more than just a competition.
48 guardsmen participated, and half of them are first timers. The Coast guard training is not limited to these exercises, they also participate in other competitions such as the End of the World marathon and other sporting tournaments. The winners of this year's Best Warrior Challenge will be announced this weekend during a special lunch.

GSU Gets Gun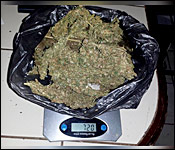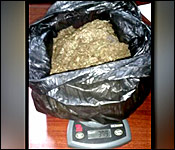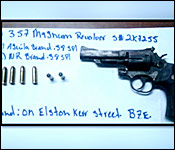 The Gang Suppression Unit went on a number of raids in the city yesterday, and their efforts were rewarded with a number of busts.
Then officers went to the Conch Shell Bay area, in 2 stash spots, the officers found 559 grams of marijuana - which is one pound four ounce, and an additional 720 grams, which is one pound nine ounces. No one was in the area, and so the items were deposited as found property.
The officers then went to Elston Kerr Street, where they searched an open lot and found a gun. The weapon was a 38 revolver, which was loaded with 6 rounds of ammunition. They also found 379 grams, or 14 ounces of marijuana, and because no one was in the immediate vicinity, the items were deposited as found property.
They then went to Majestic alley, where the searched another empty lot. There, they found a black plastic bag, which contained 5 live rounds of 9mm ammunition, and another 5 rounds of 5.56 ammo.

Radical Women And Their Art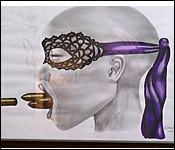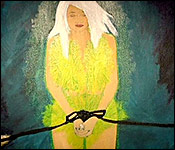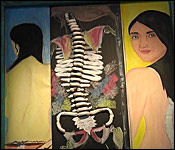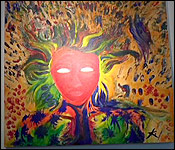 The Belizean Women's Artists Collective held its first exhibit today at the Image Factory in Belize City. The small band of female visual artists created pieces centered around the theme word: Radical. They were challenged to interpret the word through art. We spoke to some of the artists about their works...
Katie Usher - Artist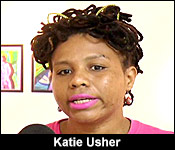 "I have a piece her called suffer not the children and it's actually a play on a biblical, I don't know, see how bad my Catholicism is, something from the Bible where it says "Suffer the People Onto Me" and it really spun from the church's response to the UNIBAM case. They were so vocal against love, but yet still every time you open the newspapers of you guys do the news you see all these children being abused and the church kind of silences it, so that's what this piece is about."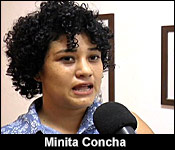 Minita Concha - Artist
"My artwork is very innovative and I based in upon my experiences as a woman, both good and bad, and experiences of other women, both good and bad. I show a strong contrast, like at the ends of two continuums. Some of the pieces show women being submissive, being held captive by domestic violence, being held in this notion here in Belize that women should be seen and not heard. While some of my other pieces show women being resilient, they're strong, they're very vocal, they're not afraid, they're very fearless. And I do this because I think it's something that I could use to educate other people."
Karla Giovanna - Artist
"Radical to me is a deviation, something unusual. Another extreme to what you usually find in society and everything. This other piece, shows it even more. And for me this one is radical. In it I'm saying. I'm bounded by society, but at the same time the person who is binding me to society is myself."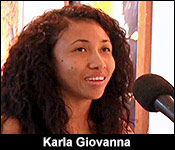 The women also told us about their experience with the collective and how it has helped them grow as artists...
Karla Giovanna - Artist
"BWAC is an effort to just bring together female artists, because we need that space. That safe space. As women that will allow us to grow, as artists, as women and it has allowed us to come here today and show and express what we as women feel."
Miriam Antoinette - Artist
"The Belizean Women's Art Collective is what I call a sticky, cohesive of collective differences. Some of us may not even be friends, you know, but deciding to embrace what a collective is, individually and as a group, has forged in me a new understanding for human relationships and a new found respect for, even greater respect for women and what women can accomplish when we come together."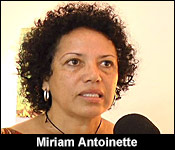 The artists say that they are already working on future projects, both as a collective and individually.

Christmas Tree Lights Up city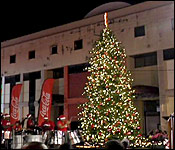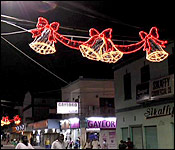 December may have just started, but Belize City is already getting into the Christmas spirit. This evening the Belize City Council and Bowen & Bowen held the sixth annual Christmas tree lighting since the renovation of Mule Park in downtown Belize City. Hundreds gathered on Albert Street to see the ceremonial tree lit up, and enjoy the Christmas themed steel pan music. Belize City Councilor Michael Theus told us how lighting up the streets helps with the city's morale.
Michael Theus - Belize City Councilor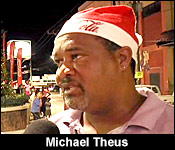 "This tree lighting, what we have out here. We have partnered along with the Bowen&Bowen group of companies and they are a major sponsor in assisting us in getting what we have here that will be lit shortly. What it does is it basically uplifts the morale of persons coming into the downtown area to do their shopping, bringing their children out, so the varied array of lights on buildings and everything else tells them that Christmas has arrived. This is our little part of getting all of our Belizeans into the spirit, and showing that we care. And we want each and every person to have that same feeling towards each other. The sharing and the caring of this season."
Alex Courtenay, 7News
"Sir, you mentioned that you know, Christmas is coming. Does the Council have anything else planned in terms of celebrating the season with the citizens?"
Michael Theus - Belize City Councilor
"Yes we do. As a part of this here event, the tree lighting ceremonies, we have just launched the street decoration lighting, if you go right down Albert Street we currently have 3 lights that are going across the street. We're installing more tomorrow. Also what we have already started is our 12 Days of Activism throughout the Christmas season, which sees each and every Department and Councilors having something different to do on a daily basis."
The mayor is out of the country. Each of Belize City's Councilors will be holding individual events to celebrate the season.

Cuba's Audacity Against The Empire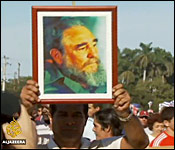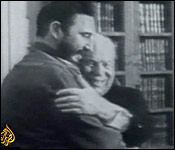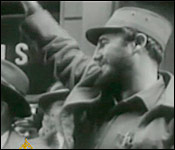 Tonight, Fidel Castro's ashes are making their way across Cuba to their final resting place in Santiago. It is a 560 miles slow procession, retracing the journey Castor made in 1959 to liberate Cuba. It culminates on Saturday with a mass gathering in Santiago, followed by the internment of his ashes the following day.
Belize is represented by the Deputy Prime Minister Patrick Faber and the Minster of Foreign Affairs Wilfred Elrington.
Tonight, we have one more reflection on Castro's place in the long view of history. Though Castro is demonized in the US media - the view in the Caribbean, Latin America and Africa is far different. Nelson Mandela called him "a source of inspiration to all freedom-loving peoples," and Prime Minister Dean Barrow called him "a giant for the ages." Biographer Godfrey Smith who called him the Greatest World Leader of All time put in context what Castro achieved:
Jules Vasquez, 7News
"It's really preposterous that just a stone in the ocean should be able to repel and resist an empire, and confound many times that empire."
Godfrey Smith, SC, Former Foreign Minister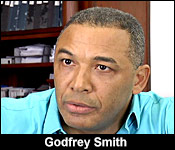 "I think in the unjoin distant objective view of history, it will have to be viewed as another reason why Fidel should rank among the greatest of all times, because I mean I am repeating your words now; a tiny little rock off the coast of this great empire, able to survive personally. Assassination attempts, invasion through the Bay of Pigs, economic blockade and still survived. Collapse of communism in the Soviet Union and therefore the cutting of aid from the Soviet Union and are still able to survive as a people with pride. Still able to promote tourism, for instance, to European and others who wish to go there and Fidel is revered in Cuba."
Next week, we'll have video of the internment of Castro's ashes.

Home | Archives | Downloads/Podcasts | Advertise | Contact Us