Election Officer Assaulted
An election officer from the Benque Viejo Office of the Elections and Boundaries was assaulted last night while she was working late.
Now, viewers are very aware that the General Elections are only 25 days away, and since this is the fourth one for 2015, the Elections & Boundaries Department is once again under pressure to make sure that the process goes off without a hitch.
So, right now, all the public officers within the department are working overtime, some remaining activated for 16-hour days on average. They are engaged in that kind of feverish activity to get every single detail right, because if an officer makes one error, it could cause an election petition to end up at the Supreme Court.
Against that backdrop, fanatics of one of the political parties assaulted an officer in Benque. Chief Elections Officer Josephine Tamai shared the disturbing details of the incident with us this morning:
Josephine Tamai, Chief Elections Officer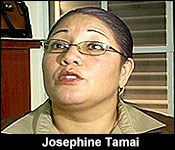 "i was informed last night that one of my officers was assaulted actually at our Benque Viejo registration office which is responsible for Cayo West`. The office informed me that while she was working at the office, because as you all will know we are in election period and I will say all Elections and Boundaries offices countrywide, all staff are working beyond normal working hours. That is what is required of us anytime an election is being called. As persons know we have to make the election machinery work."
"She heard a knock on the door, because the door was closed, the gate was closed. The person open the gates went into the compound and knock on the door and because at this point in time we know what is happening, we have police officers at our offices and also patrolling."
"She thought that when she heard the knock she mentioned to me that she thought that it was the police officer patrolling. Because even though we have an officer stationed there, they still patrolled the area just to check on them and it was at that point when she was confronted by someone from one of the political offices stating that she is a candidate and she wants to know what the officer is doing at that office. My officer explained to me that she told the person that she was there working. We are not open to the public and I will tell you if we were open to the public, then nobody would have had to even knock on any door. It was through a burglar bar door that she spoke to the person."
"She was aware that she was being recorded. At that point in time, the officer was actually embarrassed or wondering why am I being questioned. She went back to her desk and she continued with her work. That was about 9pm. About 10pm, she reported that she attempted to leave the office along with one of the police officers. The police officer who was stationed there and at that point it was when she came outside to lock the office - when she was leaving that she saw a group of persons outside and those persons, one of them assaulted her. She was hit in the face."
According to Tamai, this female elections officer has made an official police complaint about the assault.
This morning, we also got a tip that the police and the BDF explosives expert had to respond to a report that a suspected grenade was thrown at the Elections and Boundaries Office on Lumber Yard Street. Fortunately, it turns out that it was pure mischief making, and some sort of prank, but the Chief Elections Officer told us that her officers don't find it funny. Here's how she explained what she suspects is behind this type of hostility:
Josephine Tamai, Chief Elections Officer
"And it's very disturbing and I would go far to state that is not the only incident we had at our lumber yard office here in Belize City last night again, the staff heard a noise at about 8pm in the night, when they came outside, they saw eggs being thrown at the door. They took it as nothing. When they got back to the office this morning, it was then that they realized that an object was thrown as well. We know that we have persons or cameras that recorded whatever happened. The police went in. They look at the situation, actually services are temporarily postponed at present. Because as you know they had to cordon off the area and to look into this incident because the police are saying that it's a suspected grenade that was thrown at one of our offices."
Daniel Ortiz
"What in your mind or to your best information is the cause of all this hostility? Do they suspect that your officers are up to no good with this election?"
Josephine Tamai, Chief Elections Officer
"I would tell you I really don't know. Because I don't see any reason why anybody should suspect anything is happening. We have a process whereby the registers, people go in to registered - you have a process for objections for appeals, you have a court system in place. That's where the list is finalize, when the magistrate decides if a name remained or not. So at this point there should be no reason why anybody should have any queries any concerns, whatever the case might be and I am hoping that we will put a stop to this immediately, because it cannot continue. It's not about the Election and Boundaries Department, it's about the people of Belize. We are only doing the job that is required of us."
Police sources tell us that the object that was thrown at the Lumber Yard Street office was a confetti bomb - the kind of thing used at weddings or parties.

Getting Ready For GE
But, with all that disturbing behavior, the Elections and Boundaries Department still has to diligently prepare for the biggest election of 2015. As you would imagine, the logistics for a countrywide mobilization of the voters is no easy task, and there are scores of variables. So today, the Department hosted a meeting with the agents and representatives of the different political parties to lay down the usual ground rules.
The Chief Elections Officer told us that she and her staff - like the rest of the country - suspected that the General Elections were close, and so they started to make preparations before the Prime Minister announced the date:
Josephine Tamai, Chief Elections Officer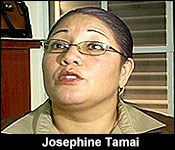 "We had sent out an invitation for political parties prospective candidates to attend meeting. It is something that is traditional. Whenever we going into an election we sit and we do basically like a refresher training for them, so that they understand the processes. Because in this we are all stakeholders and we need to ensure or remind persons of the laws as it relates to an election. We need to inform them of what policies, what practices will be in place on that day. We finalized the list of nominations stations, polling stations, counting stations. We explain that counting will be done simultaneously, because we want to get the results out. The number of agents that would be allowed in the polling and counting stations and how they are appointed and other matters we discussed this morning."
"We've had so many elections in this year and we are always prepared. We have been preparing even before an election date was announced, because we got the sense that elections would have been called at any point in time, so we had to ensure that we were ready at any point in time. So we started preparing from very early and like I said when the date was announced, it was only then that we realized okay we only have a short period of time to get things done. So we ensure that we got adequate staffing."
Daniel Ortiz
"Are you assured that everything will be in place for November 4th?"
Josephine Tamai, Chief Elections Officer
"Yes. Without a doubt."
So, what about the voters? That's a usually divisive topic, since there is always some complaint or another that voter fraud is afoot with double registrations and other election irregularities.
Given that there was no re-registration exercise, how confident is the Elections and Boundaries Department about the integrity of the voters' lists in the 31 constituencies around the country? Here's what the Chief Election's Officer had to say about that one:
Daniel Ortiz
"How confident are you of these lists that have been released?"
Josephine Tamai, Chief Elections Officer
"Well like I mentioned, this is a process that is ongoing every single month. For some reason we find that whenever an election is being called, it is then that persons get interested in terms of looking at the list. But these lists are approved every single month. The list that we are utilizing at this point is the same list that exist every single month. It's nothing new."
The cut-off date to register or transfer your vote to another constituency for this election was September 9. So, if you registered or transferred after that date, you will not be able to vote in this upcoming election.

COLA Pulled Out 75
Last night, Grassroots Organization COLA held it's public meeting in the open lot on New Road adjoining Smiling Meats. 75 persons showed up to hear public speakers Russel Roberts, Moses Sulph, Delroy Herrera, and Murphy "Jihad" McLaren. All of them spoke passionately against Wilfred Elrington, try to convince Pickstock voters to vote for anyone other than the two term representative. Their campaign is based on the logic that if Elrington is rejected at the polls - he cannot be made foreign minister again - which, while fanciful, is misguided, because he can, of course be brought in through the senate.
Nontheless, the speakers took the rostrum and heaped condemnation on the Foreign Minister, describing him with words like "traitor" and "tyrant". They referred to the Government's handling of the ICJ push, Elrington's comments in relation to the Belize-Guatemala Territorial Dispute, and the unresolved Forward Operating Base on Sarstoon Island.
Several Politicians from the PUP and the Belize Progressive Party - passed through but did not speak. COLA intends to continue its anti-Elrington campaign.

Cops Foiled Crazy Murder/Robbery of Minors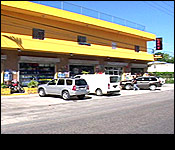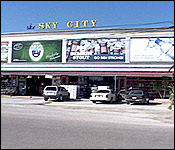 Last night we told you about the foiled robbery in Ladyville. Well we have more on it tonight - turns out it's also a foiled murder! In fact, if police hadn't caught up with the minors, one of them, or possibly both would have been shot and killed. As we told you, two minors came off a bus in Ladyville and walked up to two persons inside a Jeep Liberty that was parked close by. The driver gave one of the minors a gun to hold up Low's Supermarket, but the minors refused to do it. That's when another minor came out of the Jeep and there was a confrontation among all 3 during which the minor that came out of the vehicle pointed a gun at the other two who were trying to run away. But that's not all - the driver of the Jeep then ran over one of the minors who was trying to get away. Today Sr. Supt Edward Broaster and the Rural Response Team held a press conference and they told us how they managed to disrupt this crazy operation.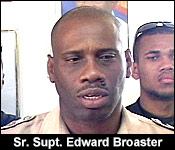 Sr. Supt. Edward Broaster, Commander - Eastern Division Rural
"Yesterday we had our rural rapid response and an active operation where they were conduction surveillance in the area of LOWS and SKY CITY. Based on our intelligence mechanism we had information of a plot to commit a robbery where we had our officers doing active surveillance."
Leon Hew, In Charge - Rural Rapid Response Team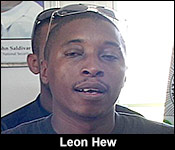 "Patrols were being conducted within that area where we observed 3 male occupants, minors, running up the Northern Highway towards Belize City. The Rapid Response Team engaged, where two of the minors; minor 1 and 2 were being chased by a 3rd minor with a possible handgun. The response team as I said engaged. A exchanged of words between minor 1 and 2 and the 3rd occupant got pretty serious. Later involving a 4th person who was in a grey Jeep Liberty. The driver of the Jeep Liberty made an attempt of the life of minor 2, knocking him off his feet with the motor vehicle."
The minor who was knocked down has been treated and released from the hospital. The two minors will not be charged because as we told you they did not participate in the robbery. Police are looking for Ladyville resident Orwin Gabourel as a person of interest in this case. Police told us the incident was not gang related and that it is just a group of very mischievous boys. The team was commended for their quick response in stopping a robbery and saving a life, or two.

FCIB Staffers Take It To The Street
Early this morning before 8:00, and again this afternoon for the lunch break, employees of the First Caribbean International Bank at the Belize City main branch took to Albert Street for a small protest. According to their Union Representatives, they are frustrated that once again, the negotiations with the Bank's management have once again stalled.
As has been widely reported, First Caribbean is pulling out of Belize, and its 60+ employees will lose their jobs. So, they want their soon-to-be former bosses to grant them an exit package which they believe is fair to all the workers. Both sides are trying to negotiate that, but once again, another issue has gotten in the way of these discussions.
Audrey Matura-Shepherd, the designated spokesperson for the workers told the press that it's because they have announced to the bank that they plan to strike if the negotiations fail. Here's how she put it:
Audrey Matura Shephard, President - CWU
"We sent, under the law, the Essential Service Act, there is a provision section 11 and 15 that says that if you have a dispute you need to write the minister, if you are an essential service. Because you cannot anything, because the law would then mean it would work against you - you can't do industrial action other than how they are using their lunch time. When we met with the bank we told them, we put it on the table we've written the minister. The minister also have the power to intervene before you have to do an industrial action. To date the minister had not responded and has not intervene."
"What happened after that they knew that we had invoked the workers right under the law. They said well we will not talk to you all, we would not negotiate anything unless you move that off the table and that is why we are here where we are today."
Reporter
"Is it practical?"
Audrey Matura Shephard, President - CWU
"It is practical. You have to think now that we couldn't tell them not to sell. We couldn't tell them that they have to review anything, because everything in their transaction is secret. We couldn't tell them that they cannot create a vesting act. We couldn't tell them anything. That was their right under the law. The one right the workers have under the law comes under the Essential Services Act and Essential Services Act says that there are certain industries that are essential and that they cannot take industrial action or not there will be serious penalty against them; banks happened to be one. So if workers here want to protest, they cannot just come out and protest. If they want to strike, they just cannot do it. Everything they have to get permission for. So it is practical that you go and invoke your rights under the law. It is your only shield, but they want the workers to move the one shield they have and they are threatening and they hold us at ransom and said if you don't move that, we are not going to talk to you. That is utmost bad faith. It's like the best example of what bad faith is. Because that's what they've done."
Reporter
"You obviously read the bank statement that the bank sent out and it calls particularly you as the president saying that you made some statement that they made some issue with and they say that you don't have the sense of professionalism and you're saying things that aren't so."
Audrey Matura Shephard, President - CWU
"Well you know I expect the bank to try and single me out, because what has happened, they want to make it seem that they are all for the workers, but they are not revealing all the emails they sent to the workers and possibly threatening and using the influence over the workers. They can say anything they want about me. But think about it, it's just common sense; do you think that workers don't have brains? That they can't think what's right for themselves? These workers know what they want. It's not me who go and tell the workers what they should do. It's the workers who come and tell the union what to do and I alone am n0ot the union. Even if I tell them, you want what you should take the notice, the first question they would say is take the notice. And I say and what shield do we have? What if we have to strike? What is we have to protect and I have to tell them you have nothing to protect yourself."

FCIB Criticizes Matura-Shepherd
And so, with all this union agitation, today, First Caribbean Bank - which says it doesn't like to negotiate in public - released a statement criticizing Audrey Matura Shepherd's and the CWU's conduct during the negotiations.
The Bank opens its first press release on the subject by saying, quote, "the union through Ms. Matura shepherd continues to tarnish its reputation...we can no longer sit silently and allow this to continue," end quote.
It says, quote, "the Bank feels it has a duty of care to ensure that our employees are treated fairly…(but) our efforts to negotiate and a fair and reasonable package for our employees have been thwarted by the unreasonable actions of the union leadership."
The release goes on to detail at some length the attempts to have meetings with the CWU leadership, or to forward proposals which they say have been frustrated. The release makes out that the union has been intransigent, unavailable or non responsive.
They say that the cloud now hanging over negotiations is a notice of strike from the union - the bank insists this must be withdrawn for negotiations to continue in good faith. And - according to the bank - that's where things remain stalemated tonight - with the union refusing to withdraw the threat of a strike, and, quote, "declining the bank's suggestion to allow the labor commission to advice the two parties to suggest possible ways forward for the negotiation." End quote.
The bank says it remains committed to "continuing discussions...in the best interests of its workers in Belize."

Southside Crime Down Sharply
The Police Eastern Division was split into three parts on July 7th - and, since then - the new structure has been effective at curtailing crime, especially on the southside. Now it's perhaps a little too early to call it a trend, but today Southside Commander Chester Williams held an outdoor press briefing to celebrate a September that saw zero murders on the southside. He discussed it within the context of the three months since he took over:..
Sr. Supt Chester Williams - Commander, Eastern Division Southside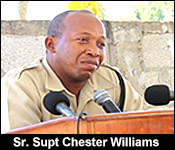 "Belize City south side was averaging between 4-5 murders per month and the efforts that we have put in since July of this year to present have seen major reduction in the murder rate. For the month of July, we had a total of 5 murders. Our efforts to fight the scourge of crime on south side Belize City continues. And in the month of August we recorded 1 murder. We were not satisfied with that. We met, myself and the management team, we discussed and we say we need to have a month without a murder on south side Belize City and gentlemen and ladies, the month of September was that month. The month of September recorded zero murders on south side Belize City. That is unprecedented. In recent memories we cannot recall a month where south side Belize City have gone without a murder. So that is a huge accomplishment. Since this administration came into effect on the 7th July 2015, Precinct 1 have not recorded not one single murder in 3 and half months. That again is unprecedented."
"Precinct 2 have a couple of challenges. It's a huge area and have several hotspots. We have the St. Martin's area which is very huge and we also have the Jane Usher Boulevard area which again was another killing zone. But we have doubled down on our efforts in those two areas in particular and we saw where it took it to zero in the month of September and we want to keep it that way."
"When we compare our murder rate for July to September of this year, to July to September last year, July to September last year had a total of 18 murders. July to September this year - 5. That's a reduction of something like 280% reduction."
"In April, May and June, south side Belize City had 17 murders. In July, August, September we have 5. So again whichever way you take the statistics we will still get huge decrease in our murder rates. There is always this perception that policing south side is difficult. It is not difficult. We do it every day with joy."
And while Sr. Superintendent Williams says his officers are policing with joy, they're doing so mostly on motorcycle and bicycles - because the entire southside only has three vehicles at its disposal. You heard it right: 3 vehicles for one of the most violent places on earth on a per square mile basis. He explained that burglaries are up in the southside and that could be attributable to not having enough vehicles at their disposal:...
Sr. Supt Chester Williams - Commander, Eastern Division Southside
"It is attributed significantly to the lack of vehicular and human resources. We have a huge area to cover, a huge population to police and the vehicular resources that we have is inadequate for us to be able to effectively police south side the way we want to. But we do not sit down and cry and say we can't do this because we don't have this. We improvised and we put things in place that the police officers can go out on a daily basis and effectively fight crime."
"Currently we have 8 vehicles for the entire south side and sometimes we are down to 2, because there are an old fleet of vehicles and they are always in the garage. It is extremely difficult. What I had to do is to borrow one of the community policing vehicle and put it in the Jane Usher Boulevard area, because thigs have become so rough. We have been promised some vehicles and we are very optimistic, we await those vehicles. The ideal situation that we want is to have one vehicle in each sector and two motorcycle patrols and a foot patrol. Then we have one vehicle per precinct to do operation work. So we are looking at 10 vehicles to be able to police south side Belize City, in the way we like to police it."
Jules Vasquez
"When you were officer commanding of Patrol Branch some time ago, many years ago actually, were there more vehicles in rotation then?"
Sr. Supt Chester Williams
"There were more vehicles. We had up to 10 vehicles in rotation."
Williams was in charge of the Patrol Branch eight years ago. So, without the heavy presence of mobile patrols - what has been driving crime down? The community policing approach embraced by Williams surely has something to do with it. But that means more than just going out into the communities - it also means ending the kind of provocative policing that often results in retaliatory crimes against the state. We're talking about "CP" or crime prevention - that dirty term police use to lock up persons for no good reason - other than the feeling that they may commit a crime. It's a tactic that has been employed possibly for decades - but Williams says he has rejected it because it's illegal and unproductive:...
Sr. Supt Chester Williams
"I believe that we the police are out there treating these different groups of people we called gangs in certain manner, they tend to retaliate and they do so against the state and the fact that we have change that atmosphere, the way police interact with the public, I believe have also impacted significantly to the reduction of crime. Because then the persons who were involved in these crimes now have a relationship with the police, to some extent trust us. We have built a relationship and we continue to work on that to see how best we could try and neutralize things between them even further."
Jules Vasquez
"Does this improved reduction in the number of what are known as CP (crime prevention) detention?"
Sr. Supt Chester Williams
"As a learnt person, I do not believe in CP. It is a violation of one constitutional rights. It is tantamount to unlawful imprisonment and as I have said when I came, I am not going to engage in any act that will cause the government of Belize to have to pay out money to persons as a result of the police having violated their rights. So we do not do CPs."

Cops Do Crime Pattern Analysis
And while they don't do crime prevention - the southside does do Crime Pattern Analysis. They just started in September - but it's an important new thrust for policing - which does more than just put more boots on the ground; it puts them where they are most needed. As part of a mini open day Williams took us to the newly christened Crimes Analysis office where Corporal Jane Usher explained how they use data to analyze crime patterns which keep you safer:
And so far the Analysis office has come up with an interesting finding: you're most likely to get stolen from on a Tuesday, and most likely to get shot on a Saturday:..
The crime pattern analysis office is staffed by three persons and has received basic office supplies through the US Embassy.
Today, the Southside command also distributed awards to four outstanding police officers: Constables Armando Sosa, Manuel Chub, Shannon Garbutt and Rudel Pau from precincts one and two.

CJ Rejects Butchy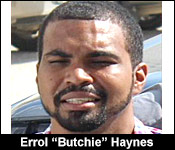 Earlier this week we told you about Errol Butchy Haynes - who was transferred from Mexican jail to Belizean jail in May. He says he's being held based on a bogus three year conviction that happened when he wasn't here.
He took that to the Supreme Court for redress, and, today, the Chief Justice dismissed his application. The CJ dismissed his application for what is known as "habeas corpus" and advised him to seek judicial review instead.
Today the Government's representative, from the office of the Solicitor General's office Trennia Young and Agassi Finnegan presented their case.
Young who submitted that they were in possession of copy of the magistrate court book, and warrant which shows the reason for his detention and coincides with conviction by the Senior Magistrate.
His Attorney Hubert Elrington says he will try for judicial review.

Found More Avian Influenza – Fixed It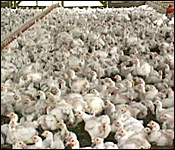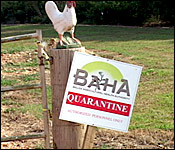 A month ago, we told you how the Belize Agricultural Health Authority announced that the health officials had gotten the low pathogenic avian influenza - which devastated the poultry industry - under control. Well, BAHA is announcing tonight that through their vigilance and public cooperation, they've stopped another outbreak from taking hold in that industry.
BAHA says that they detected 4 suspicious outbreaks in backyard poultry farms in Red Bank and Bella Vista in the South and Fireburn and Sylvestre in the north. The early detection and rapid response allowed for authorities to exterminate the birds affected by the virus. This has ensured that it will not spread.
They are also waiting on absolute confirmation that these birds were indeed infected by avian influenza. Samples have been sent to for testing in the United States. BAHA is also congratulating the backyard farmers who informed them in time, and they ask that the public continue to remain vigilant.

A Rally Against Bullie
Bullying in school has been around forever, but with the explosion of social media and mobile communications, it often takes on a sinister edge - which is difficult for children to cope with. That's why our neighbors at Wesley Lower School held an anti-bullying rally today. It's the conclusion of a series of activities held this week culminating in a balloon release today. The principal told us how symbolic the balloon release is and the overall message she wants the kids and the community to get.
There is also a program at the school that targets high risk students for intervention.

Lego Mi Land!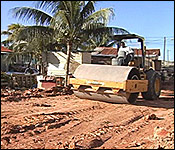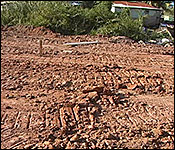 Tonight a Belize City couple is concerned that their piece of land in the Lake Independence Area will be taken away from them. This evening the couple took 7news out to the area near the CB Hyde Building where works are being done on their property - they say without their permission. It has been going on for a while now. According to Darren Helmsley and his wife Tricia, the Chinese business owner who's building nearby - and whose property adjoins theirs had offered them money for their land which they refused. They have visited the Lands Department in Belmopan and in Belize City, in hopes of getting a stop order. But they say work has not stopped. They told 7news they are worried that things might get worse - and so they are sounding the alarm publicly before it does.
Tricia Hemsley, Land Owner
"The problem is that this is our land. The land is for my husband. This lady who have the block factory, she wants the land. She called and asked me and I told her no, because I need the land. She must have said that she called me and I didn't want and now I got it through the minister. The thing is it looks like Mark King took some papers to Belmopan, but it didn't published. So now they are pushing us around because at first he told us that he only wants access to come in and fill the rest of land, but now he knocked down our fence and he filled the land. I don't think it is fair. My husband is a sergeant in the Belize Defence Force. We are born Belizean. No way anybody can go to China and get a piece of land. This is politics."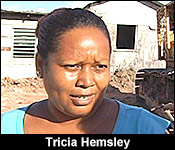 "Before they sold out here, we use to come in and filled up, because this was swamp. We noticed that we fil until we reached out land. When the lady bought this land, some filling was on it. They tell us at Lands Department if you have your land and you are paying to time and you don't have any access, the land automatically belongs to you. I don't know what is happening here because everywhere is filled now."
"We can't get in. The neighbor said that he will not give us an entrance, no access. So we are on standstill. We need the stop order to have them stop. They told us at Land Department, if they start to do anything to come back to them. When I go here now, they pushed us around in a circle. You can't get any head way. This is not right. We went to Lands Department in Belmopan and when they check the computer Darren Hemsley name is showing for the land. They told us that the land is for us. But we don't want any problems and that's why we are trying to stop them."
Area representative Mark King told us today that there is indeed some confusion about the Helmsley property. He says it started at the lands office in Belize City which said the Helmsley land had no owner - but when they checked in Belmopan, it turns out the Helmsley's did own it. He said they are in the process right now of verifying if the lease did not expire.

Cocom New Top Cop In Ladyville
There's a new top cop in Ladyville: Inspector Juanito Cocom has taken over the Ladyville precinct from Inspector Fredrick Gordon. Today he told us how he plans to maintain the peace in the biggest and most violent village in Belize.
Cocom took over on Oct 1st.

BPD Plan For BRC
So elections are only 25 days away and as we have been showing you politicians have been busy campaigning in their constituencies. But the politicians aren't the only ones gearing up for elections. The police also have an elections plan. Today Inspector Juanito Cocom told us what they will be doing in Belize Rural Central:
Police also have plans in place for next Friday's nomination day.

Rivers Recants
Yesterday when he launched his candidacy for Collet Division under the BPP banner, Raymond Rivers also used the platform to apologize to the president of his union: Audrey Matura Shepherd. He had publicly lambasted her for dragging her foot on the negotiations with the Port of Belize - but yesterday he changed his tune. Here's what he had to say and how she reacted at her own press conference later in the day:..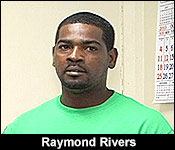 Raymond Rivers, Collet - BPP
"I and Miss Audrey Matura-Shepherd went a little cross way because of my work and me fighting for the 150 workers at the port of Belize and she was dragging her feet. I want her to know that I Raymond Rivers apologized to her if she thought I said anything bad to her and I am asking her to please come a long with the BPP and bring the people who you have behind you, the finance you have behind you. Because I know, I have been to your house, I've been talking to you several times and we need you to lead our country into a better country."
Audrey Matura Shephard, President - CWU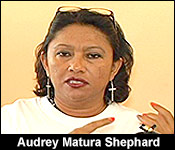 "Mr. Rivers is right to apologize because he said many inaugurate things and he attacked me personally, but I've always maintained that when people attacked me personally, I will not answer them. It's an indication of how they think, what they are and as it is. On the other issue, that is a surprise, I will make no comments. I think that my leadership with the union as I've always promise, I'll serve a term and my term will come to an end very soon. I don't think I will continue and I think as I look at my future, I have to think about my children and spending time with my 7 year old daughter to groom her to take over this country."
Sing A New Song, Singh! Yesterday, the Economic Development Council had its fourth annual prime minister's business forum. They've been hosting the event since 2011, but we asked if any measurable progress has been made in that time. As you saw yesterday, CEO Mike Singh told us what is the measuring stick:
Mike Singh, CEO - Ministry of Trade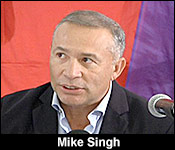 "I think our report card normally comes through the World Bank doing business report."
Jules Vasquez
"Things are going backwards."
Mike Singh, CEO - Ministry of Trade
"No we are not."
Jules Vasquez
"We went from 114 to 117."
Mike Singh, CEO - Ministry of Trade
"The new one is coming out in January and early report seem that we would be making some significant progress."
Well, maybe not so significant. The doing business survey shows Belize moving up one place only form 119 to 118.

Home | Archives | Downloads/Podcasts | Advertise | Contact Us