More Pieces of Body In River Near Blackman Eddy
(posted on Wed Mar 22, 2017)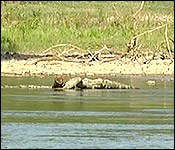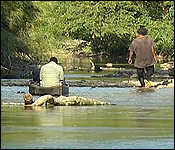 Yesterday we told you about the 'crocus' bag containing the amputated hands and legs of a human. The bag was found about a quarter mile downstream from the Iguana Creek Bridge, and was discovered by the brothers of 18 year old Kerona Ara, who was murdered over a week ago. Since then police have been working on identifying the origin of these dismembered body parts, and earlier today they got another clue.
This morning another bag was found a little further down the river. This bag contained a torso without legs, arms and head. And while police have yet to positively match it to the body parts found yesterday, eyewitnesses have told us that the body appears to be that of a female, which lines up with reports we received yesterday.
Now, authorities have the grisly task of continuing the search, looking now for the last remaining body part, the head.
Images we have seen suggest the deceased was a clear skinned person, and that most likely "she" was dismembered in a very methodical, very disturbing fashion - with the legs and arms cut into halves so that they could be stuffed in the sack.

Another Mamaeyal Fatal
(posted on Wed Mar 22, 2017)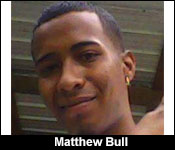 A Yo Creek Villager was killed in an accident at the notorious Mameyal curve on the Northern Highway. This morning around 8:00, 23 year old Matthew Bull was heading to Orange Walk on his motorcycle when he tried to overtake a cane truck at the curve. Bull slammed into an oncoming Ford Pickup truck and was flung violently off his cycle unto the pavement. 31 year old Hernan Cortez was driving the truck at the time. Police haven't disclosed if Cortez will be charged. Over the years, there have been countless serious and fatal accidents at the Mameyal Curve – which is at mile 57 on the northern highway.

Santa Elena Fire Claims Two Houses
(posted on Wed Mar 22, 2017)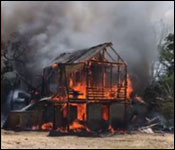 A blaze took down 2 homes this evening in Santa Elena. Gerald Gregory Vasquez was upstairs with his wife at their George Price Avenue home when their daughter, who lives in front of them alerted them of the fire downstairs. They rushed out of the house and tried to contain the blaze but it engulfed their home and spread to their relative's house next door. this video captured by a passerby shows the house in free burn stage. The flames destroyed everything. Vasquez lost about $15,000 worth of belongings. Reports in the town suggest that it was arson, but the fire department has not released any official report as yet. If you would like to contact or help Vasquez and his family you can call 650 1579.

Man Accused of Chopping Sister To Death Appears Before Court Disoriented
(posted on Wed Mar 22, 2017)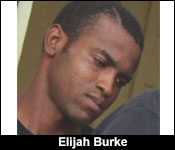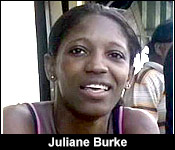 Today Elijah Burke, who is accused of chopping his sister, Juliane Burke, to death appeared in the Magistrate's Court. Burke was scheduled to be arraigned for murder, but when Magistrate Carlon Mendoza called his name, Burke said that he wasn't Elijah, and that was the name of his brother who happens to look like him. Mendoza asked him again, and Burke again said no. This denial of identity led the prosecutor to believe that Burke was not in his right mind, and asked that the court have him examined. Mendoza obliged and ordered that a psychiatric evaluation be conducted. Despite his behaviour, the charge of murder was still read to him and he was remanded to prison, and is scheduled to appear again on June 21st.
On Sunday night he attacked his sister and chopped her repeatedly on the street in front of onlookers and her 6 year old son. Juliane's husband told us that her brother felt his sister had put an obeah spell on him.


COLA Crew Vindicated Of Tire Fire Charge
(posted on Wed Mar 22, 2017)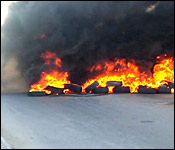 In October of 2016, at the height of the teachers' strike, unknown persons started a tyre fire on the Belcan Bridge. It was put out in a few minutes, and didn't lead to anything else, but police moved quickly to find and charge the persons responsible. Within a few days, they said that the activist group COLA and its allies were responsible. COLA President Giovanni Brackett, Perry "Stix" Smith, Clayburn Pascascio, Adrian Avaloy and two minors were charged with causing a bonfire to be set without police permission. They all pleaded not guilty when they first appeared in court five months ago. Southside Commander Chester Williams said it was a "methodical investigation" and that police had all the evidence. But, today in Magistrate's court, the case fizzled and the charges were struck out against all 6 accused. That gave Brackett and his attorney an opportunity to do some chest-thumping against the government:…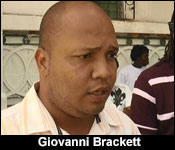 Giovanni Brackett - Charge Withdrawn
"Today what happened Jules is that what the prosecutor said was that for the lack of evidence they are dismissing the charges against all of us."
Hon. Kareem Musa - COLA Attorney
"The prosecutor was never prepared to go to trail, they didn't have their disclosure ready and to me that was the first indication that in fact they did not have anything against any of those individuals who were charged with that bonfire. And so what it was, clearly an instance of political victimization."
Jules Vasquez
"They had caution statement Mr. Brackett. They had these young men saying that you pay them money to put the tires out there and to put them on fire. That was the understanding we had. We had Mr. Chester Williams himself; he was the person who processed you all. Explain to me how all of this big talking, big scenery comes to dust."
Giovanni Brackett
"Well Jules it's not just minister Sedi Elrington that lives in an imaginary world you know. Many other people who probably investigated this matter were imaginary as well, even the evidence."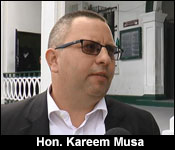 Hon. Kareem Musa
"I could not believe what they were trying to produce; they gave me some DVD that has absolutely footage of nothing. Nothing was on there to incriminate anybody and then much more than that, the statements by the police officers, they statement of supposed witnesses, nothing was there from the very beginning and we have been saying that from the start."
Giovanni Brackett
"They've tried to immobilise COLA that was the whole point of this. Try to shut us up, try to tear us down and to crush us but that can't happen."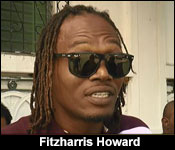 Fitzharris Howard - COLA Memeber
"By trying to silent, by trying to shut that us, that helps nobody because to me, one of we, da all of we."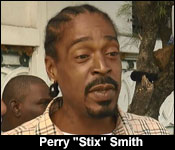 Perry "Stix" Smith - Charge Withdrawn
"Like I said from the beginning, this is a circus. How me could ride all they tire on a bicycle Jules? You see me ride 2 crate of chicken, you see me ride rice and they thing they but 20 tire on a bicycle. So this morning when I gone in there and they dismiss the case, I say this is about time because they just the back and forth we, the waste the court time, the waste the government time, the waste for we tax payers time the railroad we back and forth through this circus."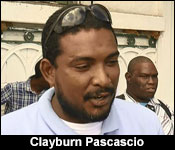 Clayburn Pascascio - Charges Withdrawn
"Because da problem they mi want, make it look like da problem and da no kind of problem, that's all I have nothing else to say."
Jules Vasquez
"As far as many in the media are concerned, there was video tape evidence because you the talk about this thing, same day on the BNTU rostrum and then shortly after you spoke, fire go burn."
Giovanni Brackett
"Jules as I said to your last reporters, it seems that I'm prophetic. This was all so that we couldn't make a move and mobilise but let me tell the prime minister something, you may not see the two thousand on Thursday but you'll see the twenty thousand before the year is finished because things the get harder da Belize."
Musa says he would advise Brackett and the others to now pursue a civil suit against Government for a nuisance prosecution.

Hunting Accident Causes Fratricide In Toledo
(posted on Wed Mar 22, 2017)
One brother has killed another in a hunting accident in the Toledo district. 31 year old Geraldo Cus and his 22 year old brother Leonardo went hunting yesterday evening around 6:00. They ventured about 10 miles outside of San Miguel. According to the younger Cus, he and his brother got separated, and a couple hours later he accidentally shot Geraldo in the chest. After realizing what he'd done Cus called his family and rushed Geraldo to the Punta Gorda Hospital where he succumbed to his wounds late last night.
Police are still investigating, but at newstime, no charges and been finalized for Cus.

The Enduring Mystery Of "Mr. Middleton" Unravels
(posted on Wed Mar 22, 2017)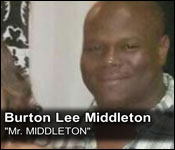 Since the first Wednesday of this month, we've been showing you how the mysterious character, known only as "Mr. Middleton", was being brought up regularly in the Senate Hearings on Immigration. His name was first called by Immigration Officer Mark Tench, as the man who somehow managed to get his hands on at least 6 of the 8 stolen visas which went missing from the Immigration Department's Western Border back in November of 2012.
Officer Tench then pointed fingers at Patrick Tillett, UDP insider and former Belize City Council employee, who was hired to perform a visa service for 6 Chinese Nationals. Tillett was trying to get their help to get back money they had paid to this "Mr. Middleton".
The plot thickened even more when Tillett appeared before the Senate 2 weeks ago, and disclosed that he received a total of $36,000 from those 6 Chinese "clients" to try to get them Belize visas. He said $1,000 per visa was his fee to make sure that the application was in order. $2,000 was to go into the Government's purse for the visa application. But, the lion's share, $3,000, was being paid to this "Mr. Middleton" who was hired to take the visa applications into the Belmopan Immigration office and do whatever "follow-up" was necessary.
The Senate was highly skeptical of what "Mr. Middleton's" questionable role was and why he fetched such a high price. But, they were even more doubtful of Patrick Tillett's story when he told them that this "Mr. Middleton" never performed the services for the tidy sum that was paid to him to carry out the transactions. Tillett ends dup with illegal visas which were useless. Rather than report it, Tillett kept the whole thing quiet, and he took a 24 thousand dollar financial hit to refund these Chinese "clients" their money.
Nobody was willing to identify this "Mr. Middleton" until today when Immigration Officer Inez Cassanova was called to testify in the Senate Hearings. She was shown this picture, and she which she positively identified as Barton Middleton, a resident of Orange Walk Town. Now, we've had this picture since 2 weeks ago, but for legal reasons, we chose not to disclose it, until today when the Senate got confirmation. Here's that moment in the Senate when Barton Middleton was finally revealed as this "Mr. Middleton":
Hon. Aldo Salazar - Chairman, Senate Select Committee
"But you said this person is not your common law husband and that is totally false."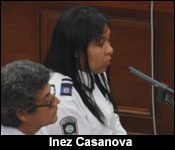 Inez Casanova - Immigration Officer
"Yes sir."
Hon. Aldo Salazar
"Do you know a Mr. Middleton?"
Inez Casanova
"I know a Mr. Middleton who use to work with me at the Orange Walk immigration and his name is Mr. Eugene Middleton. He work there but presently he is retired and I also know another Middleton who is the brother."
Hon. Aldo Salazar
"What is the name of his brother?"
Inez Casanova
"Barton Middleton."
Hon. Aldo Salazar
"Barton Middleton."
Inez Casanova
"Yes sir."
Hon. Aldo Salazar
"You don't know which one of these two Mr. Wade is referring to?"
Inez Casanova
"No sir."
Hon. Aldo Salazar
"Okay, Eugene Middleton was working with you in Orange Walk, what period did he work in Orange Walk?"
Inez Casanova
"I say six years ago."
Hon. Aldo Salazar
"Okay what about Barton Middleton."
Inez Casanova
"Mr. Barton Middleton does not work at the immigration officer; he is not an immigration officer."
Hon. Aldo Salazar
"Okay, you know Mr. Barton Middleton, you identified Mr. Middleton right, so I want you to look at this image and tell me if this is the person in question that we are talking about."
Inez Casanova
"Yes sir."
Hon. Aldo Salazar
"That is Barton Middleton?"
Inez Casanova
"Yes sir."
Hon. Aldo Salazar
"Do you know where Barton Middleton is from?"
Inez Casanova
"I knew Mr. Middleton from Orange Walk due to his brother that worked in Orange Walk."
Hon. Aldo Salazar
"Do you know where he lives?"
Inez Casanova
"No sir I just know he lives in Orange Walk."
Hon. Aldo Salazar
"He lived previously?"
Inez Casanova
"I don't know if he live or he lives because I don't have any contact with him anymore so."

Casanova: Middleton Not My Man
(posted on Wed Mar 22, 2017)
So, while Immigration Officer Inez Casanova was able to positively identify Barton Middleton to the Senate Select Committee, she wanted to make clear that she has no relationship to him. In the Auditor General's report on the the 8 missing visas, she was quoting a report from Immigration Officer Vernon Leslie. Leslie identifies Middleton as her common-law husband. But, that's not right, and today while she had the nation listening in on the Senate Hearings, Casanova took the opportunity to make it clear that she has no relationship to Middleton.
She told the Senate Committee that this has hurt her reputation, and she wants the record cleared: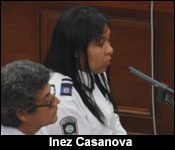 Inez Casanova - Immigration Officer
"It is my understanding that I'm here to be of any possible assistance to the Honourable Senate Select Committee in relation to one matter and not because I am in any way a part of any wrong doing or irregularities at the immigration department. That one matter is mentioned of my name in relation to missing visas at the immigration department Benque Veijo station. I have never worked at Benque station nor had any dealing with any visa at that station. One of the Benque immigration officers had mentioned in writing reproduced without any checking in the audit report on page 13 of the audit visa section that visas were handed by a named officer to a person Mr. Middleton whom in common law husband of officer Casanova. This is completely false and totally wrong. No person by that name of Mr. Middleton was ever my common law husband. This false information has caused a great hurt and embarrassment to myself and my family and I wish to request that the record reflect how totally untrue that information is. I have been advised after today's public correction of this defamation of my character that I can pursue legal actions in the Supreme Court against any person who repeats broadcast or publish this false statement."

What Did Casanova Really Know About Barton?
(posted on Wed Mar 22, 2017)
Okay, so, Barton Middleton isn't Casanova's common-law husband, but what exactly is he to her? And how did she manage to convince him to show up and tell the truth about those 6 stolen visas?
That's what the Senate Select Committee wanted her to explain today, and her answers just weren't adding up. At the end, the Senators began suspecting that she knew more than she was willing to disclose, and so they grilled her for almost 2 hours on the topic. We'll have the blow-by-blow account of that conversation in tomorrow's newscast, but here's an excerpt of the questions she was being asked about Barton Middleton: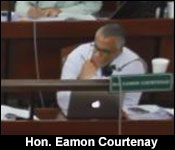 Hon. Eamon Courtenay - PUP Senator
"I just wanted to know the circumstances of how you decided to say well get in contact with this Mr. Middleton."
Inez Casanova - Immigration Officer
"I had called?"
Hon. Eamon Courtenay
"As I understand it Mr. Venon from Benque came to Orange Walk and said we are looking for Mr. Middleton in relation to the missing visas. The question I am asking is according to you, you know two Mr. Middleton, Mr. Eugene and Mr. Barton. My question is how is it that you decided to refer them to Mr. Barton or why you called Mr. Barton and he came?"
Inez Casanova
"First I called his brother and I didn't get any response so then I called this Middleton and that is how he came."
Hon. Eamon Courtenay
"So it's just that you knew two Middleton's and you called them and say they are investigating missing visas, they want a Mr. Middleton and he voluntarily came?"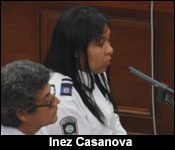 Inez Casanova
"Yes sir."
Hon. Elena Smith - Labour Senator
"Ms. Casanova, you have admitted that you know Mr. Barton. How did you get to know Mr. Barton Middleton?"
Inez Casanova
"I got to know him through his brother because his brother works in Orange Walk with me at that time."
Hon. Elena Smith
"But was there any- did you and Mr. Middleton have any sort of connection whether through work, is it just because of his brother. What was the relationship between you and Mr. Middleton as it relates to how you to know him? Was it through business, was it just through family friend?"
Inez Casanova
"It's just through his brothers. I don't have no business it's just through his brother I get to know Mr. Middleton."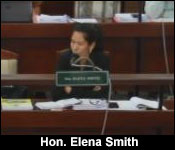 Hon. Elena Smith
"So you only know him by name or have you had contact with him on more than one occasion that you can say I know him? I can say I know Mr. Bradley but I only know him because I know he's a lawyer, I know that he had a TV show but I don't know him personally so I wouldn't be able to say things about him because I don't know him personally. How well do you know Mr. Barton Middleton?"
Inez Casanova
"I know Mr. Middleton because he would usually socialise with other people and that is how I familiarise myself and as I said before, he is the brother of Mr. Middleton and that is how I knew him, there is no other way, I don't have no business, nothing with Mr. Middleton."
Hon. Elena Smith
"Why was it important for you to assist the officers when they came to you in relation to the missing visas?"
Inez Casanova
"Because for me as an immigration officer, something to that extent is something serious."
Hon. Elena Smith
"Did they request assistance from any other persons in your department at that time or you were the only one that they went to?"
Inez Casanova
"I'm not sure, I don't know."
Hon. Elena Smith
"The matter Ms. Casanova of your being at the Calypso as the chair had asked before, you have been identified by two persons because we were told that you were identified because the person knows your brother who works at BTL, that is how they were able to say specifically that you were the one in the vehicle at the Calypso."
Inez Casanova
"I might have been in that vehicle but I have no, I'm not aware, know of anything that was done."
Hon. Elena Smith
"I just want to know specifically, were you the person in that vehicle, I'm not asking if you were at the meeting. You just said to me you might have been in the vehicle, you can't be might have been, you were either there or not there."
Inez Casanova
"I was not there at no Calypso in no vehicle."
Hon. Elena Smith
"Your might have been response Ms. Casanova is telling me that you are not telling me something. Remember you swore under oath just know that you would tell us the truth. We are not saying that you were at the meeting, you are being accused of being in the vehicle when Mr. Middleton went to meet with Mr. Mark Tench, Mr. Patrick Tillet and Mr. Eric Chang and they knew it was you because of the connection between the person knowing your brother and knowing you. So were you there?"
Inez Casanova
"No ma'am."
Hon. Elena Smith
"You were never in any setting; you were never at any time anywhere near Mr. Middleton when he met with any person of that sort?"
Inez Casanova
"No ma'am."
Hon. Elena Smith
"So then I'm confused with regards to your answer - you might have been."
Hon. Aldo Salazar - Chairman, Senate Select Committee
"Why would you say you might have been if you know for certain you were not in the vehicle?"
Inez Casanova
"Because sometimes like Mr. Middleton would ask me or anybody would ask me for a ride and then I would just bring down somebody but as far as I am aware, I have never ever been at Calypso with nobody, that's sure, sure."
Hon. Ashley Rocke - Church Senator
"Earlier you made comments that when you could not get the brother that you knew as the immigration officer, you got the other brother. How were you able to do that?"
Inez Casanova
"I called him on his phone."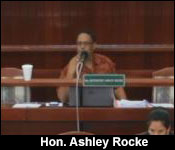 Hon. Ashley Rocke
"What kind of phone did you use?"
Inez Casanova
"My phone."
Hon. Ashley Rocke
"A cell phone?"
Inez Casanova
"Yes sir."
Hon. Ashley Rocke
"That would seem to be an intimate relationship, you would have a person cell phone yet this person was not known to you in a very friendly way. Like the analogy used I would know Mr. Bradley, I would know his land phone but I wouldn't have his personal cell phone but you have indicated to us that you had his cell phone. I don't know how you would have his cell phone and not know him at all."
Inez Casanova
"I knew Mr. Middleton through his brother and I have his cell phone number and I called him for assistance for the immigration officers."

A Tale Of Hacking
(posted on Wed Mar 22, 2017)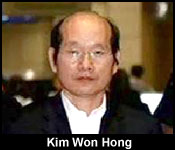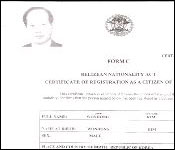 So, from skepticism in Inez Casanova's testimony, the Senate appeared almost disbelieving of the answers that Erwin Robinson was providing them. He's one of the Immigration Officers who went on suspension back in September 2013 for the Won Hong Kim Passport, which was a fraudulent production from start to finish.
They all faced a tribunal from the Public Service Commission. At the end he was restored to duty as a public officer, but he lost his job at Immigration because it was determined that he, or someone using his profile in the Department's passport system, took a picture of a picture of Won Hong Kim. This South Korean fugitive couldn't have been in Belize to take a passport picture because he was in lock down in a Taiwanese detention center at the time. So, did Robinson do it? Well, when the Senate put that one to him, he categorically, denied, and he shared his surprising theory that the passport machine's user computer was hacked, and that he was being set up as the fall guy. Here's that part of today's hearing:
Hon. Mark Lizarraga - Business Senator
"So in all of this Mr. Robinson, you are saying that all of this wrong information, all of these errors identified by the auditor general, you're not sure how they happened?"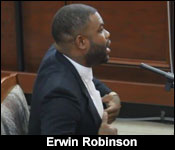 Erwin Robinson - Implicated in Citizen Kim Scandal
"Basically it's going from the facts in the report but it's not going from whatever happened, that is all I can say because why would I risk my job for no reason. Like I have no ties to no one in that sense like how would I know this man, a man that is in jail, how is that possible?"
Hon. Mark Lizarraga
"It's not one person, its many people."
Erwin Robinson
"I just feel like I'm being framed-"
Hon. Mark Lizarraga
"Were you at any time paid or asked to circumvent any of the systems in the passport office?"
Erwin Robinson
"No sir."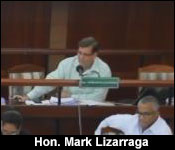 Hon. Mark Lizarraga
"Did you receive money at any time from anybody to do them a special favour?"
Erwin Robinson
"No sir."
Hon. Aldo Salazar - Chairman, Senate Select Committee
"You've had a long time to think about this, this cost you your job, your reputation, you as an insider there how do you think this could happen?"
Erwin Robinson
"I'm telling you the truth is I understand how it looks and I understand-"
Hon. Aldo Salazar
"I know how it looks because I am looking at it but I'm asking you."
Erwin Robinson
"To my knowledge I know that I was being framed from Mr. Hulse explained the situation to me and I tried to find out just as much as him and I was trying to assist them in any way possible but it started in a way that they weren't trying to help me because-"
Hon. Aldo Salazar
"Have you been able to come up with any ideas?"
Erwin Robinson
"To the best of my ability I do believe it could have been a photo switch at some point after the data was done."
Hon. Eamon Courtenay - PUP Senator
"You told us somebody appeared before you and you took a picture."
Erwin Robinson
"Yes sir."
Hon. Eamon Courtenay
"We know now that the passport came out with different, agree?"
Erwin Robinson
"Yes sir."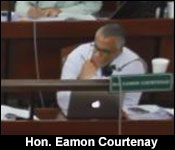 Hon. Eamon Courtenay
"You are just suggesting now a photo switch?"
Erwin Robinson
"Yes sir."
Hon. Eamon Courtenay
"You are telling us that as far as your role is concerned once you take that picture and you move on to the next stage, you can't go back and correct or do anything?"
Erwin Robinson
"Yes sir, I personally cannot."
Hon. Eamon Courtenay
"So if a photo switch took place, it had to have happened when you completed the data and sent it on."
Erwin Robinson
"Yes sir."
Hon. Eamon Courtenay
"I'm not asking you to point fingers I'm asking you could an administrator go in and do the photo switch and then do the printing?"
Erwin Robinson
"What I'm explaining is from my knowledge a computer is a computer and everybody knows a computer can be compromised at any time. There are people with the level of intelligence that can - I'm saying that is the only way I would see how it could happen, I'm not saying that's what happened but that is the only thing I could believe because it's not me. Anyone that knows how to do that can get in."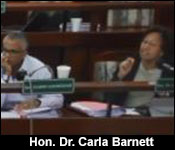 Hon. Dr. Carla Barnett - UDP Senator
"And there would be a record of it, that is the beauty of those kind of systems you see because they record everybody, even if they change your password and do something under the new password, when you open up and have to change, when your password is changed people would know that somebody did something under the temporary password and there is no such thing in the system."
Erwin Robinson
"Ma'am they have people at higher level than we know, there are people higher than we know in computers, we know, there are hackers, we know that. A hackers can do things bigger than that, we know that."
Hon. Mark Lizarraga
"You completed the data entry at 12:54. At 1:01 Sharon Flowers approved it, so at that stage she would have look at the application and the picture on the screen, she said it was the same, everything match, she approves it. Then 3 minutes later Mark Tench prints it."
Erwin Robinson
"From the approving stage, it goes to the printing stage."
Hon. Mark Lizarraga
"That picture swap that you are talking about in the system would have had to be done in 3 minutes; you understand what I'm saying."
Erwin Robinson
"Yes sir."
Hon. Mark Lizarraga
"Sharon Flowers approved it as 1:01. Mark Tench prints it at 1:04. So that picture swap would have take place in there because when you saw it or when you confirmed it."
Erwin Robinson
"At what time was the data entry completed?"
Hon. Mark Lizarraga
"Data entry was completed at 12:53. A few minutes later, 8 minutes later Sharon Flowers approved it okay."
Hon. Aldo Salazar
"How much minutes then, 8 minutes later?"
Hon. Mark Lizarraga
"8 minutes later Sharon Flowers approved it, that time the picture was still the same."
Erwin Robinson
"I would not know because I would not be on the system at that time, during that time."
Hon. Mark Lizarraga
"Well if she did her work, she did her job but 8 minutes later she approved it. 3 minutes later-"
Hon. Eamon Courtenay
"One question because this still remains a mystery. If she was involved in something irregular, you are saying that she could have seen a picture of the application but either the hacker, the devil or god would have changed the picture on the system and she still approves it?"
Erwin Robinson
"She wouldn't know because she wouldn't be out there-"
Hon. Eamon Courtenay
"She wouldn't have the application form to verify?"
Erwin Robinson
"She would have the application form on the system."
Hon. Aldo Salazar
"So she would have been able to see the difference in the picture."
Erwin Robinson
"Yeah I guess. Well that's the approving stage."
Hon. Eamon Courtenay
"Right that's what I'm saying and that's what you are trying to establish. At that stage she's either involved in something irregular or it is as you have seen it and then just before printing divine intervention."
Hon. Aldo Salazar
"The Russians (laugh).
Also in tomorrow's newscast, we'll show you more from Erwin Robinson's testimony in which the Senate kept challenging him on the fact that pictures of pictures were taken and placed into the system using his account. You'll hear him explain why this is mere co-incidence.

Shyne Urges Artists To Protest Against Businesses Countrywide
(posted on Wed Mar 22, 2017)

Music Ambassador Shyne Barrow is the CEO of BSCAP (BEE-SCAP) the Belizean Society of composers, Authors and Publishers. He's in the new news tonight because in a letter dated March 13th, he's urging music creators to protest against businesses who don't pay rights fees for using their music. Shyne says, quote, "be prepared to engage in protests of all businesses nationwide who are violating the copyright act and chancing our members….if all of our members come together and take action in the form of nationwide demonstrations our voices will be heard and businesses will comply." End quote.
Here's what he's talking about: under the copyright law, anyone who plays music in public should pay a royalty fee to the creator or publisher of that song. So, if you hear, let's say, Supra G's "Party Insane" playing in a nightclub, in a store, or on the radio, Supra G should get a few cents everytime it plays. Shyne is trying to get local businesses to sign license agreements with BSCAP to pay a monthly user fee, but so far only a literally handful have signed on.
And so, facing widespread noncompliance, he's urging music creators to protest against these big businesses that want to sign. We asked him about it today when we found him in the Mesopotamia area:….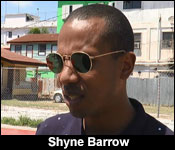 Shyne Barrow - Music Ambassador
"It is not a matter of just coming out saying we are going to protest and we're going to demonstrate. There has been a deliberate consistent attempt to educate these music users of their violation and the need for it in a very polite, in a very gentle manner. There were no demands, there was just this is a matter of moral turpitude and I said it over and over again on the television networks when promoting BSCAP, workshops, when promoting the PSA I sent you. Cooperation that uses music have to have some type of moral obligation to pay music users for their music. Now particularly the Belizean music users, copyright laws in this country are skirted but the time has come for that to stop."
Jules Vasquez
"You didn't name them but the radio stations are the biggest violations."
Shyne Barrow
"Certainly, Wave needs to pay, I've tried to talk to the managers at Wave, their response was well we no wa play their music but they don't understand that they can't play any music. So I hope again we can only sue so many people at a time and I would hope that Wave and Love and the other radio stations, Positive Vibes - all of them would come on board before it gets to the point of nationwide demonstrations and boycotts but this is how it happens. So I'm just preparing my members that we need to act, we have seen what action has done in this country and until you get up and you stand up and you fight for justice, nobody no wa give it to you."
Jules Vasquez
"But at the same time sir, you are a part of the establishment, you are appointed by the ruling government. Your father is the prime minister, you deh inna no rock the boat situation, why you the encourage people to protest?"
Shyne Barrow
"No, no, no, no, no. The prime minister is a very honourable and a man of the highest integrity, my appointment had nothing to do with being his son, my appointment had to do with me selling million and millions of albums from you mi deh da St. John's Jules. My success qualifies me to be music ambassador."
Jules Vasquez
"But I'm saying sir you are a UDP, you are seeking office in the UDP, we are standing on a red basketball court. The rule is when you party deh in, don't rock the boat."
Shyne Barrow
"But how am I rocking the boat, I would think-"
Jules Vasquez
"But how can you seek to protest against businesses, these are the same businesses who will give you a lee hands out and help you when you the run your campaign. Why are you encouraging people to protest against business?"
Shyne Barrow
"It doesn't work like that, the question you should be asking is why are people violating the copyright act Jules. I'm surprised at you, don't turn this around, you are a smart guy but I am smarter. The question you should be asking is why are people violating the copyright act? I didn't create a situation, I am merely standing up for the vulnerable, for the have nots and the people without a voice. So this is not about a campaign and getting support for a campaign, this is about doing what is right and what is right is the copyright act. Your expressing more outrage at me standing up for people that don't have, that are being taken advantage of than the big cooperation and da no million dollars we di ask for. We are asking for the fair price to use music in this country, we are taking all of the measures to avoid having to go down that route but there will come a time where talk will not mean anything and we will have to take action and we have to stand up for what we believe in."
So far, 7 businesses have signed up with BSCAP, most notably Harvest Caye which signed to a seventeen thousand dollar annual fee with retroactive payment to November 2016. In his letter to members Shyne says the BSCAP has engaged the law firm of Barrow & Co. to pursue payment from Ramada Belize City Princess Hotel, and to, quote, "pursue claims against all businesses who insist on continuing to use music but refuse to pay for permission to do so."

Corned Beef Concerns
(posted on Wed Mar 22, 2017)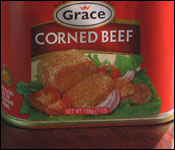 Is your corned beef safe? Several Caribbean countries say that if it comes from Brazil, it's not. The governments of Jamaica and Barbados have instituted a temporary ban on the widely eaten canned food, while several others are discussing whether or not they should do the same.
But why such extreme measures, and should you be worried too? According to reports, several major Brazilian meat processing companies have been selling rotten beef and poultry. And that's where Grace Kennedy, one of the largest distributors of corned beef in the Caribbean, gets their beef from. Apparently, many of these companies paid bribes to auditors in exchange for fraudulent sanitary licenses.
Since the bans were implemented, Grace has confirmed that their suppliers in Brazil have consistently qualified for licenses from the British Retail Consortium, which sets global manufacturing and quality standards. The government of Belize has yet to officially acknowledge the situation, or give any information on whether they are making an evaluation.

"Water No Get Enemy"
(posted on Wed Mar 22, 2017)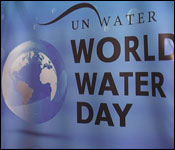 Don't waste water: we have all heard that phrase more than enough times but on World Water Day, it never gets old. Today a forum and fair were held at the Princess Hotel to celebrate water day. There were presentations on various topics including Water sanitation and hygiene, recycling wastewater among others. A number of government agencies set up information booths as well. Hydrologist Tennielle Williams told us more about this year's theme.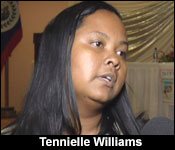 Tennielle Williams- Hydrologist
"Today is World Water Day indeed, it's a day taken to highlight the importance of water and the role it plays. In the UN from 1993 they designated March 22nd as World Water Day where we take actions on water issues. Today is not really different from any other water day we've held, we just target different sectors or different issues concerning water management and this year the theme is Waste Water and the campaign that we are promoting is "Why waste it?" So the theme is waste water and we are saying why waste water? We want to impart that it is not just waste. It's not to just to use it and you throw it away. It's an untapped resource. So, I mean the obvious, you can reduce paying BWS so much money because you are not going to use their fresh water source to water your lawn, wash your cars and all of that. So basically we are trying to impart knowledge and peak interest. We have a lot of youths here today, a lot of students as far as Dangriga in the south and as far as Corozal in the north. So what we are trying to do is to do knowledge transfer. We are getting old, we've got to go, we had our time and so we need to get the youths interested so that they then follow in our footsteps and then we have new resource managers after our lifetim
There were several competitions related to the theme, including a jingle and poetry competition.

PUP Calls For Wilfred's Removal (Again)
(posted on Wed Mar 22, 2017)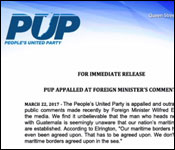 Last week Friday, Foreign Minister Wilfred Elrington held a press briefing where he made some controversial remarks. He likened Belize with the unresolved Guatemalan claim to a squatter without title for the land he's been occupying. He added that Belize's maritime borders have never even been agreed upon. Well - not surprisingly - the PUP isn't happy with that and the opposition is again calling for his removal. In a release the party says it is, quote, "appalled and outraged" at the comments. The PUP says is is, quote, "unbelievable that the man who heads negotiations with Guatemala is seemingly unaware that our nation's maritime borders are established." The PUP has a different take. IT says, quote, "not only does Belize have definite maritime borders as described in the Constitution of Belize and the Maritime Areas Act, but further, that those borders are recognized and respected by all nations, and even by Guatemala which refuses to relinquish its claim to Belize." It argues quote, "To describe Belizeans as squatters is not only despicable, but dangerous". And it closes with a a familiar refrain, quote, "We demand that the Prime Minister remove or reprimand the Foreign Minister who continues to mismanage the situation with Guatemala."

Granny With A Crack Pipe?
(posted on Wed Mar 22, 2017)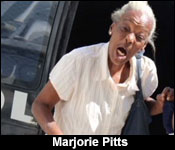 A 66 year old grandmother was taken before the court today for possession of a crack pipe. But she was quick to tell the court that she was merely fixing pipe for someone and that she does not smoke crack.
Pitts, who had to walk with a piece of PVC pipe as a cane was brought in the prison van and escorted into Court #5 to be read a single charge of possession of a pipe before Magistrate Carlon Mendoza.
But despite her denial of crack use, Marjorie Pitts pleaded guilty to possession of pipe and was fine $150.00, or in default, 2 months in prison.

Remembering "Philco"
(posted on Wed Mar 22, 2017)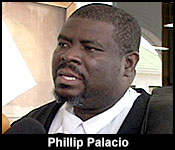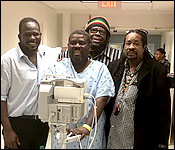 Earlier this month, well known attorney and politician Phillip Palacio died after a valiant fight against cancer. Today his colleagues from at the Bar gathered for a special sitting of the Supreme Court in his honour. We spoke to Kareem Musa, who knew him as both and attorney and politician for the PUP, about the impact of the loss...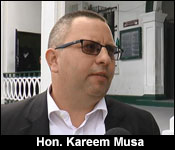 Hon. Kareem Musa - Attorney
"Phillip was a very dear friend of mine and many of my colleagues not just in the legal fraternity but also in the political world. Mr. Palacio ran for us in the Mesopotamia position and he put up a valiant fight but we're talking about a true humanitarian, we are talking about a very humble individual who look out for the poor, who looked out for the marginalised and so it is a huge loss and I really just want to convey my respects. I want to convey my condolences to his family, he has a very young family, we all feel for him and it truly is a sad day for us."
Palacio was the father of five children. He was a member of the bar since 2008, and ran against Mike Finnegan in Mesopotamia during the 2012 elections.

Shyne Stayed The Course In Mesop
(posted on Wed Mar 22, 2017)
Now the man who wants to replace Finnegan for the UDP is also making news tonight. Earlier in the news, you heard Shyne Barrow talking about his advocacy as the CEO of the Belizean Society of composers, Authors and Publishers. But, we met him doing his political work in the Mesopotamia division. Two weeks ago, the incumbent in that area Michael Finnegan - who happens to be Shyne's uncle - announced that he is retiring from electoral politics, and wants Shyne to succeed him. Today Shyne told us he's been waiting two years on that endorsement:…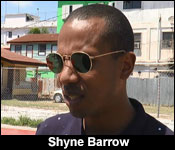 Shyne Barrow - UDP Mesopotamia Hopeful
"I am grateful and honoured that my uncle favours me and has endorsed me and like to see me be his successor but ultimately as I believe he has said, the people of Mesopotamia will make that decision, the constituence will make the ultimate decision, I am here to work for them and to serve them so I am continuing to build my relationship with them so when the time comes for them to make that decision, hopefully I will be the person that they will choose but there is no automatic succession, it's certainly is a honour and a privilege and I had to work for two years for my uncle to favour me and to endorse me because you use to abstract me all the time and say bwai da man no say nothing, da man no say nothing, da man say he di run again, that was an ongoing joke between you and I. So finally I've worked hard enough, he pay attention to what people are saying in the division and he is confident enough that I can continue in his footsteps and secure that legacy and ultimately the people will decide so I am hopeful and I am definitely looking forward to getting the support of the people in Mesopotamia because ultimately they are the ones that will decide my fate."
There will be a convention in Mesop - but that is still probably years away.

Julius, Of Benchwarmers and Advice
(posted on Wed Mar 22, 2017)
And while Shyne hopes he's chosen an able replacement for Michael Finnegan, he surely doesn't want to be a benchwarmer. That's the dismissive term PUP Deputy Leader Julius Espat has used for those unelected persons that his leader John Briceno has put at the forefront of the party and on the executive. Today in Cotton Tree we asked him to clarify his remarks:…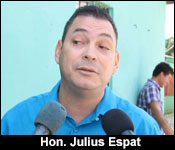 Hon. Julius Espat- Area Rep, Cayo South
"It is not criticism, it is advice and there is a major difference between that. I fundamentally believe that the area representatives are the people that the people have put their trust in. We are figure heads; we are the voice of the people. So if we are the voice of the people and we live in a democratic system then I believe the voice of the people should at least be around the table. I no even the ask fu mek them vote. Just to be around the table so that you can listen to when decisions are being made and that you can on behalf of your people make wah lee advice and that when the decisions are made you can go back to your people to explain to them what the policies are. What I said, I stand by but it's not to hurt the party. I've never been someone to hurt my party. I love my party and I know that my party will form the government. I just believe that you prepare for the worst and you no ride the wave; that's been my firm you know, prepare for the worst and if the wave come well boss da gravy."
Daniel Ortiz
"During the Francis Fonseca era it was believed that you were a chief advisor of his…"
Hon. Julius Espat
"I'm still a chief advisor to the party leader president."
Daniel Ortiz
"Ok, but in that position…"
Hon. Julius Espat
"But being advisor doesn't necessarily mean they listen to you."
Daniel Ortiz
"Well, Mr. Fonseca is believed to have been one of those persons who was very receptive of your advice and the party did not move forward to win any election so why would you criticize Mr. John Briceño at this point without testing his way of management first?"
Hon. Julius Espat
"So you want us to lose first and then I wah test it? Or you want us to give advice? I just the ask. There is nothing wrong with advice guys and Belizean people have to understand that, there is nothing wrong with advice. I am a loyal member of the People's United Party. We have a leader and we will fight and we will fight. But that will not tell me…I da no wah yes-sah-man cause that yes-sah-man no de Kerry we no way. I will give you advice as I see it fit and if you don't take it then that's your decision; no problem with that."
Espat says that three persons who should be on the executive and the PUP frontline are Myrtle Palacio, Anthony Sylvestre and Lisa Shoman. We note that all three are considered Musa or Fonseca loyalists.

Julius Ain't Scared of Redistricting
(posted on Wed Mar 22, 2017)
The media also asked Espat what he thinks about redistricting. His large division of Cayo South is certainly going to get downsized, but he feels that the entire exercise is wrong-headed:…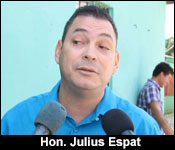 Hon. Julius Espat- Area Rep, Cayo South
"The fair way of doing it, let's assume how many people should be in a constituency, I have presently going close to eight thousand. I think each area rep should handle more like ten thousand. With the proper resources you can do it, we dih do it with zero resources basically, so you can do it. So imagine you divide the country 150…how much we got? That's more or less how much you have voting, you divide that by 10 thousand you a got 15 constituencies. Now, that would be more efficient but what deh wah do? They wah change it from 31 to 41, you a got 10 more Minista, 10 thieving minista more, with 10 vehicles more, with 10 staff more, with 10 miss use of money more. Is that what we want? In Cayo South it makes no difference. If they buss it up inna three ih a be three PUP seat, so to us it doesn't matter."
Espat's Cayo South and John Saldivar's Belmopan are two of the largest divisions in the country.

A Fence For Cotton Tree School
(posted on Wed Mar 22, 2017)
We met Espat today in Cotton Tree Village where he had installed a fence for the village school. As an opposition representative, he had to beg sponsorship and he told us how he did it:…
Kareem Riled Up For Budget
And keeping it on politics tomorrow is the first day of the budget debate. The PUP and UDP Representatives will go back and forth on the virtues and vices of the budget. The Opposition have called it "the Barrow bogus budget" and Today PUP Area Rep. for Caribbean Shores, Kareem Musa, gave us a preview of his angle of attack: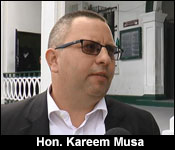 Hon. Kareem Musa - Area Rep, Caribbean Shores
"It is a train wreck that is what it is. It is the debris after a train wreck that all of us as Belizeans are standing around debris looking at it. Essentially the train that Mr. Barrow has been driving over the last 8 years was an unsustainable one that can only be characterised by wasteful spending of the people's money and I'm speaking specifically of the petro-Caribe spending over the last 3 and a half years, some 350 million dollars. I'm speaking specifically about the 560 million dollars that he paid for BTL and if you listen to Mr. Barrow still blaming the PUP over a super bond when the payments for that super bond is only 50 million a year, 25 million US but in just two years Isani, in just two years he spent almost one billion dollars on petro-Caribe spending which has no accountability whatsoever. If you recall the month before the general election of 2015, Mr. Barrow brought another supplementary to the house where he spent 40 million dollars and you know what that said? The kind of accounting they are delivering to the people of Belize, it said for flood relief. That is it, it doesn't say if it was for sand, for houses, how much materials, which contractors, none of that sort of accounting you would expect from a responsible government was provided and has never been provided. So where we are today, the prime minister has presented a budget and you have to look at the context in which he's presenting this budget because he is predicting believe it or not that we are going to have a primary surplus of 3.14% of GDP. In the same year that he predicted that we are in a recession, so imagine that the last couple years he has been operating at a deficit. Even in his glory days when he had so much money, he could not produce surplus but now that the economy has crashed, that our industries are failing, he is predicting a surplus. Imagine how incongruous that is, it makes absolutely no sense in a year when he has to pay 90 million in salary increase to the teachers, in a year when he continues to pay more and more on this judgement to his good friend Lord Michael Ashcroft, a total of 600 million, he still has payments to make. And so how is it that you want the Belizean people to swallow that you are now going to turn this thing around, you are now going to be a responsible prime minister and curtail your expenses but you know where the expenses are going to hit? It is the people of the Belize that will have to tighten their belts, not these ministers in government that are wastefully spending our money. It is the people of Belize that will have to bare this burden and that is what I find to be totally disgraceful and totally disgusting."
Forest Day At Sacred Heart
Taking a break now from politics, yesterday was the Forest for Life celebration at the Sacred Heart High School and Junior College Auditorium in San Ignacio Town.
More than 800 students focused on the dependency on forests. Keynote speaker Marcello Windsor explained that in 30 yearsBelize's forest cover has gone down form 80% to 60%:…
Kenzle Hulse Arraigned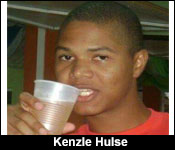 Last night, we told you how 27 year-old Kenzle Hulse, son of Agriculture Minister Godwin Hulse, was charged yesterday for harm. Well, what police hadn't said was that Hulse was arraigned yesterday, and he's out on bail tonight.
His case has been adjourned for May 18, 2017, but what is of concern to outsiders is he wasn't charged with aggravated assault with a firearm. You'll remember that he is being accused by Albert Santos Lopez, a cohune walk businessman. Lopez reported to police that Kenzle Hulse allegedly hit him in the face with a licensed firearm.
Police sources say that major crimes, which is part of national crimes, handled the case and not Belmopan police. The decision to charge Hulse with harm, was reportedly due to legal advice given to the arresting officer.
Feeling Festival 2016
And keeping it on the kids, we close tonight with highlights from night one of the preschool festival of the arts which took place on Monday at the Bliss center. Enjoy the Belize District presenaitons, and have a great night…
7News for Wednesday, March 22nd, 2017 from 7News Belize on Vimeo.

Home | Archives | Downloads/Podcasts | Advertise | Contact Us