Grandmother Killed By Bees At Grandson's School
(posted on Thu May 25, 2017)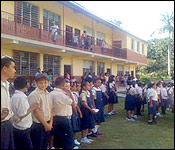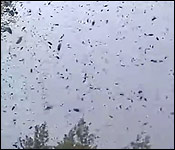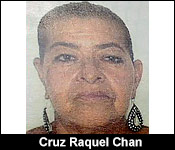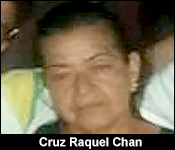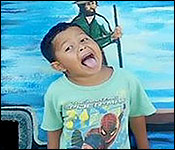 The doors were closed at the Arms of Love Primary School in San Ignacio today after a deadly bee attack. Yesterday afternoon at 2:30, Cruz Raquel Chan went to pick up her grandson at the school- as she usually does. But instead of wrapping her arms around her little boy and carrying him home, she was wrapped in the deadly grip of a swarm of Killer Bees. Chan died after she was stung dozens of times. It was a terrifying and chaotic scene at the school grounds as students, parents and teachers were outside when the bees invaded. Courtney Weatherburne has more details on this attack.
Courtney Weatherburne reporting
Like all school grounds, the one at Arms of Love Primary School in San Ignacio is always active with kids as they play or gather for outdoor activities. And yesterday afternoon during the 2:30 break, it was no different.
But terror was unleashed as a swarm of killer bees descended on the crowded school compound. The teachers and kids scrambled into classrooms and shut all the doors and windows.
But 60 year old Cruz Raquel Chan couldn't get away. She had just arrived at school to pick up her 6 year old grandson when the bees viciously attacked her.
Cyndi Chan, Daughter
"Her body is all covered of this, all her clothes to her feet, her head when I touched her head, in her hair she still had the bees in there, living bees in there, you could imagine the amount, your face covered every inch of your face covered with that."
Courtney Weatherburne, 7News
"And as you said she was bitten all over her body, not just her face?"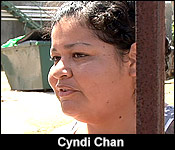 Cyndi Chan, Daughter
"Not just her face, her hands even in her nose, in her lip everything was covered."
Chan's 6 year old grandson was inside his classroom helplessly peering out as the bees overcame his grandmother.
Cyndi Chan, Daughter
"When I held him he said mommy, mommy I was screaming to let somebody help my grandma but nobody could not come out, why didn't they help my grandma, so to have a 6 year old cry like that mehn...that is painful."
Two police officers did try to help Chan but they too were stung. And it was already too late for Chan, she died at the school. For Chan's family it is still hard to believe that they lost their loved one to a random but horrific killer bee invasion.
Cyndi Chan, Daughter
"So when I got the news I say why this way mehn, you know."
Now to escape the reality of Chan's death, the family is holding on to the joy she left behind.
Cyndi Chan, Daughter
"She was the most loving person everybody from our neighborhood call her mama Cruz."
"Everybody just got that love for her because she sees you on the street "Holla Amigo" you know "Como Estas.""
Courtney Weatherburne
"She was very friendly?"
Cyndi Chan, Daughter
"She was very friendly with everybody."
2 mothers and 4 children were also stung. One of the police officers was stung 43 times. All of them except for one mother, was treated and released. When we spoke to the principal Iris Garcia this evening, she told us that they had no idea a bee hive was inside a tree trunk in the next yard. She told us that it happened so quickly - a strong wind blew and the swarm of bees appeared. Garcia says that personnel from the Ministry of Agriculture has cut down the tree but warned that they should stay away from the school compound because the bees might still be lingering. So classes resume on Monday.
Chan was originally from Guatemala but lived most of her life in Belize.

Popular DJ Murdered, For What?
(posted on Thu May 25, 2017)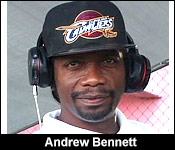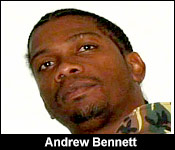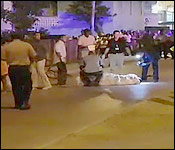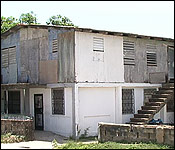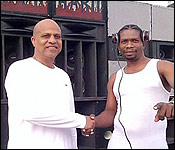 Right now, in the local fraternity of DJ's is mourning the loss of one of their own. He's Andrew Bennett, better known by his stage name, "Hard Rock", and he was at his home on Central American Boulevard last night. That's basically the headquarters for his music business, and where youths congregate to practice the art of disc jockeying.
So, it should have been a safe place, but that's where Hard Rock's killer came to take his life. His entire neighborhood now grieves, and today, our news team went looking for answers. Daniel Ortiz reports:
Evan "Mose" Hyde - Program Manager, Krem Radio
"Stunned. I don't know if there is any other word that comes to mind, but completely stunned and besides stunned, it's like, it's just, it's like when you get a punch in your gut, because I woke up in the middle of the night and saw the bunch of messages and I was like, I couldn't really put my head around its Hard Rock got shot down. I mean Hard Rock is not a gangster."
Voice of: Ethel Nicholas- Mother of Deceased
"Its devastating and its hard, but we have to cope with it."
Daniel Ortiz reporting
That's the general sentiment we got from many of Andrew Bennett's friends and family. They were all trying to process that he is no longer with them. "Hard Rock", as he was better known, was killed by a gunman right in front of his house on Central American Boulevard.
Police say that at around 7:43 p.m. last night, he was under the bus shed, right outside his front gate when a man opened fire on him. He was injured several times to the head and body, and died on the spot.
Voice of: Ethel Nicholas- Mother of Deceased
"Whole day I see him in the morning. He wasn't at his house until the evening. Then he sent his little daughter over to get some food to eat and we send the food and just after that you heard the shots rang out. We don't know what happen and we don't know why."
Just Like that, "Hard Rock's" life was ended by the street violence that he quietly tried to shield many of the community's youths from. A number of Belize City based DJ's owe their careers to his guidance.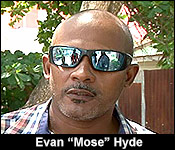 Evan "Mose" Hyde - Program Manager, Krem Radio
"That is not the guy you expect to see on the asphalt with X amount of gunshots in him."
His mother says that landing a job at Krem was also a huge deal for "Hard Rock". His former employer says that he was the guy who helped to problem solve with technical failures on the fly.
Evan "Mose" Hyde - Program Manager, Krem Radio
"The work that Hard Rock did takes place kind of under the radar and I guess some people in the broader society might not be aware, but you got this brother that basically turned his house into a sanctuary for the youths and out of that sanctuary, responsible for enough DJ careers including enough DJ who we utilize at KREM."
"Hard Rock has spent like maybe we called it 2-3 tours at KREM and the man opened up his home for youths and really that would be one of the examples of a member of the community, providing a space for our endangered youths find a positive way forward. The irony in it really juts slap your head side like a 2x4."
Voice of: Ethel Nicholas- Mother of Deceased
"A lot of DJs here about the place could say that they had passed through him and he helped a lot of young ones to try to uplift themselves and try do something for themselves and a lot of people look up to him for that, because he was a role model. He was not the type who were about doing nothing out of the way. I never had to go to the police station. I never had to do anything, because he is not like that."
Evan "Mose" Hyde - Program Manager, Krem Radio
"Some of the DJs that we use of his sanctuary, like DJ Tun, DJ Sampler, we had DJ JR, DJ Spice - who then emerge into a television star in a "Bad Ting Mek Laugh" starring as Officer Makuti. All of those youth come up underneath his shade."
Evan "Mose" Hyde - Program Manager, Krem Radio
"Two things Hard Rock love as a DJ; he loves old school - have an amazing understanding of how to deliver old school and the he loves sound clash. We use to say the reason why Hard Rock never become a commercial success is because all he wanted to do was clash."
"But as an employee he was here not only as the DJ, but we use to always joke about Hard Rock that he would put up about 50 speakers and then about 25 of them would be working. So meanwhile he was playing his music, he was fixing the next 30 speakers. He was like out studio technician and Mr. Fix It kind of guy. He was never a man who would walk into a store and buy the newest stuff and have the newest equipment. He was always getting what people left-off and then he would put them together and let it work for him. So that was his resourcefulness."
"I can't believe I am having an interview talking about Hard Rock."
So, how did he get that nickname that was so much a part of his identity? Well, it was because he was so quiet, that those of around him didn't know his name. They picked the first thing to call him, which just happened to be "Hard Rock".
Voice of: Ethel Nicholas- Mother of Deceased
"When he use to go at St. Martin's School, he use to like play football. When he graduated from St. Martin's, Judge Brown had football at the MCC and he asked to join and I told him its okay to join. When he was on the team, he didn't like to speak, so the Hard Rock Cafe sponsored them and the shirt marked Hard Rock, so everyone started to call him Hard Rock, because they say we don't know what is your name, so we will call you Hard Rock. And that is how he got that name."
For, his mother, she needs not remember him for the tragedy from last night. She says that will hold on to treasured memories of her son.
Voice of: Ethel Nicholas- Mother of Deceased
"My son always have a smile. When he get vex, he doesn't get vex for too long - he always have a smile and that is the way I will always remember him."
Andrew Bennett leaves behind 3 children ages 11, 17, and 18. Apart from music, his house was always a fixture for sports where big feature events, like the NBA Play Off's, could be enjoyed right in his yard. Neighbors tell us that "Hard Rock" would set up a movie projector to show the games live for those youths to enjoy a theatre experience.

Hard Rock Overthrew "The President"
(posted on Thu May 25, 2017)
We also got a chance to catch up with 2 of his peers, the legendary DJ, Presi-D and the up-and-coming DJ Spice. Legend has it that some years ago, Hard Rock and Presi-D had a famous battle, where Hard Rock toppled his mentor from title of best DJ in Belize.
That was a great upset because Hard Rock learned everything he knew about being a DJ from watching Presi-D work. So this evening, Presi-D discussed Rock's growth and influence in his community, and the significance of his loss.
Presi-D - Hard Rock's Mentor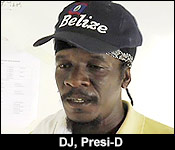 "When he used to come after school, he used to always want DJ with us. So I would tell him to finish school first, but when he finished school, the man used to hang out with us and DJ with us and we would show him because we don't hold down any youth. All the youths, we make sure they make it. The little youth was always inspired by us to DJ so, in respect the man used to come after primary school and come DJ with us and we told him finish school and then come DJ with us."
"So the man came from way back then, way back from primary school. Hard Rock is a very good youth to us. Hard Rock is very beautiful, Hard Rock is not just..., like I tell them about Presi-D but we tell, Hard Rock is an agency, it's like a university, it's like a place where youths seek refuge. Youths that are troubled, youths that go through tribulation, youths who can't eat or play, youths who want somewhere to cool their heads. Hard Rock is a man so, I feel hurt this morning, this afternoon and this evening, because they didn't just kill a man, they killed an agency, a university, where youths go to seek refuge."
"Whenever he got a little job in the States and he couldn't go to states or when he had an extra job, he would always give an extra job. So, I maintain a perfect relationship with Hard Rock. Sometimes, when I'm stressed out I don't want to DJ on my sound system, I would go to Hard Rock to DJ."
"Sometimes, they don't want to give me the mic because they say I like to talk so, sometimes they would make me DJ a little bit and enjoy myself. Sometimes, I would just take a little drink and hang out. I have a perfect relationship with Hard Rock crew, not just Hard Rock itself as an individual, the whole crew, DJ Junior, DJ Spice all the little youth are nothing but love."
"So, when I learned the man died I was way behind a spot doing DJ work and a young lady came and told me the man died. They said the man's body was out there for an amount of time. I went out there, I said I didn't want to go because I didn't want to see him mother crying, because she is a beautiful woman, he comes from good people. So, I big up Hard Rock people. I personally feel it for the man, I cry like a baby, in fact, the GSU had to hold me down because I wanted to see him personally - take off my clothes and put it ... because the man was the street for an hour, so that's why I went. That's how I felt about his death."

DJ Spice Remembers the Rock As A Mentor, A Pillar
(posted on Thu May 25, 2017)
So, as you heard in our interview, Presi-D thinks that it is up to the deejay's from the Hard Rock crew to carry on his legacy. One such student is Paul Gamboa, who's known on Krem Radio as "DJ Spice".
Today, while he was in the middle of his evening segment on the Radio, he gave us an interview reacting to the gun murder of his mentor. Here's what he told us:
Paul Gamboa "DJ Spice" - Mentored by Hard Rock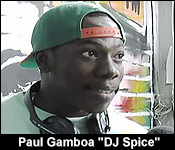 "It's rough and he brought me to where I am right now. He taught me everything about music, when I was a stray being bad boy and wanting to be a street boy, that man brought me into this world what I already had in me and he just brought it out. I watched him physically do that to enough youth. He's like a father to me, he's more than a father. Growing up I saw his face every single day of my life and it's hard to go through without seeing his face."
Daniel Ortiz, 7News
"You are doing what you love at this current moment, but are you distracted trying to handle the grief of his loss?"
Paul Gamboa "DJ Spice" - Mentored by Hard Rock
"I decided to come and do it today, because at the end of day this is what he gave us and I will put out what he gave me. I will show the world that Rock is still living. He is within me, his daughter, his son, my little brother and the rest of DJ that he inspired. He is still around. He would have been mad if we left this so I will never leave this. I will go with this to my grave just like him."
Daniel Ortiz, 7News
"What comes to mind when you think of Rock, while maybe setting up the stacks of speakers, or packing up. We know that's always a hectic and strenuous thing to do, being the gopher for the guy who is running around trying to set up the system to prepare for the show?"
Paul Gamboa "DJ Spice" - Mentored by Hard Rock
"This person here, don't care if it's for free, we will do it, Don't take care the size of the money we will do it and we will do it together as a family. It doesn't matter how far you stray from the man, he brings you back. The only memory I could think about right now is, anything you need, anybody to talk to, you could always call his number. I didn't matter where you are, he will come for you right and he will talk to you throughout it. It's rough."
There has also been an outpouring of affection for Hard Rock on social media platforms such as Facebook.


Senior Immigration Officer Accused Of Drunk Driving
(posted on Thu May 25, 2017)
An Immigration Officer assigned to the Big Creek Port has been charged for driving under the influence. Independence Police arrested 49 year old Antonio Teck on Friday May 19th. when they saw him swerving on the Cowpen road during daylight hours. He was driving a private vehicle and appeared to be drunk, so they arrested him. He was charged for driving with alcohol levels above the prescribed limit. He appeared in Independence Magistrate's Court today where he pleaded not guilty. Director Of Immigration Diana Locke did not reply to our question about whether disciplinary action would be taken.

No Jail for TV Thief Justin
(posted on Thu May 25, 2017)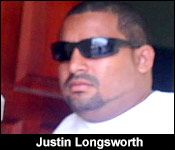 Last November, Justin Longsworth's boss accused him of stealing eleven 49 inch flat screen TVs. Longsworth's boss, customs broker Jason Valdez, told police that on October 31st Longsworth cleared the TVs for the Radisson - but they never made it to the hotel.
Security footage and signatures proved that Longsworth did indeed receive the shipment. When police questioned the driver Francisco Gutierrez, he admitted that Longsworth gave him one of the TVs in exchange for him keeping his mouth shut.
Longsworth was found guilty of theft last week, and today Chief Magistrate Anne Marie Smith handed down his sentence. His aunt made a mitigation plea asking that he be spared jail time because he has three children who rely on him for support. the Chief Magistrate eventually decided against a prison sentence, instead fining Longsworth $3000, which he was until December to pay, or serve three years in prison.

Vera Versus Modiri, The Verdict Coming
(posted on Thu May 25, 2017)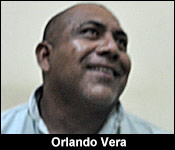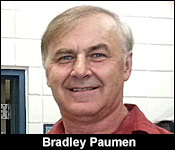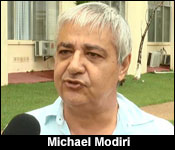 Viewers may remember Orlando Vera. He's the police department's Firearms Examiner who was charged last year August with the offence known as "abetment of the crime of perverting the course of justice." What that means is that basically he allegedly offered to take money - to make a criminal charge disappear in court. And it's no minor case in which he allegedly did this: it's the case of Michael Modiri, the Franks Eddy neighbour of the American Tour Operator Bradley Paumen.
Paumen and 3 others have been charged with perverting the course of justice, for allegedly trying to plant a gun on Modiri, so that he could be sent to jail. Modiri beat that charge, but he said that between June and 1 and July 31, Vera offered to tamper with evidences so against him so that he could be acquitted.
Well, that case has been on trial in before Chief Magistrate Ann Marie Smith, who has heard evidence that Vera allegedly made the offer twice.
On the first occasion, which Modiri didn't record, Modiri claims that Vera offered to manipulate the firearm so it wouldn't fire. Alternatively, he reportedly offered to intentionally misplace some of the ammunition, or to manipulate the firearm so that it wouldn't work, forcing the case to be thrown out.
Modiri reported that there was a second conversation, which he did record. Modiri told the court that Vera visited his Belmopan house where they had a discussion about helping him get off the case. Modiri said that in this conversation, Vera told him that there is a police prosecutor who is also willing to help make the case go away. Again, the offer was to manipulate the silencer for the gun, so that it would not work.
Chief Magistrate Smith heard submissions from both DPP Cheryl-Lynn Vidal and Vera's attorney, Anthony Sylvestre, as to whether or not the case has been proven against the firearms expert. The Chief Magistrate will hand down a verdict in a week.

Solar Grid Great For La Gracia
(posted on Thu May 25, 2017)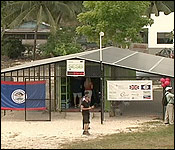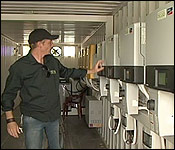 La Gracia Village in the Cayo District is remote, so much so that you would say, it's off the grid. But, in this case, that would be a literal meaning because La Gracia is also off the electrical grid. And that's why the village - which is due east of Valley of Peace was designated as a pilot site for what's called a "Photo Voltaic Smart Grid". It's basically a solar power system but this one gets the Smart designation because of its ability to harness, store and distribute power to an entire community, making sure that they constantly get 120 volts in their homes - just like regular folks who are supplied by BEL.
The three quarter million dollar system was opened yesterday afternoon with all parties noting the change in the quality of life and education it will bring to the village: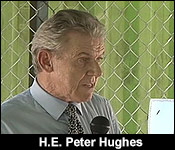 H.E. Peter Hughes - British High Commissioner
"This project will bring us sustainable supply of electricity to this village for the first time and well in advance of the grid when the grid will reach this area. Secondly, the electricity will be generated totally from a renewable source, the sun."
Hon. Frank Mena - Minister of Energy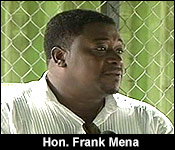 "Harnessing the power of the sun and using the energy as a spring board. A spring board for agriculture, a spring board for education, for health and of course for prosperity."
Hon. Rene Montero - Cayo Central Area Rep.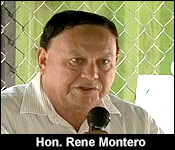 "This 24 kilowatt system is therefore, exactly what your village needs to ensure that you can continue on the road of progress and prosperity."
H.E. Peter Hughes - British High Commissioner
"It is my view that this project will change the lives of every man, woman and child in La Gracia. It will provide opportunities for the village to develop and grow and for every person to have the chance to expand their horizons and achieve goals they could not think of before. It is incredibly to think that basic human right of access to information with so many living in cities and large towns enjoy every day, will now be a right for every villager in La Gracia. Just think about what the project will do for the potential of this village and all of you in front of me here. You may not realize it but the futures will be better and also more challenging because access to electricity brings so many benefits."
There are about 45 households in La Gracia. The contractor SESB will monitor and calibrate the system remotely. The monitoring will also provide data for best practices on system design, implementation, and administration so that it can be implemented in other remote areas.
The system was funded to the tune of 700 thousand Belize dollars with support from the Swiss, British and Belize Governments, along with the PUC.

Nazarenes Call Leaders "Unrighteous"
(posted on Thu May 25, 2017)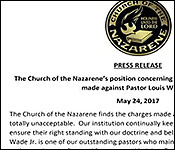 Pastor and television personality Louis Wade continues to get support in his fight with the Belize Police Department - and the political directorate. Earlier this week, it was the National Evangelical Association of Belize that came out supporting him and blasting the police. And today it is his denomination, The Church of the Nazarene. They issued a statement this evening saying, quote, "Pastor Louis Wade Jr. is one of our outstanding pastors who maintains a high level of integrity and commitment...To question his character in the way it is being done and to publish it nationwide is to discredit the Church of the Nazarene."
The statement then takes a sharp political turn, saying, quote, "We fully support Pastor Wade in his endeavour to stand against unrighteousness, even if it is against leaders that make up our government. We are fully committed to praying for them, but will not condone any questionable act that will undermine our people as a nation." end quote.
The fiery stamens closes by saying, quote, "We call upon our authorities to stand on the side of righteousness and make a legitimate investigation into the charges made against Pastor Louis Wade Jr. There is enough recorded evidence that proves his innocence."
Police say Wade never showed up with his videotaped evidence, and add that his statement is riddled with inconsistencies. Wade next appears in court in June.

Mental Health Experts Say No Love In The Triangle That Caused Lascelle Martinez's Death
(posted on Thu May 25, 2017)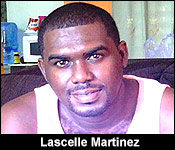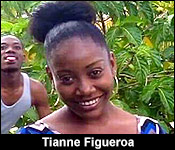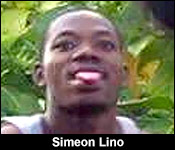 And the Mental Health Association has also issued a statement. This one is about the murder of Lascelle Martinez in Punta Gorda, and all that talk about the love triangle that led to his death. The Mental Health Association says that "love triangle" term, quote, "trivializes an incident of domestic partner abuse that resulted in the death of one person, serious injury to another and probably ruin to the life of the accused."
The statement adds, quote, "until we recognise that (these incidents) are fuelled not by love but by control and self loathing, we will not be able to reduce their impact on our families and societies."
The statement concludes, quote, "We will never be able to deal with domestic and partner abuse if we miscategorise it as stemming from love. Love does not cause violence..."
The accused Simeon Lino remains at large and reports say he has absconded to Guatemala.

BDF and Coast Guard Females Jostling To See Who Will Be Wonder Woman
(posted on Thu May 25, 2017)
The women of the Belize Coast Guard and Belize Defense Force are going head to head in the second annual Wonder Woman Challenge. The competition pits four teams of female officers against each other in several competitions designed to test their teamwork, endurance and mental fortitude. The event kicked off this morning with a six-mile relay race followed by a run-swim-run competition. The event's coordinator, Lt. Junior Grade Alma Pinelo, told us about the grueling challenge and the sense of sportsmanship and camaraderie it's meant the foster...
Lt. Junior Grade Alma Pinelo - Event Organizer
"So what we've been doing this morning we started off with a six man relay. It's a two main event so today we'll be doing, this afternoon we'll be doing a run-swim-run competition, which is a run for one miles right here around the compound, there is a one mile ocean swim right there in the sea and then finishing off with a one mile run. Tomorrow we'll have two different events. Again at 8 and one being an obstacle course in the afternoon, and then a four lap run and each lap has different burdens that each team has to carry. The purpose of it was to do a security forces competition but for it to be all females.
"This is a different feel, a different mood, the competitive atmosphere is definitely high. This is the second year that we're doing it and I'm very excited that we got the BDF to join us this year. We have four teams two from the BDF and two from the coast guard. Each team leader is a senior female officer, myself being one, Ensign Reyes being the other, we have Captain Usher and Captain Elliot for the BDF."
Alex Courtenay, 7News
"And now we know that - is this supposed to highlight the training that our security forces receive and to show how capable our security forces are, especially the women."
Lt. Junior Grade Alma Pinelo - Event Organizer
"Right we wanted to see a little light as to what the women do, and to show Belizeans and especially young girls, aspiring young females that what we do is, we're just as capable, we're just as competent and we're just as prepared as our male counterparts."
The teams will be participating in an obstacle course and BCG Medley tomorrow.

Norman No More At KHMH
(posted on Thu May 25, 2017)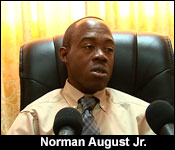 He's been the Director of Finance at the KHMH for almost three years, but quite suddenly, Norman Augustine is no longer in that job. The CEO today confirmed that the board decided to pay him off and send him home earlier this week. He would not discuss the grounds for this decision. Augustine was a contract officer first hired in November 2014.

How To Avoid Killer Bee Swarms
(posted on Thu May 25, 2017)
Earlier in the news, we had the terrible story of the grandmother who was killed by a swarm of Africanized bees. In 2014, Courtney Weatherburne asked bee experts about how you can avoid a bee swarm or survive an attack. Here's that story from our archive:..
Courtney Weatherburne reporting
At the first sight of a bee flying near, fear overcomes and the initial reaction is to either run or swat the bee away.
Bees are seen as dangerous creatures even more so as a swarm. the Africanize bees has a different behavior; you van never know what they will do, they are unpredictable.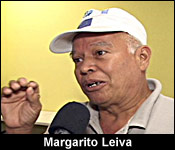 But what causes the unpredictability in the behavior of the Africanized honey bees? And how did they even get to Belize?
Margarito Leiva, Extension Officer, Beekeeping
"These bees tend to swarm a lot. They tend to defend their colony and they migrate. Whenever there is no honey in the hive they would just abandoned their nest and leave to another area. We had the European type of bees. These bees they produce a lot of honey; to maintain a huge amount of honey inside the hive. They never leave the colony except the swarm which is one time a year. In times of scarcity, these bees they prefer to stay and die inside the colony. So today, most of the hive that we have in Belize are of Africanize decent; we call them Africanize honey bees. These are no killer bees. Killer bees is a movie title. 90% of what we consume of the fruits and vegetables, nuts that is produce and what we consume bees contribute to that through pollination. For instance, just in the US alone, bees contribute close to 50 billion dollars' worth in vegetables, fruits, nuts. Here in Belize if we take into consideration the citrus industry; 20% of the citrus production increase whenever bees are around."
While bees contribute to agricultural growth and as an extension of that the livelihood of Belizeans, these Africanized bees are also a community threat. They nest in homes and near populated areas - and one wrong move can provoke a swarm: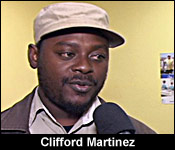 Clifford Martinez, Belize District Agriculture Coordinator
"We understand the situation. We also deal with approximately 8 bee cases per week, so we have to respond and yes while we are happy about the services, we also have to be aware of the threats that they posed. if you are ever under attack, this is what you should do."
Arden Edwards, Toledo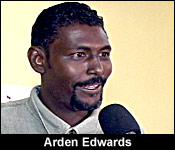 "You do not run in straight line. If you run in a straight line, it's easier for the bees to get a whole of you. Try to run in a zig-zag situation and if there is stream, the best situation is to find a stream if there is one around and then you go under water and then you try not to come up at least 5-10 minutes because they will be right there waiting for you."
But bee attack survivor, Guadalupe Coc, did not even need to dash away from the bees, his quick response and immunity, saved him.
Guadalupe Coc, Stann Creek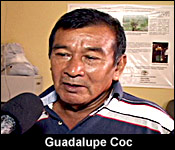 "And they and attack me. I have a smoker, but it didn't help because and if I go into my house they will go behind me. So what I did was start to back up and put my smoke like this and I reach further and further and eventually they leave me. Later on in the evening like I cannot get up again, all night I was feeling the pain, but after that everything went away."
So as the bee experts put it, bees are our friends but if not careful, they can be our worst enemies.
In the past 10 years, we've reported on six killer bee deaths. And though this most recent attack happened in May, the experts say that the bees are usually calmest between February and July when honey production is high, and they become more aggressive during the months of October and November.

Mestizo Spring Meets Creole Autumn In New Poetry Collection
(posted on Thu May 25, 2017)
We all know Myrna Manzanares and her passion for the Creole culture. But, now, she's ventured into something different by teaming up with a teenaged girl to compile a book of poems. It's called "The Healing Circle" and after 2 years of distillation, it was launched today at the St. Catherine's Auditorium. Now what could a grown woman like Manzanares have in common with a 17 year old girl? Well...More than you think ... Courtney Weatherburne has the story:
Since there are two authors - there are also two launches. Today's event was for Azizi, and, tomorrow, Manzanares will have her own launch at the Leo Bradley Library at 10:00. The Governor General is slated to attend.

A Festival Celebration
(posted on Thu May 25, 2017)
The National Festival of the Arts is an annual treat in the month of May - and the 2017 edition was launched today at the BTL PARK. And of course, the Institute of Culture and Arts brought out their stars with a dose of concentrated cuteness. But it played in a park - not the Bliss Center. The organizer told us why:
You can see live Festival of the Areas coverage here on Channel 7 on Saturday morning at 10:00 made possible by NICH, CBC Cable and this channel.
The National Festival of Arts runs from the 25th May to 3rd June and is the culmination of Festivals held in each district from February to May.

Home | Archives | Downloads/Podcasts | Advertise | Contact Us