Man Bludgeons Mother With Crowbar
(posted on Tue Jan 16, 2018)
A man killed his own mother this morning - and he did so by bludgeoning her to death with a crowbar. The unthinkable act happened around 8:15 in Carmelita Village, just outside Orange Walk. Our colleagues from CTV-3 were on the scene shortly after as police were trying to chase down the killer, who ran off after leaving his mother for dead:...
Jules Vasquez reporting
Police teams and villagers raced through the village, Fanning out even into the bushes surrounding Carmelita Village to find this man, Andy Rhaburn, while officers patrolled through the village on motorbike.
Villagers gathered around in shock and came to the family's home to give support.
They are all in shock after this 26 year old just bludgeoned his mother, 53 year old Braulia Pech with a crowbar here under this plantain tree in her yard.
Clarita Rhaburn, Daughter of Deceased

"My little sister said that when she got here my mother was already thrown there, and my brother wasn't here. No one saw what happened they just found her there. They took her to the hospital, but...she died before she got there. But, my mother wouldn't harm anyone, she doesn't trouble anyone, she never deserved to die like this."
When he was running out - he also struck another villager, Lilia Xujur, with the crowbar. No one knows what triggered it, but there had been a history of mental illness:
Clarita Rhaburn, Daughter of Deceased
"She would always tell me that she had an issue with my little brother. But, as I told you we didn't see, because she stays here alone with him."
"When he starts to get like this, always acting violent my mother calls for the police to help, and they take him away. And the he has a few good days, taking his treatment, but I feel that in recent days, he hadn't been taking his meds, and maybe this is why it happened."
Now, Andy Rhaburn is wanted and despite canvassing the village completely - police have found no trace of him.
And while the manhunt is for him, this daughter just wants her mother back:
Clarita Rhaburn, Daughter of Deceased
"I will be without my mother. The only thing we have in life is a mother."
Rhaburn remains at large this evening. Police expect to track him down soon.
His other victim, 43 year old Lilia Xujur is in a stable condition at the Northern Regional Hospital.

Alfredo Cowo, From High Profile Police Complainant To Murder Victim
(posted on Tue Jan 16, 2018)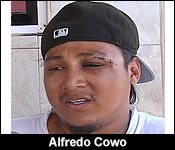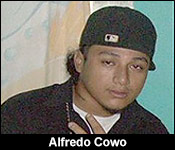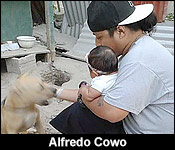 Alfredo Cowo made national news in April of 2017 - when this crazy scene unfolded: cops gone wild on San Pedro, firing indiscriminately on the street to disperse a crowd. Cowo got the worst of it - he was there using his cell phone camera to capture police roughing up a pair of women - and when they fired, his feet got riddled with shotgun pellets. Those cops, constables Coye and Madrill got off those charges last week.
But, last night Cowo was murdered - right in the heart of San Pedro. The evidence shows he was directly targeted by a gunman in a hoodie, one of those street executions, but the family doesn't know what triggered it. Sahar Vasquez found out more in San Pedro:...
Sahar Vasquez reporting
Before the sun rose this morning La Isla Bonita witnessed its first murder of the new year. In the centre of the town, shots rang out and pierced the body of 26-year-old Alfredo Cowo.
Voice of: George Cowo, Brother of the Deceased
"I got the understanding that somebody just flew pass, running pass, and he started shooting at him and his girlfriend. Because they were on a golf cart, sitting down, and watching a video. They said that when they were watching the video, they had their face down to the phone, and they started to hear shots ringing off. When the shots started ringing, he jumped down and went underneath his golf cart. It was when he girl came to the front, and his girl jumped on top of him. It looked like the gunman still came and still wanted to put to more in his head, but it looked like the gun snapped. From there, we picked up the man. They called us, and we picked up the man."
Cowo was rushed to the San Pedro Polyclinic and then to the KHMH which would be his last destination. He was pronounced dead on arrival.
Cowo is no stranger to the San Pedro police, in fact, he had run into hot water on the island quite a few times but the most recent time was no fault of his.
Back in April of 2017, near to the very same spot where he would be murdered 9 months later, he became another victim of police brutality - after being shot in the feet by the cops for no reason. He shared his story with us a few days later.
Alfredo Cowo, Deceased
"The San Pedro police were beating up two girls. I went up close and just took out my phone to video. I videoed one of the QRT, when i turned around I noticed PC Madrill knocked me with something, I'm not sure if it was the butt of the gun. I just felt pain and I started to bleed, then PC came in and started to shoot up my feet. They just took our statement and released us without a charge. How will they charge us for aggravated assault? We didn't assault anyone nor did we have a criminal record. To be aggravated, I'm guessing you need a weapon."
And according to his sister and wife, since this incident, his life was being repeatedly threatened because he was speaking out and leading a criminal prosecution against the police.
Voice of: Victoria Ballella, Wife of Deceased
"It was because they shot him in his foot by the park. They have been in and out of court and they have thrown the case away. Now the police had threatened him and told him that it won't stay like this. He has a coffin ready for him."
Voice of: Anna Arjelia, Sister of Deceased
"The QRT told her in front of her face that he will not stop until he sends him in a box. Simple as that."
And for these two, the death of their loved one has not really sunk in. His sister who adored her brother never thought that something like this would happen. His wife admitted their marriage was in some turmoil, but what hurts her the most is that now her baby girl no longer has someone to call dad.
Anna Arjelia, Sister of Deceased
"Well to be honest he was a nice guy. He has his friends, but I don't even know what to say right now. He just didn't put himself with anyone, just stick to his business and liked to play pool, nothing else. This is the first time that something like this happened in our family. It's something surprising to us. I never expected something like that to happen but he was, out of all of them, he was my best brother."
Victoria Ballella, Wife of Deceased
"Well yes we had issues 2 weeks ago. We were not living together but he used to still maintain us with food and rent. He used to give me everything that I needed. It will hurt my daughter the most. My daughter will grow up without a father and that hurts me a lot."
Relatives tell us that Cowo had four children and one on the way. He had lived on San Pedro for about eight years. Notably, he was with his new girlfriend when he was killed - not his wife who you saw in the story.

Police Say They Will Look At All Angles
(posted on Tue Jan 16, 2018)
And while the family of Alfredo Cowo is suggesting that police may somehow be responsible, police say, there's no evidence to support that claim at this time.
Today the officer commanding in San Pedro held a brief press conference to outline what they know so far, and dispel suspicions of a police conspiracy to cover up anything. Superintendent Jemoth started with the official account of the crime:...
Henry Jemmot - Superintendent and Officer In Charge of San Pedro Sub Information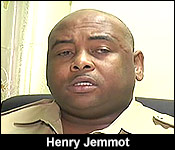 "Acting upon information police proceeded to the San Pedro Poly Clinic where they saw a male person suffering from apparent gunshot wounds to the chest. Police then learnt the person name to be one Alfredo Cowo, a 26 year old fisher man of San Pedrito area, San Pedro Town. Initial reports into the matter stated that he was socializing near Central Park by an establishment where a male person came and fired several shots in his direction which apparently caught him in the chest area. So far we are have not uncovered anything and the matter so far is under investigation. It is too early to make any assumption at this time. Yes he is a name known to the police. He is a person known to the police."
Sahar Vasquez, reporter
"Were you able to speak to any witnesses?"
Henry Jemmot
"So far no. We have not spoken to any witnesses as yet but we are doing, we have additional staff assisting us from Belize City to wrap up this investigation as quick as possible and to try to find author of this crime. The investigation is in its infant stage and a lot more work needs to be done before we can start casting aspersion. I would ask that the general public, assist the police in this case because we know that people saw and we need these people to come forward and give evidence so that we can solve this murder and have San Pedro return to some sort of normalcy within that area."
The police are also reviewing surveillance footage from the many cameras in the area of the crime.

Cowo's Family No Reason For Murder
(posted on Tue Jan 16, 2018)
And while police held a press conference to issue re-assurances that there is no conspiracy and that they are thoroughly addressed - the family of the deceased has abiding reservations. Today in Belize City, Cowo's mother wouldn't say much. Here's her interview:...
Blanca Mencias, Mother of deceased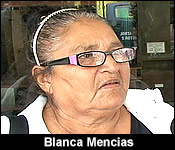 "What happened is they killed my son. And God Bless the person who did this."
"More or less, more or less, we can almost say who did it. That's all I can say, nothing more."
Daniel Ortiz
"Now, sir, what immediately comes to mind is why would somebody want to hurt your brother like that? That seems targeted, as though the individual came to assassinate your brother."
Voice of: George Cowo - Brother of the Deceased
"Yes, that was like they had it in for him. It's like they already had that set for him. And it's not the first time he got shot already. It was like a personal thing."
Daniel Ortiz
"Does the family somewhat believe that maybe that shooting incident is connected to his murder in any kind of way?"
Voice of: George Cowo - Brother of the Deceased
"Well, that is what everybody is saying that it only can be that because otherwise, he never had no problems on the street. We don't have any problem with anybody. We just do our fishing. We are men who just do fishing, and when we come, we go and play a little pool game."
Daniel Ortiz
"It's tough that I have to ask this, but I have to. Did Mr. Cowo, yourself or any other family members have any kind of friends, or any kind of connections to the street like in San Pedro that would have persons say, you know what? We have a beef with him, but we'll make sure that we target the friend."
Voice of: George Cowo - Brother of the Deceased
"Well, usually we don't have any problems with anybody, because everybody know us, and everybody know that we are fishermen. And everybody greet us. Everybody is good with us."
Later on in the news you'll hear from his brother who told us off camera that they had no enemies in the streets.


Policeman in PG Charged For Manslaughter
(posted on Tue Jan 16, 2018)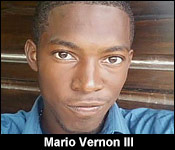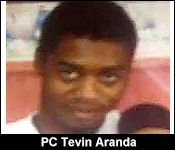 Last night, we took you to Punta Gorda Town for our coverage of the very controversial killing of 24 year-old Mario Vernon, grandson of the Late Belizean National Hero, Leela Vernon.
The official police version of the fatal police shooting was that Vernon had a weapon, and that he pointed it at Police Constable Tevin Aranda, who shot him in the head, in self-defense. Residents insist that police planted this weapon after the killing to cover up the unjustifiable use of deadly force.
Well, after the public outcry from PG Town, police announced today that 23 year-old Tevin Aranda, a police constable attached to the PG Police Station was, quote, "charged for manslaughter as directed by the Office of the DPP" End quote. So why not murder? Well, apparently, there's no evidence that PC Aranda intended to shoot Vernon in the head. He did shoot him, yes, but the charge suggests that the DPP believes he did it unintentionally, like an accident.
The shooting happened on George Price Street in PG, but Aranda was not arraigned at the Magistrate's Court there. Instead, he was taken to the Dangriga Magistrate's Court, and he was released on bail of $10,000.
And if the police was hoping that this development would help to cool off some of the public outrage and distrust from this shooting, it certainly hasn't, not for the family at least.
Today, their attorney, Leeroy Banner, sent us a statement via text message. It says, quote, "The Family of the late Mario Vernon is flabbergasted to learned that PC Tevin Aranda was charged with Manslaughter, and not murder, when all the evidence points to murder. There are several eyewitnesses who have described to the police in detail, how PC Aranda waylaid the deceased and then executed him in cold blood. The Family finds it strange that the police officer shot the Mr Vernon, who was unarmed, behind his head... only [to] be charged for Manslaughter."
Police Sources have told us that contrary to the official police report, Aranda was not on police patrol. We're informed that he was sent on an errand with a female officer for urine test kit, and that he ventured on George Price Street while on that errand. The community's allegation of the gun being planted remains a very live issue.

Kus Complains About Cops Criminally Charged But Not Under Interdiction
(posted on Tue Jan 16, 2018)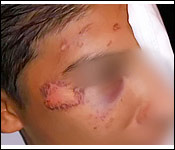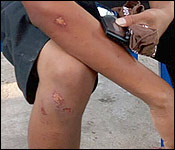 In other police news out of PG, the family of 16 year-old Victor Cus is calling for police to take corrective measures and remove 2 officers from active duty, since they have now been criminally charged with the savage beatdown of the teenager.
You'll remember the case from December when the young man was knocked unconscious, and lost 3 of his teeth - among other injuries. He was not charged for anything, so it was just gratuitous violence.
Last week, nearly a month after it was announced that they would be criminally charged, Corporal Raul Ico and Constable Ermo Coy were arraigned for grievous harm and damage to property. They were arraigned and released on bail of $3,000.
The problem is that these officers reported back to work as if nothing happened, simply business as usual. Well yesterday, the brother of Victor Cus told us that he and his family see something very wrong with that, and that they hope that their police bosses will fix it:
Benancio Cus - Brother of Assault Victim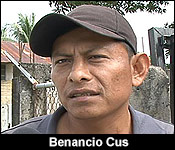 "I don't see it fit that they should still be working because they've already been arraigned in the Magistrate's Court in the Stann Creek District. Yet, they are still working. They're still in uniform, and in the news, in the previous news, it stated that they should have been on interdiction. So, we'd just like to ask the relevant authorities who's in charge to look into it and to take the matter serious. Because, this is a serious thing that these officers have done. My brother on the roadside, and he was knocked unconscious, and because of that, I think need a better of how this matter should be treated."
We contacted the head of the Professional Standards Branch, ACP Chester Williams about the case, and he told us that while he was in PG yesterday, he spotted these officers on duty, and in their police uniforms. He learned that their official interdiction letters had not yet arrived.
Williams says that he sent for the interdiction letters, and confirmed that both officers were properly served. They are expected to remain off active duty, while their criminal case proceeds through the Magistrate's Court.

Cash For A New Causeway
(posted on Tue Jan 16, 2018)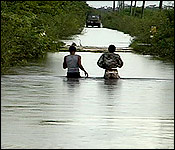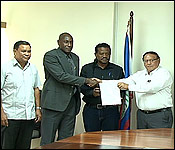 The Crooked Tree causeway has been featured on this newscast many times over the years - and that's because it often floods in the rainy season. The causeway is a manmade structure - about three and a half miles long, which spans the Crooked Tree Lagoon - and is the main means of transport for the one thousand or so residents of the village. But when floodwaters roll down from the north, they empty out into that lagoon, cutting off the main means of transport, and raising waters as much as three to five feet above the causeway. It's a chronic headache that's become a painful way of life…but, a long term solution is on the way.
That's contained in the promise of a feasibility study for the final design and upgrading of the Causeway to paved standard. It was signed at the Ministry of Works Office in Belmopan today. We spoke to Works Minister Rene Montero about the plan as well as a few grateful crooked Tree residents.
Hon. Rene Montero, Minister of Works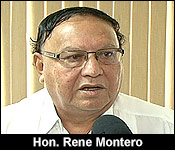 "Today we witnessed the signing of the consultancy for the design of the Crooked Tree causeway. The signing is between the Government of Belize and the Caribbean Civil Groups Limited for a total of $750,186.76. The consultancy period is or 8 months and immediately after we finish the design we intend to go into the construction phase."
Hon. Edmond Castro, Area Representative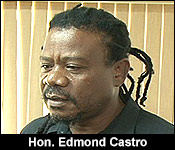 "We have been fighting for this for some time. I think in excess of maybe 10 years and as the Area Representative I know exactly how difficult it is for the residence of Crooked Tree to commute especially in the November/December months normally when we have the flooding."
Rudolph Crawford, Crooked Tree Resident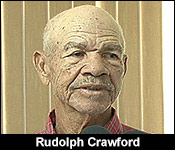 "I am more than happy to find out that we are going into that, because it is something that I work along with the Minister a lot of times and I try my best. Sometimes we have a lot of rains and it cause a lot of trouble to get the children to school and stuff like that and I have to take responsibility sometime and try to get people to come in and assist us."
Louise Crawford, Crooked Tree Resident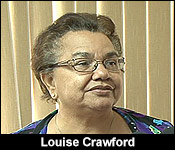 "When I was in high school the road was bad. Not even the Land Rover which was the strongest vehicle could have crossed that road and I remember walking from Sandhill to Crooked Tree and didn't reach the village. I had to stay and yelled for the boat to come and meet us. So I know what the struggle is for the kids. I know when the high water the kids use to go to school, carry their sneakers and their socks in the hands. Their bag would get wet with their school books. So this road will be a major improvement."
The contract is for three hundred and seventy five thousand US dollars. As you heard Montero say this 8 month contract that was signed today only covers the design. The construction will start after the 8 month period. Another contract will be drafted and signed for the construction phase.

Works Minister Says No Blast License Needed
(posted on Tue Jan 16, 2018)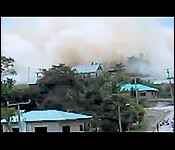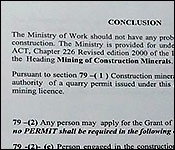 The issue of whether or not Belize Roadway Construction needed a license for a quarry blast in Santa Cruz, Santa Elena, is still controversial. As we told you, the head of the Mining Unit says that a license is needed to blast - especially when it's in a residential area. Well, Works Minister Rene Montero and his team maintain that no license was needed and they referred us to a section of the mining act that speaks to their position. Chief Engineer Lennox Bradley also added that under this act, the construction company had every right and freedom to blast wherever they see fit to ensure the success of the road works.
Hon. Rene Montero, Minister of Works
"As far as I know every single individual who was affected was adequately compensated."
Reporter
"Do you still maintain that no license was needed?"
Hon. Rene Montero, Minister of Works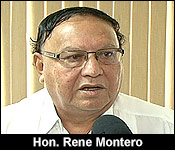 "According to the mining act, there was no need for any license."
Courtney Weatherburne, reporter
"We spoke to the head of Mining Unit and she mentioned that the unit did know about this, they were not aware of any activity in this area and according to the law, there should have been some license issued by the Mining Unit and they did not issue that license."
Hon. Rene Montero, Minister of Works
"Well I can re-iterate that there was no need for a mining license according to the mining act."
Reporter
"You have houses around, you have residents around, you should have used your discretion better to prevent this from happening."
Hon. Rene Montero, Minister of Works
"Yes but we took all the necessary precautions to ensure there was minimal damage."
Lennox Bradley, Chief Engineer, Ministry of Works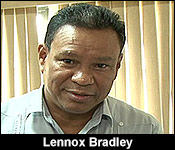 "A requirement in the contract is to ensure that materials compliant with the specifications are used on the project. The contractor have the right to explore all avenues to get material that will satisfy the specifications in the contract. That was what the contractor was doing, BRC - Belize Roadway Construction. They identified that path, Ministry of Works has had access to that site from the late 1980's and we gave the go ahead to do exploratory works there."
"We will not hinder their progress if they identify a site that is granted to the Ministry of Works for use, it is a public road. I have two laws of Belize; the Public Roads Act that gives the Minister of Works and the chief engineer the authority to sourced material from any land. That is the public roads act. Then you have chapter 226, the mining act that also makes provisions which the Honorable Minister made reference to that once it's a public road and it's a government department we do not need to get that mining act to do exploratory investigations there."
That section of the mining act which you saw in the story, was taken from a document entitled "Report on the Countrywide Investigation on Burrow Pits for the Ministry of Works Government of Belize." As you heard from Montero, all the residents have been compensated for the damage that the botched quarry blast caused.

Minor Shooting In City
(posted on Tue Jan 16, 2018)
There was another shooting in Belize City last night - but luckily it didn't result in any serious injury. 23 year old Justin Stephens was walking on Magazine Road with his sister when a man pulled up behind him, called his name a few times, and then opened fire, hitting Stephens in the ankle.
And, this morning in Orange Walk an 80 year old Taiwanese man who was driving a motorbike got injured when he was clotheslined on a rope.
At around 8:30 Ting Tsai Hsu, didn't see a rope that was stretched across the road as a barrier. He drove into it and got caught. He fell on the pavement and got facial injuries. He was transferred to the KHMH.

PM Goes for Consult About Bad Back
(posted on Tue Jan 16, 2018)
Prime Minister Dean Barrow left today for the US. He's going to seek a medical consultation for his ailing back. Deputy Patrick Faber will act as Prime Minister until the PM returns on Friday.

12 Year Later Bahadur Conviction Confirmed, Sentence Overturned
(posted on Tue Jan 16, 2018)
The Court of Appeal has handed down its decision in the case of 33 year-old Linsbert Bahadur Jr., who was serving a life sentence after convicted of the April 2006 killing of his friend, Albert Wade. They've affirmed his conviction, but they've overturned his life sentence.
Bahadur was convicted in July of 2016 after 4 attempts to prosecute him. The first failed when the Crown Counsel from the DPP's office entered a nolle-pros in September of 2010. Then, he was rearrested and tried on November of 2015, but the trial was aborted because a juror became ill. A third attempt was made in January 2016, but that trial ended in a hung jury. He was re-indicted in April of 2016, and by July, he was convicted and sentenced to life imprisonment.
His appeal was filed the next day, and on June 9, 2017, the Court of Appeal heard his appeal of the conviction and sentence. The court reserved its judgment, and today, after months of deliberation, they affirmed the conviction but overturned the life sentence, ruling it unconstitutional.
That aspect of the criminal trial has been sent back to the Supreme Court where a new sentence must be passed.
The Supreme Court heard evidence that on April 14, 2006, Bahadur shot his friend, Albert Wade to the face in Santa Elena Town. Wade's body was discovered in his Toyota Camry car on Negroman Road.

Cattle Ranchers Coming Into Chiquibul
(posted on Tue Jan 16, 2018)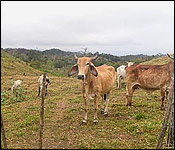 The Friends for Conservation and Development are reporting that the illegal incursions by Guatemalans into the Chiquibul seem to be on the decline. But, the FCD says that they can't rest easy. That's because there is an emerging threat to the Chiquibul National Park - and its cattle ranches that monied Guatemalans have set up.
Currently, these ranches slowly are encroaching on denuded parts of the Chiquibul, that were cleared by poor Guatemalan peasants who were using the forest for slash and burn farming. The FCD experts believe that if the problem is not arrested at its early stages, these illegal cattle ranches will grow, and become a bigger problem later down the road.
Today, the Executive Director explained it to us:
Rafael Manzanero - Executive Director, FCD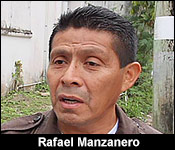 "Two main things that really remains as key areas and issues of concern to us is cattle ranching, and then gold panning. That still remains also in Southern Chiquibul. The cattle ranching is certainly very different from the other issues that we had been presenting before, because cattle ranching, for one, is more organized. You are dealing with people that are better off. So, it's not really the poor farmers only surviving for subsistence. So, we are basically looking at more organized systems along the western border, in the Chiquibul area. And so, I think that really changes a little bit sort of the scenario. The area fly overs that we've been conducting more recently, and in fact, we started to report this cattle ranching about 2 years ago. What we have realized is that this thing is becoming more dominant all from the northern part From Vaca area, by Melchor De Mencos, and traveling way down south to the Colombia River Reserve, for example. So, we're looking at some 82-84 kilometers of that Western Border that are now practically being used a lot for cattle ranching."
Daniel Ortiz
"When you say used you mean Belizean territory that should be untouched."
Rafael Manzanero
"Exactly, so, we mean by cattle ranching activity now is occuring within the 1 kilometer of the western border, and even beyond that. So, we can look at 1.5 kilometers in some areas, nearly 2 kilometers within Belizean territory, and we're talking about cattle ranchers from Guatemala. So, these are not Belizean cattle ranchers. So, the point here is that once they start no really to put in pastures, then, it can only increase more and more. As a result, part of our job is to inform, to be able to bring in the data, be able to inform the regulatory agencies that need to know about this, which includes the Ministry of Defense, the Ministry of Foreign Affairs, the Ministry of Forestry. So, we have done that. That basically already demonstrates, and it validates that we need now to really act very quickly to put in the interventions. Now, what are interventions that we are proposings. We need to get rid of that cattle, either we cut the fences, and let the cattle go into Guatemala. We have thought about informing the people up there, but who do you inform? Nobody is basically well identified that we can tell that these are the people involved. That is very difficult to understand and to be able to say. So the point is really to be much more bold."
Daniel Ortiz
"So, you're saying just disrupt the activities."
Rafael Manzanero
"Exactly, to disrupt it, and we should not leave it until it's up to 3-4 kilometers within Belizean territory, because if not, it's really going to be much more difficult. It's not dealing with the local poor farmers. You're dealing with people who are eventually going to want to put more strength to protect their "property". So, we need to act much more bold, and so, our outcry is we should not leave it until it really reaches to a point where we cannot contain it."

Gold Panning And Water Resource Depletion
(posted on Tue Jan 16, 2018)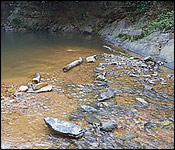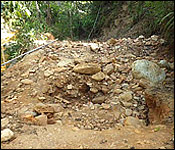 Another threat that to the Chiquibul that keeps the FCD management up at night is gold panning. The co-managers have tried their best to discourage this type of activity in the national park, but no matter what they do, gold panners continue their operations.
FCD's Rafael Manzanero told us that it should concern you because gold panners compromise the water sources which flow out of the national park. He underscored that many Belizeans in the Cayo District depend on these same water sources:
Rafael Manzanero - Executive Director, FCD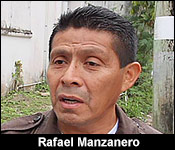 "The gold panning is one of the other issues that is taking place in the Chiquibul. This has been ongoing for the last 7 years. Why we have not been able to disrupt this, to contain it, as we all know, gold is a valuable resources. So, people will come in. We put the Ceibo Chico Conservation Post in 2012, and yet, we still have not been able to contain this. Our determination is that we will have to operate at night, if we really want to disrupt this particular activity. So, once again, we are going back to the regulatory agencies, and hopefully be able to plan a strategy on how to do this. Why are we really so worried about gold panning. 1, of course, we are losing the resources, but secondly, it is disrupting the head waters that really important to all of us that depend on that water resource, which is inclusive of way down here, all the up in those communities up into the western part of Belize, because that is the main head waters. So, we need to ensure that we can maintain the viability of those processes up there."
The FCD is considering night-time enforcement operations, to catch majority of the panners in the act.
In other news related to the Belize - Guatemala dispute, unofficial reports say that OAS Representative for Belize - Guatemala Affairs Magdalena Talamas has been removed. We could not confirm this but we do know that for months now, the Guatemalans have been pushing to have her removed. This is after Belize's armed forces were vindicated in a report on the killing of Julio Alvarado Ruano.
7News for Tuesday, January 16th, 2017 from 7News Belize on Vimeo.

Home | Archives | Downloads/Podcasts | Advertise | Contact Us