A Twister Tore Through Tiny Biscayne
(posted on Mon Apr 24, 2017)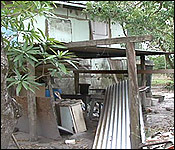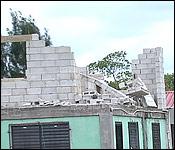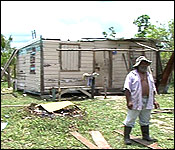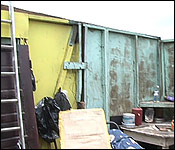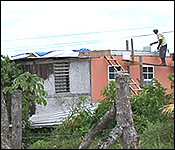 This weekend Biscayne residents were left shaken after an intense thunderstorm wreaked havoc on their homes. It hit on Saturday evening around 4:30. Most residents were inside their houses and the weather seemed just fine until, all of a sudden, darkness blanketed the sky and there was a downpour. But that wasn't the end of it; residents say a miniature tornado whipped through and caused a whole lot of damages. Now we have reported on these types of storms before, one of the big ones hit Crooked Tree in August 2011. While Meteorologists say these storms are nothing out of the ordinary, it was very much so for Biscayne residents. Courtney Weatherburne has more details on the aftermath.
Ralph Gentle, Biscayne Resident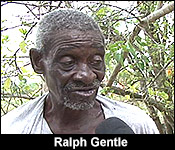 "We just figured it was just normal, the wind just a bit blowing hard we didn't know it was to all that extent until we come outside and saw it , the trees ,we see the tress, the fruits them on the ground and everything so we realize that something strange went on."
Courtney Weatherburne reporting
And nothing could have prepared Gentle or any other Biscayne resident for that strange super storm that swirled through their village on Saturday evening.
The storm ripped off zinc roofs, smashed a portion of this cement structure and chomped on trees.
For most residents, there was nothing they could do but look on in fear as the storm tore through their village and wrecked their homes.
Marcus Antonio Gonzalez, Resident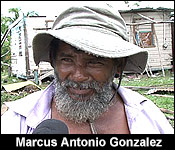 "And then we see a dark round thing, a round, round, dark dark dark thing, like it came especially for us and then I see a cool breeze the come."
"And it come, breeze breeze breeze and rain, breeze and rain and then it hold up after, it was a surprise to me and when we lift up my head, I say buay no roof on we head, on the house, no roof."
"Everything wet up, wet up inside and broke up, the wall lean up."
The Dominguez brothers were not home when the storm struck but they came back to find their brand new roof on the other side of the highway, the storm flung the roof and it sliced the nearby power line.
Fred Dominguez, Resident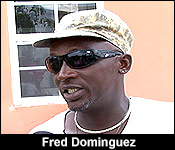 "When we come we just meet everything over the next side of the road, the whole roofing on the other side of the road on the street just broad, zinc, everting on the streets side so vehicles just have to come and slow down at the same time."
Courtney Weatherburne, 7News
"And it got hooked up in the power lines right?"
Fred Dominguez, Resident
"Hooked up in the power lines, cut up the power lines, black out same time, so."
While the storm has passed, residents are still trying to figure out what hit them and how it formed so quickly without any warning. Some residents are convinced it was a tornado.
Marcus Antonio Gonzalez, Resident
"That was a real tornado, that is like a real, like a drill when it picked up something it dash it away and break it up and he is going on his way."
But Acting Chief Meteorologist Catherine Cumberbatch wouldn't call it a tornado but a severe thunderstorm - which she describes as normal in these inland areas during this time.
Catherine Cumberbatch, Acting Chief Meteorologist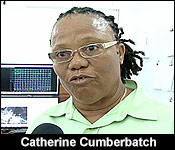 "Our forecast was going for a few showers and thunderstorms to affect inland areas and you know Biscayne is one of those locations which is inland and that is actually what happened, we had a line of thunderstorm that crossed that area and you know it was a very hot day so with the daytime heating those thunderstorm activities really become intense."
"It was just a severe thunderstorm cell that passed over, and these thunderstorm cell could aver severe downdraft that caused these outburst with the winds affecting these areas."
While it is important to explain this weather phenomenon, these residents are focused on only one thing: putting their homes back together. About 9 homes in all were affected and Area Representative Edmond Castro says his NEMO team is doing its best to help these storm victims.
Hon. Edmond Castro, Minister, NEMO & Area Rep. Belize Rural North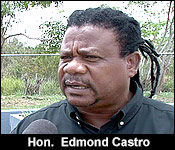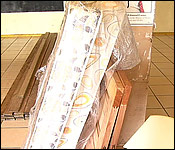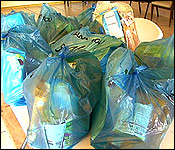 "So yesterday NEMO, we went out, we provided some mattress for some of the affected residents and also some food supplies for the residents who were affected in the Biscayne area."
"Today we should have compiled the data as to how many zinc we might need to purchase to try see how we can assist those residents and the ones that houses are just about totally gone, we will try to see how we can help those residents to rebuild back."
According to residents, it took about 15 minutes for the storm to pass. As we had said, a storm similar to this one hit Crooked Tree in August 2011, another one struck Maskall in October 2014 and as recent as August 2016, Spanish Lookout residents also felt the strength of this type of thunderstorm.

Hon. Faber Says He Didn't Meddle in BNTU Election
(posted on Mon Apr 24, 2017)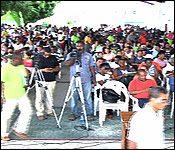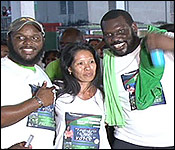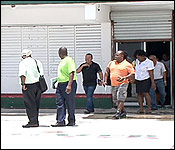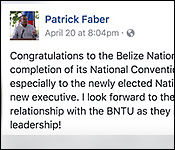 Last week, we told you all about the election of a new national BNTU president, and the political intrigues surrounding that election. It's an election that almost didn't happen because the union leadership was so concerned about the possibility that the UDP was backing one of the candidates. Supposedly the ruling party favored Mario Mesh - who ended up coming in last, with 140 votes, not even half of what the winner Elena Smith got. So, if anyone was backing him it didn't help. But Education Minister Patrick Faber says he certainly wasn't involved; in fact, he congratulated the new President Elena Smith on his Facebook page on Friday. But, today when we met Faber at a Cyber Security Forum, we asked if that congratulatory post is just a front:..
Jules Vasquez, 7News
"Some people would say "you are doing that as a decoy," because the belief of many at the BNTU convention was that the UDP and yourself, agents working directly on your behalf were pushing for Mr. Mario Mesh to be elected. Would you comment on that?"
Hon. Patrick Faber, Minister of Education
"You are clearly going in speculation. Listen, it is no secret that the leadership of the BNTU under Luke Palacio was a very rocky time in terms of that relationship with me and also with the wider government. I will not tell you that I am not happy that that has come to an end, but I was genuine when I made the comment to congratulate the new president."
Jules Vasquez, 7News
"We know that the convention was delayed while the executive met for 3 hours. They actually took a vote if they should proceed because of what they believe to be political meddling and it's by the UDP they believe - agents acting on your behalf."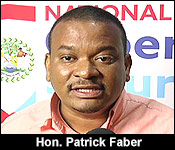 Hon. Patrick Faber, Minister of Education
"You would have to ask them. I was not at the convention. I was at home at that time of the convention. In fact I took a day because as you know my boys were off from school. I was nowhere in Corozal, contrary to what people are saying. I was at home and in fact I knew nothing about what was going on in terms of that behind the door meeting that you talked about that delayed the convention. I was no part of that. So that is a question I believe that is better fitted for the union officials, so they can tell you what was going on."
"But, to me they speculated, if indeed that kind of interference were to come, we would have done much better than we did I would want to think. You know that we are very successful in the bids that we make for the most part."
Jules Vasquez, 7News
Was Ray, your trusted assistant, was he on the ground on behalf of Mr. Mesh?"
Hon. Patrick Faber, Minister of Education
"I have no idea."
Jules Vasquez, 7News
"But usually you worked very closely with the gentleman."
Hon. Patrick Faber, Minister of Education
"I work closely with a lot of people, but that doesn't mean that I know their daily, hourly whereabouts every step of the way."

Hon. Faber Responds To Union Busting Allegations
(posted on Mon Apr 24, 2017)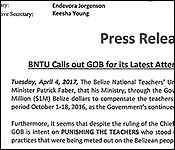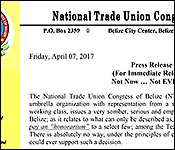 And so, while Faber disavows any knowledge of meddling in the teachers union election, he knows all about that million dollar honorarium that his ministry is paying to those teachers who didn't strike. Except it's not a million dollars - it's a little more than half that. Today, Faber told us he is mightily peeved that everyone - from the unions, to the chamber to the NGO's to the media - jumped all over him and his government for the payout - and no one even bothered to get all the facts:...
Hon. Patrick Faber - Minister of Education
"Nobody, including the media, has ever written to us and said: can you give us the details of how things are going to be done here and what is it that is specifically being done? You would think that those things would be done before you put out a press release as an entire entity to say that we condemn; That is my issue with them. So I'm very disappointed at that. So that all those who have gone half-cocked saying: oh, it's a million dollars - are really…they miss read or they took it too far. In fact, the figures are looking more like $600 thousand dollars. And I understand all those who say: listen, that's a lot of money. So let's break it down to brass tacks, as my colleague Michael Finnegan would say, forget the strike days we have teachers turning up for four days of work in January that was sabotaged by the BNTU. They told their members don't turn up. So we have teachers that turned up for those four days of work, are those teachers not to be compensated in any way? Is it so unfair to offer something to those teachers who turned up for those four days in their Christmas break so to speak? And then, those teachers are then required to take three days out of their Easter break and then three days out of their summer break. If you add up all of these days, these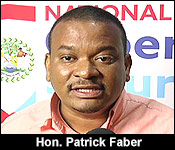 are ten additional days that those teachers are asked to show up to work, outside of the planned days. Don't those teachers deserve anything? Is it a waste to give those teachers an honorarium? Because if you pay them their daily rate for those ten days, which we did not attempt to do, it would be far exceeding a million dollars. Is it unfair to do that for them? Do they not deserve some kind of compensation for those ten days? If you think, and I don't care who says it, I don't care if da the chamber, da the NTUCB, or anybody who criticizes me for giving something to those teachers who will have to give ten days outside of the eleven days that they already worked for the strike some kind of honorarium; then breda I am wrong and I will go down on that one. Senator Courtney is now saying that it is illegal. Well, every year when we read the budget the Ministry of Education gets a huge chunk of money. The bulk of that money is for salaries. There is no exact amount so to speak that the salaries come up to every year. There is an amount that is allotted in the budget for salaries. That figure fluctuates from year to year. Nobody can determine how many teachers will get pregnant, how many teachers will go on long leave, there are a number of things that will affect how much you actually spend on the budget. And it is through that line item on the budget that the honorarium is being paid which is why some of the teachers still have not received their honorarium. Why? Because we insist that it must go through as a part of the salaries and in fact for the government teachers in order for us to have gotten things in time we would have had to have had it from the start of the month when the decision was made. So we had to wait until the beginning of May, which is still upcoming, for us to make the submission so that there will be paid, I think, 377 teachers or so at the end of May. And likewise, some of the denominational teachers have not gotten because they will be paid in the normal process of salaries and the salaries come at the end April. So to say that it is illegal is utter nonsense. It comes out of the salaries allocation that goes for teachers.
Jules Vasquez, 7News
"I understand you say that the emoluments for teachers has a lot of wiggle room because of the variances in this huge administrative cost that this ministry has to carry, however, I can't imagine that the end of the last fiscal you all had half a million in undisbursed emoluments lying around - flex funds. So I can't imagine that, while there is flexibility in the fund that you have more than half a million dollars in flex funds that you could just say: oh you could just move that over because nobody no a get pregnant this year, no maternity leave. I'm saying that at the end of the day..."
Hon. Patrick Faber - Minister of Education
"Jules, the point is this; the money that is going to be used does come from the budgeted amount. If for some reason there is a shortfall, maybe because of us giving this kind of payment, in terms of what is allotted as emoluments for teachers, then we then ought to go back and request. That is the way the system is set up. But for my friend Mr. Courtney and all the others who are making such ridiculous claims to say that it ought to have gone right away, we should have gotten the permission of the national assembly, which I will say is not altogether wrong- that could have been one way of doing it- but the way that we've done it is not necessarily illegal and that is my point to him."
And so while Faber has no regrets and no apologies for the payout, he did explain that the most any teacher will get is about $500 dollars:
Hon. Patrick Faber - Minister of Education
"If you attended the bulk of the days in the strike period, you can qualify for, I think, maybe $300 and if you attended four days, the bulk of those four days, it may have been you could qualify for $200. But no teacher received in excess of $500 on honorarium. Look, the teachers who went on strike were paid their full 11 days. And so we maintain that this is not the ideal thing, probably not, but nothing illegal, no kind of hanky-panky going on, no kind of twisting. In fact, I am glad that because we are doing things properly; you were hinting to those who were accusing us of meddling, well if were meddling wouldn't the people have gotten their money before the convention to affect the outcome…to show you that it is utter nonsense. It is the PUP and their friends, who quite often get into these positions in the chamber and in the NTUCB and in the NGO communities that push these agenda; and why I say that? It's because they didn't bother to check for the facts."
Jules Vasquez - 7News
"Sir, so to speak specifically about the charge from the unions, do you reject the claim that it is trying to union bust by rewarding those who did not stand with the unions?"
Hon. Patrick Faber- Minister of Education
"It is not rewarding those who did not stand with the unions; it is rewarding those who stood for our children, it is rewarding those who came additional days."
As he indicated, some teachers have already gotten their honorarium, while others will get it at the end of the month.

Chopping Murder Down South
(posted on Mon Apr 24, 2017)
For the second weekend in a row - there are no Belize City shootings or gang related murders to report tonight; in fact, we have not reported on a shooting in the city for two whole weeks - which is nothing short of remarkable. We hope the peace continues.
But there is still a murder to report tonight - this one happened down south in Trio village - which is in the Toledo district. On Saturday morning just before 11:00 police found 22 year-old Belizean Santiago Garcia suffering from chop wounds to the back of the head, the right cheek and the right wrist.
The cops tried to rush him to the Independence Poly Clinic, but he died before he could make it there.
The cops also found 29 year-old Guatemalan Arturo Choc with a chop wound to the side of the head, and Leonardo Ba with a chop wound to the right hand. Both of these men have been transported to the KHMH for medical treatment, where they remain under police guard.
That's because according to police, the deceased, Santiago Garcia, and Arturo Choc were walking on a street in Trio village, when they were jumped by a group of men wielding machetes. Both men were chopped, and police say that Leonardo Ba was allegedly one of the attackers. He is expected to be charged when he is released from the hospital.


Post Mortem Suggests Baltazar Killed By Blunt Force To Neck
(posted on Mon Apr 24, 2017)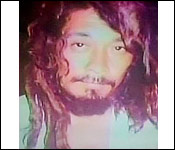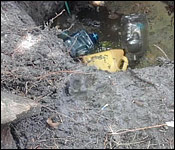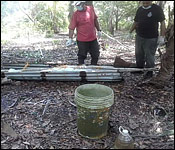 It appears that a jaguar - or some wild animal may have caused the death of Progreso resident Baltzar Lino. As we told you on Friday, the 44 year old went hunting, but didn't return. When his family went to look for him, they found his body face down in a well - in an area between Caledonia and Progresso. His family notes that he had what looked like a claw mark streaked across the back of his neck, and a post mortem has confirmed that injury as being the cause of death. A picture from the area also shows the imprint of a jaguar paw near the well. That area is known to have an active jaguar population, but experts say that cases of wild jaguars attacking humans are rare.

Real Jail for Fake Cops
(posted on Mon Apr 24, 2017)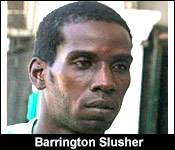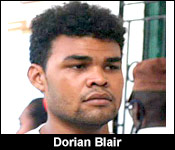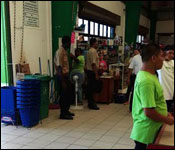 The alleged fake cops who were caught in Public's Supermarket on the northern Highway went to court today. Police saw the pair standing at the entrance of the supermarket in uniform like they were on duty. They were arrested on spot. That was Wednesday afternoon, and, today, five days later, they went to court for arraignment. 22 year old Dorian Blair and 39 year old Barrington Slusher, were charged with making a false pretense of an officer when they appeared today before Chief Magistrate, Anne Marie Smith.
Blair had an attorney, Oscar Selgado, who conceded to the court that Blair was on Supreme Court bail and by being charged for an offence whilst on bail he had violated one of the conditions of the bail.
The prosecutor objected to bail for both men on the grounds that the offence is serious because it undermines the trust the public has in police officers. Chief Magistrate Smith upheld the objection and she remanded Blair and Slusher into custody until July 5. Selgado said he will address the issue of bail at the Supreme Court.

Police Pick Up Weed In City
(posted on Mon Apr 24, 2017)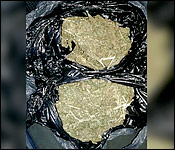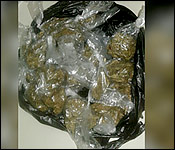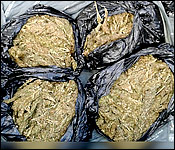 On last Friday's Newscast, we told you how the police found a bucket of weed in Ladyville. Well, over the weekend the cops found over 2 kilos more of marijuana in 3 separate operations in Belize City.
They found 1.706 kilos or 3.88 pounds of marijuana on Friday evening on Iguana Street.
They also found 252.2 grams, or 8.9 ounces on Armadillo Street, and and 152 grams - or 5.4 ounces - in the Tigris Street area.

A Pair of Home-made Guns Appear
(posted on Mon Apr 24, 2017)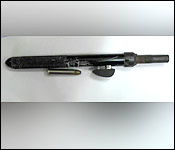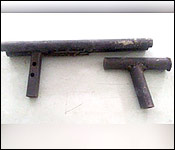 Today a Belize City resident appeared in the Magistrate's Court for the possession of a homemade firearm. Thirty year old Fenton Reyes was charged for keeping a prohibited firearm, keeping ammunition without a gun license, and for the possession of a little more than 1/10 of an ounce of cannabis. According to reports, a police mobile patrol stopped and searched Reyes on Krooman Road yesterday where they found a homemade .22 pen gun with one round of ammunition and the cannabis.
Reyes pled not guilty in court, but no bail was offered because of the firearm and ammo charges. He was remanded to prison until June 16.
The cops found another homemade gun early this morning during a joint operation between the Quick Response Team and the San Ignacio Police's Special Branch. This time they searched a major drug hotspot in Santa Elena where they found a homemade double barrel shotgun. No one was around when this handcrafted weapon was found, so it was submitted as 'Found Property'.

Taking Cyber Security Seriously
(posted on Mon Apr 24, 2017)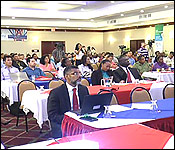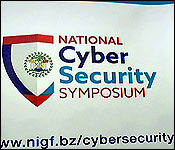 The Belize National Cyber Security Symposium - just hearing the name it sounds like a lot of high tech talk for computer types. But, this symposium is actually about regular folks, because, with so many Belizeans now accessing the internet through mobile devices, the issue of internet safety inevitably arises. And we don't just mean safety of your passwords and accounts - we mean, how safe is your child while accessing the internet, and what measures can be taken if you're the victim of revenge porn, or cyber - bullying? All that factors into this forum which is a first for the Caribbean:...
Bevil Wooding, Executive Director, CaribNOG
"This is absolutely the first time such an ambitious undertaking has taken place in the wider Caribbean region."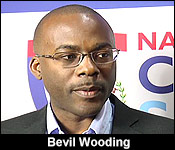 Jules Vasquez reporting
And while there are often meetings about cyber security - this is the first to have such senior representation from a cross section of lawmakers and decision makers:
Bevil Wooding, Executive Director, CaribNOG
"What is happening here is unique because it brings together every single stakeholder under one umbrella for an entire week to look at cyber security as a national problem."
Hon. Mike Peyreffite, Attorney General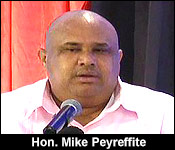 "The attorney general's ministry is fully in partnership with the Public Utilities Commission on this one no less than the solicitor general himself, Mr. Nigel Hawke who'll be spearheading the AG's ministry for this forum."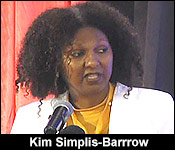 Kim Simplis-Barrrow, Special Envoy for Women and Children
"Social media platforms and chatrooms have become the new hunting ground for pedophiles, rapists and human trafficking. The internet is being used as a vehicle for gender-based violence and we're ill-prepared legally and otherwise to effectively address these issues."
Hon. Kenneth Benjamin, Chief Justice

"It has been determined that cybercrime and cyber issues must now have permanent place in judicial education. With impending legislation, that judicial education has to be fast tracked."
Hon. Patrick Faber, Deputy Prime Minister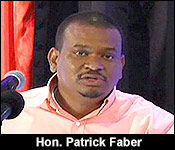 "And you have the commitment of myself as the deputy prime minister and you heard my colleagues representing the government here as well, being an active part of what is going on here. We will not drop the ball, we will ensure that this continues to be a priority for the government and people of Belize."
Ms. Adrienne Galanek, Charge d' Affaires, U.S. Embassy Belize

"Cyber space knows no borders and no one is immune to the threat of cybercrime or violence. We're all in this together."
Great urgency, but to do what? There are so many pressing priorities which are currently unattended:
John Avery, Chairman - PUC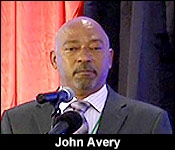 "Individuals or organizations are always seeking new ways to invade your privacy, steal your information, to disrupt essential services."
Col. (Ret'd.) George Lovell, CEO Ministry of Home Affairs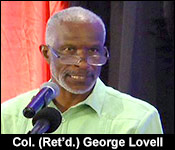 "We on the government's side would be the first to admit that we are not near where we should be in providing the type of cyber security services that our various agencies are mandated to provide."
Hon. Kenneth Benjamin, Chief Justice
"The courts worldwide have struggled and really struggled to keep pace with the developments in information technology and the impacts of the processes that underline the system of justice. As conservative as the legal landscape is by tradition, it has not been an easy task to adapt."
And the government as the self-proclaimed the principal gatekeeper of state information is also racing to catch up with digital government service delivery:
Mike Singh, Chief Technology Officer, Office of the Prime Minister
"This government gateway will allow all government entities to access and share necessary data across a secure switch. The best analogy I can use to describe this for you is to visualize a network of roads all connected to a great big intersection so that travelers can change directions flawlessly without battle necks and unnecessary hindrances. So all government systems will then go through this gateway to be able to exchange information."
"An interconnected system will mean for example that tax audits will be crossed departmentally and the identification of land transactions between a citizen or business in government will be traceable and easier to audit. Not just with paper trails, but with digital fingerprints that can be tracked more efficiently and with greater accuracy."
And while that may happen in some cyber future which is still over the event horizon, this National Cyber Security Symposium is about acting now:
Bevil Wooding, Executive Director, CaribNOG
"This is not a talk shop, this is not just a seminar where there is one way speaking traffic. This is an opportunity to interact, to discourse, to dialogue about the issues that impact all of us."
Bevil Wooding, Executive Director, CaribNOG
"This event is looking at what are our most appropriate, most relevant local solutions this is discussion and information for action and the action here is clear. Belize has to take a new, more serious, more focused, more coordinated, more synchronized, more sustained-approach to cyber security. This is a meeting where we have to come up with actionable positions as it related to advancing Belize in terms of its capacity to protect its digital borders."
And that will be fleshed out over four days, which is when the work really starts to come up with a framework document:
Bevil Wooding, Executive Director, CaribNOG
"At the end of this week each group will report on the discussion outcomes. That will form the draft of this framework document but that actually also will just form the initiation point for a series of deeper more intense, more deliberate discussions within the stakeholder groups and as a national cyber-security task force to what the framing of an actual publishable position concerning Belize's national cyber-security priorities."

Come Out To Talk Cyber Security!
(posted on Mon Apr 24, 2017)
But one of the real priorities is to engage the public - specifically regular folks. The symposium runs for four days and tomorrow, there's a public forum. Wooding says he wants you to come out:...
Bevil Wooding, Executive Director, CaribNOG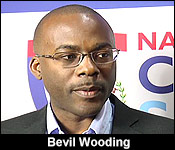 "So today you are seeing suits and ties and people from different dimensions of society, but once we get into tomorrow's agenda where we break into specific forum, there is opportunity for the so called man on the street, the common member of society to come and sitdown and asks the questions that cannot be asked in any other forum. What does this mean for me? Not in technical terms, in practical terms. I have a child who I am concerned about in terms of how they use the internet. I have devices that I have brought into my home and I want to know how to secure it. I have these concerns and I want to understand how I can address it. Those are all parts of the structure of this week."
"What we are hoping to do and what we are intending to do is to literally send one message to the entire society and that message is cybersecurity is a real concern. Be afraid, be very afraid, but then be prepared, be aware, be informed, be educated."
You can also watch a livestream of the event - and you can find a link to that at 7newsbelize.com.

UNIBAM Broadening The Discussion
(posted on Mon Apr 24, 2017)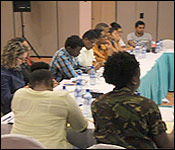 Today, at the Princess Ramada Hotel, UNIBAM, the gay rights activist group, and the National AIDS Commission completed the first day of a 2-day conference on Sexual Orientation and Gender Identity.
Since last year, August, when UNIBAM's Caleb Orozco got that landmark victory at the Supreme Court, the controversy over the lifestyle of the local gay community hasn't been making much news. But, UNIBAM insists that injustices against gay people continue every day.
This morning, the executive director of UNIBAM told us that the social exclusion and unfair treatment that gay persons in Belize experience is not only reserved for them. He pointed out that systemic marginalization can affect other groups such as the poor. Here's how he explained it:
Caleb Orozco, Executive Director - UNIBAM
"One of the things we come to learn during our work in the last 10 years is that there is something called systemic marginalization, that not only impact person's sexual orientation and sexual identity, but it impacts young people in education, it impacts young girls as well. It also impacts every other groups that considers themselves marginalized or on the fringe of society."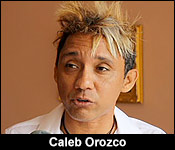 "We've seen when citizens are concern about an issue, they litigate. Whether it was the Mayan land rights, whether it's Maria Roches, whether it's the Supreme Court versus Pallotti, whether it's the recent judicial review of Imhotep Diego versus Jermaine Cayetano. All these things show that citizens hold accountable perpetrators of rights violation and the only recourse they have is to litigate it our courts. For which that very potent, because when citizens remain silence or decide that they won't file a violation, its means the violation is perpetrated and it means that that silence perpetuate a status quo of mistreatment."
"When we are looking at socio perspective, we are looking at the inequity or the unequal treatment of person based on sexual orientation and gender identity in law. We are looking at the unequal treatment of persons in education. We are looking at the unequal treatment of persons in employment. We are looking at the same issue in health, in regards to violence within the criminal code system. We are looking at the unequal treatment of persons and this affects their families. We are all vulnerable to systemic marginalization, because when you are poor, you are not only unseen, you are unheard and you are treated as if you are a burden to the system, but in a system which is indifferent to the file - that we have no safety net and so the work today is about raising the knowledge of systemic marginalization from a socio perspective, but to also get people to connect to the idea of how vulnerable we all are to not only legislative oppression, but marginalization as citizens."
The conference titled, International Law and Development: A SOGI Perspective & Belize's Domestic: Law: A Human Right's Perspective, continues tomorrow.

Police Say Bainton Bashed Wall
(posted on Mon Apr 24, 2017)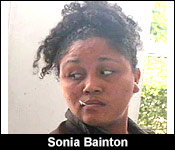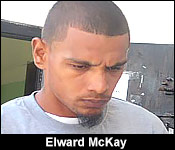 Tonight, Sonia Bainton, a Ladyville resident, is out on bail after police say that she kicked down a piece of concrete wall that makes up the cell block are of the Ladyville Police Station.
On Saturday, She and Elward McKay were in detention at the station on a handling stolen goods case. That's when, according to police she stamped a part of the concrete structure that makes up the cell block, breaking a portion of it.
She was charged with damaged to property, and today before Senior Magistrate Sharon Frazer, she pleaded guilty. She was fined $300, and ordered to pay compensation of $500 to the Government of Belize.
For the handling stolen goods case, she was charged with Elward McKay for being in possession of a stolen iPhone 6 and a wristwatch. Bainton pleaded not guilty to handling stolen goods, and so did McKay. She was released on bail, of $800, but the Senior Magistrate remanded McKay to prison because he has several offences of a similar nature before the court.

Ministry Fesses Up To Police Corruption
(posted on Mon Apr 24, 2017)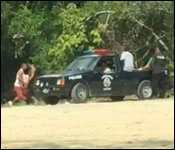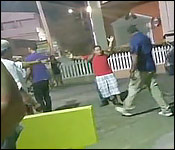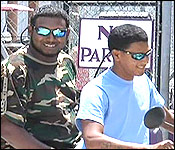 Just last week, we told you about Woman Constable Ann Marie Anthony who was charged with theft and disciplinary charges for allegedly stealing $200 dollars from a grocery store. She is the sixth officer charged this month for corrupt or improper behaviour on the job, incidents which were all caught on camera.
The first 2 were Constable Norman Coye and Darnell Madrill from San Pedro for that incident of lawlessness on San Pedro Town. The next two were Constable Jose Ascurio and Voluntary Special Constable Alfredo Ismael Gongora, who were caught on camera in a contraband move at Botes, Mexico. And then there were those two runaway cops, Police Constable Elston Rojas and the Corporal Abner Marroquin, allegedly smuggling a "bulto" in a patrol truck.
Well, the Ministry of Home Affairs is acknowledging that recently, the Department has been dogged by officers who have been giving police a bad name.
A press release from Ministry of Home affairs says, quote, "The Ministry of Home…hereby assures the public that every report or knowledge of wrongful act committed by its members will be dealt with expeditiously and with utmost transparency.
The Ministry takes this opportunity to applaud the Police Commissioner for taking decisive action against those who reportedly were engaged in corrupted practices, unwarrantable use of force and other criminal acts that brought the integrity and professionalism of the department into question during those unfortunate and regrettable occurrences." End quote.
Noting that only a few officers are giving this part of the public service, with hundreds of honest cops, the statement says, quote, "The Ministry also commends and thanks those dedicated career police officers who continue to give their all in service of their community and country."

A Teachable Moment For Climate Change
(posted on Mon Apr 24, 2017)
Today members of the Belize City Council, the UNDP and other stakeholders held the soft launch of a new community awareness campaign for climate change. The presentation was to seize upon a very visible problem affecting the community, and use that to illustrate the perils of climate change. We spoke to City Councilor Phillip Willoughby and the coordinator at the National Climate Change Office, Anne Gordon, for more...
The community awareness campaign will officially be launched the Wednesday with plans to spread the message to communities throughout the country.

Atlantic Art
(posted on Mon Apr 24, 2017)
Today Atlantic Bank and the Institute for Sustainability of Community and Environment joined together to donate several pieces of art to the Central Christian Primary School in Belize City. The donation was made to celebrate Earth Day, and fitting with the theme, each piece of art was made from old, reused tires. We spoke to Atlantic Bank Representative Denmar Villar, and the mastermind behind the recycled art, Alvaro Dominguez, for more details...
Earth Day was officially celebrated on Saturday under the theme, "Reduce, Reuse, Recycle".

The BNE Beacon
(posted on Mon Apr 24, 2017)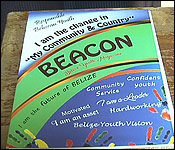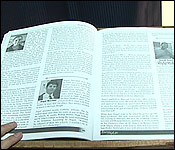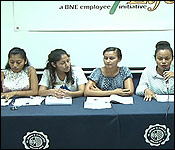 "Beacon" That's the name of a new youth magazine that was launched today at SJCJC. The scholars from BNE's Energy 4 Life program produced the publication. Now, the name Beacon suits the magazine perfectly because the stories that are featured are full of hope and inspiration. One of the Director s of BNE's Energy 4 Life program told us more about the Magazine and also about the scholarship program.
Manuela Lue, Director, BNE Energy 4 Life Program
"The youth magazine is being done by the scholars of the BNE's energy 4 life program and these scholars formed a youth group and it is called the energy 4 life youth group."
"The magazine is composed of several things but one of the major things are inspirational stories of youth all over the country of Belize and these stories compromise of youth who have overcome challenges and obstacles to achieve goals so a lot of them would be disadvantaged youth or at risk youth but it is more important to emphasize that they have overcome tremendous obstacles to achieve goals, a lot of them have won international awards some of them have won scholarships, some of them have started their own business, some of them have finished their education so it is just an array of stories in the magazine."
Courtney Weatherburne, 7News
"So tell us more about BNE's scholarship program and how other, other students can apply and be a part of this program?"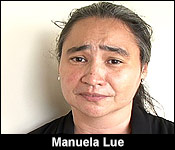 Manuela Lue, Director, BNE Energy 4 Life Program
"BNE's scholarship program is very competitive, the requirements are very high but at the same time the students receive a lot of mentoring from the staff of BNE and tutoring as well like a lot of times the students would have problems with their school work and we would pair them up with employees who would then help them with specific subject areas."
The youths featured in the magazine are from all over the country. If you would like to find out more about the magazine and the scholarship program you can call 635 2989.

Princess Cruises and Belize
(posted on Mon Apr 24, 2017)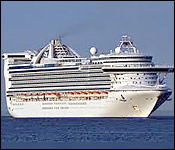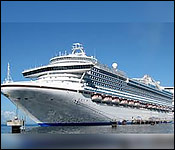 In December of last year, Princess Cruises, a cruise ship brand owned by Carnival, pled guilty to charges of illegally disposing of oil-contaminated waste and falsifying official logs to cover up the discharges. Princess was charged in a US Court and was fined a record $40 million penalty, the largest fine ever for deliberate ship pollution.
According to reports, the illegal activity was brought to light by a newly hired British engineer on the "Princess Caribbean" in 2013. The engineer told authorities that a "magic pipe" was used to discharge about 4227 gallons of waste about 23 miles off the coast of England, well within the country's exclusive economic zone. The engineer alleged that when the waste was being released, the other engineers would run clean water through the ship's sensors and distort the digital records.
After the reports came out, the Caribbean Princess was inspected twice, first in England and then in New York. During both inspections the ship's crew were found to have lied about any illegal activity under orders from the engineering officers.
It's news here because the Caribbean Princess is a regular in Belize's port. According to the official ship schedule, the ship has visited Belize 16 times between February 2016 and March of this year. And it's just one of 5 ships in Princess Cruise's fleet to be found guilty of this practice.

Home | Archives | Downloads/Podcasts | Advertise | Contact Us