Superbond Setback: Bondholders Reject Belize Offer
(posted on Tue Jan 17, 2017)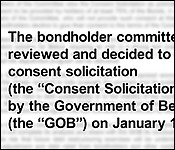 And while that is a black eye for Belize tonight, there's another blow which made a direct hit. That one came this morning from New York and Boston where the committee representing holders of the Superbond rejected the offer made by Belize 5 days ago. As we told you that offer was to cut the interest rate on the Superbond from 6.75% to 4%, and to soften the bullet payments by deferring principal payments.
Well, a release from the Committee today says, quote, "its members have reviewed and decided to decline the consent solicitation...launched by the Government of Belize on January 12, 2017."
It goes unto say "the proposed amendments to the terms and conditions of the Bonds...would crystalize a further reduction in the net present value of the Bonds in excess of 40%, in addition to a cumulative reduction of more than 50% already provided by bondholders in restructurings of predecessor instruments to the Bonds in 2007 and 2013." End quote.
Because of this "The members of the Committee view the Consent Solicitation as premature…it will not be completed without the consent of members of the Committee, who will not provide such consent at this time… The Committee also recommends that all bondholders decline to give their consent to the terms of the Consent Solicitation at this time." So…no consent…means no deal. And we spoke with the spokesperson for the bondholders today. He is Charles Blitzer in Washington DC. Here's how he put it:...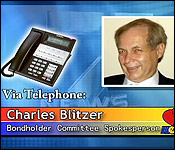 Charles Blitzer, Bondholder Committee SPOKESPERSON
"What's being asked is a reduction in the value of the bonds compared with the value of the current bonds"
"It is unprecedented for a country to attempt to restructure the same debts three times in less than 10 years, and the committee believes that this should the final time, and what's required is a strong credible programme, which we haven't yet seen all of the necessary evidence that this would be the last time."
"But we're looking for a government programme that is strong enough and credible enough to have confidence in that the bonds won't have to be re-structured again in a few years."
"We want to be part of the solution, but we can't be the solution."
Jules Vasquez, 7News
"The offer from the government of Belize will close on the 26th, I believe. Do you expect the bondholder group to be meeting with the government?"
Charles Blitzer, Bondholder Committee SPOKESPERSON
"What happens next I wouldn't put a particular day, deadlines on that. I hope that we and the government can make progress as rapidly as possible, but we can't impose any particular deadlines on these things."
Jules Vasquez, 7News
"Well, we have a month until the next payment."
Charles Blitzer, Bondholder Committee SPOKESPERSON
"The next payment is already budgeted, it's in the existing budget which has been approved."
Jules Vasquez, 7News
"They haven't paid before. They didn't pay in August of 2013, was it? Or they made a half payment, I believe."
Charles Blitzer, Bondholder Committee SPOKESPERSON
"The money is budgeted, let me leave it at that."
The release also states, quote, "the Committee's preliminary conclusion is that the proposed adjustment program is unlikely to reduce future risks to debt sustainability or to the stability of the country's currency peg in a sufficient manner. As such, the Committee urges the GOB to seek technical assistance in further developing a comprehensive home-grown adjustment program that can ultimately be endorsed by Belize's multilateral partners." End quote.
Today in Orange Walk, the leader of the opposition told CETV-3 News that he isn't surprised at this turn of events:..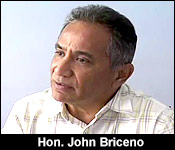 Hon. John Briceno, Leader of the Opposition
"We are not surprised that this was rejected outright by the bondholders. We knew that was going to happen because the UDP has a poor track record when it comes to keeping up with its commitments. Now, if you are bondholder and they - I've already come and tell you I can't pay, so we need to restructure. and then you restructure in good faith and then you come back again in just 3-4 years later and say I can't pay you again, so I want to restructure. Nobody is going to take you serious and that is the problem that we are finding with the government's strategy in trying to reorganized or restructure the UDP super bond."
Briceno also discussed the possibility of a GOB default - or partial default. The next Superbond payment is due in February, and in previous negotiations the Government has with-held payment as a negotiating tactic. Briceno warned against that:...
Hon. John Briceno, Leader of the Opposition
"I am very concerned that the UDP will try to play "chicken" to see who blink first; we or the bondholders. Because if we were to default there would be an immediate increase into what we owe the bondholders. It is going to go up about 11% more."
"We have to ensure that we don't default. We have to ensure that the government comes up with a credible plan."
The next payment is due on February 20. As for government, they have not issued a release or statement, but, the conventional wisdom is that this sort of back and forth, rejection leading to compromise is standard part of negotiation, especially when bondholders are being asked to give up 40% of their Net Present Value.

NGO Community Urges Postponement of Senate Meeting
(posted on Tue Jan 17, 2017)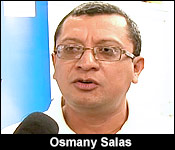 The Government is coming under pressure from the NGO Community which says it is disappointed that Elected Senator, Osmany Salas will not be able to sit in Friday's Senate meeting because it will happen 1 day before the commencement order for the 13th Senator takes effect.
They're being joined by the Opposition Senators who have asked Senate President Lee Mark Chang for the meeting to be postponed until after the January 20 appointment. We've seen a copy of an email which Lead Opposition Senator Eamon Courtenay sent to the president on January 12, which says, quote, "...The 13 Senator's arrival in the Senate has been too long delayed, and an opportunity for him to participate in the upcoming meeting should not be missed.
It does seem very odd that there is a senator-elect, and a meeting of the Senate will be held and he is unable to attend for no good reason...We respectfully urge you to set a new date after the 20 January 2017 so that Senator-elect Osmany Salas can take his rightful place and participate in the very important meeting." End Quote.
This morning, we got a chance to speak with Courtenay on the subject, and he said that the Opposition is disappointed that the President won't change the date.
Hon. Eamon Courtenay, PUP Senator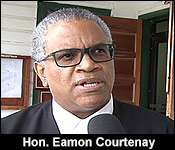 "Senator Salas has reached out to us and we have discussions also with other social partners' senators. We the PUP feel that it is a betrayal of the NGO community for the government knowing that the law will come into force on the 20th of January to set a meeting for the 19th, especially as they are proposing to debate an amendment to the NGO act. Let me make it clear, there is no reason why senator Salas should not be seated on the 20th, the meeting on the 19th adjourned for even to the 20th and then he's sworn in then he can participate in the debate. There is nothing urgent on the agenda of the senate and even on the question of the referendum act, which I understand the government is concerned about. The Prime Minister as I understood him in the debate in the national assembly indicated that there will be no referendum in Belize until Guatemala does theirs. So there is not urgency for the referendum act to be amended this week either. It is very regrettable. We are disappointed in the attitude and approach of the government on this issue. The president of the senate has contacted us directly to say that the date will not be moved. It is still not too late for the date to be moved of the senate meeting. As I said it's a real betrayal of all that has been achieved."
Daniel Ortiz, 7News
"Sir, has he indicated if and when the senator will be properly seated in the house to participate in these meetings?"
Hon. Eamon Courtenay
"All he said was another meeting will be held shortly without giving us a date. Now, I would suspect that obviously sometime in March for example there has to be a senate meeting on the budget, but I don't know whether there's going to be one before that."
Indeed, Senate President Lee Mark Chang responded before the start of news yesterday, and he said, quote, "In reference to your request to postpone the special senate meeting… I have discussed with the clerk of national assembly and the special senate meeting will be held as scheduled. Shortly after there will be another senate meeting where our new senator will be sworn in." End quote.
That's certainly not the response which NGO community wanted to hear and this evening, they fired off a press release expressing their "grave disappointment".
Their statement says, "The NGO community dutifully and in good faith, followed all steps as advised by the Office of the Attorney General...We maintain that this timeline affords due process to be complied with in order to provide for the 13th Senator's participation in the first meeting of the Senate."
This evening via skype, Froyla Tzalam, the spokesperson for the NGO Community, granted us an interview explaining further:
Daniel Ortiz, 7News
"How do you all interpret this decision?"
Froyla Tzalam - Protem Chair., NGO Steering Cmte.
"There can only one interpretation and that is that we will not be allowed to participate in this process for whatever reason. In mind we are looking for a better governance. We believe that a show of good faith would have been simply to delay that house setting from the 19th after the 20th and that would have not taken anything from the government. it would have shown that there are clear to the process of the more transparent government and I think it would have really have set the bar high and it would have really set the relationship between the NGO senator and the government in a more balanced and progressive manner that we are here to assist. We are not here to stop government from its job, but we simply want to be a part of that democratic process and so by us not being able to participate until after January 20th, it simply means that nothing much has changed from when the commencement order was signed."
"I think that we really want to ensure or to rather say that we are not here to stop the democratic process. We want to be a part of it and we want to be in on the action. I really hope that this really set the tone for future relationships. We are ready, we have shown our ability to be here and I hope that it doesn't continue because at this rate, it seems that our senator will not be able to participate in any house meeting until March. So, we hope that whatever happens today doesn't set the tone for future relationships between us and government."
In the press release, the NGO community offers the Government a compromise to have the Senate debate the NGO Act without their Senator Elect, but to have all other governance matters dealt with in another Senate meeting.
Their statement says, quote "The NGO community believes that if it is the Government's desire to pass the NGO Amendment Bill as per its official position prior to the seating of the 13th Senator, then in good faith the Special Sitting of the Senate on January 19th can be to do just that - pass the NGO Amendment Bill - and a Senate meeting can then be convened either on January 20th... to consider all other matters...from the House of Representatives meeting held on Friday, January 13, 2017." End quote.
There's been no response from government yet.

Puerto Azul Project, All Just A Ponzi Scheme?
(posted on Tue Jan 17, 2017)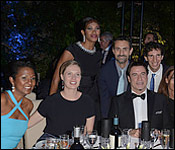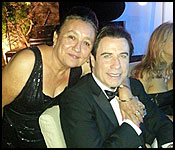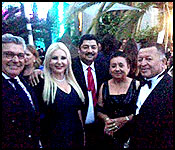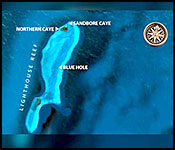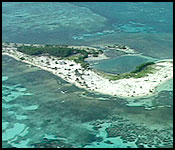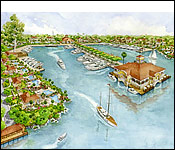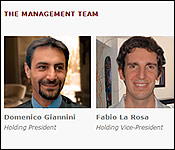 The Puerto Azul project - we've been reporting on it since 2014 when pictures emerged showing Ministers Erwin Contreras, Juniour Heredia and the PM's wife Kim Barrow rubbing shoulders with Hollywood stars in Cannes, France. They were there for the launch of the Puerto Azul project, a mega luxury resort to be built on Northern 2 Caye and Sandbore Caye - within the Lighthouse Atoll, close to the Blue Hole. The project was described as having zero environmental impact by no less than its celebrity spokesperson John Travolta. Here's how he put it at the Cannes event talking about the supposed 8 star resort:...
John Travolta, Puerto Azul Ambassador
"I am represent Puerto Azul new resort, that's 100% green in its building and its sustainability and it's also going to be the first 8-star resort in history."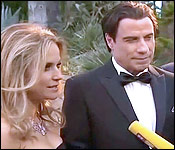 Kelly Preston, Puerto Azul Ambassador
"But they've also decide to do something that's unprecedented and they've develop the Tree of Dreams Foundation which they will give 20% of their net profits per year to the surrounding people in the villages."
Well, there aren't any villages close by - but the talk sounded real good, so much so that the ministers of Economic Development and Tourism - along with the PM's wife - were happy to tag along to Cannes for the ride. In June of 2014, we challenged the Tourism Minister about the message his presence sent:..
FILE: June 13, 2014
Jules Vasquez, 7News
"What has been made of your trip to Cannes and that you were there and the investors paid. How would you respond to the criticism you've been wine and dine by these investors and they bought your approval?"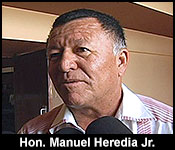 Hon. Manuel Heredia Jr., Minister of Tourism
"Jules, you know me better than everybody else, this is one of the most honest politician that exist in this country I think. We went over there yes on an invitation by Puerto Azul to look at a model concept that they had."
Jules Vasquez
"Will you support it, are you sufficiently convinced having gone to Cannes?"
Hon. Manuel Heredia Jr., Minister of Tourism
"Well a model concept and what we will see in writing and so is two different things you know. The only thing that I can tell you, I don't even know if this will succeed or not, but whatever the case, the exposure the country has gotten, BTB or the government could have never paid for that exposure over there."
Jules Vasquez
"You have accepted a gift from them which was going over, I imagine they paid for you and...."
Hon. Manuel Heredia Jr., Minister of Tourism
"Well Jules, wherever even if in San Pedro, let us go to Elvi's and have dinner and have this meeting. What is wrong with that?"
Jules Vasquez
"But out to France on the riviera is not San Pedro."
Hon. Manuel Heredia Jr., Minister of Tourism
"You know very well they can do whatever they want, but at the end of the day nobody can buy me. There is not a soul that can tell me that I have been bought for any particular thing. I am a humble honest politician."
Well, indeed, we can't pay for that publicity - in fact we wouldn't want to because the whole Puerto Azul thing has blown up - turns out - it was all just a big scam, according to Italian authorities. They call it a Ponzi scheme which bilked investors out of their money.
This morning, in a major operation orchestrated by Italian police, twenty searches were conducted between Italy and Switzerland and arrest warrants were issued for 7 people - including masterminds, and self-styled project developers, Domenico Giannini and Fabio La Rosa - seen in those same photos from Cannes.
The Italians say the pair set up an international criminal organization with bases in Italy, Luxembourg, Switzerland, the Caribbean and London , dedicated to serious fraud, embezzlement, illegal financial and banking activities, falsification of documents and impersonation.
And the main hook in the operation was Belize's iconic Blue Hole and the idyllic, and fantastical resort nearby which they never built. Seems, it was all just a con to get investors - like Travolta and so many others - to put their money - in a scheme which was never produced any project. Now, veterans in Belize's investment ecosystem smelled a rat every early on - I mean, an 8 star resort!? Really? And we knew something was wrong when John Mills, an investor who had a lien on the property came forward in mid - 2015 saying the Puerto Azul group hadn't even paid for the island:...
FILE: April 16, 2015
John Mills, Debt Holder - Northern 2 Cayes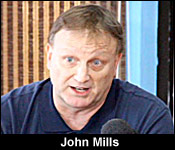 "Puerto Azul is not closed on the islands. They signed a contract to purchase Northern 2 Cayes in March 2013. The first payment was to be made in March 2014. They did not make that. The second payment was to be made in March 2015 and they did not make that. The issue is that they have been 2 years into this and they failed to file an environmental impact assessment. Also, in their press releases they said that the project is in an advanced stage - that they sold 63 time shares and they are going to have 300 sold by the end of the year and that they are going to have an inauguration at Christmas. All is this is interesting since they don't own the islands right now."
According to Italian news reports, over 200 private depositors and investors invested substantial amounts of money amounting to about 20 million euro. Authorities over there have since seized 18 million Euros in fraudulently gained assets. We'll keep following the story.

The August Appeal And Everything Thereafter
(posted on Tue Jan 17, 2017)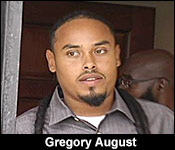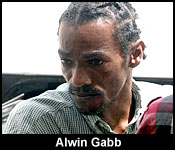 3 months ago, we told you how convicted murderer Gregory August won a landmark judgment in the Court of Appeal. His victory made it so that there's no more mandatory sentence of life in prison for persons convicted of murder. We also showed you how students from the Norman Manley Law School were at the Belize Central Prison 2 weeks ago. They were holding workshops to explain to prisoners what this judgment could mean for those who had been sentenced to life before the appeal.
Well, as we told you, August, the prisoner who started it all, isn't stopping there. He'll become the first appellant from Belize to go all the way to the Caribbean Court of Justice to argue a criminal appeal. His intention is to not only reduce the sentence, but he wants to completely overturn the conviction for murder against him. He'll now be joined by another prisoner, Alwin Gabb, who was convicted of murder in 2013.
This morning, the judges of the CCJ held a teleconference, case management session with the attorneys for both men and DPP Cheryl-Lynn Vidal. 7News was there and we spoke to August's attorney after the session:
Eamon Courtenay, SC - Attorney for Gregory August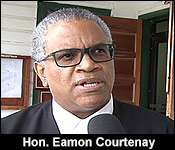 "It's just a directions hearing for the court to inform us when the matter will be heard which will be in March the 21st. for when we have to file our submissions and completing the record of appeal. As you know both Mr. Gabb and Mr. August are appealing the minimum sentence of life in prison without the possibility of parole. the court of appeal has expressed its view and say that the appropriate sentence for Mr. August would have been 30 years, but we will be dealing with that and the CCJ as well as the whole question as whether in fact he should have been convicted. The evidence in this particular case was purely circumstantial. There was no witness who saw what allegedly occurred and it is just very weak circumstantial evidence that was relied upon by the crown. In our view, the direction is given by the judge just were not sharp enough to focus the jury's mind on what the test was, how to put evidence together. There was no good character direction that was given. So, there are a number of legal issues that we intend to raise. But fundamentally Mr. August is saying that he did not do it. The evidence that was presented to the jury against him was insufficient to sustain a conviction of him and that the sentence even as varied by the court of appeal is too long."
As you heard, the Appeal hearing is scheduled to take place on March 21 in a marathon 4 hour hearing. We'll be there, and we'll tell you how it goes.

Strange Shooting In Toledo Leaves Man Critical
(posted on Tue Jan 17, 2017)
The new year started with an unusual murder in Punta Gorda town, and tonight there's the report of another unusual crime in the Toledo District - a San Antonio farmer held up by four masked men and shot.
56 year old Rufino Bul was at a bar in his home village when 4 masked men approached him and one of them shot him in the chest. Bul somehow walked to the San Antonio Clinic for treatment and was later transported to the Punta Gorda Hospital. He is now at the Southern Regional Hospital where he is listed as critical. Police are investigating.

Ladyville Fire Victims Lose Everything
(posted on Tue Jan 17, 2017)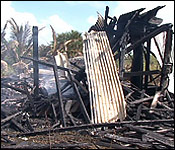 Another home went up in flames in Lord's Bank yesterday. Around 11:00 in the morning, fire fighters were called out to a house in the Hollywood area of Lords bank. They put out the fire but nothing could be done to save the house. No one was inside at the time. Fire Department Station Manager Orin Smith gave us more details.
Orin Smith - Station Manager, Fire Department
"On Monday the 16th of January 2017, at approximately 11:02 am the Ladyville branch of the national fire service received and responded to reports of a structural fire at a 47 Hollywood Drive, Lords Bank address. One unit was dispatched to that location. On arrival on scene found was an elevated wooden structure with zinc roofing measuring approximately 20 ft. by 30 ft., fully engulfed in flames. Following a brief size up, the department got into operation to extinguish the fire. The fire was later brought under control and extinguish. As a result of the fire, the structure was destroyed. Investigation revealed that the structure was occupied by 4 adults; 2 male and 2 female, none of whom said to be at home at the time the fire occurred. The structure was not insured, the origin of the fire was on the south west portion of the house and the cause is still not yet being determined."
Courtney Weatherburne, 7News
"Would you say specifically where it started like in the kitchen, in the bedroom?"
Orin Smith - Station Manager, Fire Department
"I am not too keen on that. I was just told that it was originated on the south west section of the house."
Reporter
"Do you have an idea of when more or less you will be able to determine what caused that fire?"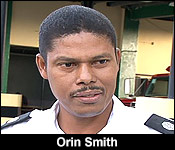 Orin Smith - Station Manager, Fire Department
"As investigation goes on, probably by tomorrow, hopefully."
Reporter
"Have you ruled out anything such as electrical or so?"
Orin Smith - Station Manager, Fire Department
"Nothing yet has been ruled out. Everything is still open."
Reporter
"Nothing that would point to it being intentional?"
Orin Smith - Station Manager, Fire Department
"There is always a possibility of those things occurring, but investigation usually uncovers whether it has any intentional effect in to it or natural cause, based on electrical or cooking as the source."
Courtney Weatherburne, 7News
"So you are not ruling our arson at this time?"
Orin Smith - Station Manager, Fire Department
"No, not yet."
As you heard, the fire department does not know the cause of the fire but reports are that it was intentionally set. 2 couples lived inside the house and it seems that some misunderstanding them may have led to this fire. The department is still investigating.

Judge: Caceres Slapped A Woman Into drain; Accused Clais He was Drunk
(posted on Tue Jan 17, 2017)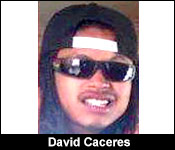 Today 21 year old David Caceres appeared in the Magistrate's Court after being charged with harming Sherlette Young. According to Young, on New Year's Eve, her common-law-husband and Caceres got into a fight. After the fight was over, Young said she told her husband to go home, and went to buy food at a nearby shop. It was there that she and Caceres allegedly got into an argument, resulting in Caceres slapping her in the face so hard she fell into a drain.
Caceres, who was undefended in the trial, told the court that he could not remember what happened that night because he was drunk. With that, he was found guilty of harm by Chief Magistrate Anne Marie Smith. Smith then remanded him to the Belize Central Prison until the 30th of this month, while she decides whether he will serve prison time, or be fined with a non-custodial sentence.

Generating Standards From The Inside Out
(posted on Tue Jan 17, 2017)
The Belize Bureau of Standards is responsible for setting and regulating the qualities and standards of consumer goods in the country. While the Bureau's main task is to ensure that Belizeans enjoy a safe and adequate standard of goods and services, it must also make sure that what we are sending out to international markets is up to par. In order to guarantee these standards are upheld, the Bureau teamed up with consultants from the CDB to develop the National Quality Infrastructure project. We spoke with the Bureau's Director, Jose Trejo, and the project's main consultant, Sheryl Anderson, about the undertaking...
The project will take advantage of already developed infrastructure, such as a recently built laboratory in Belmopan, to make sure Belizean products are being produced and accredited at an international standard.

El Salvador Crushes Belize In COPA
(posted on Tue Jan 17, 2017)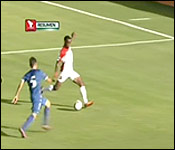 Belizean Football Fans got their hearts broken today when El Salvador crushed Belize three to one in the third game of the Copa Centroameracana. Salvador's three goals were scored in the first 23 minutes of the game when three different players scored in an offensive blue for a scrambling Belizean defence.
Belize's only bright spot came just before the end of the first half when star striker Deon McCaulay scored off a pass from Denmark Casey where he beat the goalkeeper and put it over the head of the lone defender who was in the goal. It was an exquisite shot from five yards out, and Belize's first goal of the Cup:
But while that gave a glimmer of hope for an equalizing second half, it wasn't to be, the second half was scoreless for both teams.

Belize Still Hopes For Wild Card
(posted on Tue Jan 17, 2017)
So Salvador gains the all important three points with this victory, leaving Belize with one point from its draw on Friday. Still that one point is enough to keep Belize tied with Nicaragua, which also has one point. While only the first four teams qualify for the Gold Cup, the fifth place team does qualify for a wild card playoff. President of the FFB Marlon Kuylen explained today:...
Marlon Kuylen, President - FFB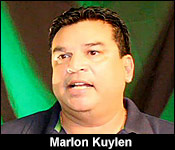 "Expectations are always high, but we have to be realistic: we are not going to the COPA and coming in 1st, 2nd or probably 3rd. But the 4th, 5th and 6th position is up for grabs. While 4 of the top teams automatically qualify for the Gold Cup, the 5th place team will play against the 5th place team of the Caribbean which is Haiti and then I believe it's a home and away match with Haiti and the winner of that series will decide the final team that goes to the Gold Cup. Now, we believe that we matched up good against Salvador. We matched up good against Nicaragua. If we can get a draw and a win against Nicaragua, we're in."
"We all hope for a better outcome. However, in the big scheme of things, we are playing against world cup qualifying countries. Costa Rica just beat USA 4-0, two or three months ago. These guys are professionals - the other countries, all they do is football. That's their living. When you look at us, Belize, we have teachers, soldiers, policemen on our team and yet we can hold up against these big teams. So in the grand scheme of things we hold up good against these countries. It's not to say that we condone mediocrity. It's just what it is right now."
Belize is currently in last place due to goal differential.

FFB President Urges Fans To Refrain From Racism And Other Insults
(posted on Tue Jan 17, 2017)
But still, despite today's loss, where everyone was hoping for at least a draw, all hope is not lost. But Belize does play a pivotal match against Nicaragua on Friday which will likely determine whether the team return home in fifth or sixth. Kuylen made a special appeal to fans and observers who like to make rash comments on social media, that the disparaging, sometimes even racist remarks they make, do get to the team:..
Marlon Kuylen, President - FFB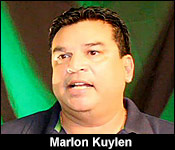 "They are very focused on what they have to do. However, comments like the negative comments and some that are not warranted, especially the racial ones, do have an effect on them and I've been appealing to our public that 'you know what guys, give our boys a chance.'"
Jules Vasquez, 7News
"What are the specific type of unnecessary mean and unproductive things people are saying?"
Marlon Kuylen, President - FFB
"Well, mostly 'like we choose mostly blacks' that the system of choosing players to be on the selection is bias, which is totally untrue. Another one is that we take only old players, same old players recycling over and over again. I would wish that they would go and do their research, because if you look on the makeup of the team, we have several Latin in there. We don't choose on age and race and religion, we choose on performance. So some of the players that could have made this team right now are injured. For instance, Dalton Eiley. We have a young defensive player from Corozal, Azra Sutherland, Osmar from Orange Walk, another Latin, but unfortunately they are injured."
"Fortunately, the northern districts; Orange Walk and Corozal, they have no semi-professional team. So their players aren't being exposed. So we don't know much about the northern districts. But what we did, when the coach came in, the first week he came in, we took him to Orange Walk to watch some of the 1st division games that they had and he pin-pointed a few of the players that have potential. It doesn't mean that they were able to be a member of the team going to Panama. But when we go to the Gold Cup, then we can start bringing in these players and having them trained and having giving them an opportunity to make the team. Our players, like I said when they go out there, they are just playing just heart and soul, just to know that they are representing Belize and that they are going up against some of the best in this region and the world is a big boost for them. So I ask the public really slow down with these rhetoric and these negative comments and do something to boost your players. This is your country. This is our country and we are doing the very best we can to represent it well."
So, to go over the standings tonight: Belize and Nicaragua are tied with one point each - but Nicaragua has the lead in the standings because they have a better goal differential. The two teams play against each other on Friday.

Home | Archives | Downloads/Podcasts | Advertise | Contact Us