ACP Chester Sends Lawyer Letter To Sr. Supt Vidal Threatening Suit
(posted on Fri Sep 15, 2017)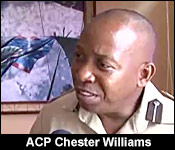 All this week we've been reporting on the serious beef between the two senior police officers: Chester Williams and Marco Vidal. ACP Williams is the former Southside commander, and "Senior Supe" Vidal took over from him two and a half months ago.
Williams had forged a gang truce in April, and crime in the city - especially gang crime - had taken a sharp downturn. And then in August, it all flared up again. So, the finger was pointed at Vidal. Had the former GSU commander riled things up in the street again with his hard charging tactics?
Vidal has rejected this narrative as bogus and oversimplified. And, on Tuesday at a press briefing he went a step further when he said that the apparent peace created under Chester Williams command - was not peace at all, but an accommodation to the criminal element. Here's how he put it:
Sr. Sup. Marco Vidal
"Certainly I answered a question in exactly the manner in which it was asked. I have nothing else to say to that."
Reporter
"Sir, so you don't believe that you've been saying very inflammatory things about your predecessor. He says that he has not said anything bad about you."
Sr. Sup. Marco Vidal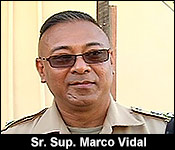 "Well unless you are trying to help him with his case, I have nothing more to say on that matter. I am not going to be helping anybody with his case."
Reporter
"Have you been alerted of possible court action from this?"
Sr. Sup. Marco Vidal
"Well I don't know. I am hearing that from you. I know there are a number of things on the social media. I have my own opinion about the social media. But as I said I will not contribute to anything that is being said. I said what I said and I will leave it at that."
Reporter
"And you don't retract anything you've said?"
Sr. Sup. Marco Vidal
"As I said, I will say nothing else in regards to that matter."
That's accusing his senior officer, ACP Williams, of being involved in some level of criminal complicity, and Williams immediately threatened suit.
Today, 7News has learnt that Williams has gotten a high profile attorney, Senior Counsel Andrew Marshalleck who today sent one of those lawyer letters to Vidal.
The Marshalleck letter quotes the Vidal exchange with 7News Director Jules Vasquez and concludes, quote, "these allegations are completely untrue and constitute a grave slander upon our client. Our client has never been selective in enforcing the law against gang members and has never allowed anyone to engage in the marijuana trade. As a senior police officer and attorney at law, our clients has always acted to uphold the law." End quote.
And so, Marshalleck demands the following: first, that Vidal, quote, "give a further interview to Channel 7....containing a suitable withdrawal and apology in terms to be approved by us on our client's behalf;" second, that Vidal give an undertaking in writing to not repeat the allegations; third, that he must pay Williams's legal costs, and, fourth, that he also pays damages to, quote, "compensate our client for the serious injury to his reputation which he has suffered by the publication of these allegations." End quote.
The letter requires Vidal to respond in 10 days. Two days ago, Vidal told the media that he would not address it further.
Sr. Sup. Marco Vidal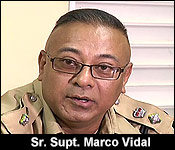 "In terms of any peace having been, between whatever period you want to put it, as a journalist, if you would go in and speak to the very people who speak about peace, you would know that there was no peace and there was a number of underlined issues that prevailed during that same time. My policy is that I don't give any persons any break, in terms of breaking the law. If the criminals are not happy with that then we will enforce the law. And that's it."
Now, we don't know if we've ever seen a lawsuit threatened between senior officers like this. But, at the same time, we cannot say that we've ever seen a junior officer make allegations of criminal complicity against a senior officer - so this story still has some ways to go - we'll be following it.

DPM Faber: "All Is Not Well In the UDP"
(posted on Fri Sep 15, 2017)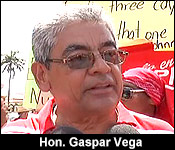 "All is not well with the UDP" - that's what the Deputy Leader Patrick Faber had to say today when we asked him about the prospect of Gaspar Vega running again for the UDP in Orange Walk North.
Vega, flanked by Minister John Saldivar and Minister of State Dr. Angel Campos made the blockbuster announcement one week ago in Orange Walk. That prompted Faber to post a not-so-subtle message on his Facebook saying, "I do not support or defend corruption...".
Today - in his first interview after making that eyebrow-raising post - we asked him to expand on his thoughts about a possible Vega comeback...
Hon. Patrick Faber, Deputy Leader - UDP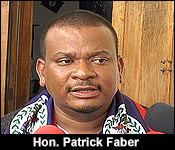 "For me, all is not necessarily well in the UDP. I think that is no secret to anybody. I am not telling any tales out of school there. There are, ah, many of us in the UDP who are not satisfied with some of what has happened, a lot of what has happened. And, ah, not to create any kind of disunity but, we have always been a party that boasts our integrity and our honesty, and where that is not found, ah, I feel, ah, compelled, to, to, ah make sure that that is flushed out."
Reporter
"You're saying action to be taken against the members?"
Hon. Patrick Faber, Deputy Leader - UDP
"Well, I am saying that it is an internal thing for our party although, there is the government aspect, ah, we, my fight is always internally with my party to get things right."
"And if there are people who don't fit right with that kind of mentality, and that kind of setting then I oppose them being on the ticket indeed."
That clearly is a reference to Vega, and possibly even Saldivar - who Faber has clashed with separately in conventions when he vied for the post of Deputy Leader.
But, beyond old rivalries, we know that there are very deep divisions in the UDP - basically over whose hand is in the cookie jar, and whose hand is not. That resentment for the corrupt members in their ranks was put in plain view in August when Party Whip Michael Finnegan told us this at the end of the house meeting:..
Hon. Michael Finnegan, UDP Party Whip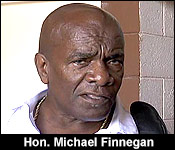 "Mr. Vega probably have company, because a lot of them out of the 31 don't belong in the house any at all."
Jules Vasquez, reporter
"But that includes your members sir."
Hon. Michael Finnegan, UDP Party Whip
"I said lots of them don't belong in the house out of the 31. That's an answer."
Jules Vasquez, reporter
"18 of the 31?"
Hon. Michael Finnegan, UDP Party Whip
"That's a satisfying answer - lot of the 31 don't belong in the house."
Jules Vasquez, reporter
"It's a shocking one. Thank you sir."

Barrow Admin Says It Must Part Ways With Unreliable Venezuelan Fuel Supply
(posted on Fri Sep 15, 2017)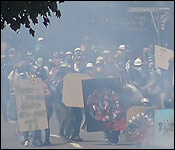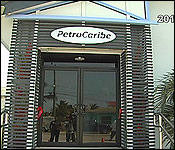 And while the UDP will continue to publicly ventilate those inner divisions - the position on Petrocaribe is much more reserved.
As we told you last night, APBEL - short for ALBA Petrocaribe Belize Energy Limited - announced that it is immediately suspending purchases of petroleum products from Venezueala's national oil company, PDVSA (pede-vesa) under the PetroCaribe Agreement.
Today, Deputy PM Faber explained that with the difficulties in Venezueala, it's just become too difficult to use PDVSA as a reliable source of fuel.
Hon. Patrick Faber, Deputy Prime Minister
"Venezuela as a source for petrol is now very problematic, so much so that in fact on quite a few occasions now we have had to import fuel by road and of course this causes the price to fluctuate and we're not able to have as great a control as we would normally have. So if that supply, is unsteady then it's not the most reliable thing for us to rely on."
"So I think it is timely it is very important for us to have a reliable source for our fuel and that is why that decision has been made."
So, is the Barrow Administration now turning its backs on the Venezuelans after receiving funding of nearly half a billion dollars through Petrocaribe? Faber says Belize continues to support Venezuela in a very general sense - but he clearly wished to draw the line with some of the tactics of the Maduro administration - which appear un-democratic:
Hon. Patrick Faber, Deputy Prime Minister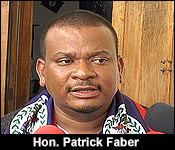 "I think it's no secret to Belizeans that our country has benefitted tremendously from that arrangement and, you know, things in Venezuela are very "iffy", but we continue stand by them even though our position is that we must support every democratic processes wherever it is in this world. And, so we, while Venezuela is a friendly country to us, we also insist on democracy and the democratic principle that we support to be implemented din that country. It does create a very difficult situation, ah, but, ah, our basically principles of democracy must prevail. We thank them for friendship and where we can side with them we will do so."
The Petrocaribe agreement remains intact and the program may be re-activated at a later time, but…best advice? Don't hold your breath.

DPM Faber: Call It A Wrap On Senate Hearings
(posted on Fri Sep 15, 2017)
Deputy PM Faber also commented on the Government's plan to end funding for the Senate hearings after November. It has provoked sharp criticism from the teachers union - which pushed for the hearings in the first place.
Today, DPM Faber re-iterated the position he first put out there months ago - that the hearings must have an end, and it's about that time:
Hon. Patrick Faber, Deputy Prime Minister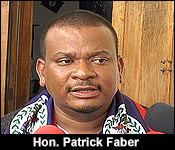 "Whatever could have been achieved out of it has been achieved. There is no reason as I have said on the record before for us to continue with this issue. Let us now see how we could make improvements, and you know those improvements in terms of immigration as you saw with the bringing of the Director of Immigration to the inquiry, those improvements have already been started. We need to continue and make sure that we fix things. I don't think that anything that came out of the inquiry pointed to any kind of, ahm, arrests needing to be made, at least those have not been pronounced. But let us get on with the business of reporting what is the findings and if there is in fact criminal activity on the part of anybody let's deal with that. But it cannot go on forever, and this is what some people want."
The senate is divided on whether it should continue beyond November, and no majority position has been announced.


Faber Makes Allegations Against Moya
(posted on Fri Sep 15, 2017)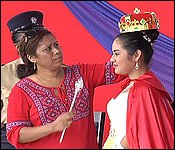 And Faber also discussed the recent Queen of the Bay crowning controversy. As minister of Culture, he's the chairman of the September Celebrations Commission - and he's also the person who chairperson of the Queen of the Bay Committee Zenaida Moya has implicated as the trouble maker leading up to the fiasco on the Tenth.
Today Faber said he won't respond to the insults - except to say that the Queen of the Bay is for everybody, not Ms. Moya:...
Hon. Patrick Faber, Chairman - September Celebrations Commission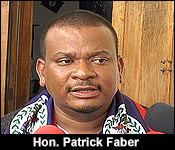 "I stress that in fact we did not decide on who the Queen of the Bay was; the judges ultimately did that, along with the then reigning queen. It is unfortunate the circumstances that have happened. In fact, you know that there were personal attacks made against me, I will not get into that. I think we should rise above the fray. I think that in fact was a red herring to try to move us away from the real issues. What I can assure people of, though, is that moving forward, ah, we all in this country I think will agree that the Queen of the Bay Pageant is something that is a national treasure. It is not something to be owned by any one individual or one particular group. It is my understanding and I have been able to confirm in fact that there have been moves on the part of Ms., Moya to register the name of the queen of the bay, which, I think is absolutely continuing to go further against the wishes of the people of this country."
"The Queen of the Bay is a queen that reigns over all of Belize and not parts of Belize. The unfortunate thing, of course that has come out of all of this and I need to say this, that, ah, we're not taking sides. A lot of nasty racism and political bias and quarrels have come out of all of this, and that is very unfortunate and I appeal at this time for us to let it go, let us move forward."
We'll have a response from Maya to that allegation in our next segment.

Moya Rejects Faber Allegations
(posted on Fri Sep 15, 2017)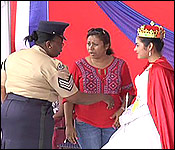 Just before the break, you heard Chairman of the September Celebrations Commission Patrick Faber allege that chairperson of the Queen of the Bay Committee Zenaida Maya is trying to register the Queen of the Bay name as her own. Well, Moya called us in the news to say that's completely false. She says that it's an attempt being made by former queens and her Committee only became aware of it this week. She says she has nothing to do with this effort and she showed us messages which express the wish of Pageant Coordinator Emma Boiton that it not be registered because it is a patriotic entity.

Mother Of Two Dies After Accident
(posted on Fri Sep 15, 2017)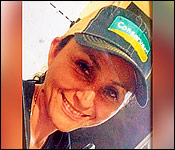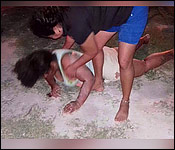 A 40 year old mother of two died this morning six days after she was knocked down along with her 8 year old son. On Saturday evening at 6:45, Corozal resident CLAUDIA MARTINEZ ARANA and her son were passengers on a motorbike when a car knocked the bike from behind. All three persons on the bike were violently flung unto the pavement. MARTINEZ had no helmet on and suffered major head injuries. She was almost immediately transferred to the KHMH where her brain was swollen and she did not regain consciousness. She died early this morning. Her son was released from the Northern Regional Hospital earlier this week and his prognosis is good. Police have not reported the accident and could not say if the driver will now be charged for manslaughter and other offences.

GOB Says UNCAC On Target
(posted on Fri Sep 15, 2017)
For the past few weeks, the social partners have been grumbling about the slow progress with UNCAC, the United Nations Convention Against Corruption. It was signed in December of last year - but the unions and the Chamber say they have yet to see any convincing follow up.
Well, today the Attorney General's Ministry sent out a release that's over a thousand words long to say just what they've been doing with UNCAC.
The release recounts in lavish detail every inch of progress towards implementing a technically complex convention. The bottom line? Belize will be reviewed in what's known as "the First Cycle," by Haiti and from the regional group and Tuvalu from the international group. That review started on July 25th., and over the last 6 weeks the Attorney General's Ministry has been engaged in, quote, "a rigorous analysis of the legal and institutional framework of Belize." The due date for a Self-assessment Checklist is in ten days. A press release says, quote, the Government of Belize has made several successful steps towards the implementation of the UNCAC."

K9 Makes Busts On Partridge
(posted on Fri Sep 15, 2017)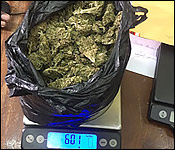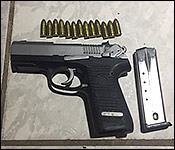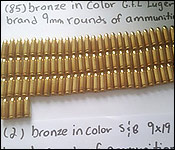 Multiple police units continue to operate on the southside, and this morning it was the Special Assignment Team, the K9 unit, and the Gang Suppression Unit on Patridge street extension. The K9 named Bosco made the big find when he picked up a scent on an abandoned red Nissan Frontier Pick Up. Inside police found a 9 millimeter Ruger handgun with 13 live rounds. The firearm will be sent for ballistic testing to see if it was used in any crime. A black plastic bag with 87 live rounds was also found under the spare tire of the vehicle. An additional search was also done on Partridge extensions where the cops found over a pound of weed.

Revolver Off Streets
(posted on Fri Sep 15, 2017)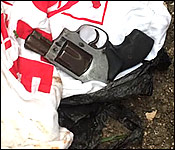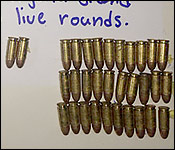 And yesterday, the police were on Iguana Street where they found guns and ammo. At 5:15 the Special Assignment Team searched an abandoned lot located on Iguana Street where they found thirty-two rounds of 9 millimeter ammunition.
The team also searched the gang hotspot of Banak Street at 6 this morning where they found one 38 revolver.

Hattiville Hydro
(posted on Fri Sep 15, 2017)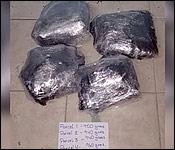 And, rural police found 8 pounds of weed in Hattieville yesterday evening. A team searched through some bushes in the Windmill area and found the big stash wrapped in plastic. All these items we've reported on were deposited as found property.

Hilux For Chiquibul
(posted on Fri Sep 15, 2017)
The Friends for Conservation and Development, which co-manages the Chiquibul National Park, has received the donation of a brand new, 2018 Toyota Hilux pickup. It was donated to the FCD by a group of private citizens and companies, who want to help them in the battle to curb Guatemalan encroachments and poaching of the park's natural resources.
So, these concerned individuals and corporate entities began their fundraising efforts with a site visit to the Chiquibul for themselves. And after weeks of putting the money together, the local Toyota dealers, Belize Diesel and Company matched their funds to bridge the gap, so that they could hand over the 80-thousand-dollar vehicle to the committed conservationist group.
That happened today at Belize Diesel's Belize City office, and we got a chance to speak with both the donors and the recipients. Here's what they told us about how the pickup will be used:
Ryan Marin - Operations Manager, Belize Diesel and Equipment Company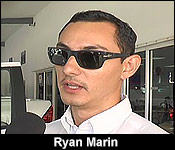 "Today, we're handing over a 2018 Toyota Hilux, 4 by 4. And, this was an initiative that was originally thought up by Belize Diesel, but we wanted to create awareness about the Chiquibul, and about the challenges that the management of the Chiquibul are facing, and they've been long time users of Toyota vehicles. And so, we felt that it was necessary to upgrade them to a new vehicle, but also spread the awareness about the challenges. So, we wanted to involve 21 other corporate partners, as well as private citizens who participated in our Chiquibul expedition, where we went to the Chiquibul for an overnight to experience and see firsthand the challenges, and the beauty of the Chiquibul. Almost everybody that we reached out to was behind it, and these partners are business partners of Belize Diesel. They have been long-time supporters of these kind of efforts from about 10 years ago, when we used to have Toyota Tours. So, we thought that through this medium, we can afford to give the FCD a new truck. The value of this new truck is $80,000, however, not all that money was raised through the initiative. So, the company did put in a portion to match any other gap that was there. And, by no means was this a profit-making endeavor. This was something that we truly believed in, to get FCD a new vehicle, so that they can carry out their duties, and that was what was done today."
Rafael Manzanero - Executive Director, FCD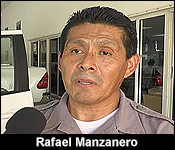 "This vehicle is certainly for the mobilization of staff into the area. Our vehicles that we had been purchases, or that we have been using has been basically over the last 6 to 7 years. So, certainly with the road conditions in that, you bet that our vehicles are breaking down. So, this vehicle, as one that's from Toyota - and Toyota is really a good vehicle for us back there. So, certainly, it's going to be used for mobilization from the area of Cayo, all the way to Chiquibul. It is a very innovative initiative that we have done, and thanks so much to BDE, Mr. Marin and his family, and of course, the Roe Family, and others who became involved. It's really one of those first initiatives of having the corporate involvement, for us. So, certainly, it's one of embracing a whole new slate of stakeholders in the Chiquibul, even though it may seem so far away. Certainly, that is one that is very much encouraging for us. So, we would want to embrace that concept, because we want more people to feel a part of this. And in this way, I think it provides that opportunity for this kind of corporations to be a part of the Chiquibul. So, we are very grateful, and we would hope that this won't be the first, that it's just a beginning that corporate responsibility and involvement in the Chiquibul forest."
Today, the Operations Manager told us that they will work with the FCD to try to make the maintenance and upkeep of this vehicle as affordable as possible.

Broward Businessmen In Belize
(posted on Fri Sep 15, 2017)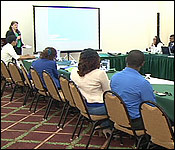 For the next 3 days, the Belize Chamber of Commerce and Industry, BELTRAIDE, will be meeting with the Belize American Chamber of Commerce of Florida, and potential international investors who are looking to do business in Belize.
The Belize American Chamber of Commerce of Florida comprises Belizean Americans who want to contribute to the country's economic development. It was formed 4 year ago, and they've been vetting entrepreneurs out of Florida, who would like to inject foreign direct investment in Belize.
So, the Belize American Chamber of Commerce is acting sort of like the matchmakers, pointing these business owners to the right authorities in Belize to bring potential investments closer to becoming reality.
It's all a part of the Broward-bound Belize Trade Mission, and today, the local and American trade officials met for the first of the 4-day round-table session, and 7News stopped by. We got a chance to speak with a few of the leading personalities of the Belize American Chamber of Commerce of Florida. Here's what they had to tell us:
Michael Devin Young - Executive Director, BACC Florida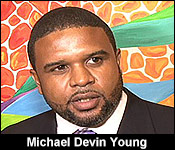 "It's a bridge, and as Belizeans, and as patriots, our way of giving back is since we're based on US soil, we create opportunities for those who are seriously interested in doing business with Belize. We vet them. We make sure that they're real, they're serious, they have the 'paper'. And we hold their hands; we create a clear path and a streamline to the powers that be in Belize. So, we are able to function with stakeholders and the local partners in country. So, we cannot perform; we cannot get the right people to the bargaining table without such as BELTRAIDE, BCCI, and of course now the US Embassy, and their Economic Department. So, that's what we do. We hold their hands for any real potential investment into the country to also create jobs and so forth."
Rishma D Ekhert - General Counsel, BACC Florida
"Our Chamber is specifically designed to increase FDI, which is foreign direct investments, and basically help the economy of Belize. So, our membership are corporate membership, and companies that are actually interested in investing in Belize, as Michael said, and we are able to vet them, and get them into the country, make sure they're legitimate, and also, we want to make sure that on the other side of it, that we preserve the reputation that Belize has as investment-worthy."
Mchael Devin Young
"We also have here participating, like said, BELTRAIDE, as the executing agency for investments for Belize, our big sister chamber partner organization, BCCI, and the US Embassy, and their Economic Development, but also the City Council."
Rishma D Ekhert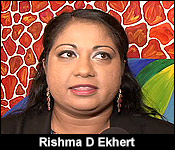 "Another big part of who's here right now are people who are actually willing to invest in Belize. They see the potential in investing in Belize, and they want to make sure that they're doing it the right way. This is why they are here today, and that they're here to get the guidance that they need. We both reside in Florida, and come across, everyday, people who are so interested in reaching out to our market, and reaching out to the Caribbean market, but they have no idea how to do that. So, we're able, as Michael said, to create that bridge, where people know where to go, and streamline them into the different organizations that may be able to help them."
Mchael Devin Young
"The three pillars that we actually stand on is agriculture, tourism investment, and renewable energy. So, we narrowed it down to those 3 pillars, because we know usually the serious investments that actually would be able to help to create jobs and help to progress the country and move fall under one of those pillars, one of those categories."
The Belize American Chamber of Commerce of Florida will also be participating in the Chamber's Annual's Belize Expo and Marketplace, which takes place tomorrow and Sunday.

Police Pulled Up To His Bumper
(posted on Fri Sep 15, 2017)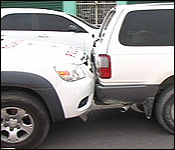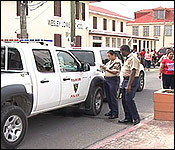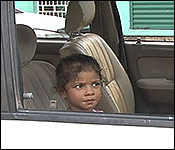 This morning during the hustle and bustle of the morning traffic a fender bender occurred right here on Albert Street. A cop driving a white Tourism Police truck rear ended Luke Collymore's car. Collymore said that it was not your usual kind of fender bender. He claims the officer seemed to have done this intentionally. Collymore gave us his account of the accident:...
Luke Collymore, Rearended by cop
"Dropping my children to school as I do every morning. Upon reaching here there were three vehicles in front of me. I couldn't move and the police got behind me. The first thing they did was they blew the horn and I lift out my hand and I pointed in front of me and the guy put on the siren when he put on the siren he decided you are not going to move so he ran into me."
"My child was in the car, my baby."
"He got upset and then this lady came and I was cussing because listen to me when you just hit my car that my child is in intentionally, he was lucky I was just cussing because that is how I get."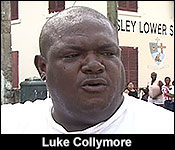 "The damage is minuscule he has more damage to his vehicle that my vehicle you understand. That is not the problem. I am not mad about that you know why because if that gets a knock I could take that knockout. You know what I am mad about the principle of the matter that he took and he decided that you know if are not going to move I am going to make you move and hit my vehicle."
Collymore was dropping his five children to school at the time of the fender bender.

Toledo Women's Groups Get Money Training
(posted on Fri Sep 15, 2017)
This week, the Ya'axché Conservation Trust is offering training to 12 members of established women's groups in Indian Creek and Golden Stream villages.
They're learning about financial management and book-keeping to increase the capacities of their groups which currently provide catering services and sell arts and crafts.
Here's how the trainer and two of the participants explained it:..
The training is funded through a 4-year project from EuropeAid. More training workshops will continue into next year, involving other community-based organizations in the Toledo District.

School Rally And What September Means
(posted on Fri Sep 15, 2017)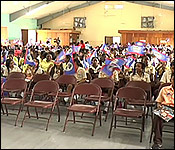 All across the country this morning, School Rallies were held for primary school children. It's the largest collective celebration of patriotism that we have in the country, and we wondered what knowledge and patriotic sentiment really lies behind those bright smiles and waving flags. Sahar Vasquez asked a few of the kids about what September means to them.
Sahar Vasquez, reporter
"What is your favorite part about September?"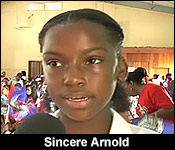 Sincere Arnold, Trinity Methodist School
"That we get to wave our flag and we get to celebrate our beautiful country."
Sahar Vasquez
"How do you feel about celebrating Belize's 36th birthday?"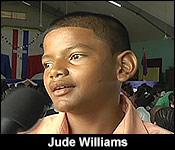 Jude Williams, Queen Square Anglican
"I feel great about it and I feel awesome because nothing bad didn't happen this year."
Sahar Vasquez
"What is your favorite part about September?"
Sanjay Baltazar, All Saints Primary School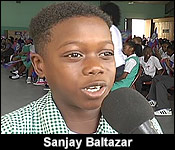 "I am excited because today is my birthday and I will be here celebrating with other schools and my school."
"Well the celebrations and my birthday. That's what I look forward to."
Sahar Vasquez
"Whats your favorite part of September?"
Isani Napata, St. Ignatius Primary School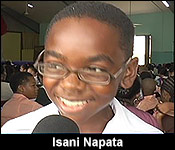 "The carnival parade."
Sahar Vasquez
"How do you feel about celebrating Belize's birthday coming up?"
Isani Napata
"I feel good because Belize is independent."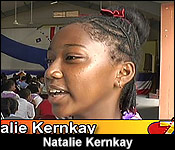 Sahar Vasquez
"How do you feel about being held at this rally that is being held at your school?"
Natalie Kernkay, Holy Redeemer School
"I feel very good because it brings all the schools together."
Sahar Vasquez
"What is your favorite part about September?"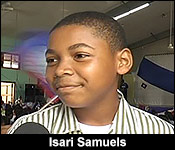 Isari Samuels, Holy Redeemer School
"I like the carnivals and all the parades."
The kids were entertained by different performers and the Education Minister Patrick Faber gave the keynote address.

Belizean Honored
(posted on Fri Sep 15, 2017)
And also, last night there was adult patriotism on display at the tribute to Belizean Patriots. The annual event held at the Bliss Center recognizes outstanding - (and ruling party friendly) - Belizeans with medals denoting the order of distinction and the meritorious service award.
Here are this year's 22 recipients as read by the Cabinet Secretary and representative of the Governor General:
The National Awards and Honors Committee chaired by Phillipa Bailey makes the selections.

Taiwan Donates To NICH
(posted on Fri Sep 15, 2017)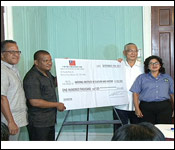 A week ago, Taiwan donated $100,000 to the police department. Well they gave another 100 grand to NICH today. Now the money will certainly go a long way during the September celebrations with the host of events that NICH has organized. But the donation goes beyond just helping out with events. NICH will use the money to enrich a number of musical and cultural youth programs. We dropped by to find out about the significance of this donation.
H.E Charles Liu, Taiwanese Ambassador, Belize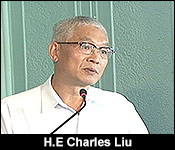 "On behalf of the Government of the Republic of China/Taiwan, I feel very great to present a contribution of the sponsorship of $100,000 Belize dollars for the project that NICH has been working on. This contribution is only the symbolism of the friendship between Taiwan and Belize."
Courtney Weatherburne, reporter
"So it is several programs that will benefit from it, could you give me the specific names of the programs."
Gregory Vernon, Acting President, NICH
"Uhm the National September Celebrations Program that includes the Pan Yaad and Carnival and the different cultural programs that they have been sponsoring through the years. The other one would be the Mr. Peters International Bram, we have been doing that in honor of Mr. Peters every Christmas and it is an event that has been going. It has been on a local level going into Boom and going into different areas and now coming back to the Central Park and this will be an international Bram. The other one would be the gateway steel pan project this will be an air activity, training youth to learn to play the steel pan and developing in that area. The last one, the 4th one would be the Art in School Program, the primary school program now this will be extended to the secondary school as well as a teachers training to teach art in school."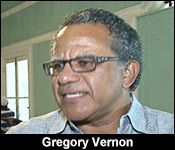 "Notice everything that we are doing has youth focus. It is very important that we get youth off the street working them within the carnival spirit, working them within the September celebration spirt, working them playing instruments like our past president have said we will be beating a pan and not a man, so making sure our youth is focused and having something to do as extra curricula."
Courtney Weatherburne
"So pretty much in a nutshell it is focusing on youth in music and cultural activities?"
Gregory Vernon, Acting President, NICH
"Right music, cultural activities, dance, knowing to do the Creole Bram you know looking at our culture of course you know earlier we had the passing of Ms. Leela Vernon and making sure that the Creole Culture remain alive, having a focus having something that we will be able to focus in on and make sure that we move forward."

Sing It For Soundfest
(posted on Fri Sep 15, 2017)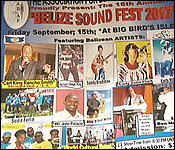 And Taiwan and NICH aren't the only ones trying to keep Belize's music and culture alive. Tony Wright and the Association for Belizean Artists First are hosting the 16th Sound Fest tonight at the Birds Isle. The event was designed all those years ago as the antidote to all the soca music that takes over Belize during this festive month, so, of course it's all about Belizean music. Artists like King Rancho, Lady Zoila Clark, Kurly Miller and Ben Mckoy among others will be taking the stage tonight. We spoke with Wright earlier about the purpose of the fest.
Tony Wright, President - Belizean First Assoc.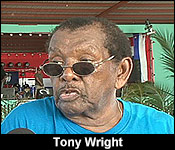 "We had some people over there for the September Celebrations back in 2002 and they had a program for the event. And when they showed me the program it had nothing for Belizean artists and so when I pointed out to the ladies they said if you are so passionate about it why don't you do something about it. And so I met Leroy "Bass" Castillo right after that and I talk to him and we started the first Soundfest. We felt that Belizean artists are not getting what they really due. I grew up in a Belize where when September comes around, every pan that was knocking and every drums that were beating was for us."
"Over the year when September comes around we found out that they are bringing in these foreign artists and the Belizean artists do not get to showcase their talent and that's why we thought of Soundfest to show off our Belizean artists and to show that our artists were good."
It starts at 8:30 tonight until.

They Wowed The Kids
(posted on Fri Sep 15, 2017)
And keeping it on music…today the Children's Rally, we saw Gariff and Jamir Valentine performing and the kids went wild for these young stars.
They were the runner-ups for the national song competition and after their performance, we got to speak with them and their dad about the hit song.
Sahar Vasquez, reporter
"What was your song named?"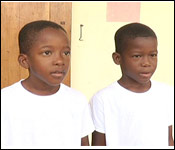 Jamir Valentine, Second Place National Song Competition 2017
"Belizean Brukdown."
Sahar Vasquez
"How do you guys feel about performing on stage, do you get nervous or do you enjoy it?"
Garif Vaelntine Jr., Second Place National Song Competition 2017
"We enjoy it."
Garif Valentine, Father
"The song is to inspire other youths and it is about Belize entitled we are Belizean."
Sahar Vasquez
"Did you expect to do so well in this song competition?"
Garif Valentine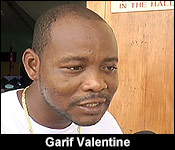 "Well um you know it was their first time entering and I was very surprised and also I would say inspired by them as well as they are with me. We did this to inspire other youths so that they know positivity is the way."
The boys hope to return to the song competition with another hit next year.





Frankie Eena Classical Style
And that's all we have for you tonight - thanks for joining us - with your news I am Courtney Weatherburne…
We leave you tonight with highlites of Wednesday night's "Evening of Folk and Classical Unit" featuring Frankie Reneau and the "Project Orchestra String Quartet".
Enjoy, and join us back here on Monday.

Home | Archives | Downloads/Podcasts | Advertise | Contact Us