Teachers Get Pay, Give Days
(posted on Tue Feb 21, 2017)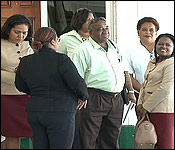 Today, after over 3 months in court, the Belize National Teachers Union has won a victory against the Ministry of Education. Their pay for the 11-day teachers strike will not be cut. But, they've got to give something too: they've agreed to work 6 extra school days so that all schools get the required number of days to complete an entire school year.
This is the outcome after the Chief Justice ordered that both the Teachers and the Government should try to resolve the dispute through court ordered mediation. That ended last month, and this morning, the Chief Justice was finally able to put it into a perfected order. This means that teachers and students are being expected to report for classes for 3 more days before going on the Easter Break, and 3 more before going on the summer break.
It's an outcome which the BNTU was hoping for, because a loss would have caused the strike teachers to lose about 3 million dollars in collective wages. Their President told the press how he feels about it:
Luke Palacio, President - BNTU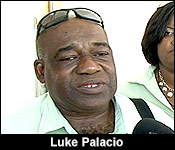 "We were asked then to go to mediation. We've completed that process and today the judge perfected the order in terms of what we have agreed to. What we have agreed to, both parties have agreed that and I need to say this even before we go on, that we had insisted during the strike that we were prepared to make up the time. It was just the manner in which the ministry acted that pushed us, if you will, to decide that we're not going to go with that and we came to court."
"We have now agreed that we are going to make up those days as an order of the court, based on our mediation that we are going to give back 6 full days of classes; the first three will be done on the first 3 days of the Easter break; and the second three will be done on the first 3 days of our July vacation period."
"The ministry has agreed with our position that they should not dock our salaries and so that is now a given. Our salaries will not be docked. The ministry has abandoned that position based on our agreement at the mediation. And so basically that is where we stand. We will encourage our members and our teachers to make up the time as have been agreed simply because the issue we had was not so much making up the time, but the matter of the ministry docking our salaries or attempting to."
Reporter
"However, on the streets, people will think you took on the mighty government of Belize, the Ministry of Education and won."
Luke Palacio, President - BNTU
"Well I guess that is the purpose of unions. We need to be able to in this day and age, once we know we are acting within our right, then somebody has to be able to stand up to whoever as long as you are protecting the rights of workers, as long as you are protecting the rights of citizens and we must not be afraid. Because calling out a government or calling out anybody in authority, does not necessarily mean that you hate them. What is means that you are not in agreement with whatever wrong they are doing and therefore we need to be able to correct them from time to time and hopefully, again, they will see the other side and it benefits the country in the final analysis."
Daniel Ortiz, 7News
"Is it a concern of the council of management that because of this standoff between the principals of the BNTU and the ministry that the relationship maybe irreparable damaged?"
Luke Palacio, President - BNTU
"I don't think so. As a matter of fact we've been meeting with ministry, we've been to whatever boards or bodies we serve on, jointly with the Ministry of Education. We have at all their meetings and the relationship is cordial, so I don't think that there is any ill feeling. We trust again that when we raise issues that concern us and concern our teachers, that again, good judgement, common sense will prevail and we discuss those matters before it gets out of hand."
So again, that amendment to the school year is that there will be 3 more school days before the Easter Break, and 3 more before the summer break in July.

Danny Committed to Stand Trial
(posted on Tue Feb 21, 2017)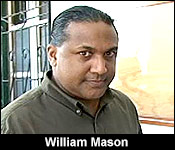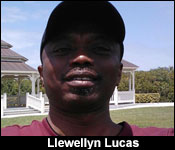 11 days ago, we told you how the police withdrew charges against Melissa Ferguson, wife of accused murderer William Danny Mason. The cops didn't have enough evidence to prove that she was involved in the kidnapping of Pastor Llewelyn Lucas, which led to his murder. Well, there won't be any such easy acquittal for Mason and his 4 fellow accused, Ashton Vanegas, Keron Fernandez, Terrence Fernandez, and Ernest Castillo. They will all have to stand trial in the Supreme Court.
That's decision that the Chief Magistrate, Ann Marie Smith, made this morning during the preliminary inquiry. Now, the preliminary inquiry is done by the Magistrate's Court to test whether the police have gathered enough evidence to try a case in the Supreme Court.
And so, the Police made sure to convince the Chief Magistrate that they do have enough evidence against the men when Assistant Police Commissioner Chester Williams handed over the entire investigation file to her. It includes over a hundred pieces of evidence, witness statements from over 20 prosecution witnesses, video surveillance which reportedly shows the kidnapping of Pastor Lucas and David Dodd, and a caution statement from one of the accused men. Police are waiting for results from forensic testing for exhibits which they sent to Miami. These include the burnt remains of a human body, believed to be Pastor Lucas found on Mason's ranch near mile 31 on the Western Highway. The intention, as we understand it, is to confirm if it matches the DNA of Pastor Lucas's head, which was allegedly found in Mason's pickup truck.
Those results haven't come back yet, but today, after ACP Williams cataloged all the exhibits in the case file, the Chief Magistrate committed the case to the July session of the Supreme Court.
After the hearing, Williams, who has been acting as prosecutor, discussed a few details about the contents of the investigation file:
ACP Chester Williams, Esq. - Police Prosecutor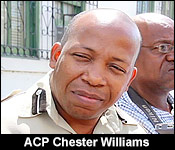 "The PI was not one which has contested by the defence and so what we did was paper committer."
Daniel Ortiz, 7News
"How many witnesses are you able to say will testify in this case or have given statements to the police?"
ACP Chester Williams, Esq. - Police Prosecutor
"We have over 20 witnesses who the prosecution will rely on at the day of trial to be able to prove the case against William Mason."
Reporter
"Sir in the case of those that was sent abroad, and the ballistic test, will they be available in time, in terms of the trial?"
ACP Chester Williams, Esq. - Police Prosecutor
"We are hoping that they will be, we have sent them and by all indications we believe that it'll be in the country by then. The case have been committed to the June session of the Supreme Court. So I believe we have sufficient time to be able to get evidence back in the country for them."
Daniel Ortiz, 7News
"Let us say for example the prosecution isn't able to get those. Worst case scenario, will you all still be able to prove this case against those gentlemen?"
ACP Chester Williams, Esq. - Police Prosecutor
"Like I said in the exception of the case that the case or the prosecution is a very good circumstantial case and even in the absence of the testing that we have sent abroad I still do believe that we have a very good case but it will be best to have them."
Daniel Ortiz, 7News
"I noticed that the chief magistrate plays stress on the video evidence that you all provided. Were you able to confirm that, that is indeed part of the evidence and it is something that will be relied on?"
ACP Chester Williams, Esq. - Police Prosecutor
"Of course, yes, we have a video surveillance tape that the prosecution will be relying on at the trial in respect to this matter."
Reporter
"Heavily upon one of the key exhibits."
ACP Chester Williams, Esq. - Police Prosecutor
"I'm not going to say heavily, but we will be relying on it."
Daniel Ortiz, 7News
"I had noticed that you exhibited something, which I heard you say, they are cautions statement, if I'm not mistaken or 2 from the accused persons. Are you able to confirm?"
ACP Chester Williams, Esq. - Police Prosecutor
"Yes, one of the accused persons did give a caution statement to the police."
Reporter
"There were some documents, I am not sure if I'm correct but banking information from Canada to here or...?"
ACP Chester Williams, Esq. - Police Prosecutor
"Those are things that the police did to have been able to establish the true identity of Mason. Those documents will be relied on as well to show who William Mason truly is."
Reporter
"Can you say who he truly is at this point?"
ACP Chester Williams, Esq. - Police Prosecutor
"It has been said in court, the documents are there."
Reporter
"There were some in relation to companies that they established here in Belize?"
ACP Chester Williams, Esq. - Police Prosecutor
"Yes, the company established by Mr. Mason and again the documents pertaining to those company. The article of incorporation and so forth will be relied upon to show the company and who the directors of those companies are."
All 5 men have already been given their full disclosure, and they have been remanded to the Belize Central Prison, where they will wait for their day in the Supreme Court.

Cayo Deceased is Belize City Man
(posted on Tue Feb 21, 2017)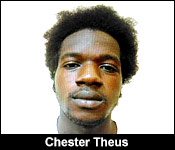 The identity of the second victim in the Cayo double murder has been confirmed. He is 22 year old Chester Theus. He is originally from the Long Barracks on Caesar Ridge Road in Belize City. Now as we told you, the report is that Theus was allegedly hired to kill Aldana on Sunday night. And then about 7 hours later, Theus himself was shot to the head. Theus's body was found on 1st Street in san Ignacio Town yesterday morning around 6:00. Today the family who took care of Theus and raised him as their own told us more about his life, but they couldn't say much about his execution in Cayo.
Shemalone Middleton, Sister
"One of my mother's friends asked me if she wanted a baby, because his mother wants somebody to give him too and my mother took him and raised him up until my mother my mom got sick, after my mom got sick he used to be around me a bit and then he went around his mom and from there he went to jail I don't know."
Courtney Weatherburne
"So you all raised him?"
Shemalone Middleton, Sister
"Yes."
Courtney Weatherburne
"So just tell us what you understand happened yesterday, he lived here in Belize City with you all but how did he end up in Cayo? What do you understand happened?"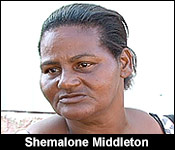 Shemalone Middleton, Sister
"I live in Mahogany Heights, he comes to visit me in Heights but he told me he was in Roaring Creek I don't know when he went to Cayo or what but I know but I heard it was Cayo he lived."
Courtney Weatherburne
"You didn't know of any trouble he was in or why anyone would want to kill him like this?"
Shemalone Middleton, Sister
"No."
Courtney Weatherburne
"The police is saying that it might be the case that Chester might have allegedly killed this other guy Aldana and then Chester himself was killed yesterday morning , what do you think about that?"
Shemalone Middleton, Sister
"I don't know what to say about that, I don't know Chester as any killer so I don't know, I can't say, I wasn't there, I haven't seen Chester from last year so I don't know."
Police still haven't formed a clear connection between both murders but what these men do have in common is that they both have had run-ins with the law. According to sources, Aldana is known to police and has been arrested for robberies before, while Theus is believed to have been associated with a Belize City gang. Police are still looking for a man in connection with Theus's murder.

Police: Eaton's Cousin Was His Killer
(posted on Tue Feb 21, 2017)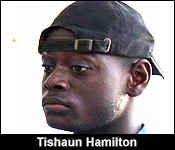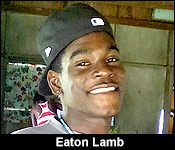 Yesterday we told you about Eaton Lamb, the seventeen year old who was allegedly stabbed to death by his cousin, Tishaun Hamilton.
Police were on patrol in the area when they saw Hamilton chasing Lamb. They intervened and detained Hamilton but were unable to save Lamb's life because he had already received a serious stab wound and died half an hour later.
Well, today the fireman appeared unrepresented in the Magistrate's Court. He was read one charge of murder, but no plea was taken because it is an indictable offense. No bail was offered, and Hamilton was remanded to the Belize Central Prison until May.
Not only was he arrested by police, but they also found a 7 inch knife believed to be the murder weapon.

PM Barrow Gives Props To Brother Barrow
(posted on Tue Feb 21, 2017)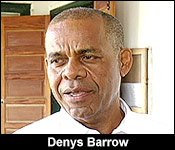 Last night, we showed you most of our interview with the Prime Minister when he returned on Sunday from his New York Meetings with Belize's Creditors.
One part we didn't get to show you, however, was his comments on his brother, Denys Barrow, being appointed as a judge of the Caribbean Court of Justice.
The younger Barrow has confirmed to us that he will join the court in June. He will become 1 of only 7 judges at the court - which marks him out as one of the pre-eminent jurists in the Caribbean.
And even though his government is losing its best attorney, the Prime Minister said that it is a mark of distinction for his brother and Belize:
Reporter
"The appointment of your brother as a judge on the bench for the Caribbean Court of Justice, can you share with us your thoughts on that?"
Rt. Hon. Dean Barrow, Prime Minister

"I've always said he was the best lawyer in Belize and so I am very happy for him that his merit, his talent, his absolute brilliance which has been longstanding is now rewarded. So it's a tremendous achievement for him. It is also a tremendous achievement for Belize."
"Quite frankly I was beginning to get worried. We are one of the earlier and still one of the few joiners of the court in so far as the its appellate jurisdiction - its replacement of the privy council in non-treaty matters in other matters is concern and one has to be careful, because the court cannot be political, but it wouldn't have been too long before they would have start hearing my mouth 'why can't Belize have a judge on the court?' Judges are drawn from very many of the countries which are not signatories unto the appellate jurisdiction and that's fine, because you want simply the best in the Caribbean. So long story short, Dennis Barrow in my view is one of the best in the Caribbean and it is good that he is on the court, simply on the basis of merit, but it is also good because surely Belize deserves a place on that court."
Denys Barrow is replacing a judge who leaves at the end of May.

Men Convicted For Taking Timber In Reserve
(posted on Tue Feb 21, 2017)
Last May, the Association for Protected Areas Management Organizations and the Forestry Department conducted an operation in the Mayflower Bocawina National Park. They found Carlos Palacios and Donald Wewe in possession of twenty seven pieces of prickly yellow lumber and a chainsaw. They were charged with entering a protected area and destroying valuable timber. Palacios and Wewe appeared in the Dangriga Magistrate's Court yesterday where they were they pled guilty to the charges. They were fined $10,000 each, and if they default on the payments, must serve one year in prison.
Both APAMO and The Forestry Department are hailing the conviction as a notable victory for conservation.
APAMO says, quote, "illegal timber harvest is one of the biggest threats to the conservation of Belize's valuable forests…This constantly growing unlawful commerce is a major contributor to the yearly increase in deforestation and destruction of wildlife and flora." End quote. They add, quote, "a National Park is established for: the protection and preservation of natural and scenic values …for the benefit and enjoyment of the general public."
The Forest Department issued a statement saying, quote, "Such exploitation seriously undermines Belize's forest-dependent economy and ecological integrity, costing us far more than what illegal loggers oftentimes pay when caught and even more when they elude authorities,"

Toledo Farmer Says He Got Chanced By Forestry
(posted on Tue Feb 21, 2017)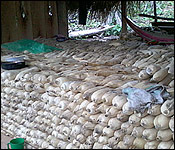 And so while that is a definite and much needed win for conservation in its battle against lawless loggers, the next story we're going to tell you about is not so clear cut. It's about farmers in the Toledo District who were farming in the Colombia Forest Reserve, which is a protected area. Now that is definitely off limits, but they say they were in there for a decade, and then suddenly on Friday, Forestry and police swept in, and without any notice burnt their corn and rice. Benito Makin told us via telephone that he lost a whole lot:..
Benito Makin - Aggrieved Farmer
"They burned down our plantation without telling us anything. They could have at least informed us to pick up our corn, if they know that we are in the forest reserve, but nothing like that happened. They did not inform me. The loss of my corn is, around 14,000 pounds of corn. That's a big lost for me because that is the only thing I have to depend on to feed my children, to find my little dollar out of that, feed my chickens with it and I right now I'm staying without food. What am I going to eat? I need to feed my children, now and tomorrow. It's a lot of us. Why is it only our farm that they destroyed?"
Jules Vasquez
"However, you are aware that you are farming in a forest reserve."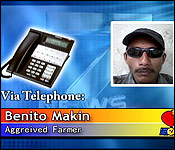 Benito Makin - Aggrieved Farmer
"No."
Jules Vasquez
"You were no aware that you were farming in a forest reserve?"
Benito Makin - Aggrieved Farmer
"Yes, but we were working there for over 10 years."
Another farmer, Jose Cho also lost over ten thousand pounds of corn but he didn't want to comment at this time. The Chief Forest Officer told us he didn't know about the case and would be seeking confirmation. The area representative Oscar Requena told us that he confirmed with the district forest officer that it was a joint police and forestry operation.

Making Chicken Quality
(posted on Tue Feb 21, 2017)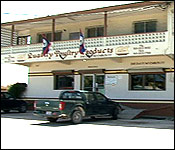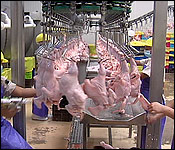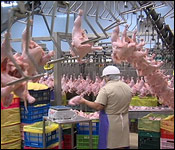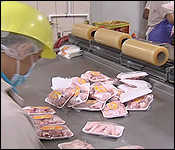 Earlier this month we gave you an in-depth look at Good Manufacturing Practices. Beltraide had organized a workshop for business operators to learn more about the strict and costly but very necessary HACCP certification system. HACCP, which is a food safety system stands for Hazard Analysis and Critical Control Point. Well, a few large scale companies are putting that theory into action. Quality Poultry Products is one of them. They were officially HACCP certified in late January. Yesterday at a press conference at their poultry plant in Spanish Lookout, I found out what it took to get this point and what it means for their business and the industry going forward. Here is that story.
Courtney Weatherburne reporting
Quality Poultry, it's a stop everyone makes on their grocery run. It has been a Belizean staple for about 30 years.
The company officially became Quality Poultry Products in 1975 and since then the business has expanded significantly with 351 employees, 12 branches countrywide, even a restaurant chain 'Quality Chicken Express'.
But apart from the growth of the business operations, General Manager Raymond Barkman says they also want to ensure their customers always get products that meet food safety standards.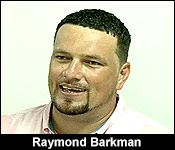 Raymond Barkman, General Manager, Quality Poultry Products
"We finally now, end of January, we were able to get our HACCP certification which stands for Hazard Analysis and Critical Control Point, now I want to say this road was not easy, however, why did we do this? Well pretty much we want to ensure all Belizeans that we have a market here in Belize that we want to preserve and that they deserve food safety as well as anybody else out there."
Barkman and his team began working at getting (HACCP) certified in 2015. Over the years, there have been a number of infrastructural upgrades reflecting those strict standards; all at a hefty cost.
Raymond Barkman, General Manager, Quality Poultry Products
"The processing room if, for those who went through the tour, it has to be 52 Fahrenheit which is really cold right, which is colder than comfortable if I may call it that way especially for us Belizeans here and then of course every material you put on the wall has certain conditions, it has to be wash ready, it has to take heat, I mean pretty much every kind of material you can only use certain stuff obviously bio security is a big thing, the sanitary issues is very big and I mean the list just keeps going."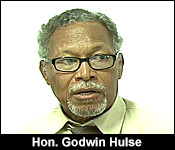 Hon. Godwin Hulse, Minister of Agriculture
"You have taken the time to deal with some of the other important things such as the disposal of waste which impressed me significantly, because waste disposal is always a problem and when you have big industries all around the world, waste disposal is just throwing away in the river and throwing it in the ground and who suffers, suffers, you have gone through an elaborate process to deal with your waste water. You have made sure that you are fairly well environmentally covered so you fit that criteria for us and then of course, I understand the market you are developing are markets that are looking for non GMO fed animals which is important."
Raymond Barkman, General Manager, Quality Poultry Products
"Over the last 3 years we have invested $7 million dollars in quality poultry products alone now, about 75% of that is directly for HACCP, not all of the 7 million goes to Quality Poultry products HACCP per say but 75% of that was to establish HACCP."
And with all that investment comes increased accountability at all stages.
Raymond Barkman, General Manager, Quality Poultry Products
"It goes all the way to the individual farmer and trust me it was a little hard, they are feeling it right now to get their records from their barn to our plant, we are actually paying them $50 bucks a paper just to get their record system going and yes it starts all the way from where the birds are grown all the way to the supermarket."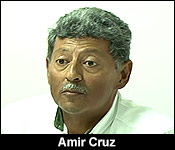 Amir Cruz, Managing Director, BAHA
"In HACCP , I think one of the basic tenants is that if you haven't written it down you haven't done it so basically they have to have a system of proper documentation and yes there are audited and in this particular case it is us BAHA that we do that to ensure that food is always meeting the standards."
While HACCP will enhance Quality Poultry Products and increase competitiveness locally, this certification will also lead to more lucrative business connections internationally.
Raymond Barkman, General Manager, Quality Poultry Products
"Every time when we go into the export market, the door, the first question was "do you have HACCP? Whenever that door opens, Do you have HACCP? Oh no, well that door closes, so here is what I hope HACCP will do for us, is now that when that door opens, there is nothing keeping us back we can go in."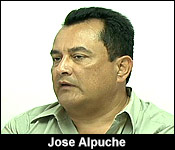 Jose Alpuche, CEO, Ministry of Agriculture
"It is a business that has to be done right and I think that is one of the major significance in Quality Poultry being the first plant to reach HACCP certification, first poultry plant in Belize to reach HACCP certification because it puts the industry at whole other level."
Now if you were wondering about the quality of products you were getting before this certification - don't, because BAHA inspectors still did regular checks and assessments, but now with HACCP - all the health and safety regulations are in place. As to how this will affect the price of chicken? Well Barkman says they will do all they can to ensure that any extra costs aren't passed on to customers.

Standards Undermined By Contraband
(posted on Tue Feb 21, 2017)
Now what about other companies and manufactures? Shouldn't they also follow in Quality Poultry's footsteps ? According to Agriculture Minister Godwin Hulse, other businesses are working on getting HACCP certified. He says this move towards this food safety system can be successful as long as contraband goods stay off the local market.
Hon. Godwin Hulse - Minister of Agriculture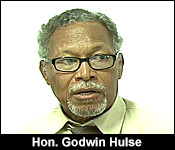 "Several are in process. As you know we have some other industries that are there such as; Marie Sharp, the citrus people, Running W is there already, almost there. So we have several that are coming after that which is key and I have said in this ministry 4 very clear priorities, BAHA is key, animal and plant health is..., please understand, I would smash anybody who dares to contraband anything into this country, if I could because that is where the mess comes in. The border has to be tight. I'm saying publicly for business men, importers, anyone who thinks they can bring contraband. BAHA has the mandate from me to confiscate and to find and whatever needs to done and don't call anyone because, they can't help you, because you cannot destroy our domestic production."
On one final note, Quality Poultry Products processes 30,000 chickens a day.

Haulover Creek Almost Completely Cleared, Revealing Magnificent Mangrove Forest
(posted on Tue Feb 21, 2017)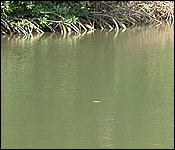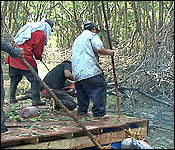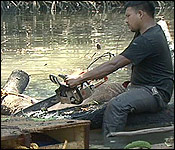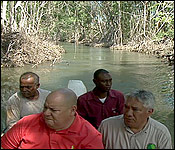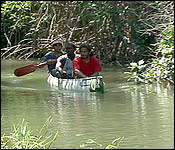 For the past two weeks, this Channel has been leading the reporting on the state of the Haulover Creek. It's news because the creek is the final stretch for one of the country's most beloved sporting events, the Ruta Maya. When we first visited two weeks ago, it was completely impassable, and the attention we brought to it got the Forestry Department involved and on the ground within days. Today we went back up the creek to see how it's been going:...
Jules Vasquez reporting
Today, the Haulover Creek had all the signs of a healthy waterway. We could see water flowing, and instead of looking dank and funky, it appeared green and vibrant.
Marcello Windsor- Deputy Chief Forest Officer
"What we have noted, through observation only, is that there is some current, or there is some stream flow, and that is very important I think as we complete the task we will have a better stream-flow I should say."
And that's because of this work that's been happening up the creek. A feverish level of chain-sawing and clearing has been going for days. The workers are 12 men spread across three pontoons - one more pontoon is on the other side of this blocked area. The work of cutting and clearing seems to never end, but the men work as a team, with cables and winches and lots of heavy lifting. It's tough, physically demanding labour that's like living in a swamp - except that the forest cover mostly spares them having to work under the direct sunlight, but there's constant activity - overseen by the Forestry Department: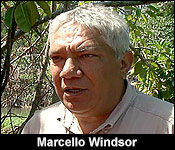 Marcello Windsor- Deputy Chief Forest Officer
"So far we've had lots of success. We have met with some challenges but we are very confident that we will be completing this task very shortly. Basically what we do is we cut the limbs, we cut them into small sections because of the weight of them and we just through them on the sides of the banks itself. It should take us another two days i am hoping, I'm keeping my fingers crossed that that be the case, before we break through to the other end."
Indeed there is a lot left to clear - but over a mile has already been cleared. And what we found surprised us - a clean and clear and quite wide waterway. The mangrove prop roots kept a safe distance on the side, whereas two weeks ago, they were pushing into the boat. This week though, we didn't have to fight off the overgrowth and cruised down the creek past towering red and white mangroves reaching from the depths of the creek to the skies.
Marcello Windsor- Deputy Chief Forest Officer
"This area has very old mangrove stands, very beautiful stands to be honest; very majestic stands. And we find that there is lots of vegetation and mangrove timber across the stream itself."
Indeed, the mangroves span the creek like natural arches and it lends the area a quite magical effect. Water brings life, and even these egrets know the creek is back to its former self after the hurricane in August wrecked it:
Marcello Windsor- Deputy Chief Forest Officer
"Well on Wednesday last we did a drone assessment, meaning that we used a drone to assess the situation because we had very limited access to the areas and from what we gathered the area was seriously impacted by the hurricane that went through last year in August."
And so now, is it Ruta Maya ready? These workers have been paddling up and down with no problem:
Jules Vasquez, 7News
"When we first came out here two weeks ago you said that Ruta Maya would have to go on the sea. Are you surprised the level of clearing these gentlemen have been able to accomplish?"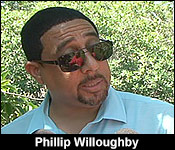 Phillip Willoughby, City Councilor
"Yes, I am."
Jules Vasquez, 7News
"So are you now prepared to say mission accomplished, green light for the ruta maya? This is the original tasking that the city gave you."
Phillip Willoughby, City Councillor
"Yes it is, and I would like to share with the organizers, they would have to come and do their own assessment."
But, from all appearances today, they should be able to roll downriver easily by March.
Forestry expects to finish clearing the last three quarters of a mile by Friday - and we'll revisit then.

Science and The High Seas
(posted on Tue Feb 21, 2017)
This week Belize is hosting scientists and legal experts from around the world. They are participating in a workshop to develop conservation policies for waters outside of national jurisdictions. Those are the bodies of water that are not within the maritime borders of any country. The initiative, which is being funded by the Pew Charitable Trusts, brings together experts in sustainable environmental management. We spoke to a few of those experts today for more details.
The discussions about the policies are still in the early stages, but the final drafts will be presented to the United Nations General Assembly.

Weed Caught In Caye
(posted on Tue Feb 21, 2017)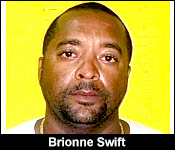 San Pedro resident Brionne Swift has gotten off a double murder charge before, but today island police say they caught him with nearly two pounds of weed. At 2:30, a joint special branch and CIB team, acting on intelligence intercepted 37 year old Swift with a parcel containing 941 grams of cannabis. That's just under a kilo, or about two pounds. He is detained pending charges of drug trafficking.
And in Belize City, at 6:30 this morning police found 650 grams, or just over a pound of weed on Justice Street.

Saldivar Takes Coast Guard Tour
(posted on Tue Feb 21, 2017)
2 weeks ago, we told you how Defense Minister John Saldivar started his tour of the Coast Guard facilities and forward operating bases countrywide. Saldivar wants to get a firsthand experience of the conditions of these facilities, to see which are substandard, and which need urgent attention for upgrades.
On Thursday and Friday of last week, he and his senior staff accompanied Admiral John Borland on a tour of the Coast Guard Central Sector, which includes areas such as Calabash Caye, Half Moon Caye, Glovers Reef, and Southern Long Caye. At the end of the the tour, Admiral Borland told Saldivar's media outfit what the locations mean to the Coast Guard's ability to police the Belize's territorial waters.:
Saldivar and his senior Defense staff will tour the Coast Guards Northern Sector Next week.

Buddy's Birthday
(posted on Tue Feb 21, 2017)
Today the Belize Zoo celebrated the birthday of one of it's most famous animals, Junior Buddy the Jaguar. To celebrate, the zoo threw a party and invited the children from St. Agnes Anglican School and other partners to participate. Alex Courtenay heard there would be cake, so he went up to the zoo to join in the festivities...
Junior Buddy, as well as the zoo's other jaguars will be used to spread the message of conservation to all those that visit.

Life's a Beach, Belize It
(posted on Tue Feb 21, 2017)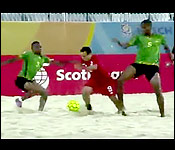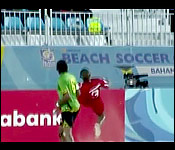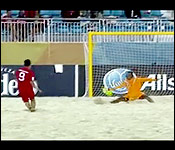 Right now in the Bahamas, Belize's Beach Soccer Team is coming down from the euphoria of winning their first game of the 2017 CONCACAF Beach Soccer Championships.
That game was played yesterday in Nassau where Belize went up against Team Jamaica, and put off quite a showing. They were looking for payback since Jamaica defeated them 2 years ago. So, the Belize side erupted when Marlon Mesa scored the first goal in only 2 minutes of play.
About 2 minutes later, Belize got its second goal from Raymond Brenton Ramos who showed some fancy football skills with this bicycle kick goal, also known as the Chilenas.
Belize's Marlon Mesa scored a third goal shortly afterwards, and when the first period ended, Belize was in the lead 4 goals to 1.
Jamaica came back strong in the next 2 periods, and they shut Belize off, scoring 5 goals, bringing to score to 5 to 4 in their favor. Things were starting to look bad for Team Belize, because time was running out, but with only 4 and a half minutes of regular play left, Raymond Brenton Ramos scored the equalizer, bringing the score 5 to 5.
So, that forced a penalty shootout, where Jamaica missed their first shot. Belize scored theirs, and on Jamaica's second attempt, Belize goalkeeper Frank Lopez made a spectacular save. Jermaine Alexander Jones scored a second penalty kick, winning the game for Belize.
With that victory, Belize is now second in group A with 2 points, one point behind group leader, Bahamas with 3 points. Belize's next match is currently happening against the host country, Bahamas, right now.

CDB Hopeful for Belizean Economy
(posted on Tue Feb 21, 2017)
For the last few nights, we've been reporting on the CDB's annual press conference which was held in Barbados on Friday. 7News attended and we've been using the event to give you some regional perspective on regional economies. Belize is one of the economies that showed negative growth in 2016, despite a forecast which said it would grow by 2.7%. But still the Bank president says this country's economy has more resilience and potential that many small islands in the Caribbean. He explained why:..
Dr. William Warren Smith - CDB President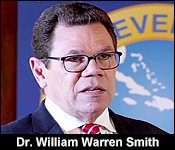 "You're only now scratching the surface of the potential in your tourism industry. My view is that, if there is a Caribbean Country that has the opportunity to really boom in that area it would be Belize, because of the cultural endowment; you know, the cultural history that you have. That I think is one good opportunity for the restart of the economy. As far as the other parts of the economy are concerned, Belize is in a very good position when we look at its energy situation. You have biomass, you have hydropower, you have the ability to buy power from overseas- not overseas, but across the land- from neighboring Mexico. So you have a really very diversified energy sector. And what it does is-there is a linkage to energy and the rest of the economy, to the extent that you can develop that industry- and what it does is it reduces energy costs, it reduces your import bill and puts you in a position where your industries are even more competitive. So my overall view would be that Belize is a good prospect, you are going through a bit of a difficult time but my expectation and my hope certainly is that Belize will emerge stronger from the downturn that you are experiencing at the time."

Belize Among First In Line For CDB
(posted on Tue Feb 21, 2017)
And the President's confidence in Belize is demonstrated throughout the fact that Belize, St. Lucia and Suriname were the three main beneficiaries of new loans form the CDB in 2016. The President explained why:..
7News for Tuesday, 21st February, 2017 from 7News Belize on Vimeo.

Home | Archives | Downloads/Podcasts | Advertise | Contact Us