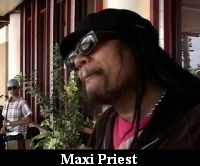 Two reggae kings will perform in Belize this weekend. Lover's rock king Maxi Priest and self-professed king of the dancehall Beenie Man will perform at separate concerts tomorrow night. Maxi Priest will perform at Cahal Pech in Cayo and he arrived today. He's been belting hits such as "woman in you" and "just a little bit longer" since 1981 but this is his first trip to Belize. He's here along with New York rap prodigy Lil Q–tee. They told us they're glad to be here.
Maxi Priest, Performing Tomorrow
"I am just somebody who loves what I do. I appreciate what I do. I am very blest to be able to do something that I love dearly to my heart and I've been blest with some success I guess."
Keith Swift,
What can fans expect?
Maxi Priest,
"When it comes to a Maxi Priest concert it is not about standing up there watching me. I like when people participate. I try to bring the audience involved. Nine times out ten it works so I am hoping and I am thinking this one won't be anything different."