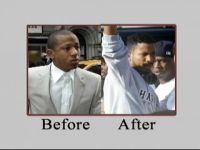 And while he spoke about many matters of state – which we'll get to – the Prime Minister also responded to a question about the deportation of his son Jamal Shyne Barrow, now known as Moses Michael Leviy. In the past, Shyne has stridently criticized his father in his music. But that was years ago; since then the, elder Barrow has been instrumental in trying to get him a pardon in the state of New York while arranging for and facilitating his return. They seem to have patched things up, and today the Prime Minister spoke well of the return of his eldest child.
Hon. Dean Barrow,
"When I saw him yesterday I really was stunned. You don't go to jail for that period of time without it obviously exacting a huge toll on you but I really was shocked to see what it had physically done to him and clearly it will take some time for him to be able to recover from that experience. Not having gone through it myself, I don't know whether anyone is ever able to recover. But it was wonderful to see that he is free at last and good to have him in Belize. Although he appeared physically frail, it was obvious that he is mentally as strong as ever and certainly kept talking to me about what his presence here at home could mean for this country, what opportunities he could cause us to be able to, he could create for us."
We'll have more on Shyne this weekend after his legal advisor Professor Charles Ogletree arrives.