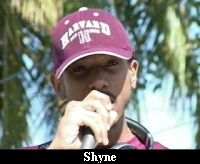 On His Mistakes, Religion, and Future
Today Moses Leviy, known to the most of us as Shyne made his second media appearance when he visited Wesley College. It wasn't a random stop-in, Shyne was visiting the school he attended briefly in 1993 when he last lived in Belize. 16 years have passed since then and in that time, the rapper from Brooklyn has become one of the most famous Belizeans – anywhere in the world, probably eclipsing his own father – who is the Prime Minister.
But – today it wasn't about Shyne - he went to his old school with a special guest, his mentor and legal advisor Professor Charles Ogletree. Now, it will help you to know that US President Barack Obama also calls Ogletree a mentor as did slain rapper Tupac Shakur. He was also recently legal advisor to another famed Harvard Professor, Henry Louis Gates and Ogletree taught Barack and Michelle Obama st Harvard.
To be sure, the man has major credentials and he came to Belize on Saturday to follow up with his latest protégé Shyne. They spent the weekend in San Pedro, but this morning it was back to school for Shyne in a homecoming he probably never expected. Here's more.
Jules Vasquez Reporting,
The entire Wesley student body congregated this morning at 9:00 to welcome for a special guest. Shyne arrived in his now trademark Harvard apparel along with his mentor and legal advisor Harvard professor, Charles Ogletree. He had warm greeting for his former principal
Shyne to Brenda Armstrong: "I am a Wesley College alumni. 1993 I was here."
Shyne and Principal Armstrong walked over to the podium where the former student played counselor, if not role model.
Moses Michael Leviy, "Shyne", Speaking to students:
"Good morning everybody it is a pleasure to be back in my old alumni Wesley College. I am trying to think where my classroom was at, it was probably over there. This is the most important tool that you have against all the opposition that you are going to face in life.
I came up on the streets with guys that gang banged and were into criminal activity and those tools never worked. Those tools, you either end up spending the rest of your life in prison or sleeping in a grave for the rest of your life. But with the tools that you are getting here as far as education is concerned, that is the ultimate tool and with that tool you can transcend any situation because I am just like you, you dig.
I grew up on Curassow Street. When I was coming up we didn't even have toilets, you dig. But one of the things my uncle Finnegan and my father Prime Minister Barrow implored upon me was education, education, education, education. And I didn't really get that, I was like, 'yo well education whatever.'
But as I came up, my music, being Shyne and being able to go from Curassow Street and United States and sell millions of records, the only way I was able to do that is because I used to be at my uncle Denys' house and I used to be in the corner reading a dictionary, you dig. I was very into my English.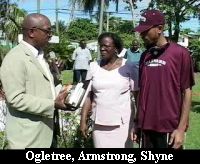 I would fail my other classes but when it came to English, I would pay attention. And if it wasn't for that, I would have never sell any records. I wouldn't have been able to call Jay-Z on my Iphone and I wouldn't be able to live the life that I live and so education is very important."
And that was the theme of Ogletree's address as well.
Prof. Charles J. Ogletree, Shyne's Mentor & Legal Advisor
"He has come from this very school, taught by these same teachers, by the same principal who was actually here when he was here in 1993, he stumbled up and down and you know what, look at him now. Now he can call anybody in the world because education made it important.
So I say to each and everyone of you that inspire to be the best you can be and understand that Belize has produced some of the most important people in the world. Not just in this part of Central America but in the world. And one of them stands right to my right. You see him wearing that Harvard hat, you see him wearing that Harvard t-shirt because now his spirit is that there is nothing I can't do and I hope to see you, those of you who want to become lawyers, or want to go to a higher university, I hope to see you at Harvard University. And I will welcome you the same way I welcomed this young man, the same way I welcomed Michelle Robertson Obama, the same way I welcomed Barack Obama with open arms and with love and gratitude because you are the future."
Ogletree – who has written extensively on race and American Criminal Justice presented a gift of his books to Wesley College while Shyne received a gift from the head girl at Wesley and he got an outpouring of love from the students. From there the group walked over to a classroom for a press conference which would give Shyne an opportunity to make his first public comments since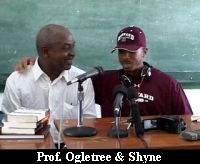 his release.
Prof. Charles Ogletree, Shyne's Legal Advisor
"I met Moses Leviy a decade ago and have seen the transformative powers of faith and commitment in his spirit and in his works and it is remarkable to me to see somebody who having come from such humble surroundings, having taken on the challenge of being successful as a musician and an entertainer, and the United States having captured not just the United States but the world. And then as he returns to Belize, his sole focus has been on service. That is I've made mistakes in my life, I've learnt from those mistakes, I am a new person."
Moses Michael Leviy, "Shyne",
"As Shyne, I think they want to hear what I have to say and what I do have to say is not, 'listen man I am on a gangster roll.' No listen, look what gangster roll got me. Look where it led me. And I am not telling you what to do because I am not a preacher and I am not everybody's father but I am exhibit A of what's going to happen if you don't stay in Wesley College, you dig. If you don't go to that sixth form, if you don't try to go to the university you're going to spend the rest of your life in the cooker or you're going to be in the grave. That is what this is about.
This is not about any type of romanticizing. No, this is about me, this is about them, and hopefully them learning from me that listen, I don't want to make the mistakes that he made but if you do make a mistake you can transform that mistake. That is what a mistake is, not continuing to hit yourself in the brick wall but understand this is a brick wall, I ran into it, let me tear this wall down, or let me just go a different direction."
Prof. Charles Ogletree,
"He is a son of Belize. He is a native of Belize and everything that he is doing now in his life going forward is dedicated to this great country and to the people who are here. And as he talked to the young people today, they recognized that here is a guy who has Jay-Z on speed dial, who talks to Mark Walberg regularly, who has relationships with almost everyone in the entertainment industry, in business, and he has a huge upside of what he is going to do but again his commitment is not about money, it is not about bling bling, it is not about status in reviews, it is about service."
And if he sounds like an advocate at a parole hearing or pardon pleading in New York State – Ogletree says it's not that, it's about Belize.
Prof. Charles Ogletree,
"Belize is ground zero. When you talk about his resources, his commitment, his affection, his service –it is not in Los Angeles, it's not Brooklyn, it is not Buenos Aires.
The reality is the United States is an important country, it has been very successful in terms of the music he is doing but the reality is that if you look at the market, if you pay attention right now, the word Shyne is a global word, it is all over the world."
Moses Michael Leviy, "Shyne",
"Listen people sell tens of millions of records outside of the States. Quite frankly the Euro is stronger than the dollar right now. So I will make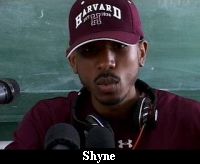 far more money in Europe and in Japan and throughout the world than I would make in the States."
And one aspect of his universalism is faith. Shyne is now a deeply devout orthodox Jew, the product, he says, not of conversion, but of recognition.
Moses Michael Leviy, "Shyne",
"There was no conversion to Judaism. This is a hereditary thing in my ancestry. As you know many Africans throughout Central Africa, East Africa come to Belize. You have Stann Creek and Manatee, you have old Africans there. So this is not a conversion but nonetheless in life you are what you are and that is who I am. I don't want to be like Michael Jordan, I want to be like Moses or King David or King Solomon. Those are the guys that I aspire to be like. I didn't want to be like the kingpin on my block, I want to be like the guy that part the seas. That is the reason why I took that name because my life is one big red sea.
Religiosity isn't my thing. I think we have to understand what this means. David, King David was the king, the biggest king in the world and he had 1,000 wives, you know we drive Lamborghinis and Ferraris and that's what he did. He was a global jetsetter but that doesn't mean you don't have a relationship with the person that created the universe. Talking to God don't make me holier than you. I am just trying to get to the man that architect the world so he can make me know what I need to do to be successful in travels but that doesn't mean I am more pure or more holier than anybody. As I said I am actually worse than most people. I need to work on myself more than you do. So I need to talk God more than most people."
But his faith doesn't mean his lyrics will go soft.
Moses Michael Leviy, "Shyne",
"I would like to make that type of contribution, that kind of Marvin Gaye contribution, you dig, but at the same time we curse, at the same time life is violent, life is troublesome sometimes so don't expect my music to be sanitized. I am just going to talk about what's going on in the world."
And, we imagine, he will also speak about lessons learnt from eight and a half years in prison.
Prof. Charles Ogletree,
"He served every minute, every minute. There was no parole, there was no probation. Take every ounce and they tried to break his will, they tried to break his soul, they tried to break him but he said I am going to come back and I am going to do it. He has all sorts of legal options."
Moses Michael Leviy, "Shyne",
"Part of that experience is a lesson of gratitude because many of us take things for granted because they seem so accessible and they seem so arbitrary but you know, that experience just allowed me to be more grateful and appreciate everything."
It is an appreciation he says also of his mission.
Moses Michael Leviy, "Shyne",
"I'm here to help my comrade, you dig. I am from the Professor Ogletree's day, back in the Bobby Seale day where being a gangster was defending your momma and your momma's friend and making sure the police didn't oppress us and the police didn't abuse us and people didn't discriminate against us, you dig. So that is what I am about. I am about service and not service in the sense that I did ten years and so now I will do service. I could be in San Pedro snorkelling right now. I don't got to be here. You understand what I am talking about? But this is what we do, the school that I'm from. It is Barack does, this is what Michelle does, this is what Tupac did. Everybody that this man has mentored, you don't go to his school of initiation without being about service. And service ain't a holier than thou thing, service isn't what you do when you do a bit. Service is what great men do."
That is the Ogletree mantra and Shyne's first step in that direction brought him right back to Wesley High the last place he went to school in Belize. But now instead of a point of departure, it is a starting point in what should be an interesting journey in Belize.
At the end of the classroom press conference, Shyne indicated that he was going to record some music. He has been sounding out local studios about recording options. Word from his camp is that rap mogul Jay Z may visit Shyne in Belize before the end of the year.