Shyne & L.A. Reid Sign Multimillion Dollar Recording Contract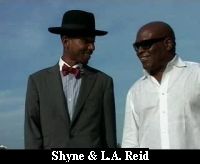 Belizean rapper Moses Leviy – also known as Jamal Shyne Barrow - today signed a multimillion dollar recording contract with Gangland Records, a subsidiary of Island/Def Jam. The signing took place this evening inside Shyne's penthouse at the Renaissance Tower. The signatories were Shyne and L.A. Reid – the Chairman of Island Def Jam Records. It is big news not only because of the signing but also the presence of Reid. He is one of the most powerful music executives in the United States – having signed artists ranging from Mariah Carey to Outkast. Well today he signed Shyne. Keith Swift was at the airport and has the story.
Keith Swift Reporting,
Island Def Jam boss L.A. Reid arrived at the Phillip Goldson International Airport at 4:20 this afternoon on his private jet. Reid, casually dressed in a jeans, was met by Shyne – dressed formally in a suit with bowtie and a matching hat. Reid says he came here for Shyne to sign on the dotted line of a multimillion dollar recording contract.
L.A. Reid, Chairman - Island Def Jam Records
"I have come here to stand by Shyne and to officially kick off our partnership with Island Def Jam Music Group and Gangland Records and so it is really an honour to be here, really very special place."
Keith Swift,
"Why did you find it necessary to come here yourself?"
L.A. Reid,
"I am here because great people are worthy of travelling many many miles for it and I come here to say that your country is great and I hope you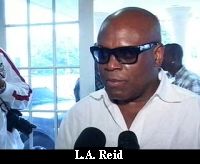 guys know that this is a great man from your country who deserves this kind of respect and who deserves this kind of support. So that is why we are here."
Reid wouldn't discuss particulars of Shyne's contract with Gangland Records – reported to be worth US$5 million.
L.A. Reid,
"We don't talk about things like but only that there is one and that we are intend to do great things and we are very committed to Shyne's career."
Keith Swift,
"Should we expect a big comeback from Shyne?"
L.A. Reid,
"I don't expect it, I can promise it."
Keith Swift,
"How soon will he be hitting the studio to begin recording, when should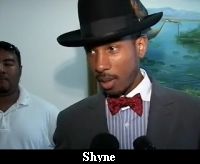 we hear something on the radio or the internet?"
L.A. Reid,
"We'll see. Stay tuned."
L.A. Reid – who is a legendary producer -says that he will be working personally with Shyne on the project.
Keith Swift,
"You'll be working with him? Who will be his producers?"
L.A. Reid,
"Look around….who do you see. You see me right."
Keith Swift,
"Shyne how do you feel to be signing the contract?"
Jamal Shyne Barrow, Signed Record Deal with Gangland Records
"It is an honour and a pleasure, not just for me but for Belize. Chairman Reid is on the level of Berry Gordy, Clive Davis, the biggest music men in the history of music, and so to have a partnership with Gangland Records and Island/Def Jam is incredible for me."
LA Reid was scheduled to leave Belize this evening. Shyne who arrived in Belize this afternoon from Mexico is expected to record the album in London. While no figures were discussed – it has been rumoured to be US$5 million while MTV is reporting that it is a US$10 million contract.