Last night Nigel Petillo of the Belize youth Grassroots Empowerment Association called out all major organization to join his Fix Belize initiative. Well, he got the ear of Chinese community leader and aspiring politician Lee Mark Chang. He says he will show up at tonight's meeting just like any other concerned Belizean businessman and warns that Belize must wake up to the fact that crime does not discriminate on one's ethnicity, social status or color.
Chang is the Past President of the Belize Chinese Association and proprietor of the popular Chon Saan restaurant. Critics of the Chinese business community say they are not playing their part in the efforts to reduce crime in the neighborhoods where they set up shop - because they don't even provide employment to the residents of those communities. Chang says the criticism is unwarranted and far from the truth.
Lee Mark Chang, Past President, Belize-Chinese Community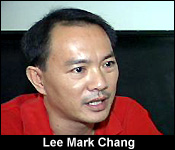 "It's just a mom and pop shop, it's a very small business. But when you go to the larger scale businesses you have maybe 80-90 percent that is local employees not of Chinese decent. So I think that's kind of unfair to be targeting the smaller businesses. There are many small businesses in Belize not only Chinese businesses. Chinese businesses are a more family run business. Now as I said earlier if you go up to the larger scale businesses then you see a much more increase in the employment force."
Jim McFadzean
"How best can the Chinese Association in Belize make their contribution to tonight's presentation?"
Lee Mark Chang
"As we spoke earlier the Chinese Association does not only represent Chinese businessmen or Chinese people in Belize. One of the biggest problems is the language barrier in Belize between the new immigrant Chinese and also the local Belizean born. For example myself only speak Chinese but I don't not write Chinese so sometimes communication wise between myself and the new immigrants there is a little technical difficulties at certain times. We try to work our way around that. Like I said earlier, Jim, this is a country thing it's not only a Chinese thing. This is for all the citizens of Belize. We need to come up and give the proper authorities the information that is needed for them to solve crimes. Most of the crimes that I have seen through my experience in the court system are thrown out because of lack of evidence or the witness does not show up to testify against the criminals. That's one of the biggest loopholes in the system."
Chang says the association of which he is now past president has an outstanding record of collaborating with the Police both in crime prevention, as was evident in the recent police sting set-up in and around Chon Saan last month, and which nabbed a group of supposedly rogue police officers involved in an extortion ring. The association is also credited with many contributions to the force including the donation of several patrol vehicles and motorcycles.