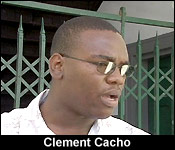 You may remember the name Clement Cacho, he's one of four police officers who were publicly maligned when they caught collective amnesia and were unable to identify Ben Bou Nahra in court.
That was in October of 2007, and at the time presiding Judge Adolph Lucas called two of the policemen "worthless". But Cacho wasn't one of the two he referred to - even though he appeared sufficiently confused. He told the court that he was unable to identify Bou-Nahra in court as the same person he saw at the scene because he was only with the suspect for about five minutes.
Take that as you will, but the department demoted and disciplined him. A tribunal later found him and others guilty of prejudice to good order and discipline of the Police Department and he was dismissed thereafter.
End of story, right? Not quite. Because Cacho fought his dismissal in the supreme court and won. As of Monday of this week, he was back on duty, re-instated as an acting inspector and posted in Belmopan. What's more police will have to pay him back for all those months that he was on half pay.
Cacho argued that he had been denied the right to be heard when he was demoted from acting inspector by the public service commission.