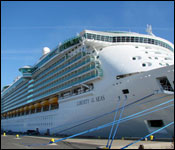 A 21 year old cruise visitor to Belize never made it to shore today because he either jumped or fell to his death from the 12th. level of a luxury cruise liner called Liberty Of The Seas.
His family noticed that he was missing around 9:00 this morning and when he couldn't be found on the ship - the crew reviewed video from the security cameras.
That showed him jumping - or falling - from the twelfth deck of the ship at 3:25 am. That deck is over a hundred feet above the sea. It is estimated to have happened 6 miles west off Maaga Caye Lighthouse at Turneffe Island - which is out in the blue where the depth of the sea is in the hundreds of feet.
That's still in Belizean waters and today the Belize Coast Guard and Belize Port Authority carried out searches but up to late this evening they hadn't found anything.
Liberty of the Seas is part of the Royal Caribbean Cruise Line and is a 15 deck carrier with a passenger capacity of 3,634.