American Oilman Allen Saum - he's been kicking up dust in Belize since 2007 - but on February 25th. - the owners of Paradise Energy, Kimano Barrow and Freddy Acosta accused him of fraud - specifically inserting his company as a supermajority shareholder in their company. Barrow and Acosta made a report to police - and now, we understand that a warrant has been issued for his arrest.
It is to be executed in the Orange Walk District - where Saum has taken up unofficial residence at a local hotel. But police have reportedly been unable to find him at that hotel. Today reports were that Saum would turn himself into Orange Walk police, but instead his attorney Elson Kaseke appeared and here's what he told us:..
Elston Kaseke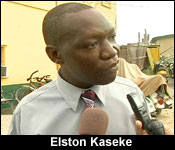 "Sometime around Mid-day today, I receive a call from the a hotel call Dela Fuente here in Orange Walk, they say that the police was looking for one of my clients Mr. Allen Saum. At that time he was not here. I was told that the promise to come back with a search warrant, so it was a serious matter. I just went in to speak with the police. The policeman who went there say that he went to the hotel but he did not intend to go back with a search warrant. He was instructed by on sergeant Reyes from Belize City CIB that my client was wanted for some investigation regarding tampering of an official document. When I question him to give me the specifics, he would not give me the specifics so I have inform him that I am in Orange and I wanted to see sergeant Reyes, I want to get to the bottom this then we can all move forward."
And while Saum is still wanted by Orange Walk Police, it's getting really ugly as we've seen an undated letter he's allegedly written to the US Ambassador alleging that Kimano Barrow assaulted him. The saga continues….