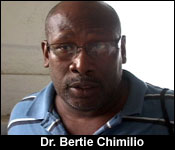 Dr. Bertie Chimilio last night asked who is the sports council. Well, tonight, he might be asking who is the Sports Investigation Committee. That's a body which was set up in January to investigate the FFB's election. The report was completed a few weeks ago and 7news has learned that today it was sent to the FFB. The Minister of Sports - who commissioned the report - has invited the FFB to respond to the findings.
And those findings are, principally, that the FFB election which was held in December of last year was illegal and should be considered null and void.
According to the report, the election went against FIFA statutes, because the candidacy of Sergio Chuc - who challenged Chimilio - was disallowed by the executive when FIFA statutes stat that there should be an independent electoral committee - which should not be influenced by member of the current executive running for office.
The report recommends that new elections should be held. The FFB has been asked to respond in writing or in person by July 27th. FIFA has also been sent an executive summary of the report. It is expected to feature prominently in discussion when FIFA executives meet with the Minister OF sports next week.