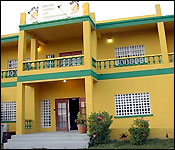 The Belize Family Life Association - BFLA- first opened its door 26 years ago - and ever since has been providing Belizeans with critical sexual and reproductive health services as well as advocating for the rights of individuals.
But today we learned that there are possibilities that the doors of BFLA may be closing. Executive Director, Joan Burke told 7news the NGO has not been able to generate the amount of income needed to pay workers and now it has reached the point where they are running out of options.
Joan Burke, Executive Director
"It will be irresponsible for me to say that yes the doors of BFLA will be closed tomorrow. I had a meeting with the director - a very encouraging meeting with the director of health services this morning and we will have a follow up meeting again something before the end of the week."
"We are securing a meeting with the Prime Minister. I received a call; I had a very long telephone conversation with the CEO of the Human Development. The situation is this, that for 26 years BFLA as an organization have been providing sexual reproductive health services and other services to the nation. Like any other NGO you must have some means of generating income. For us over the years we've been able to attract very solid projects and so projects pay for our programs and activities, however projects for the most part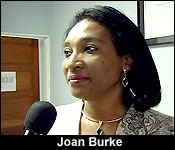 don't pay salaries and we depend on the income being generated by our clinics in the district to meet our operational expenses, which include our personnel. Over time the amount of clients entering the doors of BFLA has been reduced and so of course that resulted to drastic reduction in the amount of income that we have been able to generate to meet our personnel cost. So it has reach to the point where we've basically explored all the possible options in terms of - we have done training with staff in terms of customer service, we've improved our service delivery environment, we provide quality service, timely service, cost - when we talk about cost we provide the lowest cost services, but it has come to the point where we are not getting clients in the centers in the amount that can generate income for us to continue to pay our staff."
"As I said the outcome or outcomes of the meeting the Ministry of Health as well as with the Prime Minister will determine how we move forward."
Reporter
"So it's not definite that this could happen, it's just one of the options or possible outcomes?"
Joan Burke, Executive Director
"It is a possibility if we are not able to come to some workable agreement and we have options that we want to put on the table. As I said it would be irresponsible of me to jump the gun and say yes come the 31st of October the doors of BFLA will be closed. I am not someone that gives up, I feel that once there is life there is hope and the people who BFLA serves they are my greatest motivation to go to the very end. If I am to closed the doors 31st of October, I want to know that when I closed the doors, I've explore all my options and I am prepare to do that if me alone will be at the doors of BFLA, that is what I am going to do, because I will be doing for the people who depend of the services of BFLA."
The organization hope to secure a meeting with Prime Minister Barrow next week to request his intercession.