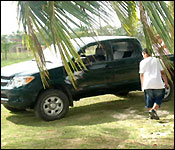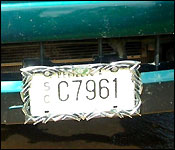 A Stann Creek resident claims he was kidnapped, tied up and taken to another district on Sunday afternoon. 42 year old Dwight Montero, an employee of Citrus Products of Belize Limited, told 7news he was buying food in San Ignacio Town around 4 o'clock yesterday evening after running some personal errands.
He says that while walking back to his green 2008 Toyota Hilux pick-up truck, he was held up at gunpoint by two men, pushed into the vehicle and then tied up and blindfolded by the men.
He said the men then drove him to Orange Walk Town and left him in a hotel room - while taking off with his near brand new vehicle. We spoke with Montero at his residence this afternoon - he told us he was still shaken up after yesterday's incident.
Monica Bodden
"First of all it wasn't Cayo right? On what day?"
Dwight Montero
"Yesterday, Sunday."
Monica Bodden
"Tell us what happened?"
Dwight Montero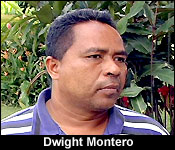 "I was out there buying some food, while I was getting back into the vehicle two guys pulled up with a gun and force me back into the vehicle, they tied me up and went off with the vehicle. They blind folded me; they took me to Orange Walk to a room where they were staying. They tied me up in the bathroom and covered me with a sheet and they beat me with the gun and told me that to be quite. I heard them saying to someone on the phone that they found a vehicle and they found the vehicle that they wanted, so I assume that I was in the wrong place at the wrong time."
"I didn't think I was the intended target I think that anybody with a Hilux could have been a victim. I think it a valuable vehicle and I think this is what the drugs people are looking for. However my whole thing is that I would like the Orange Walk police to really make a full lead on this vehicle if possible because that is where I had reported the incident. I am not sure if the vehicle is in Orange Walk, but whoever sees the vehicle could contact any one police station countrywide, so that I could recover this vehicle."
Monica Bodden
"What color is this Hilux and what year is it?"
Dwight Montero
"It's a 2008 Toyota Hilux, its green, it has a run board on it, it has a stripe on the edge of the vehicle and also it has license plates SC-C7961."
Monica Bodden
"Mr. Montero when the guys left, that is when you manage to unfold the blindfold from your eyes and left the hotel room. This hotel is located where again?"
Dwight Montero
"It's somewhere in Trail Farm. I am not really familiar with the area, but it's in Trial Farm."
Monica Bodden
"Did the police visit the hotel to see who checked in?"
Dwight Montero
"Yes they did. Unfortunately there is not much records that could tell you who really checked in. What I was told by the manager is that two guys were there since Thursday. I assume it's the same two guys that committed the crime. They were just waiting for targets - for anyone that comes by. I would say it's a ring because it's a combination of Orange Walk and Cayo. I know that what was said was that a gentleman was also providing food for them in Orange Walk at the hotel and that person was always driving a gold color car, I can't remember the license plates number but that was what I was told. I am pretty sure that these two convicts that were involved in this crime would try to do this again."
But according to the police, Montero was not kidnapped - and the crime was not committed anywhere near San Ignacio town. The police say that Montero reported to them that around 4:30 on Sunday evening, he was in Orange Walk Town at Gamis Hotel in Trial Farm Village where he was attacked by 2 men.
One of the men forced him inside a room and hit him to the back of the head with a black pistol. Both men then pulled Montero's shirt over his head blocking his vision and tied his hands and feet. One of the men called someone saying, "I done get wah vehicle". Montero was robbed of his gold chain with a "D" medal, valued at 5 hundred dollars, a cell phone, a watch and $350.00 in cash. The men then drove off in Montero's Hilux pickup truck where he had a Laptop computer, and a cheque book.
The total value of Stolen items - including the Hilux? $63,950.00.