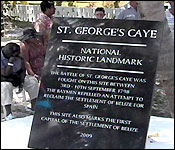 The September Celebrations were officially opened on Sunday at St. George's Caye.
That was the settlement's former capital - and of course, the staging ground for the famous - some say infamous - Battle. But whatever historical view you take - September in Belize has taken on a life of its own - so much so that the good times merry-making and pageantry often eclipses the historical significance of the observance.
And that's why at the official opening on Sunday - Chairman of Caye Caulker Johnny Watt - told the gathering to always remember history:..
Johnny Searle Jr., Chairman - St. George's Caye Comm. Council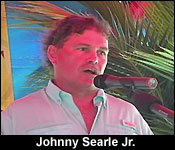 "Sometimes we get caught up in the festivities of the September celebrations and we don't take time to really think about the reason behind the celebrations."
"Without the efforts of the Flowers Bank 14 and everyone else who decided to defend the settlement - there would likely not have been a Battle of St. George's Caye and without the Battle of St. George's Caye probably no Belize Independence Day and no reason for us to have our September celebrations that we always look forward to."
Hon. Manuel Heredia Jr. - Minister of Tourism "Indeed it was right here on this small island that 214 years ago a group of diverse people stood their grounds and fought against overwhelming odds to defend their homeland and for the right to pursue their own unique way of life."
"It was also here on St. George's Caye that the seed of nationhood was first planted." In his speech, Heredia also discussed the plans at the Institute of Archaeology to declare Belize's first underwater Archeological Reserve.
Heredia says it's all about sunken ships..
Hon. Manuel Heredia Jr. - Minister of Tourism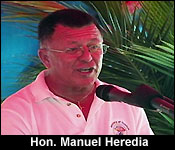 "We have also begun to identify several locations that include the remains of shipwrecks in the vicinity of Ambergris Caye, Radisson Point and the shallow waters around St. George's Caye. The protection of this important landmark will allow us to preserve our incredible rich and colorful past for the benefit, education and enjoyment of all Belizeans and those who came to visit our shores."
After the ceremony the Belize sailing Association held the St. George Caye Battle Regatta.