And while the players look toward the biggest tournament in Belize's History, they also turned heads for their performance in the Copa Centroamericana.
And as a result, 2 players of the National Team, Deon McCauley and Woodrow West were invited to participate in try-outs for football clubs in the USA's Major League Soccer, or "MLS" as it is known.
It's a major opportunity for these Belizean athletes, so today, we asked them about how those tryouts went. Here's what they told us:
Woodrow West - Goalkeeper, Belize National Football Team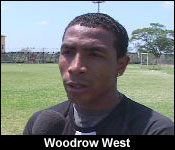 "Yes I've been - I went out and tried out with a few teams and I came back to Belize because what I went for was just a tryout; it was not to catch any club right away, so I'll leave the door open. I have a place in New York; hopefully I get to play in New York. It depends on my games in the Gold Cup, on my performance, then I can go far, but it all depends on the Gold Cup."
Deon McCauley - Forward, Belize National Football Team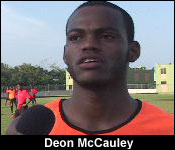 "I was - actually I had 2 tryouts, one whit Chicago fur and the other with Portland Timbers. It was a very good experience for me, I've learnt a lot for the experience and it was a good one."
Daniel Ortiz
"So are there any positive results to be expected from those tryouts?"
Deon McCauley
"Well I think it's a stepping stone for Belize because I was really appreciated out there trying out and I think it went very well. Unfortunately I didn't get signed but it's just a stepping stone for me because, I think that these clubs have seen the talent that I have and I think that in the future, hopefully, I'll get a contract out there."