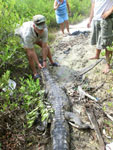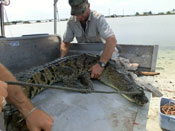 Tonight, the American Crocodile Education Sanctuary and the Forestry Department are gathering information to detain 4 minors in connection with the brutal killing of a crocodile on San Pedro.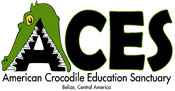 According to ACES, they received a call on Saturday that 4 twelve year-old boys were dragging a tied up crocodile along a dirt roads near the airstrip in the San Pedrita Area. One of the boys reportedly jammed a PVC pipe down the crocodile's throat. ACES personnel immediately responded and they found the battered and beaten crocodile in a bushy area. They did everything that they could for the crocodile, but it was beyond help, and it died later that day.
The Forestry Department has indicated that they will bring charges against the perpetrators of this crocodile's death. It belongs to the American Crocodile Species, which is protected around the world.
This latest animal brutality comes on the heels of the mauling of the howler monkey in Orange Walk in March.