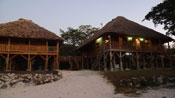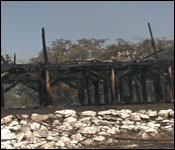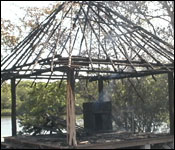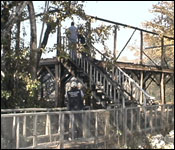 The John McAfee compound on the outskirts of Orange Walk Town at the Tower Hill Bridge, burnt down this afternoon. As these pictures show, the two main structures were destroyed. The fire started at 1:00 this afternoon when a bush fire enveloped the compound. Property Manager Noel Codd is reported to have said that he was informed of the encroaching bush fire and called the Fire Department, but by the time they got there, the bush fire had overtaken the wooden buildings and flattened them. Codd estimates the value of the buildings at two hundred and fifty thousand dollars each.

The buildings are of some significance in terms of the trajectory of the Mcafee's demise in Belize – because that's where the GSU led an intensive search almost exactly two years ago in May of 2012. They found a bunch of guns and enough ammunition for a small army. They briefly detained McAfee and set him off on a paranoid excursion which saw him re-locate to San Pedro, and ultimately disappear after his neighbor, American Greg Faull was murdered.

Since then, McAfee has systematically sold off his san Pedro assets and the Orange Walk Property at the southern foot of the tower hill bridge also had a "for sale" sign on it.