Tropical Depression two dropped about ten inches of rain in the south in 24 hours resulting in raised river levels, closed schools, people in shelters and collapsed culverts on the highway. The news tonight though is that in most areas, the water is receding and life is returning to normal.

But "normal" is a relative term for flood ravaged communities. Today, our news team trekked across many of the flood prone areas in the south – and we begin our coverage in Hope Creek where, at the height of the flood, 54 people were put in shelters.

Hope Creek, viewers will recall experienced vicious flash floods in 2008 leading to the loss of life. Well, this time, the water didn't come in a flash, but it did flood and, it seems, they were ready. Our Daniel Ortiz and Codie Norales were thigh deep in the flood waters today – and they have this report..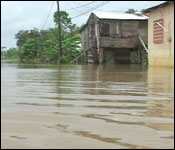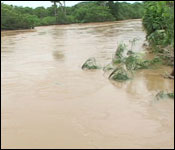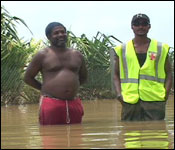 Daniel Ortiz reporting
An uninformed observer maybe mistaken if they look at this area and conclude that it is some natural body of water. It's an actually a street in the Hope Creek Village which was overrun by the flood waters from Tropical Depression 2.
That system dumped 10 inches of torrential rain on the village, swelling the North Stann Creek River until it sent that flood to the low lying areas of the village.
So where do the drains and yards intersect with the actual street? Only the villagers have an idea.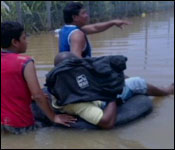 They gave us guided tour of the area. Our Cameraman had to get around in a makeshift raft they provided.







Rene Salguero Sr. - Resident, Hope Creek Village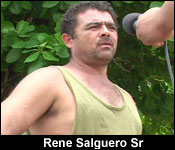 "We actually stood on the culvert at the entrance of my house - this is the street and this is the entrance to my house. This is unbelievable what happened today, it is funny - I don't even know what to say because I feel bad."






Mariano Ack - Resident, Hope Creek Village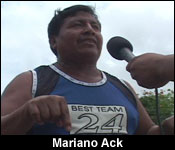 "This morning around 3a.m. the water was coming up very fast and it was higher and up to now it's just going down but it was higher this morning - higher above our heads because I'm five feet tall but it was higher than me. At this moment it's going down very slow."
Rene Salguero Sr
"This is Hope Creek but this is Salguero Street because we are Salguero but they have more people living here, the river isn't too far away maybe about 200 meters from here."
Salguero is one of the villagers most affected. The lower flat of his house is under water
We caught up with him as he was trying to fish his TV out of the street, now turned lake.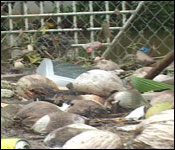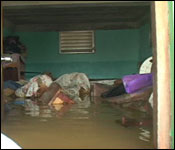 Rene Salguero Sr
"It's a nightmare here, I really can't explain what exactly happen. This is something with nature and last night it started around 6 yesterday evening and the water started to race and race, we didn't expect it to get this high. We usually get flooded here but not as high at this time so we didn't get a chance to take out everything out of the house, later on we will see all the losses that I have. I didn't sleep at all last night, I haven't even eaten as yet because we don't have anything to cook - everything is gone.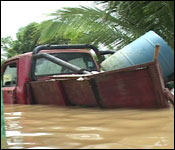 This is a real bad experience for all of us in this village and I really feel bad because everything is gone - even my truck broke down and you noticed my dog, I will have to take you in my room soon so that you can see the washing machine, the refrigerator. Nobody is here only I stayed because there are a lot of scavengers that would like to steal my stuff too, everything because my son lives downstairs and my wife, my other son and I live upstairs and when the water started to race it wasn't fast but we didn't expect it to get so high. We just monitored it and it was quick we didn't have time to do anything so as soon you will see I lost everything. I didn't insure anything because the last time I insured and the insurance didn't help me much so I decided to take it on my own and I will have to replace everything - I wish someone can help me. Every house is almost the same."
Daniel Ortiz
"So how many families have had to evacuate because of this unexpected flooding?"
Rene Salguero Sr
"Well everybody from this side had to go out, I think it's it was about 20 families that had to leave around 3a.m. Actually this storm passed here around 3:00 o'clock and blew the breeze maybe about 40 miles an hour but it passed hard so everybody had to leave."
And those people, erring on the side of caution, decided to evacuate to the Hope Creek Methodist School, the village's hurricane shelter.
Elroy Wade - Chairman, Hope Creek Village

"Most of the families here seeking shelter are the families that live near the river bank area and the back area of the village which is a low lying area. So these are the people that are seeking shelter right now. Most of the villagers knew about the weather that was passing. From around 3 o'clock yesterday, I gathered up my team and we had gone around the village and informing people of the situation. Everybody knows that Hope Creek is a place that is prone to flooding, it's not something strange to anyone. Yearly on the rainy season we get flooding all around."
Daniel Ortiz
"So how many families have decided to take refuge here, sir?"
Elroy Wade
"Presently we have 54 persons seeking shelter here right now."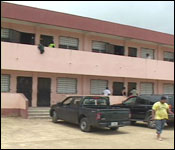 But while the Hope Creek moved out, they were partially cut off from neighboring communities.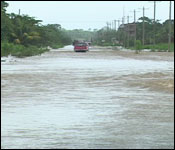 That's because the North Stann Creek River also inundated the Hummingbird Highway at different locations, but particularly at mile 5. Emergency personnel had to provide assistance to small vehicles to cross this flooded area.
Later on in the news, we'll have more flood stories from Sarawee, Sittee and Dangriga.