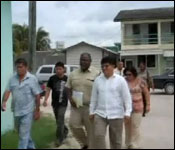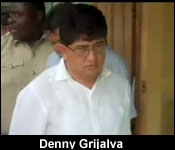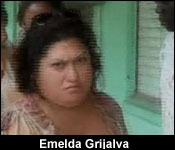 For weeks, the nation has been closely observing what the police department would do in relation to the Noh Mul mauling, which occurred in May.

Well the news tonight is that Denny Grijalva, and his wife Emelda Grijalva, who represented as Managing Directors for De-Mars Stone Company, Javier Nunez, their foreman, and excavator driver Emil Cruz are out on bail after they were taken to Corozal Magistrate's Court.

The the company, represented by the Grijalvas, was charged with 1 count of removing parts of an ancient monument, and 1 count of causing the destruction of an ancient monument. Cruz was charged with removal of stone from an ancient monument without a permit and willfully damaging an ancient monument. Nunez was also charged with willfully causing the removal of stone from an ancient monument and willfully causing the damaging of an ancient monument.

They were arraigned before Magistrate Clive Lino this afternoon, who granted bail of $5,000. Their case has been adjourned until August 20, where they will return to Orange Walk Magistrate's Court. The case will be handled by a prosecutor from the Office of the Director of Public Prosecutions.

While exiting the court room, Denny Grijalva refused to comment to reporters saying that he will allow the legal process to run its course.