An armed robbery in Altun Ha has authorities scrambling to find the culprits before the holdup turns into another tourist black eye. Why? The victims were a pair of cruise tourists and their guide, as we later found out from the officer in command of Belize Eastern Rural, the tourism police officers were lax in carrying out their duties. When the last tourist bus left, so did the tourism police, although the site had not been closed. According to police, two tourists were then robbed of items including 1 gold necklace and about $450 US Dollars in different denominations. They were on a private tour with one Clifford Hoare Belizean Tour Guide of Hattieville Village when the men accosted the tourists and tour guide. Assistant Commissioner Broaster told us more: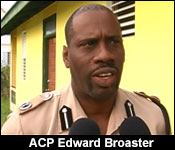 ACP Edward Broaster - OC, Eastern Division Rural
"We received a report of a robbery at 110 in the Altun Ha site area where our police officers were dispatches. At this time initial investigation is revealing that there was a tour of 8 tourers, 6 of whom along with the tour guide went on a trail where they pick medicinal trees that leads to a pond near to Rockstone Pond when two dark skinned male persons came out and accosted them one with what appears to be a black 9 millimetre handgun and a machete. They were all relieved of their valuables and the two culprits made good their escape."
Emual Pech
"Is it the police's opinion that the perpetrators were lay waiting the tourists?"
ACP Edward Broaster - OC, Eastern Division Rural
"Well you'd have to know the area to commit the robbery and we have managed to identify the area for which the two suspects made good their escape."
Although there is no clear suspect at this time, police believe the suspects had to know the area very well. As a result they have detained several persons for questioning from the surrounding villages of Santana and Lucky Strike. We will keep following this matter.