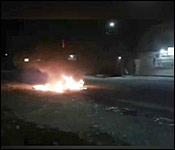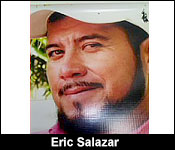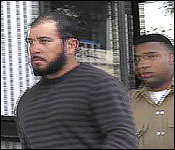 Another traffic accident that police made major headway in is the one which caused the death of the 21 year-old resident, Jamalski Young.
Young was on his way to work at the Sky Gas Station on Sunday night around 9:00. He was riding a motorcycle, and when he arrived in front of the Blue House Bar, a vehicle reversed into him, causing him to be flung forward. The motorcycle landed near him, and it exploded into flames, which burnt him to death.
The driver of that vehicle fled the scene, but he has since turned himself to police, and he's identified as 35 year-old Guatemalan Eric Salazar, who has been living in Belize for the last 30 years. Police have since charged him with manslaughter by negligence, causing death by careless conduct, driving a motor vehicle without due care and attention, failing to stop and render aid, failing to report an accident, and failing to give way a motor vehicle on a major road.
He was also arraigned before Senior Magistrate Sharon Frazer, and he has retained Mayor Darrell Bradley as his attorney. After the arraignment, Bradley granted us an interview and here's what he had to say:
Darrell Bradley - Attorney for Eric Salazar Guzman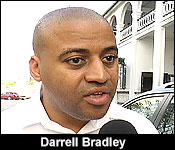 "His name is Eric Salazar and there were several charges. The most serious being manslaughter by negligence."
Daniel Ortiz, 7News
"Sir explain to us the nature of this gentleman's coming in contact with police? We understand that he handled himself in."
Darrell Bradley - Attorney for Eric Salazar Guzman
"He had indicated to certain persons who were close to him. There is circumstances and they advised him to take certain steps and so he voluntarily turned himself to the police which precipitated his detention, his subsequent arrest and resulting in us being this morning. I think that, that is a sign of his good faith. It's a very difficult circumstances of course, but he voluntarily turned himself over to the police."
Daniel Ortiz, 7News
"What is his nationality sir?"
Darrell Bradley - Attorney for Eric Salazar Guzman
"He is Guatemalan. He has a Belizean permanent residence. He has lived in Belize for a period exceeding 30 years. He has Belizean children. He has been gainfully employed at his current employment for a period exceeding 7 years. So that he has very strong ties with Belize, but his country of birth is Guatemala."
Daniel Ortiz, 7News
"Sir one of the matters of the family of the victim was most aggrieved by the fact that he left the scene after the accident. Has he or his family members given you any explanation as to what happened? Did he panic? What exactly happened?"
Darrell Bradley - Attorney for Eric Salazar Guzman
"The situation of course was one of panic and fear and I think that again it's a difficult situation, but it's an understandable situation. So that this person when he told an individual, the individual advised him that the best thing to do was go to the police and that is what he did. He has to report back to court on the 13 of March. You know that these matters take some time, there has to be a preliminary inquiry in the magistrate court and because it's an editable offense will be tried in the Supreme Court."
Senior Magistrate Frazer granted Salazar bail of $20,000.