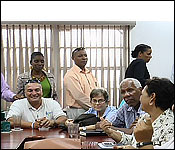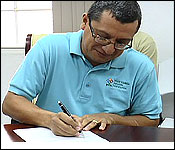 After weeks of buildup, the NGO Community elected its senator today. This will be the 13th Senator - and it's gotten so much attention because this new Senator will have the power to tip the balance of power in the upper house - and we mean tip it against the government majority.
So, this 13th Senator ushers in a new era in Belize's parliamentary democracy, but the election itself was not a high point of democracy. That's because of the 140 registered NGO's, only 23 ended up casting a vote for their Senator. That's like having a government but only 15% of the electorate came out to vote for it.
And it turned out like that because the other 115 NGO's were deemed not to be in good standing - meaning they hadn't filed all their necessary documents as required by law. So, the small election, which was held in a closed-door session at the Audubon Society, was over in less than an hour. Chair of the Steering Committee Froyla Tzalam outlined the process and the outcome, and welcomed the winner:...
Froyla Tzalam, Chair., Steering Committee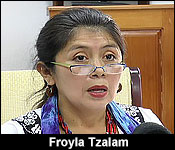 "In total, 23 organizations in good standing out of the 29 voted this morning. At the end of the first round, these were the votes that were cast for the 5 candidates and I'll do it in alphabetical order: Janelle Chanona - 3, Juan Pablo Collado - 1, Donovan Reneau - 1, Edilberto Romero - 7, Osmany Salas - 11. No rejected ballots, all of that came up to 23 total votes cast. That meant we immediately went into the second round. The second round had 2 candidates, Edilberto Romero and Osmany Salas. Their names were put on the ballot and at the end of that second round, Edilberto Romero had 7 votes and Osmany Salas had 16. Zero rejected ballots; 23 votes total were cast. At the end of round 2 Osmany was declared the senator elect."
Osmany Salas, Senate Nominee
"I am very honored; I am deeply humbled at being given the opportunity to represent the Belize NGO community. Some good friends have told me the work really just begins. I want to say again, and I will never be tired of saying a huge thank you to the teachers of our nation - to the BNTU, to the business community, led by the Belize chamber of commerce and industry and the Belize Business Bureau for all the struggles and all the members of civil society for really fighting and struggling to ensure that the NGO get this opportunity to be represented in the senate and to be involved in the campaign in the work to improve governance in our country."
"I think we have really raised the bar. We have set a precedence and I think we can't go anywhere else but up. I am very proud of my colleagues and I'm very happy to be a member of this community. I commit to serve the community."
The PUP was the first to send congratulations to Salas today. The party issued a release an hour ago saying, quote, "The People's United Party is confident that Mr. Salas is able to discharge his duties as a Senator with integrity, objectivity, rationality and consideration for Belize and her people."
But, as we said, Salas's election has an asterisk beside it - since only 15% of the NGO community voted for him. He said that's how it had to be since the NGO's cannot demand good governance if the community itself has members who have not lived up to that standard:..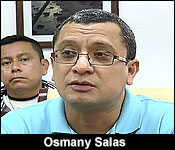 Osmany Salas, Senate Nominee
"To be a part of improving the governance we need to show that we are also transparent and accountable. There is an NGO act that we must abide by with the requirements set out in that act and the company's act as well. So what transpired as Miss Tzalam and other members of the committee have mentioned repeatedly is that the NGOs who participated in the process where the ones that were certified in good standing to participate in this process. there were a few that maybe didn't file the papers in time and in a little disappointed in that for them, because I would have wanted them to be involved in the process. We have mentioned repeatedly that there are a hundred and 40 plus registered NGOs and it turned out that only 29 were able to file their papers and get in good standing in time to participate in the process. Now as we have mentioned several times, first order of business will be to organize the community to work with them, to find out why the others are not in good standing and help them to get there. Because we will have to work with them. We will have to represent the entire community. I would say that it is accurate to say that, that small percentage contributed to make this decision, but we will be representing. The senator and the support structure that will be put in place will be representing the entire community of NGO's."
Daniel Ortiz, 7News
"So this election today is version 1.2 to be improved."
Osmany Salas, Senate Nominee
"The only way is up."
Daniel Ortiz, 7News
"Can you assure us that when you do ascend to the upper house, you will treat all governance issues with objectivity and that your decisions will be based on what you think are the best principles?"
Osmany Salas, Senate Nominee
"There is no other way. From the day I know myself, I have aimed and worked hard at being an objective, fair and balanced person. So I don't see things happening any other way."
The commencement order activating the 13th Senator takes effect on 20th January.