The OAS Secretary General has been on a whirlwind tour of Belize. Since yesterday, he's held meetings with government official, did a flyover of the Chiquibul Forest and Caracol Archaeological Park, met with the leader of the opposition, and held a press briefing. It was a very brief one where he took no questions and simply read out a 7 minute statement.
Belize's Permanent Representative to the OAS, Pat Andrews who helped organize the meeting from Washington explained that it was an on-the-ground orientation as Belize makes a push towards a referendum:...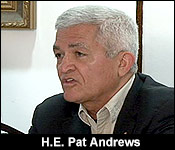 H.E. Pat Andrews, Belize Ambassador to OAS
"We thought it was the right time for him to come to Belize and kick tires in Belize and be able to see how things are in Belize, both in meeting with the Prime Minister and just a few moments ago with the opposition, important events where we are wanting to have a meeting of minds between all our people as we get ready for the referendum."
H.E. Luis Almagro, OAS Secretary General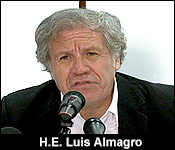 "We discussed various aspects of the ongoing process that is being mediated by the OAS and we agreed that we will continue to work diligently towards finding a peaceful permanent solution to the territorial dispute some of them were related about implementing mechanisms of consultation to avoid, to make better management of incidents the need to go on ahead with the referendum as early as possible, and that will allow us to take the case to the International Court of Justice."
"We, we strengthening the case of going to the ICJ. Because we all have to believe and we believe especially that the solutions should be according to law and according to right. We cannot pretend to be so confident in knowing the rights of others, or going over the rights of others. So the law is the way, international law is the way to fix this case."
Almagro left the country after the briefing.