Elrington says holding the referendum is no less than an existential emergency for Belize. He explained the kind of priority that it is for government.
Hon. Wilfred Elrington, Foreign Minister of Belize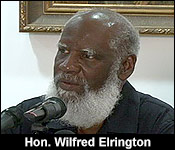 "Resolution of this issue has to take first priority. If you don't have a country, nothing else you will have. So we have got to understand that this takes top priority and I'm sure the prime minister is of that view as well, so that we are result to find the resources."
"Our maritime borders have never even been agreed upon. That has to be agreed upon. We don't have any maritime borders agreed upon in the sea. Boundaries have to be agreed upon by countries that are neighboring countries. But we never did have with Guatemala any agreement with respect to the maritime boundaries, neither with Guatemala nor with Honduras, which is very close to us. These are the things that have to be done. We have to do it. It's just like you are on piece of land all your life, but you are a squatter. You can't do anything with that land."