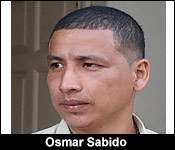 In April of last year, a jury found 30 year old Osmar Sabido guilty of the murder of his common-law wife, 21 year old Christie Carrasco. He was sentenced to life in prison, but now his attorney is asking the court of appeal to reduce his conviction from murder to manslaughter.
Sabido's attorney, Leeroy Banner had appealed on the main ground that it was a case of extreme provocation and the trial Judge did not address his mind to it. Sabido had testified at the trial that Carrasco told him that she thinks that she is pregnant for another man.
Banner presented to the judges of Belize Court of Appeal that the murder conviction should be substituted with manslaughter and an appropriate sentence be imposed. The Court of Appeal today reserved its decision which means it will be delivered at a later date yet to be announced.