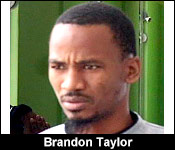 29 year-old Brandon Taylor, who was charged with the murder of 28 year-old Kaylon Matura, is at home tonight after almost 5 years on remand at the Belize Central Prison. He was acquitted today before Justice Adolph Lucas, in a trial without jury.
Matura was murdered at his gate on Central American Boulevard on the morning of May 16, 2012. He was ambushed and shot twice in the chest and once in the chin.
The only person who claimed to have seen the shooting was the prosecution's main witness, Andrew Willoughby. He gave police a written statement that he saw the shooter from a distance of 150 feet, and it was raining. He said that he saw when this gunman shot and killed Matura. But when the prosecution called him to testify, he did not cooperate with Crown Counsel Portia Ferguson. He had to be treated as a hostile witness, and under questioning he insisted that he was not at the scene when the shooting occurred.
Delivering his ruling today, Justice Lucas said that he did not believe Willoughby because there were too many inconsistencies in the statement he gave to police. With that, he acquitted Taylor, who was allowed to leave court a free man.
Taylor was represented by attorney Oscar Selgado.