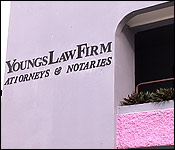 A week ago, this station and other media houses reported that Young's Law Firm had closed its doors. Well, his family, who is running the firm at this time, have released a statement saying that they aren't closed just yet, but they are winding down. As we told you, Michael Young was the sole proprietor of the law firm. The statement says his sudden death has caused his family and the firm's staff to make personal sacrifices to maintain the operation.
The statement explains that the Estate owners attempted to transition the law firm into a limited liability partnership along with the remaining attorneys, but they were unsuccessful. So, his executors, some of the staff, and the Barrow & Williams law firm acting as assisting attorney, are working on the proper winding-down of all of the firm's matters.
The family also stresses that staff was not "paid off" there will be no spiritual successor for Young's Law Firm, and the name has been trademarked. They are referring to our information that the remaining attorneys will move on to from their own practice. The family says quote, "there is no Spiritual Successor, nor has the same moved on with any other person or establishment. In fact, the spirit of YLF remains held with the Estate."
The family stresses that the Firm will remain open until all matters have been properly addressed and/or transferred, along with the clients' consent. The statement says, quote, "We would like to maintain the privacy of the employees as well as the clients, and are committed to its integrity."