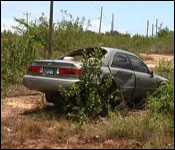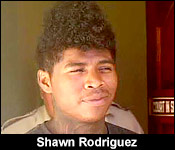 Last night we told you about the robbery that left a 57 year old taxi driver with knife wounds to the face and neck. According to reports, Ernesto Robinson picked up a passenger on East Collet Canal Street and took him to Western Avenue, however when they got to their destination, the passenger refused to get out and instead demanded that Robinson hand over the vehicle. The passenger began choking Robinson and stabbed and cut the side of his face and neck before Robinson managed to open his door and escape.
The assailant then jumped into the driver's seat and took off down the George Price Highway. Not long after the incident, police found Robinson's vehicle totaled just before Mile 14, and after searching the area, found 23 year old Shawn Rodriguez walking along the highway. The cops found him with a small pen knife, which they believe was used to inflict the wounds on Robinson.
Rodriguez was arrested, and appeared in the Magistrate's Court today where justice was swift. He was read charges of robbery and using deadly means of harm. He pleaded guilty to the robbery, and was sentenced to 7 years in prison. The court has yet to decide if the second charge for the use of deadly means of harm will be dealt with in the Magistrate's or Supreme Court. That matter has been adjourned until June 2.