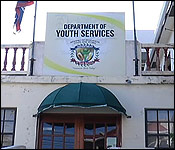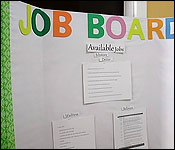 Since February, about 28 single moms and dads have been participating in a career training program at the Department of Youth Services. It is just one of many programs offered at the Department, but this one is special in that it also caters to the children of these single parents through their day care center. Now the participants can focus on their sessions and not worry about the safety of their kids - who will be right next door. The Managing Director of the LOVE foundation, who is also the social planner for the Department, told us more about this program.
Deborah Sewell, Social Planner, Department Youth Services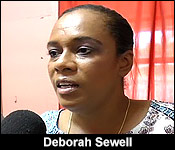 "The day care has always been a part of the LEAP program, learning, earning and parenting we work with young people ages 14 to 29 who are single parents, dropped out of school, unemployed and we provide opportunities for them to either go back to school, we provide them with job training, career readiness and guidance in developing entrepreneurial activities so it's based on their passion areas, what they are passionate about and we work with them to be able to attain their goal. So we knew from the beginning, from the inception of the program that there would be a need if you are working with single parents for a child care facility."
Courtney Weatherburne, 7News
"How many single parents participate in this program?"
Deborah Sewell, Social Planner, Department Youth Services
"So we currently have 28 single parents who participate, we have some of them who are doing training who are outside of the building but we have 14 who are currently coming on an everyday basis and I would say 50% of them do bring their children with them so like today we had 6, sometimes we have 3, so it's between 3 and 6 kids who come on a regular basis."
Courtney Weatherburne
"There are person who supervise and take care of the kids while their parents are in the session?"
Deborah Sewell, Social Planner, Department Youth Services
"Yes, we do have members of the staff at the department of youth services, we have the young people who do work alongside us, that is part of our partnership with DOYS so they are able to occupy the kids, they do reading session with them and they entertain them while their parents are in program."
The day care center caters to babies as young as 6 months old. If you would like to find out more about the program or participate you can call Sewell at 610-1272.