Today in Belmopan, Elvin Penner was back in the hot seat as the main witness for the Senate Hearings on Immigration. He was back to being an uncooperative witness, mostly choosing not to answer any questions related to his role in the issuance of a fraudulent passport to the South Korean fugitive, Won Hong Kim. In the instances where he did give a response, he told the Senate that he couldn't recall the details that they were looking for.
We'll get to that, but first, to the media menacing pulled off by Brian Audinett, better known as "Yellowman". He's the Sergeant at Arms for the House of Representatives, in charge of maintaining order during house meetings. But, today at the senate, he was leading the disorderly conduct.
Here's how it unfolded. PUP Senator Eamon Courtenay was grilling Penner for a second go-around on the part he played in getting the fraudulent passport printed. Later on in the hearing, UDP Chairman Alberto August, "Yellowman", Allan Kelly, and other supporters of the UDP entered the gallery, and it appeared that their main purpose was to heckle Senator Courtenay. As viewers are aware, he's emerged as the toughest cross examiner on the Senate Committee, who often has the witnesses squirming.
So, the UDP's came in and immediately focused attention on Courtenay, completely disrupting the Senate hearings - and eventually Chairman Aldo Salazar had to halt the proceedings so that order could be restored. Our cameraman was dutifully capturing their rowdy behavior, and that appeared to agitate "Yellowman" into hostility. Here's that part of the hearing which ended up in a Yellowman threatening 7News videographer Dennis Ellis: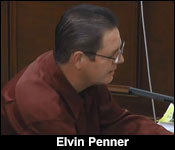 Elvin Penner - Former Immigration Minister
"When I got the file I did my normal due diligence in making sure that I was convinced that all proper procedures were followed and therefore signed the file and returned it to the nationality department."
Hon. Eamon Courtenay - PUP Senator
"Now-"
Allan "AK" Kelly - Member of the Gallery
"(Shouts) Ask Ashcroft."
Hon. Aldo Salazar - Chairman, Senate Select Committee
"Officer do you know who made the last comment? Sir could you please excuse yourself from the chamber. I am trying to be fair man, I gave a warning."
Alberto August - Chairman, UDP
"You right there the grand stand, give back the people the money your father stole. You right there asking simpleness."
Hon. Aldo Salazar
"We suspend the sitting; we suspend the sitting man okay."
Alberto August
"Give back the money from social security, your dad stole."
Hon. Aldo Salazar
"We will come back when we get some order okay."
Allan "AK" Kelly
"Tell Courtenay go represent Ashcroft he can't represent we in the national assembly. If he the represent a man that wants to take over our country what's wrong with him and he will come represent we in our national assembly, this national assembly is for we as Belizeans not a man that is looking to destroy we. And he still want come in to national assembly."
Alberto August
"Make him talk about the money Ashcroft the pay him, that's what he need to do, he will deprive this country of millions, hundreds of millions of dollars and you will sit down there like a fool."
Allan "AK" Kelly
"Johnny Briceno said he won't remove Eamon Courtenay because Eamon Courtenay is his friend so he prefer his friendship over the country, that is what Johnny Briceno the tell we."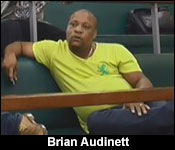 Brian Audinett aka "Yellowman" - Sergeant At Arms, National Assembly
"Put that down and no the video me before I stone you over this thing (railing) ya. I no play you know."