And while that fire was a case of arson, so too it appears with the Audubon Society's Visitor's Center at the Crooked Tree Wildlife Sanctuary. Orin Smith filled us in: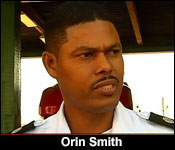 Orin Smith - Station Officer, National Fire Service
"The Crooked Tree fire investigation determined that fire to be incendiary."
Reporter
"Give us more details."
Orin Smith
"There were trailers found on the step leading to a veranda, trailers are usually devices whether liquid or materialize that is used to lead a fire into an area you want it to go and that was discovered on one of the staircase that led to a veranda and eventually to the structure itself."
As we have told you, many in the Crooked Tree community are bitterly opposed to the Audubon Society which it claims curtails their traditional hunting and fishing practices.