Police still have not made any arrests in the murder of Ludwin Lalin, the 19 year old who was killed on May 9 days ago on Jane Usher Boulevard. Today, the Southside commander told us that they have suspects, but no forthcoming witnesses: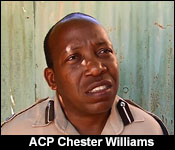 ACP Chester Williams - Commander, Southside Police
"99% of the murders that occur in Belize City we know who do it, the difficulty is always to get the evidence that we need to be able to prosecute the perpetrators of those crimes."
Reporter
"The last time you were making a public appeal for witnesses to come forward, how did that go?"
ACP Chester Williams
"Yes that public appeal is still on going, we're still trying to see if we'll get anyone who will be willing to give us a statement as to what they may have seen on the day in question."