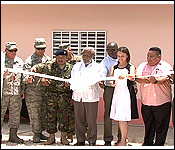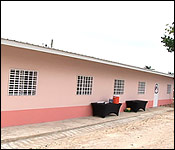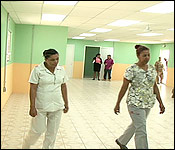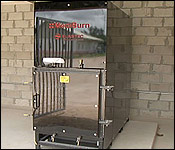 In early April, ground was broken for the Western Regional Hospital's new emergency room. Construction work had commenced in March and 3 months later, it was finished yesterday. A ceremony was held at the hospital today to inaugurate the emergency room and other new and improved features and equipment. Courtney Weatherburne was in Belmopan today and found out just how significant these infrastructural upgrades are.
Courtney Weatherburne reporting
About 800 to 900 trauma patients are rushed through these doors on a monthly basis - that number includes Belmopan residents and countrywide referrals - it's an intake that this emergency room simply can't accommodate anymore.
Dr. Rene Godoy, Chief of Staff, Western Regional
"It is a known fact that our emergency has far outgrown the population that visits it and on a daily basis we see a congestion that overflows."
"If we are not on our toes, and if we are not up to the challenge it becomes chaotic."
But the Western Regional Staff will now be able to contain that chaos with their brand new emergency room.
Dr. Rene Godoy, Chief of Staff, Western Regional

"Definitely it will have a capacity to cover least 100 % more of what is coming in so instead of having four little beds down there, now we are going to have a total of eight so and this has the added advantage that it has an isolation room, whenever we had persons with communicable diseases we really were very challenged and were handcuffed on how to treat properly because we didn't have a special room to put them in. This now provides us with an isolation room where we can better treat and separate that communicable disease patient from the rest of the population."
Captain Phillip Bray, Project Manager
"It means a lot to us being able give, to double the capacity of an emergency room for so many people."
This construction upgrade is part of a series of projects under the Beyond the Horizon 2017. But it wasn't only the emergency room - the hospital got an incinerator, one they had been doing without for almost a decade.
Dr. Rene Godoy, Chief of Staff, Western Regional
"Before we got this one we had no incinerator, we used to do open air burning and that was supervised by the Public Health Inspector until everything was checked and completed then it was burnt."
Courtney Weatherburne
"So this is the first incinerator the Western Regional is getting?"
Dr. Rene Godoy, Chief of Staff, Western Regional
"The old incinerator just went out a few years ago approximately I would say about 7 to 10 years ago we haven't had an incinerator until this time around we have a proper one so it is a huge contribution to our services."
To top the project all off the team painted the kids bathroom at the hospital. And with the help of the City Council they also extended the parking lot.
Captain Phillip Bray, Project Manager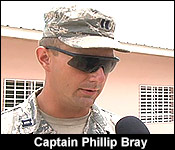 "It has just been a great experience all the way around I can't say enough just how great the community was donating material to help us with the parking lot and just everything together down here was a great time for us."
The hospital will now have 4 additional beds in the new emergency room, apart from the 4 in the old emergency room. The hospital may get another medical waste incinerator later on - that is still a work in progress. And of course this isn't the end of these ceremonies - another will be held tomorrow to inaugurate the clinic in Double Head Cabbage.