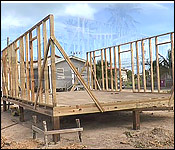 There's a land dispute in the Queen's Square area - and the residents say they're being muscled off their land by the UDP political officer. The area is a triple lot near the Triangle Park on Neal's Pen Road where low income housing is going up very fast. But the Usher family - which has owned the property for generations say they were never consulted or compensated. Now, the land had been bushy and abandoned for many years - with the property tax not paid, but the family says they still own it. A family spokesperson gave the media an interview today:..
Irene Usher - Former Resident
"It was surprising to me, she said that mom they are taking away my land so I asked her how can they take away your land, this land is your family land. This land belongs to you guys. Fight for your land, don't give up just like that and I think for its unjust for what is going on and I don't like it."
Reporter
"This is a sizeable piece of property, this is actually 3 properties in one."
Irene Usher - Former Resident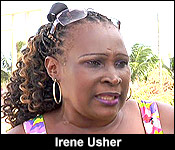 "Mr. Thompson is the one who has the title to this land, but he is deceased. So, I don't know what procedure they have to go through, but the only daughter that is alive Thompson, she is in America. So she is giving her permission to go about paying off the land tax and then go from there and then whatever happens, if she could get here, she could transfer the land to her."
Reporter
"Now, we understand that the taxes on the land has already been paid off but construction by someone else is still going on, on the piece of property."
Irene Usher - Former Resident
"My daughter paid off the tax, but then somebody else is building. So I'm wondering what is going on. A house is going up, I don't know what else is going to happen? Sooner or later she will be on the street. So I told her take it further just don't sit down like that, this is their family land, fight for it."
We reached attorney Godwin Haylock from the UDP Queen's Square political office, but he said he could not comment at this time.