And if those meet and greet sessions were not enough to establish a strong police presence – in a few days, cops will be all over city streets celebrating police week. Williams outlined the agenda starting this Sunday the 18th and ending off with a well anticipated basketball match-up between the police and the media on Friday afternoon. ACP Williams says he and his police squad are ready to take us on!
There will be a parade through city streets next Saturday to end off the police week celebrations.
Earthquake Felt In Belize, Slightly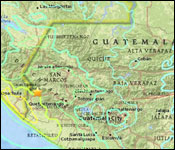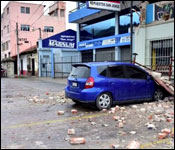 If you felt a little shudder under your bed at around 1:30 2:00 this morning, it was the effect of a strong earthquake on the southwestern Mexico/Guatemala border.
The 6.9-magnitude quake damaged buildings in the Mexican state of Chiapas, and in Guatemala, one person was killed when a church collapsed.
An aftershock struck around 20 minutes later. There were widespread blackouts and landslides in Guatemala as a result.
Queen Square Land Issue Not Clear Cut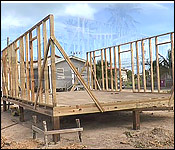 And, finally, tonight an update on that disputed parcel of land in the Queen Square division. Godwin Haylock form the UDP political office in the area told us that their offices got leases for the land which they apportioned for community memebrs. He said that contrary to what Irene Usher claims, no one - in Belize or living abroad - has been able to produce any title for the lands. He says the person who built there in June has also signed an affidavit accepting a lease. They have also helped her out to fill her lot with sand.
7News for Wednesday, June 14th, 2017 from 7News Belize on Vimeo.