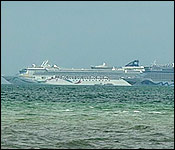 As we reported weeks ago, Norwegian Cruise Line and its Harvest Caye Port facility have run afoul of the conservation community by taking charge of a scarlet macaw named Big Red. The bird was taken from the Belize Bird Rescue to Harvest Caye as part of their nature exhibit. Critics say a Macaw's environment is in the rainforest, not on an island.
And now, they have launched an online petition to call out Harvest Caye for wildlife exploitation. Those opponents of Harvest Caye hope to secure the release of Big Red and his companions. They are asking for a thousand signatures and have gotten 347 thus far.
http://www.thepetitionsite.com/takeaction/842/162/957/
Police In Yabra
Earlier in the news, you saw police Southside commander Marco Vidal. He was in the Yabra area on Caesar Ridge road for the weekly meet and greet session. He said that area - known to be populated by gangs - has been calm:…
Northside police did their meet and greet in the upscale Driftwood Bay area.
7News for Wednesday, July 19th, 2017 from 7News Belize on Vimeo.