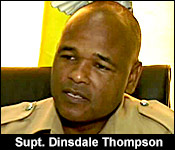 7News has confirmed reports that customs caught a Superintendent of Police today in the Cayo district with contraband.
But, it wasn't beers or cigarettes; Superintendent Dinsdale Thompson was reportedly transporting pharmaceutical products. We understand that he was caught in Arenal on the Western Border. According to reports he has settled with the customs department for an undisclosed figure. When we called him this evening he told us to call back; when we did we got voicemail. Thompson is assigned to the Eastern Division.


Queen's Baton In the Bush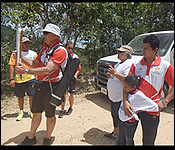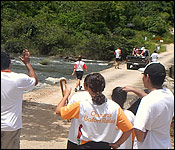 On Wednesday, the Queen's Baton, a symbol of the Commonwealth Games arrived in Belize. It passed through the City, and yesterday it made its way to the Chiquibul National Park. This is of special significance, because the Chiquibul is one of several nation parks protected under the Queen's Commonwealth Canopy, a royal initiative aimed conserving precious natural resources.
Today the Baton is making its way to Orange Walk where it will stay until Sunday, when it will be transported to Guyana.


A Program For Gang Members
Very regularly on the news, we have featured the Youth Apprenticeship Program. It's an effort by Dianne Finnegan and her team to provide at-risk youths with a second chance program, teaching them skills to become employable, or to start their own business.
The program is currently ongoing where the 10th intake of apprentices are going through the 5th week of their 6-months course.
But this week, the program made a special addition where there were 25 young men from the gang neighbourhoods of Antelope Street, George Street, PIV and Backaland sat in on the classes. These were young men who Finnegan met while acting as a civilian mediator in the gang interventions.
They started attending on Monday and this morning their short apprenticeship ended with a certificate ceremony. We spoke with the coordinators about these students today:
As you heard, these 25 participants only got to sit in on the entrepreneurship classes.
The 10th intake's schedule will moves on next week without them.


Hola, Pat!
Earlier on in the news we showed you Pat Andrews, the former banker who's now the CEO in the Ministry of Foreign Affairs. This is after seeing as Ambassador to the OAS and the USA for two years in Washington DC. Now, Andrews, who spent 42 year at Scotia Bank is having his first stint in the heart of the public service. He told us how he's managing:
Pat Andrews, CEO - Foreign Affairs

"Transitioning to the public sector has been very interesting. I think that I made it very clear to the people in Foreign Affairs when I joined with them, with the team, that I would be focusing on people, I would be focusing on people and trying to see how I could elevate careers, how I could elevate service, how we could be viewed differently. I think that I continue to work assiduously to see how we can join hands with our team players to serve the public better to be able to represent Belize internationally and locally."


CEO Says Mistakes Were Made During Taiwan Visit
But, that local representation took a bit of a bad turn last week when the Taiwanese Foreign Minister, Dr. David Lee came to Belize and the press didn't even know that he was coming. And we found out hours later that he had signed a major 60 Million US dollar Memorandum of Understanding with the government. CEO Andrews conceded that there were mis-steps during that week which they have sought to correct:...
Pat Andrews, CEO - Foreign Affairs

"Look, I will be very frank with you i think there was a little mis-step that occurred there. And with everything that we had on the plate going on - we might have been a little bit slow in getting out the news to you and that was what I was referring to and I said that we need to do a better job there."
"That one there was something that I think precipitated us to act and to bring in people who I think would have been able to lead to connect with you all. So, up front last week we had a misstep, but we are back on track and believe me we should have any more occurrences like that."
A communications officer has been brought over from the Prime Minister's office to bridge that gap.


A Gift From Cops To Kids
Today Southside Police and Angelus Press Limited partnered up to donate 300 backpacks to at risk youths in the South side. The community policing initiative will serve as a way to improve police relationships with the residents in the area, and to ensure that children have no excuse to be out of school. Minister of State of Police, Elodio Aragon, told us about the importance of the event...
The backpacks were given to the most vulnerable kids in the South side community.


BBF Bex About Civic Private Management
2 weeks ago, we took you into to the newly built "Civic" Center that is in the final phase before it can be opened to use as the only "state-of-the-art" indoor sporting facility in Belize City. It's the most expensive public or private structure ever built in Belize, and the designers think that to preserve all its features, it should be privately managed.
Well, the Belize Basketball Federation is hoping that the Government won't go that route. The Federation wrote a 3-page letter to the Prime Minister yesterday asking him to make several considerations before making a decision.
The Federation's executive reminded the Prime Minister that for the past 8 years, the lack of adequate facility and playing surfaces has posed challenges to the development of basketball. Belize was unable to host regional tournaments, and will only now be able to do so after the Civic is complete.
Their letter reads, quote, "any private sector operator will seek to maximize operating margins...(so) we justifiably fear that this will result in cost(s)...for the sporting community which will be expensive and prohibitive." End quote.
Their letter adds, "The presumption that the Federation would be required to find funds to pay for access to a publicly-owned facility to prepare the country's national basketball teams would...significantly handicap our programs."
So, what is the fix for the management problems, from the BBF's perspective? Well, they believe that it could be best handled by the National Sports Council and the National Olympic Committee acting as co-managers.
We'll keep following up to see if the Prime Minister responds to their letter.


Bandits Lose In Nicaragua
And in other sports news, the Belmopan Bandits didn't do so well in their opening match of the Scotiabank Champions League. Playing in Esteli Nicaragua against home team Walter Ferretti, the Bandiest lost four to one. They kept the score respectable for a large part of the match, and did play aggressively - but collapsed in the last twenty minutes of the game and let the score get out of hand. The return match will be played din Belmopan next week when the Bandits hope for a better outcome.


Dara Hops To Be Lucky
Last Sunday, the grassroots philanthropist, Joel "Dara" Robinson, held his 6th Annual Ride for Hunger.
And, this Sunday, it's his 10th Annual Lucky Dube Tribute Concert. It's an event that's all about reggae, and "Dara" is hoping that those roots fans will come out, enjoy themselves, and support a worthy cause. This evening, he told us why he's hoping that the tribute concert will be a success:
The concert happens at Birds Isle, this Sunday. It starts at 4 p.m. and will continue until late into the night.