He may be performing on the 20th night but Trinidadian Soca Superstar Machel Montano has been in Belize since last week. He's been the guest of Musical ambassador Shyne and has been touring the country, having fun and meeting musicians.
But he's in the city this week where his legions of fans are anticipating his 20th night Soca Jazz Festival.
Today we spoke to "Mr. Fete" himself along with the Music Ambassador who played an integral role in bringing Montano to Belize this time around. Here is what they had to say about the highly anticipated performance.
Tomorrow Machel visits schools to speak with students.



Hurricane Maria Mashes Up Dominica
And while we are lucky enough to be looking forward to Independence Day celebrations on the 21st., our eastern Caribbean brethren are not anywhere near that tonight.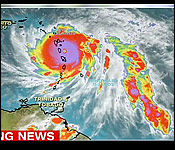 At this hour a "potentially catastrophic" Hurricane Maria is now a Category 5 storm, packing 160 miles per hour winds -- with even higher gusts -- as it nears Dominica. At 6:00 pm, the storm was about 15 miles east southeast of Dominica, and so that means right now it is pounding that small island state - and that will continue for the next few hours. Our thoughts are with them and the wider Caribbean tonight as the storm next takes aim at the US territory of Puerto Rico - which is still recovering from Irma.
We'll have more on this tomorrow.



New Chief Magistrate Is Official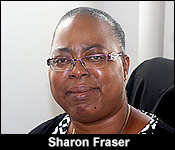 In July we told you about Chief Magistrates Anne-Marie Smith's promotion to the Eastern Caribbean Supreme Court in St. Lucia. She joins Belize's Godfrey Smith who is also a judge on that court. Now we had told you that one of the likely candidates to get the Chief Magistrate position is Sharon Fraser and Frazer was appointed on September 1st. In a release sent out today it states that "she is now tasked with the administration of the 10 magistrate's courts countrywide. It goes on to discuss her qualification and experience.



EXPO Crowd Was Less This weekend thousands flocked to the ITVET compound for the 21st Expo Belize Market Place. 104 companies occupied 190 booths and according to the Chamber of Commerce, they attracted over 14,000 visitors - which we note is down from last year's report of over 15 thousand visitors, and the previous year's 16,500 visitors. On the upside, the number of booths increased from the previous year.