The Belize Progressive Party wants to be Belize's third party. And while they might not have had anything close to electoral success so far - they say that their building their brand. And that means remaining relevant as a national voice on pressing public issues - like the 90.6 million dollars that the CCJ says Government must pay to the Belize Bank.
Today the BPP Party leader said the Court's decision must be respected, and, almost as an aside, he would also nationalize the Belize Bank:..
Patrick Rogers, Party Leader - BPP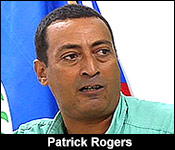 "It's PUP and UDP politics at its best, but it's Belizean politics at its worst: to be making - disrespecting - our highest court be questionable about your nationality. And that's why the BPP is here today saying that 'We are going to be standing up for the protection of the rule of law and for the respect of our Caribbean Court of Justice. Let the FIU and some CPAs get to the bottom of this, find out how we can retain ownership of Belize Healthcare Partners, find out how we can get Belize Bank nationalized, and find out how we can get Mr. Ashcroft out of our economy. So I am saying the bank is not a good corporate citizen. It can be nationalized. It brought a lot of problems in this country."