And while Rogers would take over the Belize Bank - first, held have to get elected nationally, and before that, his party would have to win a municipal seat. Right now the BPP doesn't even have a village council seat - but with municipals around the corner, hope springs eternal. The BPP Chairman outlined their plans:...
Paco Smith, Chairman - BPP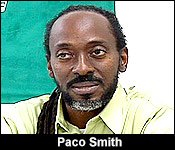 "Every time the bell rings, we will be on the ticket. So in regards to the upcoming elections, at this juncture what we're doing is we're making an appeal to like-minded Belizeans, who are very much interested in seeing a change to this tyrannical system of governance, to reach out to us. We are definitely committed to fielding slates in Belize City and Punta Gorda, but that doesn't mean that we're not looking at the other municipalities as well. Despite the fact that we are going to contest the municipal elections, we're doing it under protest. Amidst all of the madness that has been taking place over the past few months I would dare to remind you all that, still yet, the government has failed to engage in a re-registration exercise."
Chairman Paco Smith indicated that he will contest the Mayor's seat in Belize City.