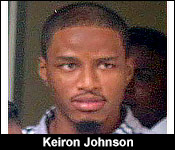 Tonight, 26 year-old Keiron Johnson is back at the Belize Central Prison awaiting his fate after he stood trial for the murder of Christopher Jorgenson.
HE was shot in the abdomen back in 2012. He succumbed to his injuries 3 days later, and since that time, Johnson has been on remand.
In the trial, Crown Counsel Janelle Tillett represented the prosecution, and her main witness was Shenique Jorgenson, the sister of the deceased. She testified that she was in her house on Curl Thompson Street when she heard the sound of gunshots. When she looked out on the street she saw a gunman running behind her brother. She said she recognized that shooter as Johnson.
In his defense, he gave a statement from the dock in which he said that at the time of the incident he was at a house on JR Street. He called a witness who testified and corroborated his alibi statement. He also called Scenes of Crime technician Angela Wiltshire, who had processed the crime scene. Wiltshire testified that the lighting condition was poor in the area and she had to use a flashlight to provide light so that she could take pictures.
Jorgenson was represented by attorney Bryan Neal. Justice Adolph Lucas today reserved his decision for December 18.