It was a big day for Belize - Guatemala relations in Washington DC today, when the Permanent Council of the OAS held a special meeting - basically to ask for financial support for the referendum effort in both countries.
The Foreign Ministers from both countries made the pitch. They basically had to convince friendly nations that both Belize and Guatemala are committed to settling this dispute and going to the ICJ. That's because there's growing skepticism in the international community about the seriousness of this effort - since the special agreement to go to the ICJ was signed in 2008, 10 years later, no referendum has yet been held. Funding for the OAS adjacency office is drying up, and both counties need money for the referendum education campaign.
So, the OAS arranged the Permanent Council for both countries to convince the rest of the hemisphere that, despite, a decade of quibbling, they're serious, committed and on the final approach to referendums.
Here's the pitch as put to the Permanent Council by Ministers Elrington and Jovel and the response:..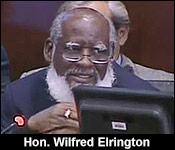 Hon. Wilfred Elrington - Minister of Foreign Affairs, Belize
"I think the positive thing that can be said this morning is that the relationship between Belize and Guatemala is all but harmonious. We have a good relationship at the governmental level. We are also very pleased with the position taken by both our countries and both our governments that we are resolved to get this matter dealt with at the International Court of Justice. The dispute, Guatemala is resolved that the matter should be dealt with at the ICJ, Belize is resolved that it should be dealt with at the ICJ, the Cabinet and government of Belize is resolved to proceed to referendum as soon as we are finished with the municipal elections and the re-registration process that is required by law. The outstanding issues to date then are for us to continue to strengthen and beef up our own office for the preparation of the education campaign. The limitations, of course, are primarily that of resource both in terms of personnel and in terms of finance but we have reached out far and near for assistance in that regard and we are doing all in our power to impress upon all our allies, friends and associates that for Belize this is an existential issue. It is a matter that deals with our very survival and our continued existence as a sovereign independent nation. I don't think there can be any higher interest to the government and to the people of Belize than this particular issue. And so we would want to make a special plea to our allies and friends who have been accompanying us in this process to assist us both in terms of resources and in terms of human capital. Those of you who have experience in dealing with referendums and the like to assist us even if we do not approach you ourselves we would appreciate it if you would come forward. I think that harmonious solution of the Belize Guatemala claim will not only bring credit to the region, because it will certainly be an example to the world, but it will certainly make life easier and more pleasant for all of us in the region. Conflict and war affect everybody negatively, harmony and peace conduce to the betterment of everyone. Help us in an unstinting manner to resolve this process and this claim peacefully at the ICJ."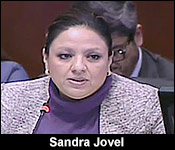 Sandra Jovel - Minister of Foreign Affairs, Guatemala
"On April 15th of this year the territorial difference will be put to the Guatemalan Congress and this will be a firm step forward also within the construct of the constitutional provisions. We are therefore inching forward to a moment of history, I believe. I don't think we have ever seen our way forward so clearly to what we both want, which is to resolve this insular and territorial and maritime dispute. President Morales has said that the referendum suggests our very firm purpose to live in peace with our neighbors. Agreement 2227 was drawn up recently so that the Constitutional Court could put this to the country as a whole and the question will be the same to both populations to both citizenries. We search a peaceful resolution to this peaceful dispute that is so long standing. To vote will show a clear interest on the part of our citizenry to truly promote peace and live in peace. To vote also means we believe that the matter can be considered and taken up by the International Court of Justice should that be necessary as we believe is the logical conclusion. This is a matter of the utmost importance to Guatemala. We will continue to work as Foreign Minister Elrington said, work also on two tracks building a bilateral relationship that will be strengthened because after all we are not going anywhere and neither is Belize. We are neighbors, we are there, and we care to make that truly a community and a neighborly process. Thank you very much."
Luis Almagro - Secretary General, OAS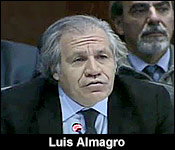 "We greatly value the fact that Guatemala has chosen a date, not in the distant future but quite soon and we have just heard the personal commitment of the Foreign Minister to move the process forward. The OAS warmly backs Belize and Guatemala in their efforts to disseminate information to both citizenries. Occasionally yes there has been tension in the Sarstoon River but through the mediation of the OAS at that point, thankfully the positions of the two countries were modified to the extent that today, as we've mentioned we find both countries in a favorable position to move forward in the scope of those bilateral relations. Most importantly we think it's important that the ongoing presence of the OAS mission in the bordering area, the adjacency zone, may be clarified. We have worked to clarify various incidents, 143 as a matter of fact, there have been 730 verification activities, 59 meetings were convened between the armies of Guatemala and the Defense Force of Belize, 188 GPS's were sorted out and communications specialists intervened, 142 different events lead to humanitarian assistance in the adjacency zone, more than $7.7 million dollars have been contributed to the Guatemala Belize sub-fund under the Peace Fund and that we believe will see us through the next six months. We would like to appeal to greater support for our member countries in order to support these efforts. Mexico has channeled resources already to support the educational campaigns for the consultations and we will continue in the group of friends to support the office in the adjacency zone in order to settle once and for all this dispute."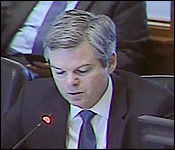 "We commend Guatemala in taking the next step to schedule this April 5th referendum to refer this dispute to the International Court of Justice and we also welcome Minister Elrington's renewed commitment this morning to proceed in Belize with a similar referendum as soon as possible. The international community must continue its support for this work Mr. Chairman as both states seek to bring closure to this dispute. The United States will also continue to support OAS efforts to maintain consistent effective leadership at the adjacency zone office so as to ensure appropriate mediation in the ongoing dispute. Now more than ever we must work together to ensure financial contributions for this OAS mission remain shared and robust among all donors. With this in mind, we encourage all neighbors and friends of Belize and Guatemala to continue to support their historic and important undertakings of the coming year."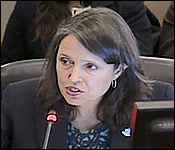 "As a member of the group of friends of the Guatemala Belize transition process, Canada has long supported efforts by the OAS to resolve this territorial dispute including through funding the office of the Organization of American States in the adjacency zone. We encourage the OAS to continue in the very positive and constructive role it has played in bringing peace and confidence between these two countries."
Sandra Jovel - Minister of Foreign Affairs, Guatemala
"We thank all of you for listening to the progress we have made. We are committed in Guatemala to give out the correct information so that everyone can vote on April 15th."
Hon. Wilfred Elrington - Minister of Foreign Affairs, Belize
"I would just like to express my very deep gratitude for the genuine and heartfelt comments that you have all made in response to the presentations made by the Honorable Foreign Minister of Guatemala and myself. Many times countries like my own do more with nonfinancial support than with financial support. Nonfinancial support tends to go where it is directed and has tremendous benefits. No one can misappropriate nonfinancial support whereas financial support can find its sway in the wrong places. So I would like to encourage all of you to think about ways in which you can give us assistance."
In total 13 countries responded supporting the initiative. There were those you just saw as well as El Salvador, Costa Rica, Haiti, Ecuador, Uruguay, Brazil Honduras, Bolivia, Colombia and Peru.
PUP Representatives were also in Washington for the event as official accompaniments to the government team.