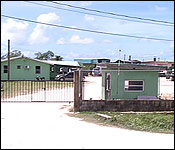 Police also filled in the blanks on the aggravated burglary at Belize Waste Control which we told you about on Friday.
The thieves cut their way through a fence at the back of the compound which is off mile three on the Phillip Goldson Highway.
Police say they came prepared - and each of them had a gun:..
ASP Alejandro Cowo - OC, CIB Belize City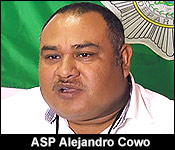 "Security guards were performing duties on that Friday morning when whilst inside the compound they were held up by three male persons who had masks on them. All of them were armed with firearms and held up Mr. Brian Smith and Mr. Alvin Flores, both employees of SOS Security Company. As a result they stole their security licensed firearm and then broke into the office and stole a safe containing assorted documents and about five thousand dollars in cash."
Reporter
"They were burglarized also in April and the safe was broken into. And a large amount of cash was taken. In this case, the safe was stolen. So was the attraction for the criminals, the firearms that the security guards had or the safe that they thought was loaded with cash, in this case only had a few thousand dollars?"
ASP Alejandro Cowo
"I believe it was both. I know that yes indeed that place was targeted several times."
Reporter
"You said all 3 of them were armed. That's unusual. So are we seeing again a highly level of organized crime in the execution of this particular aggravated burglary?"
ASP Alejandro Cowo
"Yes it is, but again, it is something that as I mentioned that the persons, the security guards, they have to be more aware of."
No arrests have been made.