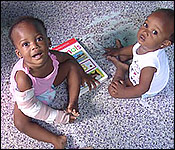 On Monday we told you about the Sunday night shooting that left a 16 year old critical and a one year old child shot to the hand. 16 year old Chanteuse Martinez remains in intensive care but Baby Melanie was released from the KHMH on Wednesday. Cherisse Halsall caught up with the family today to find out how they are re-adjusting to relative normalcy after such a brutal attack.
Baby Melanie is at home and while the bullet is still in her hand, she seems to be in the absolute best of spirits. We spoke to her mom today. And she recounted the shock and horror that she experienced when her home was targeted and her baby was shot.
Kree Martin, Mother of the Martin twins
"I was right in the house sitting. I was sitting right in the chair that chair right over there watching TV when I heard the commotion and all I could do was duck."
"Well I was shocked and I couldn't take it I had to leave my mother to help me with it. I was in, it was shocking to me. It was so shocking. I had to leave my mother to deal with the doctors I was only in to stay with her after they finished dealing with her."
Melanie Martin was reunited with her twin sister, and the two are already back into the swing of sibling rivalry, but their mom says Melanie has a bit more to go on the road to recovery.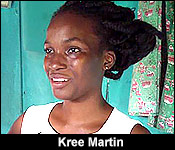 Kree Martin, Mother of the Martin twins
"She came out Wednesday afternoon but she was taken care of very well but she still has the bullet in her hand so she has to go back to do her appointment to take out the bullet."
"The process after he didn't tell me much he just said he'll do the dressing and when she goes back for her appointment we'll take out the bullet and afterwards I'll know what will be the progress of the bullet removal."
Cecil Martinez is the baby's grandfather. We spoke to him again today and he says that he hasn't been able to confirm whether the man police have detained is really shooter.
Cherisse Halsall:
"How has it been in the days after the shooting for your family?"
Cecil Ramirez, Grandfather
"It still left me frustrated because that wasn't called for if they and mom son have anything outta road meet outta road don't come to the family out, everybody has loved ones that is no sense that is just the devil they live with."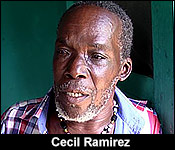 "No they tell me say they have the guy I'm not sure of that because I haven't seen him so i'm not sure if they have the correct person."
"These young guys out here me and them are not friends so I don't even know them and I don't particularly care to know them because they are the devil moving."
As for Chanteuse Martinez, the 16 year old remains in the ICU at the KHMH the family told us that she is trying to move her mouth and continues to improve.
Kree Martin, Mother of the Martin twins
"I haven't gone to see her as yet but my brother everyday my brother comes he told us that she is going in good progress trying to do a little movements daily daily she's helping herself."
Cecil Ramirez, Grandfather
"They say she's coming on slowly I haven't gotten to see her yet because she's still in the ICU."
"My son well thank god he coming around but its the young lady we're still praying for slight little improvements by the blessing of the almighty right."