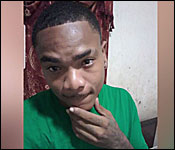 Tonight, the Belize City family of 26-year-old Khris Gentle continues to mourn his untimely passing at sea. All indications at this time are that he drowned while he was fishing.
The last time his family saw him alive was on last week Tuesday when he left the city on a fishing trip to Augustine Bogue Island. According to relatives, the Conch Shell Bay resident was recently hired as a fisherman, and although he left with his boss, he asked to stay a few days longer. That employer returned ahead of him, it wasn't until Thursday that his family became concerned and reported him missing to police.
Law enforcement authorities began searching areas near his employer's fishing camp, and on Sunday, his decomposed body was discovered near Banister Caye.
Last year, several fishermen went missing at sea, and there were instances where several of them turned up murdered. So, when the news about Gentle hit social media, there was speculation that he too had become another victim. Well, his family did not believe this, and this morning, his sister told us off-camera that after making their own inquiries, they came to the conclusion that he drowned.
Here's how she explained it to us:
Voice of: Kelley Rivers - Sister of the Deceased
"This is basically something he just started to do, and from the times that he did come in, he did mention to us that it is was something that he really enjoyed doing. So, the last time that he actually went out, the reason that he stayed out there was that he basically wanted to make extra cash to do his own stuff. He wanted a new phone. He wanted to help with the repairs on the house. We expected him to stay out there at that time. So, when he did not come home, it wasn't a red flag for us because we expected him to stay out at sea. When it comes to the family, honestly, at first, we did not know what to think. We did not pass any judgment because until you're in the situation, then you really understand it. From talking to his employer and the watchman, and what my brother said to us, we personally think that he drowned. We don't suspect any type of foul play or shadiness with what happened to him."
Reporter
"So, even though there was all this speculation on social media."
Voice of: Kelley Rivers
"I mean, we live in Belize. People are ignorant to the situation, meaning not knowing."