Belize Advances to Second Round of World Cup Qualifiers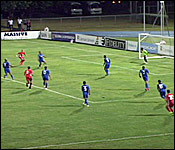 The Belize football jaguars have managed to advance to the second round of the World Cup Qualifiers - after a 1-1 draw last night in Grand Cayman at the Truman Bodden Stadium. Channel 7 streamed the game live from Cayman - and our cameraman Codie Norales was also there for the post-game press conference. The Belize team talked about being taken off guard by a Cayman Goal in the fifth minute of play:..
Woodrow West, Goalkeeper, Belize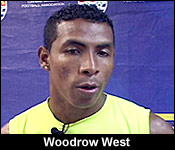 "I think the team came out too aggressive and it cost us that goal, because we weren't focused on what we were doing. It catches us off-guard. It was a mistake by Danny Jimenez. We came out with a game plan and we didn't execute on the first 10 minutes of the game and cost us a goal due to an error on the back line."
Ian Gaynair, Defender - Belize
"When the first goal score, all of us looked at each other like everyone got frightened, like we are down one now and I think when that goal scored, we gave that team a lot of life, because the game had just began and if they could score on us, then they know that they could win the game. We told each other to just settle down and we have 90 minutes to play the ball."
Charlie Slusher, Assistant Coach, Belize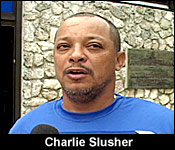 "You cannot come here on someone home and want to go all-out offensive and forget that the defensive aspect of the game."
Woodrow West, Goalkeeper, Belize
"We try to correct it and in the second half, we did a great job by holding out the game without they scored on us and that cost us to walk into the second round with this tournament."
Reporter
"Was Cayman compared to what you guys thought they were going to be coming in?"
Woodrow West, Goalkeeper, Belize
"In Belize City, Cayman really played a defensive ball and they didn't attacked us as much as today and we were aware that they wanted to come to us, but not as aggressive as they did today. I think it cost us on a wrong foot and they ended up getting a goal."
Abijah Rivers, Captain - Cayman National Team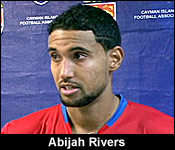 "It's really unfortunate that we played two games and didn't lose any. It hurts to lose on a set piece. It really hurts. We gave it a great effort all 11 players, even the subs that came on put in a good shift and I think the guys hold their head up high."
Elroy Kuylen, Scored Belize's Only Goal
"During the training session after the first game I was practicing a lot of my free kicks and I got one and I made the opportunity get it behind the net. We got to come out steaming because we wanted a win and we had all the opportunity in Belize and didn't scored any goal."
Reporter
"How are you feeling after this one?"
Mark Ebanks, Scored Cayman's Only Goal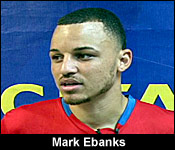 "Sad. Honestly. We did a lot of training for this. We gave it our all and unfortunately we didn't moved on."
Charlie Slusher, Assistant Coach, Belize
"At the end of the day, it's not what we wanted, or we didn't want to play that way, but we accomplished our goal which is to advance to the next round. Whether it was a pretty one or an ugly one - sometime you got to take what you can get in this circumstances, because it's sad that when you need to come on the road to win a game when you had the opportunity to win in your country and you lose that opportunity. So, for us it's a blessing that we still managed to make it to the next round."
Reporter
"What would you think could have been done differently to sort of seal a victory, in terms of breaking the 1-1 draw?"
Woodrow West, Goalkeeper, Belize
"Just the goal. It's a problem we had from the previous game - we missing so many goals. We could have done this game from last Wednesday in Belize. We came out today and still falter the goals. We got the forward, the defense - they did their job to keep the ball up front and we just couldn't get the ball behind the net. I think there is a problem with the team, we need to just work on the finishing part now and try to get on our feet because after this the games are just going to be harder from now on."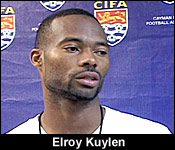 Elroy Kuylen, Scored Belize's Only Goal
"I just think the players need to focused more and keep it simple. When we get into the last third part of the field and try to get the ball behind the net and hold your composer when you are close to the goal, because goals wins the game."
Reporter
"One goal away from qualifying for the World Cup. How does that feel?"
Mark Ebanks, Scored Cayman's Only Goal
"When I scored the goal, I thought we were going to sealed it, lock up shop and just played the rest of the game defending that goal, but unfortunately we gave away a free kick and they punished us for it, but I scored the second goal and they took it away from us and that was like a heartbreaker right there."
Reporter
"Do you think that you guys were underestimated coming into this? Do you think most people thought that you would draw both games with Belize?"
Abijah Rivers, Captain - Cayman National Team
"When we landed in Belize, the local media stormed us and the first thing that caught our attention is that they were saying that were going to give us 6-0. Two games, two draws, they scored one goal on us - that speaks for itself."
Ian Gaynair, Defender - Belize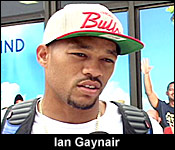 "This team went to Belize and we could draw the game 0-0. This team knew that they could play ball against us. They came home on their pitch, got all their fans, and got everybody. I think they gained lots of confidence to play better than us yesterday."
Reporter
"Has this been a humbling experience for the Jaguars, in terms of underestimating and actually looking at what these individual teams are worth and going into the game prepared to do battle?"
Charlie Slusher, Assistant Coach, Belize
"I think it has been and also a wakeup call for the guys to not just to underestimate teams, but basically to make use of the opportunities when you have it. We cannot have a team that we can beat and then you don't beat them."
Woodrow West, Goalkeeper, Belize
"We came out here and I think the players took the team very likely and team really played us good today. Hopefully in training, we get our finishing together and maybe Deon McCauley joins the team as well because he is a key player on the team as well and we need him too."
Ian Gaynair, Defender - Belize
"The first thing. You never take your opponent likely and I think that is where all of us slip down - all of us failed. We were already at Dominica and we did never got over this team yet. We already thought we were going to load up this team and give them so much goal and it didn't happen. Like I say, you never take your opponent likely. I think we need to have respect for our opponent. Its 11 against 11 on the field and I could assure the country that the next round will be better and we will get back our striker Deon McCauley who everyone wants and we are seeking another striker who is at Honduras. I think we have a lot of time to prepare and I think we will pass the next round too, because this is a big learning experience and a wakeup call for all of us."
Though both games ended in draws, Belize advances by virtue of scoring a goal on their opponents' home field. Belize now advances to the second round of the World Cup Qualifiers against the Dominican Republic in June.

Mek Mi Rich Court Challenge Continues
Viewers may remember that back in February, Belizean businessman Curtis Swasey accused the telecoms company, BTL of giving away his intellectual property to make someone else rich.
According to Swasey, he entered into a non-disclosure agreement with BTL and that's when he felt comfortable to pitch the idea of lottery texting. This new and easy form of gambling allows cellphone owners to use their phone credits to play by simply texting in.
He claims that he worked with BTL for 2 years, and quite abruptly, they ended all business arrangements. Weeks later, he heard about the Mek Mi Rich gameshow; he claims that he eventually realized that they were using his ideas for his game without his permission, and with any financial reimbursement.
So, he sued BTL and Mek Mi Rich's parent company, MMR Belize Productions. Late this evening, the case went back before Justice Courtney Abel for case management conference, and 7News was there to speak with the attorney from both sides about how far this matter has progressed. Here's what they told us about 2 hours ago:
Kareem Musa - Attorney For Curtis Swasey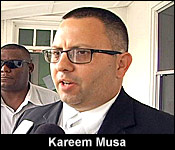 "Today was set for the case management conference before the Honorable Justice Courtney Abel, but before we got into the actual management of the case, there was an application made by the second defendant, which is MMR for further disclosure. A request for further information under a particular rule of the Supreme Court civil procedure rules. That application is what took up the most part of this afternoon. It was heard. It was argued. And in the end, the learned Judge agreed with us that it was somewhat of a premature application, because we are only at the stage of pleadings. So, we have filed our statement of claim. We have amended it and now it is up to the second defendants to file their defense."
Naima Barrow - Attorney for MMR
"MMR made an application to the court to compel Mr. Swasey to provide more information about his claim. He has made allegations that MMR has use concepts and flowcharts and information belonging to him and because those terms are so broad, what MMR wanted was particularly what is your that you are claiming that has been used. The thinking of MMR is that the quicker you provide that information, the quicker we can show where ours came from. Our application was resisted by Mr. Swasey who has ask that he be allowed disclosure and witness statements and all the other orders to come. So, that how MMR feels, is that we are being kept in suspense as to exactly what the allegation is. But the court has assisted, by while not granting the application confining his case to one issue which is that the concept of buying lottery by text had to have been his and it's a hard one to prove, because we all know it's not something original to Belize."
Daniel Ortiz
"When we first reported this story we contacted the attorney and she suggested that the case was struck out against her client. Obviously, she is here in court. What was the confusion, if you are able to explain?"
Kareem Musa - Attorney For Curtis Swasey
"I'm not the one that gave you that information. I told you to check your own change, because that was misinformation. The case was never struck out and as you can see, by today all the parties are here. So, no, it was not struck out."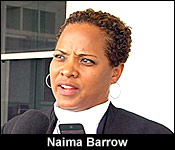 Naima Barrow - Attorney for MMR
"The court struck out the first claim, but allowed them time to amend their claim - to fix the defects in the original claim that was brought. There is a 6-year limitation. So, even if it was struck out, they could have gone and recommence another claim. To save the court's resources they permitted them to amend that claim, which they did do and that was what was filed and served. We had hope that Mr. Swasey had come to them first, because the matter could been put to bed with a simple conversation. They understand how he may be frustrated, but they do not, for any minute accept used it, because they have their contracts with their IT people outside of the country of Belize and so it's quite easy to prove where the information came from. So it was the hope that we can get the information more particularly identified, so we can deal with this matter quickly. Regrettably, the court has said that it will take a bit longer, but they intend to defend the matter."
The case goes back to court at a later date, and we will keep following.

Darrell Declares For Caribbean Shores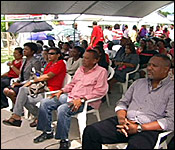 It seemed that for months Belize City UDP Mayor Darrell Bradley was going back and forth on whether he run for Caribbean Shores or stay on and seek a second term as mayor. Well it turns out he will do both! Less than a month after winning a major landslide as mayor, Bradley announced today that he's taking on Santino Castillo in Caribbean Shores. 7News was at the launch of his candidacy today:...
Darrell Bradley, Mayor - Belize City
"So it gives me great pleasure, great honor, great pride and great humility to stand before you this morning and to declare in one resounding voice that I intend to run for area representative in the Caribbean Shores division of Belize City."
Jules Vasquez reporting
And to make the announcement Darrell Bradley set up his launch tent on the freshly paved Blue Marlin Boulevard
Darrell Bradley, Mayor - Belize City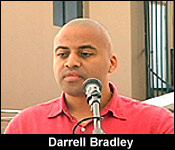 "This street that we are on, Blue Marlin Boulevard, I was told that this street was in the making for 5 years, It did not happen just by chance. It happened because you have men and women leaders who are caring with vision and commitment."
And that record is what he is running on against current representative Santiago Castillo Jr.
Darrell Bradley, Mayor - Belize City
"So that one of the reasons why we decided to have it on a Monday morning at 10am in the form and fashion that we have, is really just to make a public announcement that we are coming for the Caribbean Shores seat."
Jules Vasquez
"Santino has said that he has the Prime Minister's support as a cabinet member. The Prime Minister has said that Santino indeed does have his support and that Santino's family has been long time supports of the UDP. We assume that to mean campaign contributors as well. Do you feel that you are taking on the whole side?"
Geovannie Brackett, reporter
"If the party supports Santi, that means not only support on the ground, but as well as money and how will you match up against those two entities?"
Darrell Bradley, Mayor - Belize City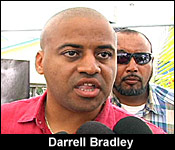 "There is no question of matching up. I am not approaching this from the point of being a novice. I know that there will be a significant amount of money against us. There will be a significant amount of political support against us. So, what I am telling you is that it is about the courage of your leader to stand up and say, you know what, I am for character, I am for change, I am for vision and if the people want Darrell Bradley, then just vote."
And while the crowd this morning was there for Caribbean shores - what about city hall?
Darrell Bradley, Mayor - Belize City
"There will be those who would say Mr. Mayor, you were elected to a 3 year term and now you are aspiring to be area representative in Caribbean Shores. I have made no secret of the fact that I wish to be of service in any office that I hold in this land."
Jules Vasquez
"You had 12,000 votes as mayor in the recent election not a month ago and now you are saying to those people, thanks for voting for me as mayor, I got 12,000 votes, but I am moving on. Is that a betrayal of those voters?"
Darrell Bradley, Mayor - Belize City
"I think that that's a fair question and I made this very clear in my speech that it's about service. I want to be able to continue to serve this land in whatever office. I feel that I can make a contribution in higher office. Nobody in this city, has to feel that my loyalties, my dedication will be curtailed or diminished in any way. I will be effective as a mayor for the full time in which I serve in that office."
But how long will he serve - if general elections are really just a year or less away
Darrell Bradley, Mayor - Belize City
"No one need worry that your mayor will be preoccupied in relation to the Caribbean Shores constituency convention or the election, that my heart and our work will continue to making the city a place that we can all be proud to call our home."
Jules Vasquez
"However, you are already doing two jobs which are your law practice and city hall. Are you able to do 3, which is lead a campaign for a convention?"
Darrell Bradley, Mayor - Belize City
"I would say that I could do 4. I would just say this Jules, that I was a practicing attorney, I go to court probably every day. I was a fulltime mayor, being at City Council every single day working and that formula has yielded unprecedented development in the city."
And so now - with his pastor's blessing - Mayor Bradley will see if he can parlay his municipal accomplishments into national office.
The mayor would only demit his office at City Hall if and when he were elected to national office in the next general election. Of course, he has to first win the UDP's convention on June 7th for that to be a possibility.

Santino Pleads to Cari Shores Voters
And so while Bradley is laser focused on June 7th - the current area representative Santiago Castillo Juniour says he will defend his ground - and it seems his cabinet colleagues - some of them at least - will stand with him. And in the Budget Debate on Friday, he used that national platform to make an unusual appeal to voters in his division:..
Hon. Santino Castillo, Caribbean Shores Area Rep.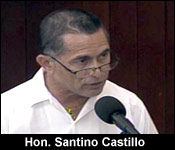 "I humbly ask all Cari-Shores voters to please come out on June 7th which is the day of my convention against Mayor Darrell Bradley and give me your vote of confidence once again. You voted him as your mayor and I ask you today to keep him as mayor and I ask your continued support as your area rep. and member in this honorable house representing Caribbean Shores."
The convention is June 7th.

PM Answers PUP Deputy Espat
And while that was the budget debate - this year, the debate fireworks were saved up for the debate on the Petrocaribe Loans Bill. As we have reported, the legislation is to make special provisions for loan receipts from Petrocaribe. But the PUP says that the Bill seeks to circumvent the Finance and Audit Act and give superpowers to the Minister of Finance, in this case Prime Minister Dean Barrow. The man leading the charge has been PUP Deputy Leader Julius Espat. On Friday we broadcast a small portion of his address, but we couldn't get to the Prime Minister's rebuttal - since it happened at about 7:30. Tonight, we have those, where the Prime Minister says that the Opposition has deliberately misconstrued the intention of the Bill:..
Hon. Dean Barrow, Prime Minister

"What the bill is saying, notwithstanding anything contain in the Finance and Audit Reform Act. It shall be lawful for the government to borrow from ALBA Petrocaribe, in any amounts without the prior authorization of the National Assembly. Those are the operative words "without the prior authorization of the National Assembly." You still have to come back and get subsequent retrospective authorization because that's the only way to do it. You don't know what you are approving until you actually collect the money, in consequence of the peculiar arrangements. All the other provisions of the Finance and Audit Act remain enforced. You are only exempting Petrocaribe from that one provision that in the normal course, requires you to get prior authorization from the National Assembly to borrow upwards of 10 million. They say that that too is ominous. Sir, I am sorry to have to keep harping on your ignorance. All government monies go to the central bank. Where else would you keep it? In your back pocket?"
Of course that's not the end of it - far from it, actually, as the PUP will be taking it to court and will, apparently, build a media campaign around the Loans Bill.

PUPís Camalote Kumbaya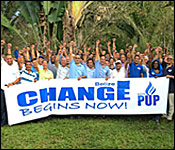 But that probably wasn't on the agenda this weekend when the PUP went for a special retreat. Now, we know, when you hear the words "PUP" and "retreat" you probably think of lifestyle guru Tony Quinn and Caye Chapel back in 2006 - but this weekend's session wasn't anything as posh as that. The party met at a Leslie's Farm at mile fifty one and a half on the Western Highway.
According to a release 125 persons attended including members of the National Executive, Standard Bearers, parliamentarians, businesspersons, members of constituency executive committee and party supporters.
The release says the retreat was to kick off its campaign planning for the next general election with a full day working session.
The release quotes, Party Leader, Francis Fonseca, as saying that he wanted to hear, quote, "frank views (on) the challenges facing the party, (and) recommendations, arising after vigorous debate, as to the strategies required in taking the party to victory."
From here, the party will quote, craft its plan of action for the upcoming general elections."
And so where does the kumbaya come in? Well, the picture says it all - and we note that it shows former leader John Briceno falling right in behind leader Francis Fonseca - after he missed the last meeting. After this soul searching session it is left to be seen if the party still chooses to preserve the status quo - coming off resounding defeats in two elections this year.

Attorney Ernest Staine Canít Pay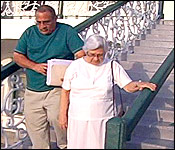 Another case which went to court today was the lawsuit against senior attorney Ernest Staine. He's being pressed by the court to return 230 thousand dollars which belongs to his former client Rita McField, which should have been done months ago.
He was to make final the sale of certain land transaction in 2014 that McField and Forward in Faith Ministries wanted to be dealt with, and then hold it in escrow for his clients. The problem is that he was supposed have handed the money over to his client McField, but he never did.
They then pressed the court to order him to do so, and disclosure of his finances shows that he does not have his clients' money; it appears that he spent what did not belong to him.
So, the court is compelling him to return the money by selling off his assets. The problem is that it's not so easily done, so the claimants are forced to wait. They attended a case management conference this evening to find out what exactly will Staine do to return this money. Here's what both sides told us when they came out of court:
Naima Barrow - Attorney for Ernest Staine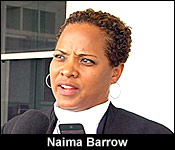 "Mr. Staine has done what the court has required and has gone above and beyond in seeking to make good the repayment of the monies. The court had ask for him to provide information to the claimant, which he has done and Mr. Staine is now in the process of selling some of his assets to pay back the monies that are due to the claimant. So, that's where he is."
Reporter
"Is there a specific timeframe that the court mandates for him to repay this money?"
Naima Barrow - Attorney for Ernest Staine
"No. It would be an impractical order to make. As you know it takes time and there is no telling what will affect the market, what will affect the buyers and the purchase price. The court I expect will be ask to be provided with regular reports to show the progress of things and that can be shown with emails between us and potentials purchasers. So, there is no order that has yet been made."
Daniel Ortiz
"Will your clients be reimbursed, will they be paid?"
Julie-ann Ellis Bradley - Attorney For Rita McField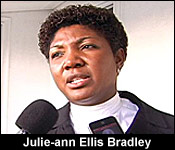 "We are working towards that. We are working together with the other side to determine what are the best options. The interest from the very beginning has been to see the client get the monies which they had paid and I am hopeful that we will be able to arrive at some order that will see that being done and so we are to return in the morning to get that order finalized."
Daniel Ortiz
"What do you make of the attorney under question having to liquidate instead of having the money in hand to return to your clients?"
Julie-ann Ellis Bradley - Attorney For Rita McField
"The challenge is based on the information is that the monies really are not there and so then the law allows certain procedures to take place in order for a judgement to enforce his/her judgement and so those are the options."
Daniel Ortiz
"There is the criticism raised that because Mr. Staine is a prominent of the community, he is a well-known attorney, certain liberties were offered to him that other persons in the public wouldn't enjoy. Like if it was someone else who withheld this money, they would have already been charged criminally. How do you respond to that kind of criticism?"
Naima Barrow - Attorney for Ernest Staine
"That would be one that best answered by the DPP. As you know we are not responsible for dealing with the prosecution of crimes, but the DPP, I think would be able to explain it to you."
Daniel Ortiz
"As an observer, a person of the profession, would you support if the time comes for criminal action to be taken against this person under question?"
Julie-ann Ellis Bradley - Attorney For Rita McField
"I would say that criminal sanctions are in the purview of the police. It is an option that is always available to someone, if you feel that there has been a legal wrong committed against you. And it is an option that the clients to have and if they wish to proceed to make criminal complaints if they have, then it's for the police to take that aspect of it. I have no objection. It is their right and so, if they wish to do that, then I have no objection to that. That is the consequence that flows from the action. I speak as a member of the profession, as a fellow colleague of the defendant - it should not have happen and unfortunately the clients are placed in that position and it's something I take very seriously. It's something that nobody should expect, that an attorney should do that. There are codes of ethics that attorneys have to abide by. Unfortunately we've been put in this position."
We'll be there tomorrow to find out what Justice Abel will order Staine to do.

Got Off the Murder Of Pungo P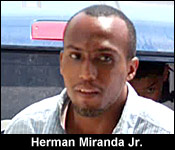 Twenty-seven year old Herman Miranda Jr, charged with the murder of 36 year old Norman Gillett, aka "Pungo P", was acquitted of the charge today in the court of Justice John Gonzalez.
A statement that Miranda gave to the police in which he said he committed the crime, was not admitted into evidence after a trial within this trial was held. Justice Gonzalez ruled that Miranda was not cautioned nor was he read his constitutional rights before he gave the statement. Without the statement the case for the prosecution fell apart. As a result, Justice Gonzalez directed the jury to return a formal verdict of not guilty.
Gillett was shot and killed on September 29, 2009, while he was standing at the gate of a yard, located at 63 Vernon Street. He was approached by three men who fired several shots at him. He was shot 6 times in his chest, once in his stomach, 3 times in his face, 3 times to his right arm and once to his left leg.
Shortly after the incident Miranda was picked up by the police who found 2 rounds of ammunition on his person. Police said that Miranda confessed to killing Gillett and he took them underneath a house where they retrieved two 9 millimetre pistols.
Miranda was represented by attorney Oscar Selgado while the prosecution was represented by Crown Counsel Killeru Awich.

Coye Family Back In Court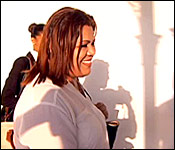 The Coye Family… they've been in an out of court since 2009. First, they had to defend themselves against a criminal charge of money laundering for years. Melonie and Michael Coye were convicted in 2012 for the offence, and they had to spend several months in jail. Michael Coye died while serving that sentence due to complications from his diabetes and his declining health.
Then, the family had to appeal the money laundering conviction which they won at the Court of Appeal. The sentence was quashed, and the conviction was set aside, but that set the stage for yet another legal battle.
They had to challenge the Financial Intelligence Unit for months to get their money in different bank accounts unfrozen. And then, when they finally won that battle, Melonie and the longtime family attorney Arthur Saldivar had a legal dispute. She claimed that Saldivar made off with almost a million dollars of her family's money. That took a few more months to be settled out of court to avoid litigation.
Well, Melonie Coye was back in the Supreme Court, and this time, we understand her purpose is to challenge assessment of the Income Tax Department, which was made in 2014. The then Income Tax Commissioner assessed the family's fortunes and determined that they owed the government 3.212 million dollars in unpaid taxes. They believe that it was arbitrary and exorbitant, which the Income Tax Department disputed.
So, Melonie Coye is now trying to find out if the court agrees that the assessment was unfair. There was a case management this evening before Justice Courtney Abel, and we tried to get comments from Coye and her attorney Eamon Courtenay. They both declined, but we'll keep following up.

Police Officers Accused Sexually Abusing Child
They're supposed to maintain law and order, but 2 police officers have been accused of a monstrous act of sexual abuse. On Thursday evening at about 5:30 p.m., a mother of Bella Vista Village reported to the police that her 13 year old daughter was at a bar with Police Constables Arsenio Chub and Arnaldo Ical, and one of them had sexual intercourse with her. A medical examination was conducted which certified that the child had been carnally known. Police have since arrested and charged both officers with one count each for Sexual and Common Assault and P.C Ical for Unlawful Sexual Intercourse.

City Shoplifters Do Skirt Lifting In San Pedro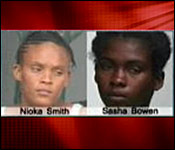 Police say that a well-known pair of Belize City female city shoplifters were caught shoplifting in San Pedro. And to do the shoplifting, Nokia Smith and Sasha Bowen were also skirt-lifting - stuffing Dutch cheese and top shelf liquor under their skirts.
The shoplifting spree started on Thursday afternoon at San Pedro K-Mart where they were caught on camera taking a bottles from the liquor shelf and pushed it under their skirts. One of the females left with a bottle of Vodka.
Half hour later they went into "LIQUOR SHOP" on Laguna Drive where they stole one some more top shelf liquor and 1 carton of cigarettes.
And one hour later, they turned up at Love Belize Store on Barrier Reef Drive where they stole a pair of short pants, a various pairs of slippers.
Police arrested 29-year-old Nokia Smith and 27-year-old Shasha Bowen both of Belize City who were jointly charged with six counts of "Theft".
The pair were convicted and sentenced to two years in Belize city in 2009.

Scarlet Macaw Scare In Red Bank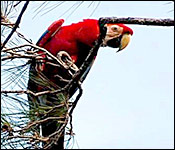 There are plans to set up the first river tubing tour in Red Bank - it would be part of the attraction for the Norwegian Cruise Line Port at Harvest Caye. It is called the Maya Red Bank Tourism Project and owner of H20 Tierra Ltd. Tom Wilson says it will uplift the village and provide employment. Wilson says the village council has approved the project and many of the villagers have welcomed it but others are wary of the project and the manner in which it is being handled in the village. Villager and Tour Guide Basilio Mes told us today that there are several factors that need to be discussed.
Basilio Mes, Tour Guide
"I did a Scarlet Macaw tour in the area and I encountered some survey line on the hill side where the Scarlet Macaw comes to feed and it goes all the way to the river. So, I started to inquire about it in the village and eventually I was told that there was some sort of a private company that was surveying or cutting survey lines in the area and that it was going to be use for mass cruise tourism in the area. Well, there are talks now that they are going to be doing river tubing in the area. The tour is going to be started somewhere around Roseville. The tour is going to start all the way upstream and it going to end up exactly where the Scarlet Macaw comes to feed. They come to feed from December to March. If this was to be approved, if this was supposed to go through and ATVs are allowed in the area, this would definitely in no doubt would chase away the Scarlet Macaws from the area."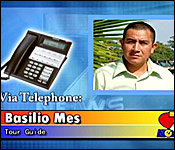 "We all know that Scarlet Macaws are endangered and there are reports right now of just approximately about 200 birds left in the area and from what I saw this year, I only counted about 60 birds in the area. So, what that means basically is that I think that we are leading to extinction of Scarlet Macaws in Belize and it would mean that a lot of tour guides from surrounding villages like Placencia, won't be able to go and see these magnificent birds anymore. I think that basically what that would bring to Red Bank if this was to be approved."
We also spoke to Tom Wilson today and he says that firstly, Mes isn't even from the village nor does he have anything to do with H2O Tierra. He adds that the river tubing tour won't affect or disturb the feeding grounds for the Scarlett Macaws and that the survey lines and markers that Mes referred to are NOT theirs nor do they have anything to do with H20 Tierra's plans or operations. The project is only in the consultation stage but Mes says that more consultation must be done. In response to that, Wilson says the necessary consultation is being done and that he has met with council members on several occasions. We also spoke with the Chairman of the village council Juan Acal and he said that they have welcomed the project and another meeting with Wilson and the villagers is set for April 19. We will keep following the story.

Jawmaineís Son Wins Junior Classic on Anniversary of Fatherís Senior Win
The Holy Saturday Cross Country Classic is set for this coming Saturday April 4th. So, the juniors had the road for themselves on Sunday in the 16th Annual BEL Junior Cross Country Cycling Classic.
At the end of the 70 mile race, Ernest Bradley was the best of 33 riders. The young man is the son of slain cycling legend Ernest Jawmaine Meighan and today he spoke to us about his victory for the SMART Team:..
In a very neat and notable coincidence, Ernest Bradley won the junior cross country on the very same date, March 29th that his father Ernest won his first Cross country in 1997.

Jamie C Killed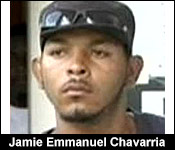 And there is a murder to report tonight. It happened about half an hour ago on Berkley Street where Jamie Chavarria - who had been shot recently - was killed. More details on this tomorrow.

Home | Archives | Downloads/Podcasts | Advertise | Contact Us