Minor Killed In The City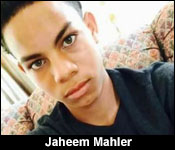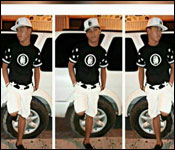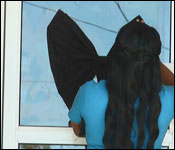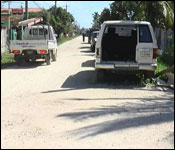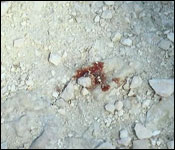 Another city youth has lost his life to gun violence. 15-year-old Jaheem Mahler was executed last night. Mahler left his Faber's Road home around 7:00 to go to the store but about 1 hour and a half later, he was found in a drain on Iguana Street Extension, taking his last breaths. He was shot about 8 times all over his body. There are several reports as to how he ended up on that street and what exactly happened, but neither the family nor police can answer those questions definitively at this point. Courtney Weatherburne found out more about this murder of a minor:
Jaheem Mahler shaped and decorated this bamboo stick at the Gateway Youth Centre's Arts and Craft class. He was one of the first to enrol in September 2016 and apart from Arts, he excelled in all other subjects.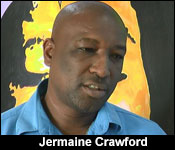 Jermaine Crawford - Coordinator, Gateway Youth Centre
"He took part in many of the sessions that we offer, the enrichment activities, he was part of the computer class, basketball, he did sports, yesterday his last session was martial arts, we do mixed martial arts here also for the students."

But today, just as his creative pieces were set out for display, A black bow was pressed against the front door of his school.
Mahler was gunned down and killed last night on Iguana Street Extension.
His grandmother told us that he was at their Faber's Road home fixing these bicycles when he left to go to the store after 7:00.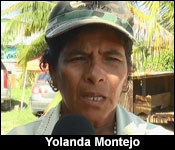 Yolanda Montejo - Grandmother
"He said dad give me 25 cents please and his dad asked him what do you want the 25 cents for and he told his dad that he wants to buy an ideal, so he gave him a dollar, so when he gave him the dollar he said I am going to the shop to buy my ideal and that was it when he went to the shop. So I asked my son, how is Jaheem taking so long, and he said mom he went right to the shop and so when I was coming out, the other little boy who was with him said Ms. Ter they just shot Jaheem."

Reports are that Mahler got into a fight with a few other boys in front of a store on Raccoon Street
But it didn't end there, a gunman followed Mahler and 2 of his friends down Iguana Street Extension as he was heading home
He shot Mahler several times. A resident told us off camera what he saw.

Voice of Resident
"So when I looked through the hole I saw the individual out here, before I arrived downstairs, there was a hail, barrage of more gunfire, like about 14 shots, when I came outside through my gate I saw the young man right down there so."

8 of those shots hit Mahler to his chest, back, hand and feet. He died at 8:45.
Now the family is trying to figure out what exactly happened and why their loved one was ruthlessly taken from them. They say they didn't know of any problems Mahler had with anyone.

Yolanda Montejo - Grandmother
"Well up to my knowledge he doesn't have a lot of friends, the only friends he has is the man sitting over there and another fellow, just 2 other persons and him, he doesn't go anywhere, he geos across the street to a neighbour or to another neighbour."

And police are also looking closely at all angles to try and establish a motive.


ASP Alejandro Cowo - Officer Commanding CIB.
"Well so far we have checked on his, on his, ehm, past and present, ehm, how you can call it- profile. And there's nothing much in our record to indicate or that we have documented that he is any affiliate of any gang member at this time, noh? We are still making checks to establish a motive in regards to the, to this shooting, as up to us has not ascertained yet what is the - if he was the intended target or if he was the other persons that were along with him. Remember he was along with two other male persons at the time of the shooting."

But according to one of Mahler's close friends, regardless of the circumstances, the gunman could have given him a chance.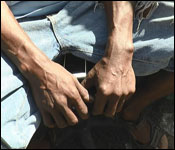 Voice of Wallace Baldwin - Friend
"The way I see it they chanced him out of his life, I don't know the situation but in any situation the kid is a minor and it is an older person who did the shooting, it's not somebody of his age. I don't see why of course they would have to use gun to try show respect to a kid. I think he should have just slapped him or punched him as a young man and just you know."

But instead of a lesson learned, things escalated – and now this grandmother mourns the loss of the boy she raised as her son:

Yolanda Montejo - Grandmother
"To be honest with you, I have my grandson from he is a baby, from baby to 12 years old."

Cops Got The Gun, Have Suspect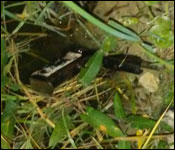 Police were quick to respond to the murder scene, and based on information, they found the suspected murder weapon nearby. It had been thrown in a drain. Today, the press officer said they have the weapon and a suspect: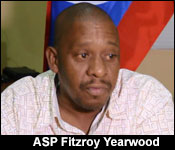 ASP Fitzroy Yearwood - Police Press Officer
"Investigators have a person of interest that is being sought that they believe would shed some light into this investigation. I must say that the response of the police to the scene helped us to actually recover that weapon that we believe was used and we believe that they have enough information as to lead up to the apprehension of this wanted person."


ASP Alejandro Cowo - Officer Commanding CIB
"Yes, we have a person of interest detained but we are looking for two other persons that definitely can assist us in the investigation. In regards to the weapon that we found last night we match it in our system, however it does not show any reflection it has been reported stolen or otherwise, noh?"
The weapon recovered is a Black CZ Luger brand, 9mm pistol.

Man Charged For New Year's Murder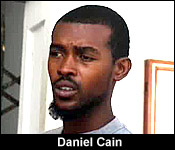 And while police have suspects in that case, today one man was charged for the New Year's Day murder of Colin Sutherland. The 22 year old was killed not far from his home in the Conch Shell Bay area.
Today, police charged 29 year old Daniel Cain, a Pinks Alley resident for the murder. He appeared in court before the Chief Magistrate and was remanded into custody until March 17.
Sutherland was walking with friends on Youth For The Future Drive at 7:00 on New Year's night when a gunman emerged from a parked car, ran down Sutherland, and opened fire, hitting him multiple times. He was shot in his chest, upper abdomen, back and upper thigh. Colin Sutherland was not known to be active in gangs but, earlier this month, his elder brother, Oliver, told us that the murder was orchestrated to hurt him:
FILE: January 3, 2017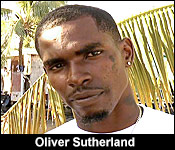 Oliver Sutherland
"Well, to me, I think this is a set-up. And I think that it's my own friends too."
Daniel Ortiz, 7News
"Why do you think they waylaid him?"
Oliver Sutherland
"Because of jealousy. We came up from nothing to something, and people don't like that. He was my everything. He is my everything. I want them to see me good, how they got me grieving, bawling out, and moaning. I love my brother very much. That's my half. They know that it will eat me out, that's why they hurt him."

Bus Killed Cyclist In North
And while Sutherland's murder was the first in a flurry of New Year's killings, there have also been a flurry of road traffic fatalities since Saturday. Three men have been killed: one on motorbike, two on bicycle. The most recent happened last night when a Tillet's Bus knocked down and killed a man on bicycle in the Corozal District. The police press officer told us that the victim is unidentified:…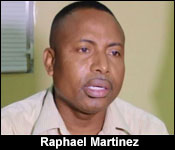 Raphael Martinez - Police Press Officer
"At 6:30 pm yesterday, police visited a scene at mile 69 on the Phillip Goldson highway in the village of Buena Vista in that vicinity where they saw a bus, passenger bus and a bicycle on the scene. And on the scene as well was a person, an unidentified male person who was fatally injured in that traffic accident investigations revealed that the bus was travelling towards Corozal and the bus was also travelling in that same direction when he was allegedly hit from behind and he reportedly died on the spot. Now the reason why this person has not been identified, police are still checking his identity because when the police searched him, his person they did not find anything to identify the victim. I can assure you, though, that they are on the ground and by anytime now we should be having an identification for this person who was hit last night."

"When police checked his pockets -as I mentioned earlier, he did not have an ID card - but what they found in his pocket and this may or may not be his identity, is a paper that has Victor Munoz Pech Alcoser date of birth first January 1957, as i mentioned earlier, just to reiterate, this may or may not be the identity of this man."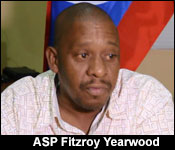 Insp Fitzroy Yearwood - Police Press Officer
"Maybe you can help us to identify to identify this latest traffic accident victim, noh?"
Raphael Martinez - Police Press Officer
"So we want to appeal to all our drivers out there and all our cyclists, especially our cyclists, to - if you're driving, if you're riding your bicycle or your motorcycle, your bicycle especially at night, please have the requisite reflective gear. Have on a reflector, have, if you're riding in a dark area, have something bright that people can identify you from a distance, so to avoid this type of injuries, and to the motorists please take your time."
Police still have not positively identified the victim but he is believed to be a Mexican.

Senate Probe Reveals: Few Controls At Immigration Department
Last week in the Senate Inquiry, Former Director Maria Marin was the one being interrogated by the Senate Committee about the mass irregularities detailed in the Auditor General's Report. Today, her predecessor, Former Immigration Director Ruth Meighan, was the one in the hotseat, and like everyone who's appeared so far, she wasn't given any sort of bly.
As we told you last week, the majority of the audit period which Dorothy Bradley and her team reviewed was under Meighan's tenure, and it was also during that time that those highly suspect immigration documents were being issued en masse. Meighan had to endure about 4 hours of intense grilling, and there's so much that we can't share all of it with you in tonight's newscast. But, right now, we pick up the conversation between Meighan and the Senators about the absence of checks and balances which aided the fraud and forgery on applications for visas, passports, and nationality certificates. Here's that back and forth between Meighan and the Senators: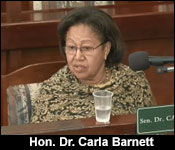 Hon. Dr. Carla Barnett - UDP Senator
"In terms of your oversight, because you're not the person who's approving the passports - "
Ruth Meighan - Former Director of Immigration
"No."
Hon. Dr. Carla Barnett
"But there has to be, within the department, some managerial oversight that would have information coming to you that you would be able to see what your senior officers were approving."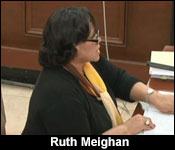 Ruth Meighan
"Other than the monthly meetings, just to give like brief reporting, there wasn't much information on the processing of passport or - just reports to say, 'Well, we have issued so much passports for the month, or that sort of information."
Hon. Aldo Salazar - Chairman, Senate Select Committee
"I would gather that there was little or no process to audit... the issuance of visas, say, or passports, or nationality... by the Department itself."
Ruth Meighan
"No, not while I was there."
Hon. Dr. Carla Barnett
"No internal processes of any kind?"
Ruth Meighan
"None at all."
Hon. Aldo Salazar
"No review of - let's say you take randomly, say you take November 2016, and you look at visas that are approved to see if your officers were meeting the requirements - were approving in accordance with the requirements of the law and the policy."
Ruth Meighan
"No, internal checks that were done for those visas, as far as I could recall."

Was Ruth At The Root Of "Rapidito" Nationality Document Irregularities?
From there, the Senate Inquiry turned to parts of the Auditor General's Visa report which singles out and questions Ruth Meighan's management of the Department in the way visas and permanent residency applications were being handled. That's where, as we told you, Asian applicants were able to get approval for visas, and with lightning speed, they were then able to get permanent residency – which they didn't legally qualify for. Some of those applicants got their visas approved, and in only a matter of days, and in some instances, a matter of hours, their nationality certificates and passports were being printed.
Auditor General Dorothy Bradley report points to an instance where 15 applicants received this sort of rapidito service, and her team's investigation pointed directly Ruth Meighan as the most senior Immigration Officer in the Department. Here's the tough questions they had for her:
Hon. Aldo Salazar - Chairman, Senate Select Committee
"In looking at A1 deal with the issue of permanent residency, which I believe is not - the period of time required for somebody to be issued a resident status in Belize is set as 1 year. You must be living in Belize for the period of a 1 year, and that is not policy as far as I understand it. That's a legal requirement. So, if you look at that table, what the Auditor General is saying there is that these 15 individuals were granted permanent residency within a period less than a year after their visas were issued. So, it would have been impossible for them to met the legal requirement to be in Belize for a year. And if you would look at the 5th column, saying the first one. It says accepted by Miss Ady Pacheco, approved by Miss Ruth Meighan; 2nd, accepted by Miss Ady Pacheco, approved by Ms. Ruth Meighan; 3rd, approved by Ms. Ruth Meighan; 4th, approved by Ms. Ruth Meighan; 5th, approved by Ms. Ruth Meighan; 6th, approved by Miss Ruth Meighan; 8th, approved by Ms. Ruth Meighan; 9, approved by you as well; 10, approved by you, 13, 14, and 15. Can you give us any insight as to how you would have come to approve the granting of permanent residency status to an individual who had not been in Belize for a period of 1 year, at least?"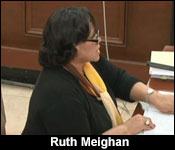 Ruth Meighan - Former Director of Immigration
"The application for permanent residency comes in a file that has photocopy records of the applicant, and on that file, they indication from the officer says that the person has been living in Belize for the 1 year period as specified, and within that you, you would have the passport of that individual, with the stamp of entry and other permits that were issued, and it's based on that information that is presented, that is what we use to give approval."
Hon. Aldo Salazar
"So, you're saying that - well, what the Auditor General did - I'm assuming, they say we shouldn't assume but I'll take the liberty of doing so. I'm saying that what the Auditor General did was to compare the visa issuance records with the records for permanent residency, and the it revealed that there wasn't sufficient time for that person to have -"
Ruth Meighan
"Well, what I have was not the visa issuance record, what I had was an application file with a passport completely photocopied with the pages indicated on the file saying (for example) Ruth Meighan entered on this date, has sometimes, work permit stamps in there. And based on that, it shows over a period time, that the person has been in Belize. That is the-"
Hon. Aldo Salazar
"So, you're saying that you would have seen a passport with a stamp indicating that the person was in Belize for a period in excess of a year."
Ruth Meighan
"Of a year, yes."
Hon. Aldo Salazar
"Even, well, the Auditor General is saying that the person could not have been here for a year."
Ruth Meighan
"Yeah."
Hon. Aldo Salazar
"So, the stamp would have had to have been a forgery, a fraud?"
Ruth Meighan
"Obviously."

Former Director In Hot Seat
As you heard, Ruth Meighan is alleging a sophisticated level of fraud and forgery of Belizean immigration documents, in which according to her, the stamps on the passports for these applicants looked so authentic that they fooled even her as the Director. You also heard her say that the travel stamps which each passport gets from the Immigration Officers when their owners entered Belize were falsified and backdated to hide the fact that these 1-day visa owners did not qualify for Permanent residency in Belize.
She approved these applications for permanent residency, when they landed her desk, based on the information of the vetting officers who were supposed to have scrutinized the applications and ensure that the documentation provided was accurate and authentic.
Well, the Senate Committee didn't just take her at her word for it, and they challenged her testimony. Here's how the exchange went: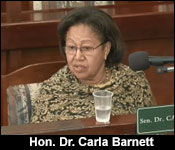 Hon. Dr. Carla Barnett - UDP Senator
"One listed there has the Visa number 25636, approved on the 9th of November, and then the permanent residency number 43608 on the same day."
Ruth Meighan - Former Director of Immigration
"Yes."
Hon. Dr. Carla Barnett
"So, who approves either of those? This one says that you approved the visa application, but where would the approval of the permanent residency come from? Who would have approved that."
Ruth Meighan
"It could have been either myself or the deputy, but it doesn't say here which one of us had done it."
Hon. Aldo Salazar - Chairman, Senate Select Committee
"That's why in the inception, I asked whether - what were your duties, and you specifically said that you were the person who approved permanent residency."
Ruth Meighan
"Yes, both myself and the deputy could approve."
Hon. Aldo Salazar
"When you were not in, the Deputy would-"
Ruth Meighan
"Yeah, or at times - I wouldn't say all the time. There were times when she was required to assist with the processing of visas and other things."
Hon. Dr. Carla Barnett
"I don't have an explanation that adds up-"
Ruth Meighan
"Mhmm."
Hon. Dr. Carla Barnett
"How you can have on the same day, the visa being approved through a process that would require the director or the Deputy being involved in both processes, and the name, It's the same person."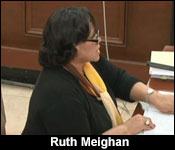 Ruth Meighan
"My only response to that is that what I have in front of me, when I am approving permanent residency, is a photocopy of a passport that gives me information to tell me that a person has been living in Belize for more than a year. And, unfortunately, I really don't have the visa information in front of me, for me to do any kind of comparative thing with respect to a picture of a person, or information other than what is presented. I practically gave approval to these things on the understand that the information that was presented to me were accurate information. So, all the approvals that I gave was given on the information that was presented."
Hon. Mark Lizarraga
"If you have to approve the visas, and you have to approve the nationalities... how come the Auditor General was able to identify, in so many instances, persons that received their visa, and shortly after that, proceeded to get nationality, and then of course, they would get a passport issued, based on the strength of the nationality certificate. One wonders why. Why were there so many instances identified that these things were issued outside of the scope of the law in such short periods of time? For example, one of the ones I was going to highlight - the Senator had mentioned it - was that this person received a visa and permanent residency in one day."
Ruth Meighan
"Mhmm."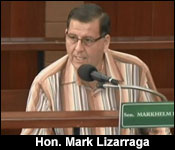 Hon. Mark Lizarraga
"And you were the person to have signed the visa approval, and also the permanent residency. So, how could that happen?"
Ruth Meighan
"I don't know if I was the person who signed the permanent residency, but I was the person who signed the visa."
Hon. Mark Lizarraga
"I see. But, you state that you would be the one to sign the permanent residency to, right?"
Ruth Meighan
"Yes, along with the Deputy, could also have given approval for permanent residency."
Hon. Mark Lizarraga
"Your deputy being Miss Marin."
Ruth Meighan
"Mhmm."
Hon. Mark Lizarraga
"But neither you nor she would ever approve something that is not complete."
Ruth Meighan
"If it doesn't show that it is complete, no, we wouldn't have."
Hon. Mark Lizarraga
"So, Chair, perhaps what we need to request from the Department, then, is in the cases of these visas, or in the case of A1 and A, maybe we should begin the trail not only who approved the visa, but who approved residency, nationality - you don't need approval for passport, because once you have the required document... Then maybe what we should request is the trail, to see - we know who signed the visas, but we need to see who approved the residency and nationality as well."
Hon. Ashley Rocke - Church Senator
"This report seems to implicate you in relation to 1-day operations that are related to two vital pieces of document, 1 being the visa, and the other one being the permanent residency. So, in fact you are refuting this report?"
Ruth Meighan
"I'm not refuting any report."
Hon. Ashley Rocke
"Well, you said that you know that you signed one."
Ruth Meighan
"I'm saying that what I signed on is approvals that I give for permanent residency, were based on information that was provided to me."
Hon. Ashley Rocke
"It says that the visa was given 1 day, and the permanent residency was given the same day, and it has your signature."
Ruth Meighan
"Yes."
Hon. Ashley Rocke
"So I was asking you -"
Ruth Meighan
"I was saying that when I was approving the permanent residency, I did not have the visa application or information on the visa in front of me, what I had was a file that is a permanent residency file that indicated to me that the person has been living in Belize for over a year, that qualifies that person for permanent residency."

Ruth Meighan Not In Mood For Media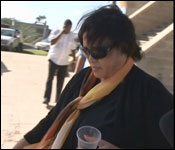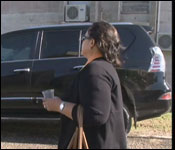 So, as you saw, Meighan stuck to her story, no matter how the Senators prodded and probed. During each of the breaks for the day, our news team tried to get her to comment on the suggestion that she was approving visas and permanent residencies for applicants in only a matter of days.
Inside the hearing, she answered the question from the senators, but she sidestepped the media. Here are both attempts to engage her in an interview:
Ruth Meighan - Former Director of Immigration
"Not at all. Not today."
Daniel Ortiz
"When would you be willing to grant us one ma'am?"
Ruth Meighan
"I don't think I need to."
Daniel Ortiz
"We have to ask ma'am, were you approving visas and permanent residency on the same day? Won't you share any comment with us ma'am?"
In tomorrow's newscast, we'll show you how the business Senator's cross examined her at length, to the point where he appeared to become frustrated by her answers.
It was widely reported – and alluded to by the Prime Minister – that Meighan's US Visa was cancelled was she was refused leave to land in the US in mid - 2016.

Cops Keeping Caye Cocaine Source Secret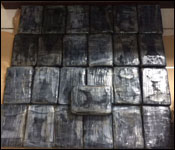 Police still haven't said how they found over 50 pounds of cocaine on the South end of San Pedro Town over the weekend. And the cops still aren't releasing very much info, likely because intelligence led them to seize a bail of cocaine that belonged to a drug runner – who lost half a million dollars' worth of product. Here's how the Press Officer put it:
ASP Fitzroy Yearwood - Police Press Officer
"I can tell you that this finding of that 25 parcels was based on information intelligence work on the part of San Pedro Police. If we found one we are looking to see if there is anymore and we will continue to safeguard the citizens of San Pedro and Caye Caulker and even inland - we don't know where this came from but we can tell you that we have taken the necessary steps to step up the man power on the island especially."
Reporter
"Have you been able to quantify the local value of this finding?"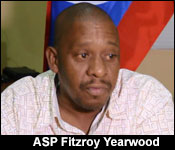 ASP Fitzroy Yearwood - Police Press Officer
"The local value of this find from street sources in the tune of about 450,000 dollars, Belize dollars, that's locally. I know that the international market has their own value."
A police report says the police recovered the sack of cocaine four miles south of San Pedro town.
It contained twenty five parcels - which is the standard package for a bail of cocaine - each weighing just over a kilo, amounting to a total weight of 57.5 pounds. The north end of Ambergris Caye – near the Mexican border - is well known for wet drops and many have died there because of the intense competition for these drug packages.

Customs In North Got Mexican Veg and Pickup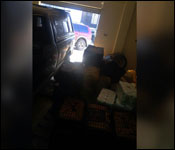 While you were sleeping on Wednesday morning, the Customs Enforcement Unit in Orange Walk was out prowling the back roads of the Orange Walk District. And it's there on the old Northern Highway behind Carmelita that they came upon a Black Ford Ranger. The driver bolted and left behind a truckful of Mexican vegetables including 5 cases Sweet pepper, 18 sacks of carrots, 10 cases maseca, and 10 cases avocadoes. Police impounded the contraband items and the pickup. No one has come forward to claim it, but the customs department is looking for the owner who is known to them. The vehicle has no license, insurance or other identifying marks – which is typical for contraband cargo carriers.

Mayor Speaks On Growing Garbage Problem
So, now that the Mexican company just up and disappeared, who will deal with transferring waste from local stations to the regional landfill at Mile 24? The garbage has been piling up – though some efforts have been made recently to get things moving. And while the collection and transport of waste is generally handled by the Solid Waste Management Authority, municipal governments do have a say in how operations are run. Mayor Darrell Bradley gave us his position on the situation…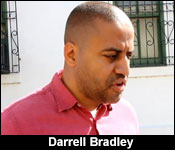 Darrell Bradley - Mayor, Belize City
"Well the City Council naturally is, together with the other municipalities and other agencies that benefit from the solid waste management project. Of course that is under the jurisdiction and control of the Solid Waste Management Authority, so that they are the entity that actually is dealing with the company. Dealing with the contract itself, dealing with trying to see how they can, if possible work out situations. From our point of view, our concern is that there is not any back up of garbage. We were in discussions with our partners with relation to the collection of garbage within the city, in terms of what kind of garbage they were collecting at the transfer station. They had actually interrupted some of what we would consider to be the core services, over the past few months, and we had to engage with them on that point of view on that score to ensure; because it's important from our standpoint that the collection of garbage and the proper disposal of garbage is something that is not interrupted. So that we're not directly involved because of course it's the Solid Waste Management Authority, but we are kept regularly apprised of the situation."
The mayor mentioned that garbage is currently being taken directly to the landfill in the interim, but residents should not worry about any increases in garbage collection costs, since the City Council pays for that directly.

Barnett Says Bondholders Rejection Is Par For The Course
Last night in the news, we told you how the Committee representing Belize's bondholders rejected the terms of the Government's first offer to restructure the Superbond a third time.
The Bondholders are not interested in the consent solicitation offer because they say that the current proposed deal would, quote, "crystalize a further reduction in the net present value of the Bonds in excess of 40%, in addition to a cumulative reduction of more than 50% already provided by bondholders in restructurings of predecessor instruments to the Bonds in 2007 and 2013." End quote
We heard from the Committee spokesperson and the Leader of the Opposition, but how does the Government view this response? Well, that's what we asked Dr. Carla Barnett, the Minister of State in the Ministry of Finance. She told us that in this type of negotiations, the refusal of the first offer is to be expected: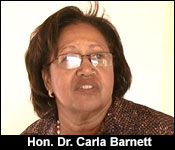 Hon. Dr. Carla Barnett - Minister of State, Finance
"Let me just say it is hardly the case that a first offer is accepted. Clearly there's going to be ongoing conversation and then we'll see how we can reach some sort of resolution."
Daniel Ortiz
"Is it ever a situation or is there any concern that maybe the bondholders will stick to getting the government to keep these 2038 bonds?"
Hon. Dr. Carla Barnett
"I wouldn't say so the conversation has already begun that is why they ended up at the table so there is a conversation that's on going and you would understand this. If you're negotiating a deal you don't - the first offer is the first offer, you counter offer and you say what else you need in terms of information and then the discussion continues. So we're looking forward to the next step."
Daniel Ortiz
"So you're expecting a counter offer sometime soon or government expecting a counter offer?"
Hon. Dr. Carla Barnett
"I don't know that government is expecting a counter offer, I think what the press release that we all saw yesterday said was they were asking for some more information which I'm not involved in the day to day negotiating process but I know that those questions are being answered and we'll take it from there."
Daniel Ortiz
"Do you know if there is any sort of threshold that the government? Okay so this is a first offer, is there any threshold which the government maybe considering okay we have it as a peg at this. We go with this first offer but we can't go any higher than this or lower than this."
Hon. Dr. Carla Barnett
"I wouldn't want to hazard that; I would only say that the negotiations continue."
Daniel Ortiz
"Is it a consideration that the government or the ministry you form a part of is considering that the bond holders will expect the Belizeans and the taxpayers to share some of the pain if there must be some sort of relief given?"
Hon. Dr. Carla Barnett
"Relief to?"
Daniel Ortiz
"In terms of this restructuring effort?"
Hon. Dr. Carla Barnett
"I think what we all want is a situation as I said where we are seen to be putting ourselves on a path of stability and on a path of growth. We've seen growth come down, we have to fix that, we have to get the economy moving again we've begun to see good changes but we need to build on that and we need as well to show when we do our budget that we are looking to reduce our fiscal deficit."
Reporter
"Do we have a contingency for the February payment in interest that we know is coming up?"
Hon. Dr. Carla Barnett
"I wouldn't want to answer that at all because we are in the conversation with the bondholders."
The government's offer expires in 8 days – and talks are expected to continue up until that time.

And Justice For All…?
In his Supreme Court address on Monday, Attorney General Mike Peyreffite, committed to an open door policy, where any member of the legal community could engage him on any snag in the legal system and work along with him to fix it. He also mentioned that he would be working with fellow attorney, Anthony Sylvester, to possibly adjust minimum sentence legislature. We spoke to Sylvester today about why he thinks this is an important area in the law to focus on. He gave us an example of the case of a minor sent to jail for 12 years because he had sex with another minor...
Anthony Sylvester – Attorney
"An individual he was convicted and sentenced to 12 years for carnal knowledge. He was 15 years at the time, and the female was 13 years at the time. Here it was that you had two high schoolers, he was in third form she was in first form. And this individual was convicted and was sentenced with 12 years; he's been in prison serving a 12 year sentence since 2011. And so that instances like that, those of us who practice at the criminal bar realize that these mandatory minimum sentences, they do create disproportionate and cruel sentences in certain instances, and there needs to be a complete revision of the laws that determine the appropriateness of it.
"These are all things that those of us who practice at the criminal bar believe should be looked at, so it is something which certainly we welcome, and I'm sure there are many other attorneys who would as well put their input because this is something that will be of great benefit to the country and to persons who are affected by the criminal justice system."
"However is anybody taking into account the victims. Yes, you defence attorneys, fuelled by international human rights agencies, have taken on the cause of the convicted. However, there's so many victims of crime who feel that the persons who cause them trauma or their family so much grief are not properly penalized, or most times are not even convicted. Where are their rights?
Well no, we are not advocating for the legislature for laws to be passed to go easy on them. What we are saying is that mandatory minimum sentences, at times, it ties the hand of a court. I gave the instance of the young man who was 15 years old/ You know he was convicted of carnal knowledge of a 13 year old. The man got 12 years. I mean, that is a grossly disproportional sentence that is something that in any standard considered cruel and inhumane. 05:03 But there may be other instances where maybe a 50 year old who is charged with raping a 13 year old, who should not only get 12 years, but perhaps maybe get 60 years of so. What is being suggested is that you give and allow the court to look at the facts and to determine the appropriate sentence."
By altering the minimum sentence laws, judges would have more freedom in handing down judgments based on the particular circumstances of a case, rather than being forced to give someone a possibly disproportional punishment.

Agassi Finnegan Called To Bar Before All Star Lineup
Agassi Finnegan has been a Crown Counsel in the Sol. Gen's Ministry for the past two years and she was called to the bar today. Because UDP Senior Minister Michael Finnegan is her father, the young Ms. Finnegan grew up steeped in the UDP and the event had the presence of the Deputy Prime Minister, Patrick Faber, Attorney General Micheal Peyreffitte, and family friend Ralph Fonseca. Agassi Finnegan told the media what's needed for those seeking a career in law:
Finnegan was called to the bar by Senior Counsel Denys Barrow with affidavits from Dean Lindo and Micahel Peyreffite.
7 News for Wednesday, 18th January, 2017 from 7News Belize on Vimeo.

Home | Archives | Downloads/Podcasts | Advertise | Contact Us