Marijuana Decriminalization Legislation Passed By House
Tonight, Belize is one step close to de -criminalizing the possession of small amounts of marijuana. The bill was first tabled in the House of Representatives and mid-August and today it was presented for debate and passage. There was support on both sides of the house. Home Affairs Minister Wilfred Elrington gave the second reading of the historic piece of legislation:..
Hon. Wilfred Elrington, Minister of Home Affairs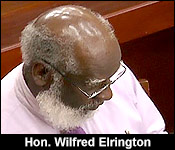 "To decriminalized the possession of Cannabis in amounts not exceeding 10 grams, to provide for the possession of monetary and non-recordable penalties for the possession of Cannabis in such amounts occurring on school premises in specified circumstances to decriminalized the smoking of cannabis on private premises and to provide for matters connected therewith or incidental thereto."
Hon. John Briceno, Leader of the Opposition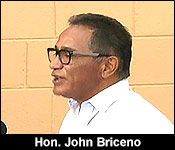 "I think it would be naive for us on this side of the honorable house to feel that smoking weed is not prevalent in our society. Probably most of us in the room had one time probably take a little smoke."
"Nonetheless, the Opposition will support the amendments to the misuse of drug act, for we strongly believe that the time has come, has long pass when we should be locking up people, especially young people, for smoking a stick of weed."
"As for me, my difficulty with the current legislation is that it stops at decriminalization. I feel that it would been better if we had done all the studies and made the preparations to go even further and move towards the legalization of marijuana."
"While I respect the opinion of those who are against this, I believe that there are numerous benefits to legalizing the use of marijuana in certain small quantities. Who knows, one day maybe we could allow the Prime Minister - he has a lot of pain in the house - that he could take a little smoke to ease the pain. Or, hold on member from Mesopotamia, that they allow some of the members in here to take a little smoke before they come so that they could behave good and not behaving bad in the house."
"I know we are taking it as light matter, but it is something serious and I think that it is something whose time has come."
Hon. Francis Fonseca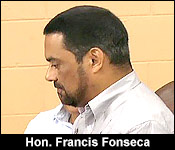 "This bill does not legalize marijuana, first of all. That is not an issue here at all and nobody at all is promoting or advocating the smoking of marijuana. That is not the purpose of the bill. That is not the intention of the bill. That is not the subject of the bill. Nobody is promoting the smoking of marijuana."
Hon. Elodio Aragon, Minister of State - Home Affairs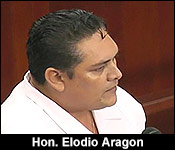 "I just want to make it clear that this amendment to the misuse of drugs act is the mere possession of 10 grams or less of marijuana will no longer be a crime. In other words it will no longer be a criminal offence. Unless possession occurs on the premises of a school or other educational institution. Farther more it remains a criminal offence to be in possession of over 10 grams of marijuana. Offenders can be arrested, charged, tried in court and if found guilty, sentenced to a fine or to imprisonment or both. The conviction will also be recorded on that person's criminal act. This is decriminalization of marijuana. It's not a wide spread open use of marijuana."
"In terms of smoking of marijuana - where the amount in possession is more than 10 grams will no longer be a crime. Where it is done in the person's own home or other specified accommodation with the owners/operators permission. A hotel lodging or other private sleeping accommodation for paying guests which also allows lawful smoking to be carried out. In every case smoking of marijuana would still be govern by the rules on possession of marijuana referred to what I have just mentioned. Smoking of marijuana anywhere else is illegal. It will also assist in the reduction of persons at our prisons and it will also assist the entire criminal justice system ranging from the police to prisons and it would in effect create a cost saving in regards to arresting, sentencing and imprisonment which we all know comes with a budgetary resources that has to be allocated to ensure that these things be carried out. But most important I think this act will also allow for law enforcement personnel and the ministry to focus and concentrate more on the serious crimes that are affecting and plaguing our societies and our communities across this country and like the leader of the opposition said he would have wanted to see the whole legalization of marijuana, but I believe that it is prudent that we as a responsible government take this one step at a time as we progress to ensure that we always make the right decision that will be a betterment for our nation. Thank you."
So the bill has been passed in the house with bi partisan support. But, we stress, it is not yet law. The Senate still has to pass it and then the Governor General has to give his assent.

Legislation For Moratorium On Offshore Drilling Introduced To The House
Another piece of history was made today when the legislation for a moratorium on offshore drilling was introduced. It's called the Petroleum Operations Maritime Zone Moratorium Bill, and it was introduced for a first reading. That means it now has to go to committee, and then come back to the house for debate, and second and third readings. Still, the wheels are in motion, and there is virtually no chance of it getting voted down in the house. So, today, the conservation community filled up the galleries and applauded for the bill after the Minister of Petroleum introduced it:...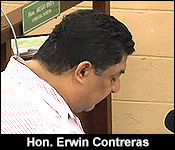 Hon. Erwin Contreras, Minister of Petroleum
"A bill for an act to impose a moratorium on the exploration for petroleum and other petroleum operations in the maritime zone of Belize to prevent pollution from installation devices and vessels use in the exploration or exploitation of petroleum resources of the sea bed and subsoil of the maritime zone, to accordingly make further provisions for the protection of the Belize Barrier Reef system and to provide for matters connected therewith or incidental thereto."
"This bill have the recommendation of the cabinet."
Janelle Chanona, VP - OCEANA Belize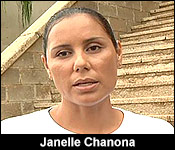 "I think there was collective sigh of relief that was definitely audible and the comfort of peace of mind is in sight."
Valentino Shal, Advocacy Lead - WWF Belize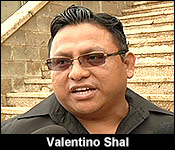 "The introduction of this bill to pass a moratorium on offshore activities in our maritime areas including the Belize Barrier Reef is an incredible progress. If you consider just last year around this same time we were having seismic ships conducting seismic testing in the very same area and to have this being passed today is incredible progress that is only possible because of the support of the Belizean people, the organizations that we work with here locally and also our friends abroad. So we are quite pleased with the decision, because it put Belize in a very good foot towards sustainable development and of course the World Heritage Site as you mentioned has been on the endangered list for quite some time and this is one of the very important steps that need to be taken for it to come off the endangered list."
Janelle Chanona, VP - OCEANA Belize
"It's truly a big day for Belize. This is not an environmental issue. This is not a conservation issue. This has been a Belize issue and one that has been near and dear to tens of thousands of Belizean. We will be sharing our comments to the draft as soon as we have the final versions, so that the public can see what we would be recommending in terms of changes and certainly for OCEANA we will making sure that as part of the official record before the committee we will be laying for consideration the tens of thousands of signatures, letters, petitions, even the selfies of support that we have gotten throughout our advocacy on this because again we need to make sure that is officially documented."
The Committee will meet on October 30th when regular citizens are invited to make presentations on it.

Compol Whylie Failed Lie Detector Test in 2008
And that too is expected to have bi-partisan support. But it wasn't all hand-holding and kumbaya's across the house floor today, there was, of course, robust debate and fiery assaults - the most notable on mad eon commissioner of police Allen Whylie. PUP Deputy Leader Cordel Hyde produced a 2008 communication from former US Ambassador to Belize Robert Dieter where he reported on the results of lie detector tests administered on 33 Police OfficerS and BDF soldiers. 23 of them passed, and 10 failed - and one of those who failed was present Commissioner Allen Whylie. Hyde outlined the sensational findings:...
Hon. Cordel Hyde - Area Rep, Lake I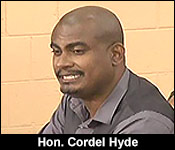 "I have in my hand, Madam Speaker, a letter from US ambassador to Belize Robert J. Dieter to the Ministry of National Security in Belmopan dated November 6, 2008. In that letter, the gentleman speaks and says that attached please find the administered polygraph results for September 30th, 2008 through October 9th, 2008. A polygraph is what they call a lie detector test. It seems, Madam Speaker, that the Americans administered a lie detector test on perhaps 34 of our senior public officers and BDF officers and Coast Guard personnel. According to Ambassador Dieter's letter, the questions asked of the officers were whether they had committed any serious crime or whether they had provided investigative information to criminal organizations. What we know from this letter I have in my hand, Madam Speaker, is that of those 34 persons 23 passed the test; 8 failed. But the most notable of it Madam Speaker, is captured in number 29, speaks to a certain senior police officer who is the top cop in all this land. It is said that this senior police officer at this time in 2008 failed this lie detector test when he was asked the question whether he had provided information to criminal organizations. Very serious business, Madam Speaker and I hope I am wrong. I am hoping it is not the same person I'm thinking because what happened is that less than a year later this senior cop was promoted to CEO in the Ministry of National Security. This senior cop…I don't have to mention the name, everybody knows who I am talking about. This senior cop then less than three years later was appointed Commissioner of Police. I am hoping that maybe the guy had a bad day."
Well, he probably did have a bad today - after that was released.
We reached Whylie today via WhatsApp and he said he never saw "such report, nor was a copy shared with him." He added, quote, "I am a straight person and have nothing to hide. Persons who fail any US polygraph can not receive any training or support from the US. I have and continue to receive such."

PUP: Southside Crime, Political Directorate To Blame
Deputy Leader Hyde went into the Whylie lie detector test as part of a wider discussion about spiraling crime in southside Belize. There have been two dozen murders since the end of June - and Hyde wondered why the UDP's many southside representatives allowed police to take a path different from the one set out by former commander Chester Williams:..
Hon. Cordel Hyde- Area Rep, Lake I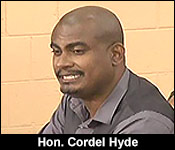 "According to Channel 7 news of a couple nights ago, there have been 24 murders in Belize City over the last 3 plus months since the start of July. 7 in this month alone over the last couple of days. Compare that to the previous 3 and a half months it was probably 5 or 6, maybe a little bit more. Some people don't like Chester Williams, some people complained about how he talked, how he is on TV too much and that he has a lot to say and some people may not like the style of policing, have some difficulties with it but at the end of the day something was working there. In the months leading up to his departure from Belize City to a desk job in Belmopan, there was a kind of peace in Belize City we hadn't seen in many many years. And then he departs for Belmopan at the beginning of July and the peace is shattered. Now, I don't have a problem with the great Mr. Vidal. I think he is a highly trained cop, very competent, extremely cool under pressure but his style of policing has not worked in Belize City. It didn't work in the years before when he was the head of the GSU and it hasn't worked of late. And even if the member from Orange Walk East was the substantive Minister of Police, there was no way he could have yanked Chester Williams from Belize City, approved a policy where you saw the dismantling of the mediation process, if the powerful cabinet ministers from Belize City did not approve and it begs the question for me madam speaker, what is going through these guys heads? What are they thinking about? Because I don't think anything can be more important than the lives of our residents. It just befuddles me. This is an emergency. We are talking about our security forces."
Laura Tucker-Longsworth - Speaker of the House of Representatives
"However, honorable member, be very careful. You are on the cusp of breaching your standing order 38.8, so please."
Hon. Cordel Hyde
"Madam Speaker you know I am very respectful to you, madam speaker but I am not lying on anybody here."
Laura Tucker-Longsworth
"It's not a matter of lying but you might be impugning against a top cop or a top department in the country. Be very careful."
Hon. Cordel Hyde
"Madam Speaker, I take no pride in this, you know but it's facts and we have to deal with it. And perhaps the members of the Government will have a logical explanation as to what happened, I am hoping. But let me say this in closing, Madam Speaker, the lives of our people, it is our children. You see, perhaps none of us in here, arguably none of us in here has lost a child to gun violence and so we can't begin to understand what it feels like for these mothers grieving on the television and these girlfriends crying their eyes out and these children orphaned or who are left with just a mother to take care of them. But we have to begin to try to feel, begin to try to understand. It's our responsibility. Someone has to explain what went into the thought process to dramatically shift the style of policing in this country that has lead to 24 murders in the last 3 and a half months. Someone has to be held responsible."


Hon. Elrington Debunks "Southside Supercop" Theory
But that didn't go un-answered. Police minister Wilfred Elrington had a very broad and wide ranging response for him. He discarded the concept of Chester Williams as a Southside Supercop - and went into a very candid discussion of recent murders; he said it's killings due to the marijuana trade. Here are his remarks:...
Hon. Wilfred Elrington - Area Rep, Pickstock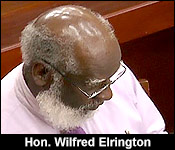 "The killings, Madam Speaker, are taking place primarily in his constituency, in my constituency and Minister Boots' constituency and it is being conducted largely because there is minimal assistance, particularly in the member's constituency, for the poor people who live back there. They have very little direction. They are the people, it's from that constituency in particular, Madam Speaker, that the people who were caught burning tires come from, you know. These things are facilitated by people who should know better, who have a responsibility not to participate in these activities. And this is nothing that any super-cop can cure. The evidence is showing, Madam Speaker, and the nation needs to know it, that there's a new trend with respect to the marijuana trade. Marijuana is much more expensive. It is being imported into country and people are given amounts to sell. And when they don't account for the proceeds, the record is suggesting, that that is when these people are being executed and they are being executed by their own associates, their own friends. But the situation, Madam Speaker, is more than worrisome and it is one which we are trying our best to contend with and there are all kinds of factors that are at play but essentially the people that are dying, especially in Belize City- and it's a phenomenon that is in Belize City- are friends and associates of the underworld. They are killing each other because they are not accounting for the proceeds of sale. I cannot and will never come to grips that gangs are a normal part of our society and that we must have truce with gangs and that we must paliwaly with gangs. That's not my understanding at all. And if it is intended that I will continue that practice while I am Minister of Home Affairs, I will tell you, that is not going to happen under my watch. We will be meeting with every abled body Belizean to see how we can in fact help to end this scourge. So, it's a matter that is very close to our hearts. But so long as I am the Minister responsible for Home Affairs, I am not going to rest content with the knowledge that the country is being held hostage by a group of gangs. Like in football, like in basketball, like in any other game where you have a number of people, it's the team that matters not the individual. No super player is going to see you to victory, it is a super team. I think we have the makings of a super team in the Belize police force. The Commissioner is a very intelligent man, very articulate. I was very impressed with him, he has a different style from other police commissioners but as I am saying to you, when you look at the record, I guarantee you that his performance isn't any worse than any of the others."

82 Year Old Dies From Injuries - Police Mum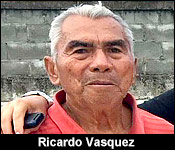 On Wednesday we told you about 82-year-old Belize City resident Ricardo Vasquez who was viciously beaten down and robbed. It happened on Saturday at a game room named Kent Market. He stepped outside and that is when an unknown assailant robbed and beat him - leaving him in the drain. Police responded and took him out of the drain to the KHMH. He was fighting for his life and he was put on life support. But this morning he succumbed to his injuries. Vasquez leaves behind three children and a host of grandkids along with his other immediate family members. The family is distraught and also disturbed that they are not able to get any information on what exactly happened to their loved one. The police still have not reported the fatal incident.

PUP's Imer Inquiry
Going back now to today's house meeting, the issue of the Faber's Road contract continued to dominate the debate. Speaking on the adjournment, Leader of the opposition didn't directly attack the Faber's Road project - he attacked the contractor Imer Hernandez - who is Gaspar Vegas nephew and a favorite of the UDP. Briceno outlined what he says are Hernandez's failures - and then drew the framework of an insider trading deal - which the PM shot down - here's the exchange:...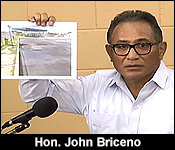 Hon. John Briceno, Leader of the Opposition
"How can anyone say that Imer Hernandez, as the Prime Minister said, as far we are concern "a good contractor." Madam Speaker, look at some of the picture of the work that Imer Hernandez has done at the Santa Elena Border. Look how it's breaking up. This is the work of Imer Hernandez's Development Company. Millions of dollars. Look at the roundabout that was constructed in Santa Elena Border, the cement is already breaking up. I am not making this up. Here is the picture. Yet Imer Hernandez is a good contractor."
"What he was not telling Belizeans that Imer Hernandez has recently gotten another 7 million dollar contract from the Belize Airports Authority to upgrade the Caye Caulker airstrip. Check this out, who gave Imer Hernandez this 7 million dollar contract, the Belize Airport Authority. From where did the Belize Airport Authority get the 7 million dollars loan? It was a loan from Belize Social Security. Our workers money they borrowed. Who sits on the board of Belize Airport Authority?"
Rt. Hon. Dean Barrow, Prime Minister
"Madam Speaker, as a point of order. That's not true. You are talking about the Caye Caulker airstrip. Imer Hernandez built the Barry Bowen Airstrip and in deed that was done by way of an SSB loan. I do understand that there is an application on the part of the Belize Airport Authority in front of the Social Security Board. It's not for 7 million dollars. It's for 4 million dollars and that has not yet been decided on."
Hon. John Briceno, Leader of the Opposition
"The point is that if it is 1 million or 2 million or 5 million or 7 million. This man through this contract, since you say it's not been approved, they are getting monies from social security. Who sits in the Belize Airport Authority? Leticia Vega. Who is Leticia Vega? She is a general manager for services management at the Belize Social Security."
"Now interestingly who is Leticia Vega married to? She is married to Omir Vega who is the engineer and I am told a shareholder in Imer Hernandez's Development Limited. The same Imer Hernandez Development Company who got the contract to upgrade the Sir Barry Bowen Municipal Airstrip. Did Leticia Vega recused herself when that decision was being made? We don't know. I am asking the question."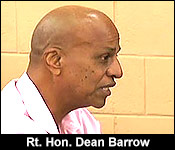 Rt. Hon. Dean Barrow, Prime Minister
"Madam Speaker, as a point of order. You are wrong and I believe dishonest to suggest that Leticia Vega has anything to do with social security board decisions on loan applications. She is the secretary to the board. She is not a voting member of the board, so she plays no role in any decision. Why are you maligning the lady?"

Lake I Boulevard Disaster A Public Liability
And while the PM battled back on that point, he conceded to the disaster on Lake I Boulevard, and said that yes, government will have to use public funds to fix the problem:...
Rt. Hon. Dean Barrow, Prime Minister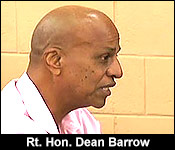 "But she conceded that there clearly were some design shortcomings and for that because ultimately BIL is a creature of the government, we will have to take blame, but that's a different thing completely from suggesting that BIL is a vehicle for facilitating any kind of hustle. I pointed out that the complete opposite is true, but that a mistake clearly of some sort was made with respect to the Lake Independence Boulevard must be conceded."
"What I do say to the Belizean public is that we will fix it and we are already in discussion with Miss Mastry as to how we can fix it without there being any significant additional costs. But we concede squarely and fairly that there was obviously some design shortcomings."

PM Alleges "Idiocy"
And while the Leader of the Opposition spoke extensively about recent, failed public works, he was careful not to touch directly on the Faber's Road project - since his Deputy Kareem Musa addressed that on the adjournment. But, Briceno did just skim the subject - which was the subject of a prime ministerial press conference two days ago - and it seems the PM was waiting for him:...
Hon. John Briceno, Leader of the Opposition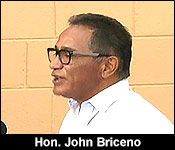 "I find it incredible that no other than the Prime Minister himself, the famous crusader against corruption, would hold a press conference to defend his government in these contracts that most Belizeans believe are a rip off. Belizeans believe that these contracts are corrupt."
Rt. Hon. Dean Barrow, Prime Minister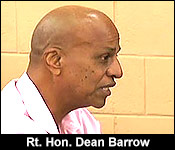 "And they had the public going for a good few days with that sensationalist headline "8 Million Dollars for one mile." Now that having been completely demolished, you would think again that the Leader of the Opposition, not wanting to embarrass himself at the house in front of the public would have left that alone, at least that aspect of it. Did you hear him repeating the nonsense about 8 million dollars for one mile? How can you say that?"
"You know I will have to go back and quarrel with some people. A friend of mine in particular, when Moody was finished with his exposition said to me "you know what Moody did, he made the whole thing idiot proof." Well obviously not, because here comes another idiot saying right over again "8 million dollars for one mile." I didn't call any names. I didn't call a name."
We'll have a little more form today's house meeting at the end of our news.

Bail For Alleged Backstabber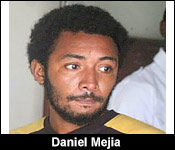 On October 9th in Punta Gorda town twenty four year old Natasha Gomez and her boyfriend Javier Martinez woke up to hear her ex Daniel Mejia outside. They allege that he armed himself with a knife from her kitchen and then stabbed Martinez in his back.
Natasha Gomez's aunt - who lives nearby heard all the commotion and fired a shot in the air from her licensed .38 revolver. The shot scared Meija and he fled the scene.
But police caught him, and he was remanded to prison on charges of aggravated burglary and wounding.
Today he went to the Supreme Court for bail and was released on a bail of $10,000 dollars under the condition that he reports to Punta Gorda Magistrates court on every adjourned date until the matter is completed.

Family Asks For Help to Find Mentally Ill Missing Man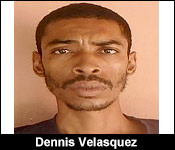 30 year old Dennis Velasquez has been missing for 6 days and his family is asking your help to find him.
The Orange Walk resident has a mental disorder and lived at home with his mother. If you do see him or know his whereabouts, you can contact the nearest Police Station in Orange Walk or call the family 607-8577.

Shoplifting Granny Got Off With A Fine
She's a grandmother, but also a serial shoplifter, and 68-year-old Martha Parchue will have to pay eight hundred dollars for stealing a boneless chopped ham worth $7. 50 from Lucky Star Super Market on Central American Boulevard.
Today she appeared in court unrepresented and pleaded guilty. She threw herself to the mercy of the court and begged the Chief Magistrate not to send her to jail.
She said that she was under the influence of alcohol when she stole the chopped ham. But, this was her fourth charge for theft and third conviction, but it seems Parchue got lucky today when Chief Magistrate Fraser gave her a lucky break to avoid prison but she must pay the fine of $800 by December 31st.

Making Sustainable Tourism Into Science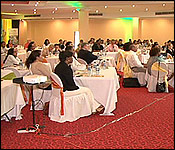 The annual Tourism Industry Conference was held and the main focus of the event was sustainable tourism and how important it is for Belize.
A few of our Belizean hotels have already integrated sustainable tourism into their operations and they were used as examples, as explained by international panelists who are experts in sustainable tourism. We found out more:
Jocele Stephens, BTB Marketing and Public Relation Manager
"This year we looked at the theme sustainable tourism because simply because the UN has declared the year of 2017 the year of sustainable tourism."
"This year we actually did a little bit of a change up where we wanted on the topics that we are speaking. We actually wanted local stakeholders to share their journey so those who have embarked on sustainable tourism plans, for example, Chaa Creek, Hamanasi. How has it been for you? So they will also be a part of today's agenda."
Sahar Vasquez, reporter
"Are you trying to inspire other hotels to go on the sustainable tourism route?"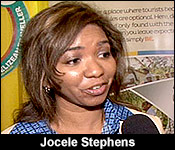 Jocele Stephens, BTB Marketing and Public Relation Manager
"Definitely, that is the ultimate aim. We know that if we don't practice the sustainable tourism we would not have tourism anymore so that is the idea behind all of this. The message that they leave with is that we need to embrace this in order for us to be successful. In order for us to remain as a good number one destination."
Hoteliers, tour operators, tour guides, transportation companies, tropic air, and others attended the annual event.

San Pedro Tourism Not Sagging Due To Crime
But a key part of sustainability is also keeping up appearances - especially in the tourism capital of San Pedro - which was recently rocked a by a spate of gang related murders.
Area Rep and Minister of Tourism Manuel Heredia Jr, admitted that things started off slow in the beginning of September but increased significantly later on.
Tourism numbers in September of this year are higher than last September.

Many Happy Holidays in 2018
And while the tourists have their holiday - Belizean want to know about Public and Bank Holidays in 2018.
Well, it was made official yesterday. Next year we will have a total of 13 public and bank holidays including quite a few long weekends ahead. New Year's day, National Heroes, and Benefactors day, along with St. Georges Caye day along with Garifuna Settlement day all fall on a Monday and as for Friday we have our independence day falling then so Fete lovers will be able to party without worrying about going to work the next day. Christmas falls on a Tuesday with boxing day following right after so lots of ham, turkey, and rice and beans will be left for the work week.

CARILEC's Response To Regional Disasters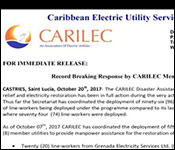 Last night we told you about the Hands Across the Caribbean Telethon. It is a fundraiser for Caribbean emergency relief efforts after Hurricanes Irma and Maria devastated Dominica and Antigua and Barbuda. Well, the Caribbean Electric Utility Services Cooperation -CARILEC is also helping out through their Disaster Assistance Programme. IN a release it states THAT fifty-nine line-workers from eight member utilities are providing manpower for the restoration of electricity. They were deployed from Grenada, Barbados, ST. Vincent, Bermuda, Jamaica, and Belize.

PUP Rocks Rochus' World
And in one more bit from today's house meeting - Opposition Leader John Briceno challenged the Prime Minister to justify the work contract given to BTL's CEO Rochus Schriber. Briceno called his salary exorbitant:..

Security Forces Using GIS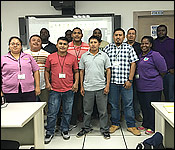 When you think about BDF or Coast Guard training - you think about weeks of strenuous exercises and brutal drills. Well, that wasn't the kind of training that 15 officers completed. They participated in a GIS introduction training course. It was held at the Central Information Technology Office in Belmopan. GIS stands for Geographic Information Systems, it is a way to record, interpret and analyze data using satellite imagery or maps. So the BDF and Coast Guard should now be able to use GIS in their national security efforts. The training lasted 6 days.

The Heights of History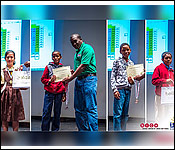 Yesterday we showed you day 1 of The history Competition zone eliminations. Today was day 2 of the zone eliminations and after a hard-fought battle, seven finalists have made it. A total of seventeen schools took part in the competition and the remaining seven will be heading to the finals on Friday, October 27th at the Bliss. The competition is a part of the public education campaign between the Belize City House of Culture and the Downtown Rejuvenation project.

Home | Archives | Downloads/Podcasts | Advertise | Contact Us