Rogue Bus Line, Reckless Driver Caught on Commuter Camera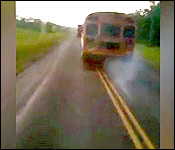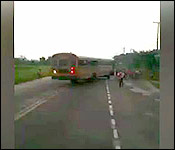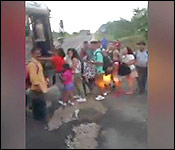 Tonight a Benque Viejo-based bus line is under pressure - after one of their drivers was caught on cell phone camera driving recklessly on the George Price Highway.
Now, for commuters, this type of Mad Max driving is nothing new - it's par for the course between competing bus lines. And all commuters can do is say a prayer and hold unto the edges of their seats. That's because enforcement on the highways is, at best, lax, and rash bus drivers rule the roadways with demolition derby antics. But, this time, on Wednesday morning coming out of Belmopan someone caught it on camera. Jules Vasquez reviewed the shocking video:...
Jules Vasquez reporting
The video shows a Sylvan Bus trying to over take a J and J bus - both of them eastbound to Belize City. The J and J driver is deliberately hogging the road - using two lanes - so the Sylvan cannot overtake him.
When this Coke Truck over-takes the J and J - the Sylvan tries to squeeze in behind it - but the J and J bus then lurches back into the middle of the road.
And to show himself: the J and J driver pulls on his brakes and burns his tires on the road - just a few feet from the Sylvan bus. Great fun if you are 6 years old - but really troubling behaviour for a public bus with passengers on board.
Bus driver - Sylvan Bus
"They are playing with people's lives out here."
Undeterred, the driver continues to exhibit this wild and lawless behaviour - and here he is at the Cotton Tree bus stop literally parked across the entire road so that the Sylvian Bus cannot pass.
And here's the pot of gold at the end of this crazy ride - being first to the stop, he gets the majority of the commuters - who are already so used to this lawlessness on the road that they hop unto the J and J bus without even thinking of the driver who willfully endangers everyone's life.

Transport Is Swift With Decision To Suspend
And the video is so disturbing that the Department of transport had to respond with urgency. The Transport Board met today and this afternoon the Chief Transport Officer said that the bus line's road service permit has been suspended and the driver will be charged:...
Tirso Galvez, Chef Transport Officer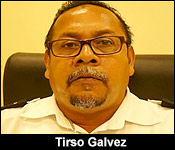 "Type of behavior could have lead into a serious fatal accident, both having passengers from both busses and other road users getting injured or ending as I said with fatal injuries."
"The board has decided that the suspension would be for a month and that the suspension for that company and the two runs that that company has and the board will be providing another bus service to provide that service."
"As far as the driver is concern, the department is looking at possible charges to be levied against this driver and one of the main charges we are looking at is reckless driver. Another offences we are looking at is driving in contravention of the road service permit also in respect to timing and so forth."
"I would also like to state that the department welcomes these types of information and want to thank the general public or whosoever. Whenever these instances or these things occur, to put it forward because it assists the department of transport in regulating and in enforcing and dealing with these types of behaviors."
As he noted, other bus lines will be given J and J's runs for the month they face suspension. And like the chief transport officer, we urge you to send your videos of reckless bus drivers to our 7News Belize Facebook page.

Home Invasion On Riverside Street
2 city residents are still shaken after they were held up at gunpoint and robbed in their own home. Early yesterday morning 55 year old Phillip Ramos was asleep upstairs in his Riverside Street home. His tenant Amilcar Garcia was asleep in the downstairs flat. Today Garcia told us he was awakened by Ramos knocking at his door. But when he opened the door, Ramos wasn't alone. Garcia recounted the frightening hold up.
Amilcar Garcia, Resident
"I was sleeping when I heard the noise and the knock on the door. He, the landlord knock on the door and I opened it, because it was him. He says open it for him please - I have something to tell you. When I opened it the gun man pushed me in with the gun and he started to assault me. He choked me and hit me in my forehead with a machete and from there everything started. They stole all my belongings like TV, laptop, phone, assortment of things. But it was a frightening timing."
Courtney Weatherburne
"And it was one gun man?"
Amilcar Garcia, Resident

"It was two; one had a gun and the other had a machete, but according to the landlord it was 5 of them."
Courtney Weatherburne
"But only two made it into your house?"
Amilcar Garcia, Resident
"He moved around with me in the house to look for the gold. But I didn't look for anything, because I don't have any gold nor any money. But they took my small changes. I had 3 container of small change nickels, pennies and quarters and halves and my other stuff."
"When they came out with the first TV I ran to the back and he came back and took some more things. But I don't know what happened after that. I was hiding."
Courtney Weatherburne
"After this terrifying experience, will you remain here or will you move on from this?"
Amilcar Garcia, Resident
"I don't want to move around and I am here for a long time. So, I just thank the good Lord that I didn't die."
The masked burglars stole both Ramos' and Garcia's TV's among other items.

Accident Victim Christian Conteras Succumbs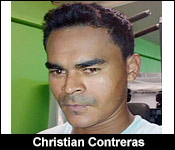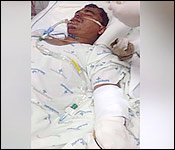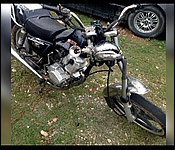 On Saturday night, 25 year old Christian Contreras was seriously injured when he was flung off his motorbike after a collision with a van. It happened near the Burrell Boom junction and the 30 year old driver of the van, Ismael Castillo who was returning from a christian concert in the city - says Contreras swerved into his lane. Contreras received severe injuries to his head and face and was listed in a critical condition.
Well, this morning Contreras died from those injuries. His family declined comment, and police say they are not ready to bring charges against the driver at this time, as it appears that it could have been Contreras's erratic handling of his motorbike which caused the accident.


Alleged Arsonist Allen Martin Will Stand Trial For Fire On Faber's Ride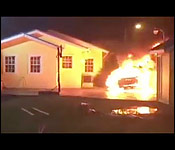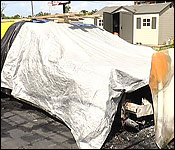 He is accused of torching Deputy Prime Minister Patrick Faber's vehicle and Allen Martinez, will stand trial for arson in the Supreme Court.
This morning a preliminary inquiry was held in the magistrate's court where the police prosecutor tendered into evidence a number of statements along with a the widely circulated video surveillance of the fire being set.
Martinez - who has been on remand for 9 months - was unrepresented. Chief Magistrate, Anne Marie Smith concluded that there is enough to make a case against him and she committed his matter to the Supreme Court for trial in the October session.
Martinez was granted his first bail today - since his arrest n October of last year.
The free made major news when it was set at 12:10 AM on Wednesday, October 12, 2016 at the Deputy PM's Lord's Bank residence. A man seen in a surveillance video spread fuel and burned the government SUV which had been assigned to him. Faber was at home with his sons. The vehicle was valued at 55 thousand dollars.

The Hitchhiker From Hell
A driver who picked up a hitchhiker is recovering from his wounds tonight after the passenger turned out to be a knife-wielding robber.
Sometime after 7:00, 33 year old Adan Perez was driving a white Kia 14 seater van from Franks Eddie Village to Belmopan, and picked up a hitchhiker between Cotton Tree and Harmonyville. The passenger sat in the passenger seat beside Perez and he wasn't shy. In no time, he snatched a black purse with $210.00 dollars from the dash board. Perez tried to grab the purse back from his passenger, but the man pulled out a knife and and stabbed Perez once to the chest, and under arm, and twice to the right abdomen. The hitchhiker turned jacker then ran off with the purse and its content leaving Perez bleeding on the roadside. He got to the western Regional Hospital and police are investigating.

To Catch A Problem Jaguar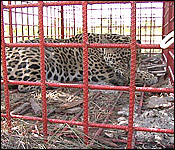 Jaguars are one of Belize's most elusive, yet recognizable animals. As apex predators, jaguars generally get their choice of prey when in the wild, but every once in a while, a jaguar comes across a farm, and learns that it can get an easy meal. When left to feed on livestock for long enough, some jaguars may have trouble reverting back to hunting, and can need to be relocated or rehabilitated.
And tonight, that's what's happening to a jaguar caught on a farm in the Northern Lagoon area. Personnel from the Forest Department and the Belize Zoo went out to the farm to extract the jaguar, and we were there to document the process. Here's what the Forest Department's Jaguar Officer had to say about this rare event...
Shanelly Carillo, Jaguar Officer - Forest Department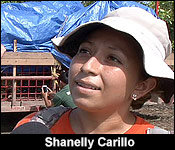 "These situations aren't something very common and each situation is very unique, so there are different things that needs to be considered. In this situation what we tried to do one of the most important things is try to get the animal out of the area as soon as possible, just to reduce the stress and the possibility of any harm coming to the animal. As well we do not want it to stay in the farm with all the animals around. So that's the most important thing for extractions, but it's not something that's very common."
"There are different things happening. It has to do with some farmers take things into their own hands, but as well we do not get reports of it sometimes. That is very important and we are trying to improve that to make sure that farmers know that there are people that they can call for these issues and that they can get help. So it's not something that they have to fight this on their own."
Our team just got back from Northern Lagoon an hour ago, and tomorrow, we'll give you more details about the jaguar's relocation and what exactly is going to happen to it.

Taiwan Foreign Minister At Fish Farm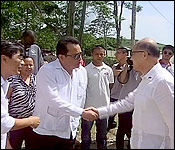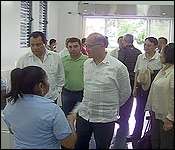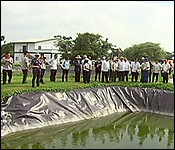 Taiwanese Foreign Minister Dr. David Lee's Magical Mystery Tour of Belize continued today. We say mystery because we still know very little about the itinerary of his trip. But, the government press office has sent a release and video of his visit to the Taiwanese-funded Tilapia Hatchery Centre in Central Farm, Cayo District.
The Centre was created through the work of Taiwanese professionals and volunteers in the field of aquaculture, plus $2.5 million US dollars to fund it for the first five-years. The Centre is now operated by the Aquaculture Unit of the Agriculture Department.
The Foreign Minister also got to see another Taiwanese funded project called "The Genetic Improvement in Sheep and Goat Project". This project has a total budget of $1.67 million US dollars - most of it from the Taiwanese. The Belize media was not invited to this event - and we got footage from the government press office. Minister Lee said he was impressed:..
Hon. Dr. David Tawei Lee, Foreign Minister - Taiwan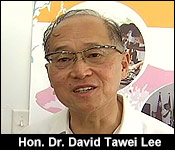 "It has been a wonderful tour of your country and today we are very impressed with the agriculture projects we have work together and we have seen the physical evidence of our collaborations and we hope the final products will spin off and really benefit the people of Belize."
We get our first chance to see Foreign Minister Lee tomorrow morning when he has a press briefing at the Samuel Haynes Institute of Excellence in Belize City.
Lee is on a three day visit to Belize which ends tomorrow. The centerpiece of his visit was yesterday's signing of a Memorandum of Understanding on Bilateral Cooperation, through which Taiwan will provide $60m to Belize, one third in grants and the remainder in loans which will be disbursed over the next four years. Today he also visited the Belikin Beer factory.

Anne Marie Rolls, Who Will Be New Chief Magistrate?
The name Anne-Marie Smith is in the news - if not every night - then every other night. As Chief Magistrate she deals with dozens of cases every month, and since her tenure in Belize started in 2011, she has gained a well-earned reputation as fearless, no-nonsense, and quick to hand down sentences and sips of matters.
But, after almost 6 years in Belize, Smith - who is a Jamaican - is moving on to the Eastern Caribbean Supreme Court in St. Lucia. It's a promotion for Smith and she will join Belize's Godfrey Smith who is also a judge on that court.
But who will replace her as the head of Belize's lower court. When we asked the Attorney General two days ago, he didn't know who would replace her - and was happy to not know:...
Hon. Michael Peyrefitte, Attorney General
"I don't know, I don't want to know. All I want to know is at the end of the day who they recommend to the Prime Minister for certain positions."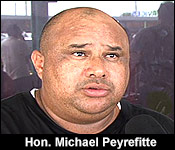 "I purposely do not want to have any knowledge of the proceedings or what's happening there, because I do not want it to even be said that somehow the government is trying to influence from the very beginning this selection process by the judicial and legal services commission."
According to our reports, Senior Magistrate Sharon Fraser is a likely candidate to get the job. Reports say it is between her and Patricia Arana, but Fraser has seniority.

Senate Faces Procedural and Propriety Questions
Last night, you told you why the Senate Select Committee canceled yesterday's hearing at the last minute because they could not agree on whether or not they should question the Auditor General's team.
There were members on the Senate Committee who did not think it was proper to question the auditors about the reports. But there are other questions about procedure and propriety. The press asked the chairman ask about the Opposition Party's swapping back and forth between Senators Eamon Courtenay and Michel Chebat, whenever Courtenay was unable to make it for the meetings.
There are concerns about whether or not that affects the legal standing of the inquiry. The press asked the Chairman if that action could render the 8-month proceedings useless, should someone bring a civil claim against the Senate Select Committee for that...
Hon. Aldo Salazar - Chairman, Senate Select Committee

"The legality of it, I have my own opinion on it and I'm not willing to share my legal opinion on it, because there are differing views on it and I don't want to express one or the other. it's just, my position is that personally I don't feel that we should interchange senators. I have my own views, legally. Practically though I can say that it makes the process more difficult when we interchange because certain decisions have to taken every week and then different persons are not here. I'm not saying that its deliberate, it's just makes the process a little more difficult if we have to then catch up to speed and move forward with new senators. For my part when I'm unable to be here, I haven't asked that anybody else is appointed from a government side because I feel that it's not necessary. But even so despite my views about it, I haven't really put up any objection to it because really I want this business to move as smoothly as we can and we come to an end to it. There's no need to quarrel over that. We don't want them to say we try to muzzle opposition. We are not in the business of quarrelling. We have to have this settled and move forward finalize, produce the report and let the authorities deal with what they have to deal with."
Reporter
"Chairman, the quarrelling is not the issue, the issue is whether is would affect the legal standing of the proceedings here every Wednesday on an important matter and Belizeans are hoping that they get actual results out of it. However, if there is some kind of legal impact..."
Hon. Aldo Salazar
"I don't want to get into who agrees and who disagrees with it. Take it as this, the majority of the community feels that this is the way to proceed and therefore if the committee is to be impugn for that reason then it's a decision made by the majority."
In 2008 Narda Garcia, the former CEO of the Social Security Board, blocked the Senate Special Select Committee report, though it exposed serious irregularities in the SSB. The Court ruled that Garcia's right to natural justice was breached, when she was not allowed to defend herself against allegations.

Willoughby's Major Mayflower Makeover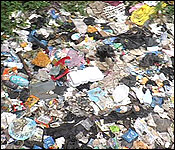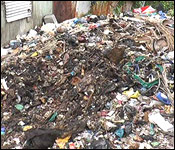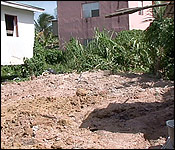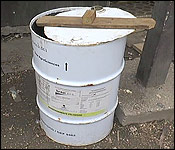 The major Mayflower Makeover is complete. City councillor Phillip Willoughby and his team succeeded in removing the garbage mound that had settled there. The residents say that for years, they had no proper way to get rid of their garbage so they used their waste as land-fill. Well, yesterday, all that garbage was cleared out. Willoughby and residents told us more about the impact of this initiative.
Phillip Willoughby, City Councillor
"I think by now we have capped the garbage with the clay material and then another layer of material after the clay has set will be put in place on top of that and the residents should be fine in the Mayflower area."
Courtney Weatherburne
"How did it end up at this point?"
Phillip Willoughby, City Councillor
"As an elected official say shame on me, I will take responsibility for not acting and doing something prior to now but regrettably and unfortunately it was a problem that was ignored I am saying there is no more time for any other situation or problem to be ignored."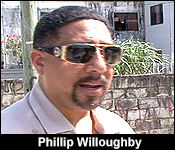 "We have lined the alleys with these drums, there is a young man that goes by the name and I call him 'Dr. Zues' he is responsible to pick up whatever debris or litter that is along the alleyway to the 4th drum, he is responsible for that and then there is a young man by the name "Cunques" who is responsible for the others so on the garbage day that the truck pass that the garbage should be collected they will ensure that they bring out the drums to ensure that the garbage is picked up and taken away."
Courtney Weatherburne
"So how long have you all been dealing with this garbage problem?"
Ortencia Richard, Resident
"Like for the past 6 years."
Courtney Weatherburne
"So tell us, just describe to us what the situation was before they came in to clean it all up."
Ortencia Richard, Resident
"The situation is we used to have a lot of garbage and we really appreciate that at least Mr. Willoughby came in and made a difference especially for the kids because it used to be really bad with the dirt and the water along with it."
"We really appreciate the fact we could drive in or walk in and it won't be any hazard to the kids."
Courtney Weatherburne
"Will you all make sure that you keep your place clean and properly dispose of your garbage?"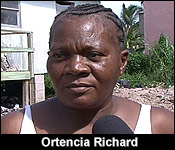 Ortencia Richard, Resident
"Yes and we also appreciate the fact that the Minister brought in garbage cans so we will definitely make sure it stays up to date."
Willoughby told us that he will be spearheading similar programs in the Jungle Hutment and Yabra area.

PUP Politicians Advises Cane Farmers Don't Revisit Bagasse Price Formula
And turning back now to the standoff in the sugar industry - we re-visit a position of the interview with PUP Orange Walk South Representative Jose Mai. He is a politician, a cane farmer and a member of the BSCFA.
As we've been reporting, the BSCFA has lots of issues with the proposals put forward by ASR/BSI to lock them into a commercial contract for 8 years. And one of the issues that the BSCFA wants to first revisit is the price they get for bagasse - which is the by-product of sugar.
Mai advises them to abandon that argument:...
Jose Abelardo Mai - PUP, OW South Representative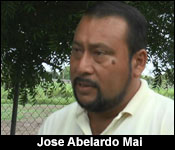 "I will tell you which I won't bother to dialogue or to negotiate on - the price of bagasse. It is just recent that ASR has started to say BELCOGEN was a great concept but a horrible investment, because simply, the co-generation plant was 2 thing wrong: inferior quality and a very bad poorly design which up to today is not functioning to its capacity and hence investments continue to occur on that. So to say that you will get more money out of BELCOGEN for bagasse, I am very doubtful about that - extremely doubtful about that."

Richard Holder Is Back Putting Regular People In Social Media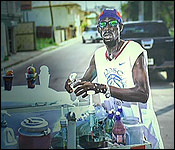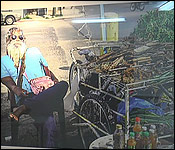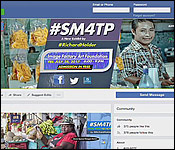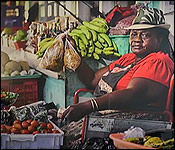 Richard Holder is a celebrated Belizean photographer. One of his most provocative pieces is his interpretation of the Last Supper - in it, Jesus and his disciples are all Rasta men. Holder said he gathered his Rasta wash-men and snapped the photo of them. Well Holder went out into the streets again for his latest exhibit.
Courtney Weatherburne reporting
He calls himself the Original Ice-man. He has been selling these snow cones all over city streets since 1997.
And she is known as Cemetery Road's best for Belizean food - Dorla. We buy from these people and see them around almost every day working hard and selling their specialties. But really these vendors aren't highlighted or appreciated as small business owners.
Artist Richard Holder does just that in his exhibit called Social Media for the People but
As the name suggests, it goes beyond the Image Factory walls.
Holder created a facebook page called #SM4TP featuring these vendors.
Richard Holder, Artist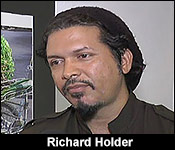 "These people for the most part have lived from before social media. They come right into the social media age and you know a lot of old school people jump in from negative to digital for example and you know that is a big deal some people are kind of forgotten in time because they are not able to participate. So all of these people don't have business pages or anything like that, they don't know how to go about at this moment creating a sponsored post and that takes use of a credit card, finances, you know, you really have to know to tweak this. These are real people and that is what I like about them in a sense they are not tainted by the social media bubble, they are living in the real world and that is fascinating by itself so here I am and that is where I come into the picture to give them a chance to be on social media in a professional context with these striking images."
"So in a sense it is designed to help them to sell, just like how you want, you want info, contact where they are and what they have, that is what we are doing for them."
So it's a seamless merger between business and art - a process Holder says re-ignited his passion for capturing the raw and real life in the city.
Richard Holder, Artist
"I think the thread that this series with some of my past work is the street as the subject."
The exhibit open tomorrow at 6 at the Image factory. The vendors featured in the exhibit will also be there.

Farmer's Market For Belmopan
The capital city of Belmopan will have its own Weekend Farmers Market. The idea is to put farmers and consumers directly in touch with each other. The Ministry of Agriculture is promising 150 stalls with fresh produce.
The market will include over 150 stalls offering fresh produce, as well as nursery plants and seedlings. We found out why it will be situated at the national agricultural and trade show grounds.:...
The market's first day is this Saturday, July 29th when it opens from 5:00 a.m. - 5:00 p.m..

Classical South Indian Dance Being Taught In Belize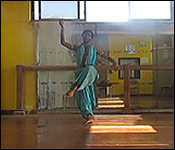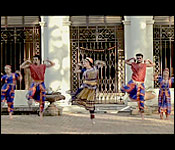 Bharat-Nat-yam : it is a South Indian dance and you can get a chance to learn it in 6 weeks if you join the class. Lead dancer Dwayne Murrillo told us more today.
Dwayne Murrillo, Bharatnatyam Dancer
"Bharatnatyam is actually a type of Indian dance, classical Indian dance that was created in the temples of Tamil Nadu which is in South India so it was basically done in these temples but eventually it came out of the temples into the theaters of India."
"The dancers they have to tell a story. They are re-enacting out the stories of Mahabharat, Ramayana, the Vedas which are the holy books, the holy stories, holy mythologies if you will of our Hindu brothers and sisters and so you are not just a dancer, you are also taking on the character of that character."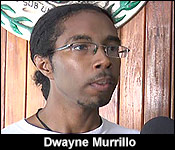 "The classes started today, the first class is free. I am doing it for 6 weeks, Tuesday's and Thursday, 2:00- 3:00 it will be adjacent to Teddy's music store and DVD's."
If you are interested you can call 669-8553 or 601-3900.

Home | Archives | Downloads/Podcasts | Advertise | Contact Us