Director Dorian Free Of Charges, Case Collapses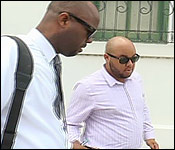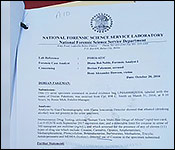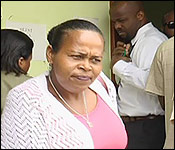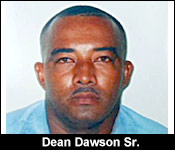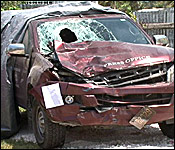 Last year, at the end of March, Press Office Director, Dorian Pakeman got into major trouble when he knocked down and killed 45-year-old Dean Dawson, a mechanic from Gardenia Village. Pakeman was driving his government issued Isuzu D-Max pickup at the time, and after news got out that he tested positive for cocaine on the night of the accident, he was suspended from his job at the Government Press Office. That was in September, and it would take another four months for police to bring charges: but not for manslaughter by negligence, or driving without due care and attention, but for causing death by careless conduct. That single charge was the subject of a preliminary inquiry today in the Magistrate's Court. It's a sort of case management where the Magistrate goes through the bundle of evidence to determine if a case should be sent up to the Supreme Court for Trial. In this instance, however, the court has determined that there isn't enough evidence and there won't be any trial.
So, just like that, Pakeman was freed of the charge of causing death by careless conduct. Our news team was there at court, and Daniel Ortiz took a closer look at how Pakeman got off:
Daniel Ortiz reporting
This morning, 14 months after knocking down and killing Dean Dawson, Dorian Pakeman walked out of Magistrate's Court freed of all criminal charges for the accident.
Today was supposed to have been the preliminary inquiry in the case, to determine if he would have to stand trial in the Supreme Court. After examining the police file on the evidence against him, Senior Magistrate Sharon Frazer struck out the only charge he faced: causing death by careless conduct.
She concluded that Pakeman had no case to answer to, which is a view shared by his attorney. He made that point in his submissions before the court.
Bryan Neal - Attorney for Dorian Pakeman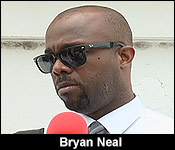 "There was a lot of noise made about certain things in the media, but having reviewed the file as a matter of law. I found that there was no evidence and I found that there were breaches of procedures so fatal that had the matter gone to the Supreme Court, any reasonable jury could not have convicted Mr. Pakeman. So my submission was rather than send it up to clog the court system in the Supreme Court just to dismiss it and the magistrate found favor with my submission."
That position was also bolstered by the out-of-court settlement that Pakeman made with Dean Dawson's common-law wife, Sherla Adolphus who wrote to DPP Cheryl-Lynn Vidal, asking her to discontinue prosecution against Pakeman. In her letter, she said, quote, "...It is my earnest wish that the charges against Mr. Pakeman be withdrawn and no further action be brought..." End quote.
Bryan Neal - Attorney for Dorian Pakeman
"I wasn't a part of those discussions. I was retain in the criminal matter, but I shared in court a letter from the common-law-wife saying that the matter had been settled and that she did not want the criminal matter to proceed either. She has been compensated. There was another claim which has been dismissed because the claimant did not have the requisite standing to bring the claim on behalf of Dean Dawson. So there is no civil matter outstanding for Mr. Pakeman and there is now no criminal matter outstanding for Mr. Pakeman."
But, what about the positive urine test for cocaine that the DPP unearthed after police failed to deliver it as part of the file? Well, it turns out that the test does exist, and did say that that cocaine was found in Pakeman's urine sample.
The report from the Forensics lab, dated October 20, 2016, says, quote, "...Drug testing, utilizing 'Instant View multi-test Drugs of Abuse' rapid test card...detected use of cocaine in the specimen submitted." End quote.
When asked about the significance of that test Pakeman's attorney said that the prosecution would not have been assisted by this because the police did not follow procedures in securing test samples.
Bryan Neal - Attorney for Dorian Pakeman
"Under section 77 of the motor vehicle and road traffic act, there is a procedure where there is a sample requested within one hour you must give it and a subsequent sample just to be sure must be given, so that there was only one sample given not in accordance with the procedure in the act and therefore that sample could never form part of the case and that was one of the reasons I submitted that there was no evidence."
Reporter
"But also it was said that the certificate, the results showed that he didn't have any level of drugs in his system to have him impaired while driving."
Bryan Neal - Attorney for Dorian Pakeman
"That is so. That is why we are saying that for careless conduct, if there is no proof that there is any drugs and there is no further proof that there is any carelessness, then the matter ought to die here as it has."
But, the bottom-line is that Pakeman was freed of the charge due to a lack of evidence, not a full acquittal.
Daniel Ortiz, 7News
"How do you answer to the criticism that no evidence isn't the same as innocence?"
Bryan Neal - Attorney for Dorian Pakeman
"Well you have these vehicles on the road, traffic accidents happen every day. I have apologize to the family of Dean Dawson, I've committed from the beginning that they would be compensated and they have. So accidents happen. Its regrettable. Nobody wants to be in an accident, but this is an accident and I hope that his family now finds peace and that Mr. Pakeman is allowed to move on with his life."
So, to address a few other issues surrounding this case. First, Senior Magistrate Frazer commented that the positive cocaine test did not say that the substance in Pakeman's system impaired his driving ability. Pakeman responded to the Magistrate saying, "I hope the media reports on that."
Also, before the preliminary inquiry began, Senior Magistrate Frazer demanded an explanation from Pakeman and his attorney as why he left the country without getting permission from the court. In February, pictures emerged showing him at an NBA game in the US, and it was revealed that he didn't properly notify the court. He apologized saying that he was under the wrong impression that all he was expected to do was to inform the Senior Magistrate of his intent to travel. He said that he didn't know he had to get permission first.

Bradley Boatyard Burnt In Boom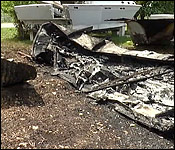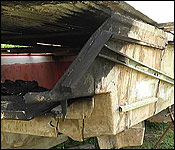 Tonight, arson is in the news again. This time the location is the outskirts of Burrell Boom Village where someone set fire to two costly boat moulds owned by Bradley's Boatyard. Authorities found a bottle of gasoline as well as a few tires inside one of the moulds, which pretty much confirmed it as a case of arson.
But why would anyone want to burn the property of a well-known Belizean boat maker? Today, we spoke to Steve Bradley, the owner of the boat yard, who told us what he knows about the incident and the motives behind it. Here's Alex Courtenay with the story...
Alex Courtenay reporting
For the last few months, Steven Bradley, the owner of Bradley's Boat Yard, has been in the process of relocating his business from Belize City to Burrell Boom. Bradley has plans to increase the services he provides by moving to a larger space, but some of his neighbors at the next location did not take too kindly to the addition of his business in their community.
Steve Bradley - Owner, Bradley's Boat Yard
"When we bought the property, at least one of the neighbors became immediately vociferous approaching one Saturday with me when we were just moving some of our containers and some of our boat trailers and other boats that were not being worked on and that was the first friction, because before any explanation could be offered for his queries, it was sort of the person walking off in a huff, my mom would say in a "tizzy" without a care to hear the facts. It was simply a fact - "this boat yard is not going to happen here and we will not tolerate it" and "or else you will see what the villagers of Burrell Boom can do.""
Bradley says he did not take the threat seriously at first, but last night all that changed. Sometime before midnight, two fires were lit on Bradley's property causing some damage to the hull of one boat mould, and completely destroying another.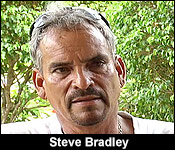 Steve Bradley - Owner, Bradley's Boat Yard
"When I got there last night, I am 19.6 miles exactly from where we sit to my entrance. When I got there last night, most of the fire was extinguish by the passersby, but what was evident from the very onset that there was a crystal water bottle, a gallon-sized bottle laying on the ground that was about a third filled with gas and that was lying beneath my 55 foot boat was partially burnt around the stern end of it and inside on top of the mould there were 2 tyres that were burnt. Somebody placed 2 tyres there and I would imagine they use the gas to provide an accelerant for the fire and the smaller 28 foot mould, my most popular mould was so badly burnt that I could not say if there were tyres there of if it was just gas. That's more for the fire department and their forensic team to decide that."
Bradley is still unsure why he was targeted so maliciously. He says and we confirmed that the project has the blessing of the village council:...
Steve Bradley - Owner, Bradley's Boat Yard
"Even before I bought and paid for the property, I sought and I met with the Burrell Boom Village Council, with the chairlady and her councilors and I discuss the detail what was my intention and that of Bradley's Boat Yard by extension as it related to the moving of our facility. Almost immediately we got a green light from the Burrell Boom Village Council as it related to that area."
He did admit that some people were concerned about fiberglass particles contaminating the air, and causing problems for those in the area who may have respiratory issues. However, Bradley told us that he had been working with the Central Building Authority and Department of the Environment to ensure that he was following every guideline in the book.
Steve Bradley - Owner, Bradley's Boat Yard
"We got the plans drawn up and basically the buildings that we were erected were not new structures, they were existing structures that were previously located on the boat yard site at Peter Seco Street, Belize City next to the Belcan Bridge, but we still had to submit plans to the Central Building. I got a copy of the fiberglass industry guidelines and they say as prescribed by the department of the environment and I started to highlight the main features that the department of environment would have liked to see in a facility such as ours and right away it became clear to me that what my intention was, of setting up my new facility at this new location was above and beyond what the guidelines was stipulated by the department of the environment."
Despite the loss of one of his most popular moulds and damage to another, and repair and replacement costs estimating over $100,000, Bradley says that he will not deterred from growing his business and providing better services to his clients.
Steve Bradley - Owner, Bradley's Boat Yard
"They can't burn me down. Legally I am not going to allow that and I have no intention of leaving this as it is. I am going to seek every angle of the law to put this to a closure and I'll do everything in my power to prevent this from happening again. As the military would say "we are ready for battle." We hope that this won't continue, but we have to be prepared, I have to protect my own interest, my own investment, I have to protect my staff and by common decency I am bound to help protect the good residents of the Burrell Boom community."
Bradley says he has a few suspicions about the identity of the arsonist or arsonists, and will assist the police as best he can in their investigation. The village Chairlady Erlene Baptist told us she was shocked at the fire and says that at no point has anyone made complaints about the Boatyard to the village council.

Did Defence Minister Use Coast Guard Boats As Football Ferries?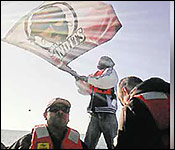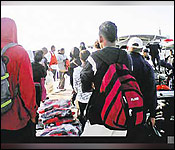 Tonight, Defense Minister John Saldivar is under another cloud of controversy: this time it's being alleged that he used Coast Guard vessels to transport his football team, the Belmopan Bandits to San Pedro for games. That's using public resources to pay for his private business and today's Reporter Newspaper says the US Embassy isn't happy about it. The US Government donated the vessels under very strict terms and sources tell us that the Americans have complained to Foreign Affairs about the alleged abuses.
The allegation, made first in the Belize Times last week is that the Coast Guard vessels were used to transport team members, management, family members and friends to San Pedro, whenever the Bandits have games scheduled on the island.
So, what is the US Embassy's specific interest? Well, the Boston Whalers which the US Embassy donated to the Coast Guard from as early as 2012 are allegedly among these vessels being used for the football friends and family ferry service.
Today's issue of the Reporter quotes a US Embassy spokesperson saying, quote, "The U.S. government has provided training and equipment, including boats, to the Belize Coast Guard. The primary purpose of these vessels is to deter and interdict criminal activity, particularly in support of counter-narcotics efforts."
We contacted John Saldivar for comment this evening, but up to news time, he hasn't responded to our text message requests.

Mayor Says Yellowman Should Face Consequences for What He Did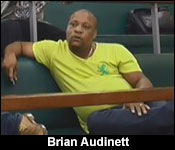 Brian "Yellowman" Audinett menaced the media 10 days ago in the National Assembly gallery, and since then, the outcry against his behavior has been getting louder. The leader of the Opposition has written to the Speaker of The House asking her to remove him as Masebearer, and the media has written to the Chairman of the Senate Committee asking him to ban Yellowman from all future sittings of the Senate Committee. But now as a member of his own party has come forward to say that Yellowman was way out of line. Mayor Darrell Bradley gave the media a candid and cold review of Yellowman's antics today:
Darrell Bradley - Mayor, Belize City
"What occurred is a stain not only on those people but it's a stain on the entire country. It affects me as a member of the party and I would wish that situations like that not happen. The media in our society discharges a very fundamental objective. The media provides a level of accountability, strengthens our democratic process. I was very dismayed by the fact that a session of the hearing had to be cancelled so that what you are doing is that you are in a result subverting a very essential process. You are actually making it such that what is most important that the people be satisfied that whatever in immigration is properly dealt with. You actually undermined that and any person who is involved in that, shame on them."
Reporter
"So Mayor, do you think that the United Democratic Party should hold these individuals accountable."
Darrell Bradley - Mayor, Belize City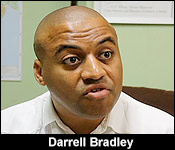 "I think that as a member of the party I think that, that should be done. I think all should also too in relation to the business of government itself, because there's national assembly and so forth. Again, this is our parliament. I tell my son, who is 4 years old that he must conduct himself in a certain way. I don't expect my son to tell me, I am his father and I am also the Mayor. So, nobody will see me carrying on in such a way in front of cameras, or doing this that demeans the office of Mayor. So, to me it should go without saying, that when certain actions happen, there must be consequences."
Reporter
"Do you think its justified that people are calling for the removal of Mr. Audinette as the macebearer of the house?"
Darrell Bradley - Mayor, Belize City
"I think that if people want to call for his removal, that's within their right, we live within a free and public society. Whatever the consequence is, I am not the one who makes those decisions but, I do think that there should be consequences because again you hold an office in our land, its symbolic and we need to ensure that we have a conversation about what is the appropriate level of conduct and the when that level or that standard is lowered that we hold those people accountable and I am not the person who is responsible for that but, if I were, I know what I would have done."
And while the Mayor is focusing on the symbolism of the job, the Chairman of his party Alberto August and Yellowman aren't into such subtleties. They posed today for a defiant picture, sporting their multi-coloured, "Belizeans Against Courtney" shirts.


Bee Attack Aftermath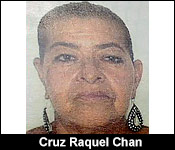 The mother who was hospitalized after Wednesday's Arms of Love Primary School bee attack has been treated and released from the hospital. So everyone, including the kids have recovered from that terror - well at least physically. But of course the family of Cruz Raquel Chan has been torn apart after her loss. Chan was stung to death by the killer bees - she was stung too many times to count. Yesterday we had said she was stung 43 times but that was not the case. It was the police officer who tried to help Chan who was stung 43 times…but he also has been released from the hospital. Classes at Arms of Love School in San Ignacio resume on Monday. the tree that harbored the hive of Africanized Bees has been cut down.

Two Bus Operators Guilty, Many More "Get Weh"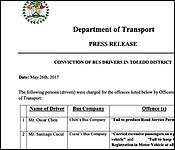 Those of us who commute know all about buses carrying excessive numbers of passengers - an everyday occurrence, with very little policing from the Transport Department. But, today Transport sent out a press release to say that at least it's doing something. Two bus drivers in Punta Gorda were charged with offenses; they are, Oscar Chen of Chen's Bus who didn't have a Road Service Permit, and Santiago Cucul of Cucul's bus company who "Carried excessive passengers on a public service vehicle" and "Failed to keep Certificate of Registration in Motor Vehicle at all times". One week ago in the PG Magistrate's Court, both men pleaded guilty and were fined $200.00 plus $5.00 cost of court for each offence, in default 2 months imprisonment.
Yes, it's only two convictions across a landscape of daily and widespread violations, but the Department of Transport boasts quote, "all bus operators and drivers who risk the safety of passengers will be held accountable for their actions and will be prosecuted to the fullest extent of the law." We'll wait and see…

Bradley Confirms He Will Run For Mayor
Returning now to our extended interview with Mayor Darrell Bradley today, we also asked him if he will be running again for Mayor. Municipal Elections are months away - but Mayor Bradley has a history of dancing around a decision for months before he finally commits to it. In 2015, we didn't know for some time whether he was coming or going. But in 2018, it looks like it will be me straightforward - even though the mayor did say it's not about an election, it's about the work:..
Darrell Bradley - Mayor, Belize City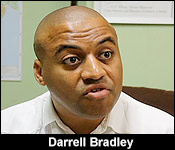 "Well, that remains my position, I want to run for Mayor again. That remains my position. I think though, there are people who make the election a focus. This may be something or one of those ways which you always tell me that I don't answer the question, but it has never been our focus to zero in on an election. Our focus has always been on the work. We have to focus a lot on my managing the expectations of people and ensuring that we can get the work done."

Bradley says Relationship With Councilors Is "Like A Bad Marriage"
Of course, Bradley and those councilors who want to be on the slate will have to go through a convention first. And, from what we've been hearing, the Mayor might not be opposed to a few new faces. When we were at the council office two weeks ago, we got the tail end of a contentious caucus meeting that we are told the Mayor basically stormed out of - after a disagreement with his councillors. When we asked the mayor about it today, he didn't deny, and would only say that his relationship with the councilors is like a bad marriage:...
Jules Vasquez, 7News
"Overtime any group of people, particularly in a power situation, you get tired of each other as you did get exasperated and break up the meeting."
Darrell Bradley - Mayor, Belize City
"I did what?"
Jules Vasquez, 7News
"You got exasperated and broke up the meeting. That's what I am reliably informed after the fact."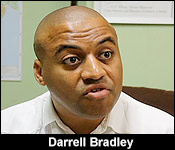 Darrell Bradley - Mayor, Belize City
"I will say though, that I think from a certain standpoint its challenging to be in municipal government because you do get frustrated because of the lack of resources, you get frustrated because of personalities that you have to deal with on a daily basis and within all the challenges, I do believe that the municipality has worked well, notwithstanding our personality differences, notwithstanding that we clash, we are humans beings, we fight regularly and I think in terms of city hall, I would say it's like a bad marriage in relation to people with different motivations, people with different levels of vision, people with different backgrounds and so forth, but you agree to say, because of the children, because of the community and so forth we will make this thing work and that's what I would like in it too. You take the good with the bad."
Jules Vasquez, 7News
"So then you would like an infusion of new councilors."
Darrell Bradley - Mayor, Belize City
"I wouldn't say that, notwithstanding the problems, notwithstanding the arguments, because that's what's strong personalities do, they argue but at the end of the day, if you were able to say that you are minimizing to a great extent, bad practices and corruption. You are able to maximize to a great extent, positive output so that we can visibly demonstrate improvements and that comes as a result of notwithstanding all the arguments and so forth as a result of determined leadership that you have leadership who wants to get things done and we have been able to do that so notwithstanding all problems, all the confusion and so forth. The city council, I believe is moving in the correct direction."

CITCO And Storm Drains
And while that "correct direction" may lead to paved streets and great public spaces, how about cleaning the drains before the rainy season starts? The June rains could come down as early as next week - and a few places we've seen show that the drains are in a bad state. We asked the Mayor about it today - and he concedes they may have missed a few spots:...
Darrell Bradley - Mayor, Belize City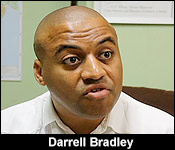 "Annually, we do have a drain cleaning exercise prior to the start of the hurricane season, that's something that we are doing currently in Belize. We are dealing with it from a planning perspective, we ensure also that we have crews which are dedicated only to cleaning out drains. Clearly, we won't be as comprehensive as we need to be and this is why in some cases, we do respect the contribution and the agitation of members in the community so that people can tell us, well, look my area hasn't been touched. The area in front of the Freetown road by ITVET, that was a hot spot area that always flooded. We actually noticed that there is an improvement in the drainage conditions so that what we are focusing on now is maintenance."
Jules Vasquez, 7News
"So then what I consider to be a critical drain, like my one hasn't been cleaned, I should conclude..."
Darrell Bradley - Mayor, Belize City
"That we just have not gotten there yet."

The Many Failings Of The Manhole Project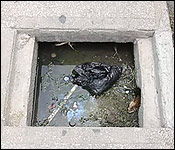 And a part of keeping those drains clean is getting into them. That's often impossible due to the poor quality of the drain hole covers which are either stuck in place, or broken and jammed in place. Now, there was a project launched a year ago to replace thousands of manhole and drain covers for three hundred thousand dollars, but it's been stalled. We raised the subject with the mayor three weeks ago and we did so again today when we were armed with more information of how badly the project was executed. The mayor conceded that there were shortfalls:...
Darrell Bradley - Mayor, Belize City
"Cheap doesn't necessarily get you value and so I think that in hind sight I would have done many things different in relation to that project. In terms of the amount of man holes that have been laid out in accordance with the project is about 40 percent and you have many of these man holes that would draw your attention to Freetown road, North Front Street, the critical areas - these man holes are still there. You can actually visit and see them, because there are a different colour than the side walk. I think that the position that we are at is that we will need to get somebody new to finish the work. There's a substantial amount of the monies that have not been disbursed. In relation to this, the city engineer identified certain problems that we had with the work quite early on. We can actually take a look, we can peruse through the reports and so forth so that you know exactly where we are for the benefit of public knowledge and public awareness, there's no hanky panky that goes on in any operation that I do. None."
Jules Vasquez, 7News
"But you don't oversee all the operations."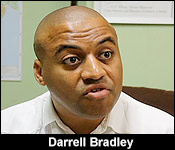 Darrell Bradley - Mayor, Belize City
"That's true, but I can say that with respect to this, no all projects or contracts at city hall are tendered, but with respect for this, we did a scope of work. We did a tender process, if I can recall there were about 7 bids. There was a selection in a relation to the contractor."
We'll follow up with the mayor to see those documents assessing the project.

DPM Bids An "Adios" To Cuba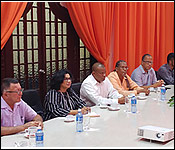 Deputy Prime Minister has wrapped up his official visit to Cuba.
He was accompanied by Tourism Minister Manuel Heredia and Health Minister of State Dr. Angel Campos.
Faber Met with Cuba's Vice President Salvador Valdés Mesa, and Minister for External Trade, Rodrigo Malmierca Díaz, as well as Mr Abel Prieto Jiménez, Minister for Culture and Special Advisor to the President among other senior officials.
They discussed topics we've heard from Havana before, such as collaboration for multi-destination packages in the tourism sector; the possibility of direct flights; and areas of mutual interest in trade and investment.
In the area of education, delegates from both sides shared ideas on how best to integrate culture and sports into the curriculum from early childhood. Discussions went over training coaches and sports medicine.
Faber also joined Vice Minister of Foreign Affairs H.E. Rogelio Sierra Díaz at a ceremony to honour Cuban national hero José Martí.

Attempted Murder By Fire
At the top of the news we told you about an arson at a boatyard, well Police responded to another fire yesterday, but this time instead of a boat, a man was set on fire in an attempted murder.
So far, police investigations have revealed that Belize City resident, Dorian Reneau, was socializing with three other people, when he was sprayed with a flammable substance by someone known to him, then set on fire by another. Reneau received burns to most of his left side, and is currently recuperating at the KHMH where he is in a stable condition. Police couldn't tell us when or where it happened and are still investigating the motive of the attempted murder.

Stole A Bike? 3 Months In Jail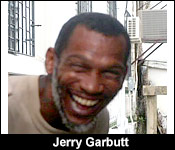 41-year-old Jerry Garbutt is at the Belize Central Prison after admitting in Magistrate's Court that he stole a bike.
At around 8:15 a.m. on the morning of Tuesday, May 9, the bike owner, Pastora Galvez, went to the Human Services Department, and she left her chrome beach cruiser bicycle in the corridor of the first floor. She had to go to the Second floor, and when she returned, her bike was gone.
Surveillance cameras caught Garbutt stealing the bike, and today, the police charged him with theft. He was arraigned before Magistrate Carlon Mendoza, where he pleaded guilty.
After consideration, the Magistrate sentenced him to 3 months in prison.

KHMH Former Financial Controller Clears His Name
Last night we told you about the abrupt termination of KHMH Financial Controller Norman Augustine. He had been there for almost three years, and had been involved in the process to make the hospital financially sustainable even if it meant forcing patients to pay for services. But, the contract officer was released this week - and it's surprised both Augustin and the Hospital Staff. There's been suggestion that the sudden release involved some impropriety and he went on the media today to say that's not so:..
Norman Augustine, Former Financial Controller - KHMH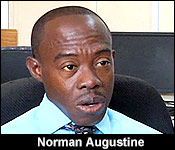 "I will not go into the reasoning or the way the separation did occur. All I can tell you is that at this juncture, its irreconcilable differences and we decided to go our separate ways. My purpose of being here is to highlight that in deed what Dr. Coye has said and mind you, he is a man of great integrity, great heart and I believe that should have been enough for the public to recognize that in deed there is no money missing from the KHMH. The financial health of the institution is in the best it has ever been."
Reporter
"Are you seeking legal recourse on this matter?"
Norman Augustine, Former Financial Controller - KHMH
"Again, it is not place at this time to discuss any matter as it relates to the separation between myself and the KHMH."
The KHMH promised a statement on this today - but none was released.

Sister City Love With South Korea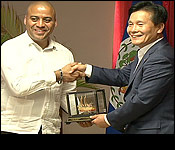 Yeosu is a port city in South Korea. It is known for its coastal scenery and it's over 300 islands. While many of us never heard of this city or much less been to Korea, Belize City Mayor Darrell Bradley and his councilors have a good relationship with the Mayor of Yeosu, Ju Cheol Hyeon - in fact they have had an ongoing diplomatic partnership for the past 15 years. And today, after all that time Mayor Hyeon finally made a visit to Belize. And to make the most of his visit, Mayor Bradley held a ceremony at City Hall to revive and tweak their partnership through the signing of an MOU. Mayor Bradley discussed how this collaboration will benefit both cities.
Darrell Bradley, Mayor, Belize City
"We have a sister city relationship with Yeosu for the last 15 years. It is actually the first time that the mayor has made a visit to any part of Latin American and so he really chose to honor the relationship by coming to visit Belize, he is going to be here until Monday so today we had an official signing ceremony which is a Memorandum of Understanding between the city of Yeosu and the city of Belize where we commit ourselves to work in specific ways to support trade, support tourism development, technical assistance and cultural interaction between our two cities."
"Yeosu is a very advanced port city and similar to some of our sister city relationships that is very akin to Belize in terms of the circumstances that we face. We look for a lot of technical assistance and guidance in relation to what kind of plans we can implement in Belize one of the areas where we are focused quite heavily on is zoning and urban planning and one of the areas where we want assistance is in relation to that."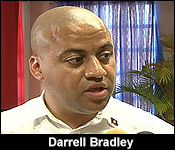 "Many of these developed countries tend to have a record of rapid industrialization and there tends not to be that emphasis on environmental protection. That is something I think that we can share with the world. I also think that in terms of our industry, our craft, our culture all of these things are things that I think that a relationship like Yeosu can benefit from."
Mayor Hyeon will leave on Monday.

Mayor Presented At The UN
And while he was in country today, Mayor Bradley returned from the United Nations in New York earlier this week. He was there as the sole Commonwealth representative at the United Nations Economic and Social Council's Forum on Financing Sustainable Development. The Mayor told them how small municipalities in Belize raised bonds to slef-finance development:...
The mayor returned yesterday…

Wonder Woman Winner
The women of the Belize Coast Guard and BDF took on the second and final leg of the annual Wonder Woman Challenge today. After a six-mile relay and a run-swim-run race yesterday, the security forces participated in a "burdened" relay race, and an obstacle course this morning and afternoon. We spoke to one of the competitors not long after she completed the obstacle course, and she told us about the intensity of the events and the training required to complete them...
But it's not just exercise, the Wonder Woman Challenge is a competition, and a winner was crowned this afternoon. The Coast Guard and BDF were divided into two teams each and ranked according to the time it took them to finish the events. The BDF's Grey Team place first after winning every event. The Coast Guard's Green Team came in second followed by the BDF's Blue Team and finally the Coast Guard's Pink Team in fourth. So this year's Wonder Women are from the BDF.
Plans are already being made to expand the competition next year and include females from other security forces.

Ms. Belize Pageant Organizer Opal Drops a Bomb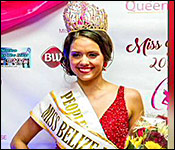 In April, a beauty pageant controversy erupted with Ms Belize Rebecca Rath's parents going all out against Pageant Organizer Opal Enriquez. Enriquez had no comment at the time - though we tried all means to reach her. But, today she let off with a two thousand word press release. It says, quote, "Rebecca represented our country well and will forever be remembered as the young woman with the beautiful smile and engaging spirit who took Belize back to the world stage." She announces that she's pursuing other goals, and, quote, "We will not be holding a 2017 Miss Belize Pageant." It adds, quote, "Effective immediately, the official title of Miss Belize 2017 and all affiliated duties as the reigning Miss Belize will pass to our 2016 first runner- up, Marcia Moody of San Ignacio in the Cayo District. Marcia will represent Belize in the 2017 Miss International Pageant in Japan later this year. We would like to thank Rebecca Rath for being an outstanding beauty ambassador as our Miss Belize 2016 winner."
More on this story next week.

Home | Archives | Downloads/Podcasts | Advertise | Contact Us