Murder/Suicide At Security Company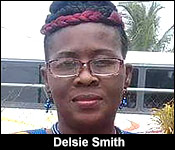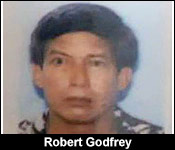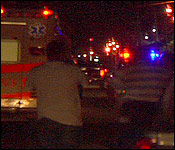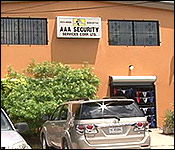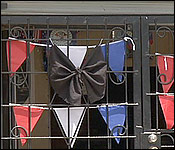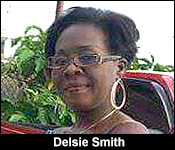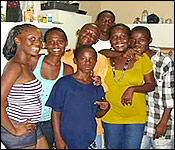 It was another violent weekend in the city with at least 6 persons shot, 3 of them dead, and a grenade exploded on San Pedro.
We start off with a shocking and bizarre death investigation that has left two families broken. On Friday night at 8:30, 50 year old Delsie Smith and 66 year old Robert Godfrey were found dead, each with a gunshot wound to the head at their workplace, Triple A security.
The information so far is that Godfrey allegedly shot Smith and then turned the gun on himself. But, it is a sensitive case because no one really knows for sure what exactly happened and why. Courtney Weatherburne has more:
Courtney Weatherburne reporting
From a distance, it may seem that like most businesses Triple A security services is trying to show that festive September spirit with a set of colorful bunting flags draped on the door. But that celebratory mood has been snuffed out by terror and grief as this black bow hangs over of the banners.
Delsie Smith had been the manager at Triple A for 11 years. She was known as hard working and very dedicated,
Always trying to find ways to improve the company as seen here in this prayer she dedicated to her colleagues.
But on Friday night, in the same office in which she spent so many long hours, she was shot and killed. Smith's daughter found out about an hour after.
Tricia Hislop, Daughter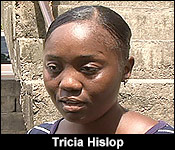 "I called the office nobody answered and then I started to tremble because I know something must have happened because nobody never just not answer the phone and then I called back and then the supervisor answer and I was like what happened and where is my mom and he is like they went and I was like went where and he is like she died and she is at the morgue and I was like don't play like that and I started to cry and he say I am not playing, I am serious."
But that is only part of the story, the man who allegedly shot Smith is her boss Robert Godfrey. The information is that after shooting Smith, he shot himself in the head. Smith's daughter told us that a female employee witnessed everything as they were doing payroll paper work.
Tricia Hislop, Daughter
"It is a normal thing for them to sit at the desk before pay day and she does the schedule for the weekend, she set out the payroll in a whole and then they would do the pay the other day and she was writing, the young lady said, and they were laughing and talking and they were joking and she did the schedule and she said I am done and she passed the paper to him and I don't really want to say on the news the details on what happened after that."
For Hislop, those details are too difficult to express, much less to come to terms with.
Tricia Hislop, Daughter
"Everybody is surprised, everybody is Shocked."
But what is really shocking is that Godfrey was such a close family friend and they would never think he would do something like this. Now there are suspicions that both were having an affair but Hislop says that is not the case at all.
Tricia Hislop, Daughter
"I want to say I need everybody to stop, you can't assume a relationship was there she was the manager, he was the boss something transpired. We may never know because dead man tell no tale and we can't sit here and assume, I know my mom so I know there was nothing there and I knew him, he was a family friend, he has been around 11 years my mom was working with them 11 years and he was there every time, every occasion everything, he bought us Christmas gift, everything so we can't stand here and ridicule him."
"We have nothing negative to say we want to wish the family condolences on our behalf."
And it is that rare display of restraint and humility along with all those good memories she left behind that will help them carry on.
Tricia Hislop, Daughter
"She was kind, she was always happy, she loved to dance and sing, when we would party..if she doesn't jump on you, you are not part of the family. She was very giving, she would give her all, her last if she have it to you and she would stay without."
Robert Godfrey's relatives and workers all declined comment. They too have to find a way to cope with this tragedy.
Smith leaves behind 7 kids. She had been working at Triple A for 11 years.

Cops Say Answers Aren't Easy To Come By In Murder/Suicide
And police don't have any concrete answers at this point either. They say they have to wait on the post mortem and other key elements in this investigation before they move forward.
ACP Joseph Myvette, Head, NCIB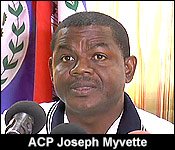 "Starting with the first incident which occurred on Friday night, which is a death investigation. Police responded to a call at the Triple A offices on the Phillip Goldson highway, where upon arrival police observed the bodies of two persons who were later identified as Delsie Olivia Smith 50 years and Robert Godfrey 66 years, both with gunshot injuries. Ms. Smith had an apparent gunshot injury to the right temple while Mr. Godfrey had an apparent gunshot injury to the left side of head."
"It is a death investigation and it remains open while police do their investigation. Certainly a part of the investigation will be determined by the outcome of the post mortem whilst other forensic parts of the investigation will determine how far we go in relation to this investigation."
A .38 revolver was found on the scene and police are still working on confirming if it belonged to Godfrey.

Deadly Grenade Thrown on San Pedro, No One Hurt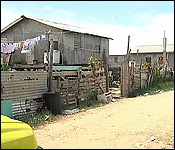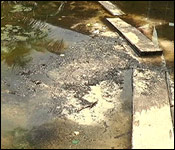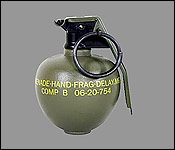 And from the tragic story of that apparent murder/suicide, we take you now to San Pedro Town, where a grenade and exploded in a residential community on the island.
The dangerous explosive was thrown in the yard of a family, located in San Mateo, one of the poor communities on the outskirts of the busy downtown area.
On Saturday night, the loud blast of its explosion was heard about a mile away, alarming residents. At the yard where the grenade was thrown, it tore a hole in the ground under the house which was on stilts, sending shrapnel into the bathroom.
Fortunately, no one was at home, but it is a significant threat to public safety. Daniel Ortiz travelled to the island town to find out more about this grenade attack - a first for the island which is Belize's most important tourist earner. Here's his story:
Daniel Ortiz reporting
This San Mateo home looked calm today, but on Saturday night, it was the scene of an explosion from a grenade that was thrown in the yard. Residents tell us that although San Mateo is on the outskirts of the town, residents nearer to the downtown area were able to hear the explosion.
ACP Joseph Myvette - Head, NCIB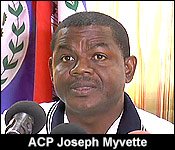 "There was also an explosion at a residence in the San Mateo area of San Pedro Town. Upon police responding to the area, a large hole was seen beneath the step of a wooden structure that is elevated off the ground. Also mud was seen on the steps and other damages to the area. Police have since detained 3 persons in connection with this investigation which continues."
It exploded here at the foot of these steps. Fortunately, nobody was hurt, and the family was not at home at the time.
Voice of: Resident
"I have a small family. So, it's just that, nobody was really at home at the time. So then, it's not really any threat, but still, the problem is they are coming to my yard, bringing problem to, throwing bomb in my yard. Nobody was really at home, so nobody would have gotten hurt."
Still, someone threw it pretty much at their doorstep, a threat that this gentleman immediately realizes.
Voice of: Resident
"The situation is that they can now see that they can come all the way to yard, all the way behind - all the way across the bridge - all the way over here to come bring problems to us, you understand?"
The leading local explosives expert, General David Jones, says that he has determined the make and the model. From his assessment, the explosive thrown at this family's home was a US M67 fragmentation grenade, one like this.
General David Jones - Explosives Expert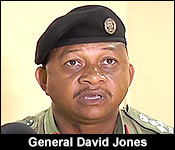 "I went out to the area afterwards where when I visited the area I saw the crater at the bottom of the steps and after inspection of what occurred, I realize definitely it was a high explosive fragmentation grenade. It's first for San Pedro. In the over 20 years I've been in the Force, I haven't heard of a grenade being used in San Pedro, but it was definitely a high explosive grenade, caused some damages to the steps. Some of the fragments went through the house that was about 15 meters away - it went through the bathroom. The houses in the adjacent area were all shaken. The other parts of the grenade that I am looking for hasn't been found, but based on what I've seen there, its definitely a US type grenade that has a steel body that is designed to fragment in detonation and that's the type of grenade that was used in San Pedro"
"The radius for lethal would have been within 5 meters. If anybody was within 5 meters of that grenade when it exploded it would have killed them. It would have caused serious casualties if anyone was within 15 meters. But this type of grenade can cause injuries up to about 230 meters away, because the secondary effect from that grenade is the fragments that comes from the body. It has the primary effect which was felt by the residence around there which is the shock wave from the explosives. That went out for a long distance away. It could be felt. But the secondary effect of the shrapnel itself could have gone out to 230 meters. It was in an enclosed area. Fortunately no one was around the immediate area when the grenade exploded, so 5 meters radius - lethal. 15 meters - serious casualties."
VERY fortunately, there were no casualties, but, the resident from this yard told us that police are treating them like the perpetrators of this attack, rather than the victims. This grenade was detonated and meant for them, but the immediate police response, he says, is as if he and his family are the suspects:
Voice of: Resident
"You know, General, it's not really about the situation that's happening with gangs or what's not. It's just the police. They know who is really doing this, and they came back here, this area at San Mateo. They came to our house. They came to kick down our door. They came to hurt all of at the back here. Well, me especially, they took me like a target, you understand? And we are tired of that. They came and threw a bomb at my yard. Several times they came to fire shots at my yard. People - we have to defend ourselves, but we are no bad people. And the, the law doesn't understand that. Like they came and threw a grenade at my yard. Now, Jemmoth came, sent the GSU."
"Now, they took away my boat, and then he is always saying that we are the bad people, you understand, general, when lots of people are bad minding us, and they are causing problem, and they watch us as the bad people. They are not watching what those young boys are doing."
The head of the National Criminal Investigations Branch believes that the tough police response is an attempt to contain the public threat to safety that this explosion is, while getting to the bottom of it.
Daniel Ortiz, reporter
"Their suggestion is that the initial police response was to treat them like they were suspects when they were the victims of this particular attack."
ACP Joseph Myvette, Head, NCIB
"I believe that the officers or the first responders would have been securing the area and looking for suspects, hence the reason that would have been so."
But, whatever the case, the type of urban warfare, seen mostly in Belize City, appears to have visited the Island of San Pedro
General David Jones - Explosives Expert
"These type of weapon is not supposed to be in the urban area, it's not to be in the hands of civilians. Grenades are designed for war time scenario. Starting off in World War 1 was trench warfare, where they should post them inside a trench to injure or kill people or if you are being overrun by a number of enemy forces you throw it in the open for it to cut them down. It's not supposed to be in urban area and in particular San Pedro which is a tourist area. You wouldn't want such a weapon to be in those urban setting."
And a quick clarification, you heard the young man tell us off camera that none of the members of his family were at home when the grenade exploded. Well, A police report, sent this weekend said, quote, "Amancia Martinez reported that about 8:20 pm whilst inside her house, she heard a loud bang and felt the house shake. After a while she went outside to inquire what had happened." Amancia Martinez is our interviewee's mother.
Police say that they have 3 persons detained for question. The cops add that 2 men were seen throwing the grenade in the yard, after which they ran off.
Later on in the news, we'll show you what the police have say about this 4th explosive to have been brought to public attention this month.

Another Murder on Antelope Street Extension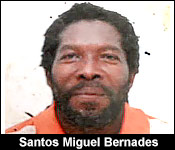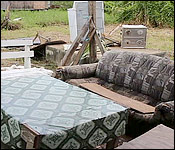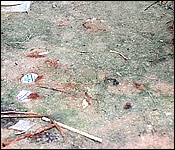 And turning back now to Belize City, there was a murder on Saturday night at around 9:55 pm. Honduran Santos Miguel Bernades was killed on Antelope Street Extension. He was socializing at a friend's house when a gunman fired two shots that killed him. This morning we spoke to his sister about the senseless killing:
Atanasia Oliva, Sister of Deceased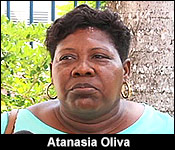 "I hear is he was playing he was playing in yard in the Antelope street you know and that one guy just pass and shoot out well do a shooting and you know the other people just bend down and he looks back and the other guys just shoot him again. Right there he died on table."
"My niece she saw when they shoot her uncle when they drop so she run and tell her mom they shot her uncle and then they call me crying and tell me what was happening with my brother."
"He is not a troublemaker he's a hardworking man he is always on the street. He works with city council, so he cleans the streets."
Bernardes was the father of two older children.


Cops Don't Know Who Killed Bernardes
AT their press conference this afternoon, police didn't have much more to add on the the murder of 51-year-old Bernardes.
ACP Joseph Myvette, Head, NCIB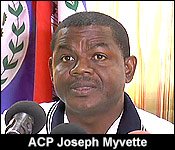 "Our investigation revealed that Bernades along with others were gathered when a lone gun man rode up on a bicycle and fired 2 shots, one of which caught Bernardes to the left temple. Police investigation into this matter also continues."
The police have no suspects at the moment but they continue to work on the case. This is at least the third murder in the Antelope Street area in 2017 - there have also been other shootings.

Man Shot At Northside Party
And while that was a murder - there are two other city shootings to report.
Aaron King was at a party yesterday in the Buttonwood Bay area when he was shot a total of three times, twice in the chest and once in the right shoulder. King was rushed to the KHMH where he is in a critical condition tonight. We met his family there this morning and his sister spoke to us about the senseless shooting.
Shakera Young, Sister of Aaron King
"While at the party two men came on bikes identified as the young man listed and first they rode past and then they said they called my brother by his name one of them and he came off the bike and he shot my brother at close range and when my brother ran he ran down behind him yes and then he shot him two more times."
Sahar Vasquez, reporter
"Do you know why someone would want to target him?"
Shakera Young

"Based on my discussion with him early this morning he is not he is still shocked at what happened and he himself is not able to identify what was the cause because he does not have that kind of confrontation with people per say to trigger such actions."
Shakera Young
"I must say from since I lost my son it has been a journey for us but as family I can say we have grown because you see the tragedy what it did to us was it brought us closer and now something like this happens we are still together and we would see everyone come together."
King was moved to the ICU and remains in critical condition at the KHMH.

Gunman Shot By Licensed Gunholder
The police today said they were able to detain the one suspect at the scene. Here's the head of the National Crimes Investigation Branch, ACP Joseph Myvette with more details.
ACP Joseph Myvette, Head, NCIB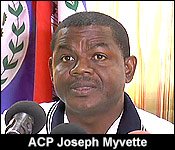 "King reported that whilst outside a yard where a social event was being held, he was approached by a person riding a bicycle who fired several shots at him causing the injuries. A person who was at the function having a license firearm then fired several shots at the suspect who was later identified to be one, Moses Babb, who also received apparent 2 gunshot injuries to the abdomen area. Police investigation into this matter also continues."

Sheffield Shot On Pitta Street
And there are more shootings to report...
A 30 year old city man is holding on to life at the KHMH after he was shot up on Saturday night after 8:00. Sheffield Ysaguirre was riding along Pitta Street when a gunman fired at him. He was struck to the stomach. Police told us what they know so far.
ACP Joseph Myvette, Head, NCIB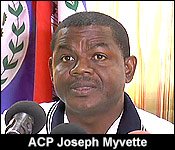 "One Sheffield Ysaguirre reported that whilst riding his bicycle in the area of Pitta Street, he was followed by a male person who fired several shots at him which caused him to reviewed several gunshot injuries to the abdomen. Police responded to the area where 8 expended shells were retrieve from the scene. We are seeking one suspect in relation to this investigation."

Well Known Ducey Quick To Fire Back At Gunmen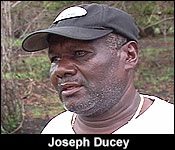 And then on Sunday morning, 51 year old Joseph Ducey was shot at his Police Street home. 2 men approached him and one of them shot at the well-known Haitian Belizean Taxi Driver and court translator, but he fired right back and scared them off. Police gave a bit more details.
ACP Joseph Myvette, Head, NCIB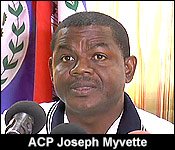 "On Sunday the 17th September sometime around 11am, one Joseph Ducey, 51 years old of a Police Street address reported that whilst inside his yard he was approached by 2 male persons, one of whom fired a shot at him. He then returned fire with his licensed firearm and the both persons then made good their escape. Police investigation into this matter also continues."
Ducey has been in the news before, his son's body was found in the Belize River in 2013. In Sunday's shooting incident, police gave no motives.

Bar Association Passes Stern Resolution Accusing CJ of "Misbehavior"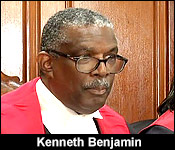 For weeks we've been reporting on the Bar Association's growing impatience with Chief Justice Kenneth Benjamin. Well, things have come to a head. On Friday the Bar membership passed a unanimous resolution calling for the Chief Justice to resign if he cannot deliver judgments on schedule. Now, that is a very, very, strong ultimatum to publicly put upon the head of the Judiciary. And, today the President of the Bar told us it was not a resolution lightly taken - she outlined its three points:...
Priscilla Banner, President - Bar Association
"The Bar Association unanimously resolved, actually 3 items after some recitals. The first was to call upon the honourable Chief Justice to deliver the judgements in accordance to a timeline that his lordship himself had set. The second part of that resolution was if there was a failure by the honourable Chief Justice to deliver those judgements in accordance with the timeline, then the Bar Association call on the honourable Chief Justice to tender his resignation and if the honourable Chief Justice so refused, the resolution of the Bar is that the Bar shall file a complaint to the Judicial and Legal Services Commission regarding the failure to deliver the judgements in a timely manner and accordance with the constitutional duty to do so."
Jules Vasquez, reporter
"One would be tempted to say but on September 14th which was a few days ago and one day before the Bar meeting the Chief Justice provided a schedule. So then, would it not be respectful to simply first wait and see if he complies with the schedule before making a resolution that is quite stern which speaks about immediately tendering his resignation if he does not comply with the schedule. Why have you all included such a stern resolution?"
Priscilla Banner, President - Bar Association

"Jules, this decision was certainly two things: not lightly taken and not taken with the haste that that would seem to suggest. The Bar Association has been meeting with the honorable Chief Justice since 2014, both in formal and informal meetings, attempting to deal with judgments that were delayed."
"And the reason that the Bar very heavily had to decide this matter and not with any fanfare - it was a very heavy thing to do, but the reason the Bar felt that it was necessary is because that schedule, even not with the specific dates it has been provided before."
Jules Vasquez, reporter
"And not been adhere to before?"
Priscilla Banner, President - Bar Association
"And that is where the confidence level comes in. If you say to us that these litigants would get relief within a certain time, and you are no less than the chief of the court, we must be able to have confidence that that statement will be complied with. And that is why the Bar Association had to take this very as you would say "strict approach." But our concern is the litigants."
"I am sorry to say that in one case the claimant has died and he has not heard anything about his matter. And so this is the heaviness with which we approach. We want to do it with respect, but we have come to the point where we feel that this is the only choice that we have left to deal with this matter."
Jules Vasquez, reporter
"Now in the preamble, it uses some, again, string language. It says that the failure to discharge its constitutional duty to afford litigants a fair hearing within a reasonable time constitutes misbehavior in office. Are we to surmise that even if he adheres until the schedule and things normalize, the Chief Justice would have at some point be guilty or been to blame for misbehavior in office? How then are we to continue to have respect for the head of our judiciary?"
Priscilla Banner, President - Bar Association
"That is the statement made unanimously by the Bar. There is a question of confidence and I keep coming back to this word. You can lose confidence, but you can also rebuild it and that is what we are saying. We have lost confidence."
Jules Vasquez, reporter
"Are we able to have a situation where the Chief Justice is so to speak, under the whip of the Bar Association, which is saying that if he fails to meet the schedule and then he fails to resign, they are asking the Governor General to move him? Is that a feasible way forward? This is the head of the judiciary. He can't be answerable to you. Yes, he must perform, but I am saying he cannot be under your whip."
Priscilla Banner, President - Bar Association
"That's a fair comment well said. But I think what is important is that never forget that we are officers of the court and we must treat the court with respect. But we are answerable to the citizenry of this country. So the difficulty I have with that is that yes we must have respect for the courts, but we have a fundamental obligation to litigants to make sure that they get fairness and they get justice and they get it in good and reasonable time."
Jules Vasquez, reporter
"In any person, this would significantly diminish their professional reputation and no one's reputation is as jealously guarded as jurists. How then do we mend this if there is so much substantial bad blood? Clearly, you all have lost confidence in the man's word."
Priscilla Banner, President - Bar Association
"I think it is a work in progress. I am not sure that it is repairable. As it stands you can see the resolution and the resolution is very strongly worded. The question as to how we proceed from here, we have outlined a course of action in the resolution and at the moment all I can say is that that is the way we would proceed for present purposes."
Going back to 2014, the Bar Association or persons on its behalf have had at least four meetings with the Chief Justice to discuss the matter.
The schedule set out by the Chief Justice last Thursday sees him delivering judgements two at a time from September 18th through to December 15th, 2017. We could not confirm if the first two were delivered today.

Guatemalan Navy Again Comes Over to Belize Side
The Guatemalan Armed Forces did it again on Saturday - they came into Belize's territorial waters. The event was the Belize Territorial Volunteers Eco Challenge where the volunteers went in canoes and Kayaks around the Sarstoon Island. They also sang the anthem on the island - making it both emphatic and symbolic that the island is in Belizean territory. Will Maheia told us that seems to have charged up the Guatemalan Navy who then swooped in to come alongside the canoes. They also stopped a TIDE vessel and escorted it to the BDF Forward Operating Base on the Belize side - but that's because there were two coast guard officers with their weapons in that vessel.
The Prensa Libre newspaper - with little ragged for the truth - framed that one in a headline, as, quote, "Belizeans try to invade islet in Sarstún river." It says the Guatemalan Navy, quote, "carried out an operation in defense of national sovereignty."
The article ass that Will Maheia, quote, "led a group of at least 30 people who tried to install a flag of their country and sang their national anthem, but did not achieve their purpose."
As far as this footage shows, they did achieve their purpose.
As for the Coast Guard in the TIDE vessel, the Prensa Liber says, quote, "two alleged members of the Belizean coastguard, wearing ski masks and carrying M-16 type weapons, which must be authorized, so that a captain of the Guatemalan Infantry Brigade , after identifying them, invited them to leave national waters."
Tonight, there are howls of protest coming from civil society and the PUP rejecting the Guatemalans behaviour. One of the Northern Volunteers said that the Guatemalan presence was nerve wracking:…
The Belize Network of NGO's sent out a statement today saying, quote, "This act of belligerence by the GAF is unacceptable, and endangers the safety of Belizean citizens who have all the right to move freely within Belizean waters….The BNN is extremely concerned about this clear violation of our territorial integrity and sovereignty by the GAF. We ask the Government of Belize to immediately send a strong protest note to the Government of Guatemala, and to inform the world community and international organizations about these continued acts of aggression by the Guatemalan Armed Forces."
=The PUP issued its own statement saying, quote, "The People's United Party expresses its strongest condemnation of the actions of the Guatemalan Armed Forces and the inaction of the Government of Belize following the blatant harassment of Belizeans within our territorial waters this weekend...]The PUP calls on Prime Minister Dean Barrow and Foreign Minister Wilfred Elrington to ACT NOW to protect our territorial integrity. If they will not act, we call on them to tell the Belizean people how we lost the Sarstoon which we sing about in our National Anthem. As we prepare to celebrate our Independence, the people deserve to know the truth." The Ministry of Foreign Affairs says no statement will be issued.

Fisheries Sting Caught Major Out of Season Conch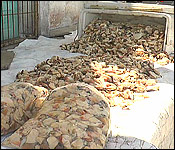 Tonight the Fisheries Department has almost nine thousand out of season conch which they busted in an operation over the weekend. Based on information, the Fisheries enforcement team went to bust some fishing camps at various cafes on the Lighthouse Reef Atoll.
But when they got to the camps, they just found 20 idle fisherman who claim they hadn't caught much. Supervisor of Enforcement Hampton Gamboa told us more:...
Hampton Gamboa, Fisheries Supervisor of Enforcement
"We went to Lighthouse Reef to conduct search of particular fishing camps. Upon doing that visiting these fishing camps we notice as enforcement officers there wasn't enough product for the amount of days the individuals said they were on site. Upon searching mangrove area approximately a mile away from the fishing camp, we found a freezer hidden within the mangroves. Officers opened the freezer and that was where we found 11 transparent plastic bags with conch in there. It is believe that these plastic bags weigh approximately 50 pounds when it's completely filled which we found them completely filled. Could hardly been tied. Upon searching another mile and half we came across another ice box where we found 9 transparent bags at this time. Upon checking, officers came across 9 plastic bags with conch.
"After operations were concluded in that area, we moved further south to Long Caye, which is the second most southern island on Lighthouse Reef. While dong a search there officers were again aggressively combing inside the mangroves and along the beach when one of our officers came across 2 ice box hidden in the mangroves. These 2 ice box didn't have any bags in it but they were completely filled to the maximum capacity that it could hold."
Jules Vasquez, reporter
"How does this make you feel as an enforcement officer to see this volume of conch extracted off season?"
Hampton Gamboa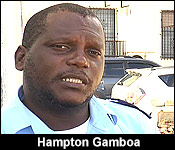 "As a fisherman son myself, it definitely aches my heart to comprehend the fact that you have people destroying their own industry by these types of careless act as well as greed. It is believe that these product are not destined to our local market. It is believe that more than likely these products will have gone cross border to the Honduran market."
Jules Vasquez, reporter
"What you are looking at here is an operation. These guys are running an operation to smuggle, to extract products from Belize's bountiful waters and smuggle it into Honduras?"
Hampton Gamboa
"Yes, that's what we believe is happening out there. It's unfortunate."
Jules Vasquez, reporter
"So now will conch be scarce because these guys have been pillaging the seas?"
Hampton Gamboa
"How it will affect the opening of the conch season, traditionally Lighthouse Reef has been one of the most productive area when it comes to conch, especially in the months of October/November when the season just opens. It remains for us to see what will happen next month which is this type of activity been going on throughout the 3 months that was closed. If you look at it from a holistic point of view then you know it's probably a tremendous amount that was transship across the border. If it's true that during the whole closed season, this type of activities were happening."
"To curb this type of operation means we need to have more presence out there. Lighthouse Reef is 50 plus miles away from Belize City. So therefore you have to be onsite for you to observe, for you to be vigilant and for you to curb this type of activity."
"We are grateful for Belize Audubon Society who have helped us in this venture in going out and conducting this operation. They have assisted us with fuel and also with manpower for us to be out there."
In total, the 8,980 pieces of conch weigh a little over one thousand five hundred pounds. On the black market they would fetch a low price of five dollars per pound. Because the conch were found in the mangrove, and not in possession of any person, no one has been charged and the bust has been labelled as found property. When conch season opens the conch will be donated to school feeding programs.
The fishermen suspected to lead the ring are in their 20's and 30's. Fisheries asks anyone who has information on any illegal fishing activity, to call 224-4552.

DELCIO TUN CHARGED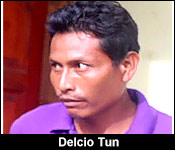 And, in that weekend operation - the Fisheries Department also caught 13 fishermen form the Corozal District on a sailing boat with over a hundred undersized lobster near Lighthouse Reef.
Today in court, only one of them, 31 year old Delcio Tun, from Chunox Village pled guilty to the charge when he appeared today before Magistrate Aretha Ford. Tun was fined $250 plus $5 court cost and he was given until October 18 to pay. If defaults on payment he will serve 2 months. In addition to that he was fined $20 for each lobster, which amounted to $2,240. The charge was withdrawn from the others.

Family Loses Everything In Fire On Sunflower, Arson Suspected
At around midnight on Sunday the fire department and police responded to fire at the home of Robert Garden and his wife on Sunflower Street in the Saint Martinis area. The couple made a hasty escape but lost all their belongings. Garden told us more about the fire.
As you heard, they lost everything, and if you would like to donate clothes and other items to the family you can call Garden at 661-9053.
The Fire Department today told us it has the appearance of arson because the fire started on the verandah.
The fire investigation is still not finished.

Noel Reyes Knocked Down, Left Critical In Hit And Run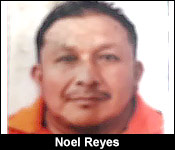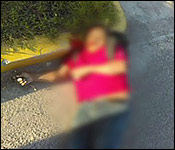 On Saturday construction worker Noel Reyes was riding his bicycle home from work when he was knocked down on Coney Drive in Belize City. The driver who knocked him down fled the scene. Reyes was badly injured and remains in critical condition at the KHMH. We were able to get some more information on the incident from his wife this morning at the hospital.
Denia Rodriguez, Wife
"Noel had an accident. I didn't know anything until 12 when the neighbor called me and told me about the news. I came here and wanted to know what is happening. The neighbor told me that the person that hit him fled the scene."
"He normally comes home early, nobody checked on him and nobody assisted him I don't know anything until that time because of my neighbor I knew what happened."
"He is in bad condition and he needs a lot of medicine and the doctor is telling me he has blood in the brain."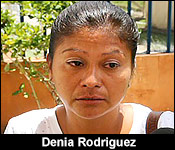 "No because the person fled the scene and police is trying to get footage from a camera nearby."
Rodriguez says she needs help with the medical challenges her husband faces. If you wish to help you can cell her at 632-4502.

Police Say they Are Keeping Vidal/Williams Dispute "In-House"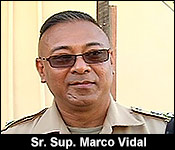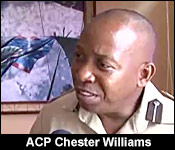 On Friday night's news, we told you how the former Eastern Division South Commander, Chester Williams, sent a "lawyer letter" to the current commander, Marco Vidal, threatening a lawsuit.
It's because of comments Vidal made last week suggesting Williams had accommodated criminals in the way he policed the Belize City Southside.
The incident is bringing negative public attention to the police department since this is quarrel between two senior officers. And today, when the press asked the Acting Commissioner about it, he said that both he and the CEO of Home Affairs have spoken to both officers to keep the dispute in house, and out of the public domain. Here's his brief but candid remarks on the topic:
Deputy ComPol Noel Leal, Acting Commissioner of Police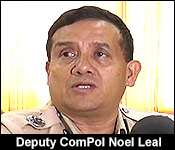 "I personally have spoken to both officers and I have held discussions with the CEO Mr. Lovell and we are both of the opinion that they should desist and they should discontinue that type of activity in public and yes they do have their rights and they have concerns, but we have asked them not to be having this issue on social media or in public. So whatever they want to do, if they feel they must do, then let that be from them through their attorneys, but let it not be public and that is what we have asked them to do, because the CEO has indicated that he is concerned that this is not a matter for public consumption."
"I have been commander in several districts as well as my colleagues here. Each officer tend to police the way they see it as best they can. But in terms of their personal and private styles of policing I don't see any problem, because I believe they ought to be doing which is supports their work in curbing crimes and violence. But not it be a matter for public scandal. If you have a problem then let us address it and if you want to bring in attorneys or the commissioner or the minister or the security services commission, then let us settle it there and that's where it stays."

Is There The Threat of More Grenade Mayhem?
Earlier in the news, we told you about the grenade which detonated in San Pedro on Saturday night. While this the first grenade to have actually detonated in Belize in years, but it's the 4th explosive device that police have come across this month.
So, are the criminal elements escalating their means of warfare? That's what the media asked the Acting Commissioner today, and here's how he responded:
Deputy ComPol Noel Leal, Acting Commissioner of Police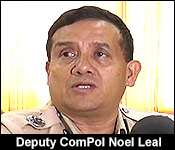 "From the Corozal and the Vernon Street one, I have not had any information to indicate that it is the criminal underworld. I am not sure yet about the one in San Pedro, but as the investigation proceeds it will tell us who or why there was an explosive at that house and what was the intention. But as far as I am concern up to this time I have gotten no information to indicate that there was anything from the criminal underworld ramping up or stepping up."
"As the General rightly pointed out it may have fall in the wrong hands and I can only beg you all and the community to assist us with any kind of information so that we can get them off the streets or wherever they are."

Cops Insist September Will Remain Safe
One specific point which the Acting Police Commissioner kept on stressing is that these 4 explosives were not meant as any intended attack against the events planned for the September Celebrations.
Today, he said that the public will see new security measures being put in place for the Independence Day Celebration activities all over the country. Here's how he described it:
Deputy ComPol Noel Leal, Acting Commissioner of Police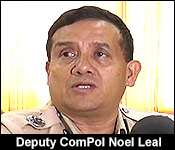 "So far the intelligence is not showing that it was intended for any mass casualty or any people who are assemble let's say for parade or whatever kind of social activity. It is not intended for that and I am glad to report that so far none of these incidents seems to have been targeting people currently involved or participating in the September celebrations in mass."
"We are aware that you know we are having Intendance Day celebrations countrywide on Thursday. We are aware of the fete or the after Independence celebration in Regent and Albert Streets in Belize City Thursday afternoon. We are aware that a lot of people will be heading towards Orange Walk for their Independence Day parade."
"So we have different layers of policing which we will be conducting to ensure that the residents of Belize City and Orange Walk as well as people who are going to visit these areas, can feel reasonably safe and comfortable."
"As we have said before in our last press conference to please bear with us. The police will be on the ground, they will be on the road and we might be seeing some new aspects of policing security particularly for Thursday."
"Other than that there is nothing to suggest that there will be any disruption or anything on toward for our Independence Day celebrations. But if there is anything, be assured that the police will do its best to ensure that nothing and everything is safe for Independence Day parade and the festivities countrywide."

Amy Forte Fraud and Forgery Case Went From Sizzle To Stall
Among the other questions that the Acting Police Commissioner took today was an inquiry into the latest developments in the Amy Forte fraud and forgery investigation. 3 weeks ago, she wrote the Prime Minister demanding that a land conveyance deed in her name, purportedly signed by her, be canceled because she never sold any land to Andre Vega, son of the Former Minister of Natural Resources, Gaspar Vega.
Since then, the police have been waiting for her to come in and make a formal report to them so that they can begin to investigate what she alleges as Fraud. But, that hasn't happened, and police say that the case has gone nowhere yet, because there is no complainant.
Here's what the Acting Commissioner Leal had to say today:
Deputy ComPol Noel Leal, Acting Commissioner of Police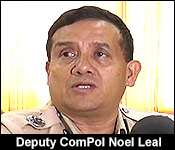 "This will be the last time that I will be talking about this investigation and that's simply because the complainant has not come forward and there is nothing we can do, there is no where we can go. So as you rightly said if the complainant continues to not come forward then we can't proceed with the investigation. There must be a complainant. So we might not be mentioning this situation again if the complainant does not come."
Daniel Ortiz, reporter
"Is it a concern for you or is it a consideration that police have made that the reason that the intended complainant has not come forward that maybe on due influence was placed on her to desist in prosecuting this matter in true criminal authorities?"
Deputy ComPol Noel Leal, Acting Commissioner of Police
"I have no information on that. All I know is that I have tasked from day one, the investigators to document every activity they have done. We have what we called an investigation diary to document every activity they have done with the date and time and possibly if there a phone call made to the attorney, to document that verbatim. At the end of day we will have the records to show that we tried our best and we didn't get any way forward."
Darlene Padron, the Justice of the Peace who witnessed this land sale between Amy Forte and Andre Vega, has written to the Attorney General asserting that there was no forgery.

Welcome Machel!
He may be performing on the 20th night but Trinidadian Soca Superstar Machel Montano has been in Belize since last week. He's been the guest of Musical ambassador Shyne and has been touring the country, having fun and meeting musicians.
But he's in the city this week where his legions of fans are anticipating his 20th night Soca Jazz Festival.
Today we spoke to "Mr. Fete" himself along with the Music Ambassador who played an integral role in bringing Montano to Belize this time around. Here is what they had to say about the highly anticipated performance.
Tomorrow Machel visits schools to speak with students.



Hurricane Maria Mashes Up Dominica
And while we are lucky enough to be looking forward to Independence Day celebrations on the 21st., our eastern Caribbean brethren are not anywhere near that tonight.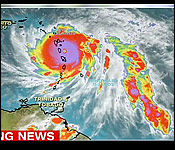 At this hour a "potentially catastrophic" Hurricane Maria is now a Category 5 storm, packing 160 miles per hour winds -- with even higher gusts -- as it nears Dominica. At 6:00 pm, the storm was about 15 miles east southeast of Dominica, and so that means right now it is pounding that small island state - and that will continue for the next few hours. Our thoughts are with them and the wider Caribbean tonight as the storm next takes aim at the US territory of Puerto Rico - which is still recovering from Irma.
We'll have more on this tomorrow.



New Chief Magistrate Is Official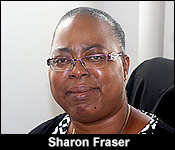 In July we told you about Chief Magistrates Anne-Marie Smith's promotion to the Eastern Caribbean Supreme Court in St. Lucia. She joins Belize's Godfrey Smith who is also a judge on that court. Now we had told you that one of the likely candidates to get the Chief Magistrate position is Sharon Fraser and Frazer was appointed on September 1st. In a release sent out today it states that "she is now tasked with the administration of the 10 magistrate's courts countrywide. It goes on to discuss her qualification and experience.



EXPO Crowd Was Less This weekend thousands flocked to the ITVET compound for the 21st Expo Belize Market Place. 104 companies occupied 190 booths and according to the Chamber of Commerce, they attracted over 14,000 visitors - which we note is down from last year's report of over 15 thousand visitors, and the previous year's 16,500 visitors. On the upside, the number of booths increased from the previous year.

Home | Archives | Downloads/Podcasts | Advertise | Contact Us