Death Was Lurking At Home For Belize City Man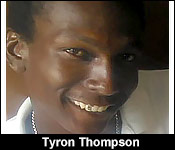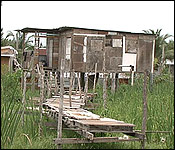 There were 3 murders over the weekend, but we start first with the Belize City shooting of 24 year-old Tyron Thompson, aka "Fish". It happened at around 9:30 last night at his house on Neal's Penn Road Extension.
Reports to are that he was only just arriving home, and shortly after walking up the stairs to his house, someone opened fire him. His family believes that the shooter was lurking in the darkness, waiting for him to arrive.
He was injured the chest and the leg and first responders rushed him to the KHMH, where the doctors performed emergency surgery. But, he had major organ damage, and he died from internal bleeding at around 2:56 this morning.
We spoke with both police and his mother today, and here's what they told us:
ACP Edward Broaster - Acting Commander, Eastern Division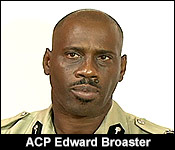 "He was shot to the left side of his chest on Neal's Penn Road. We're investigating that matter as well, and I don't believe at this time the investigator has any motive, as it relates to that incident. He was shot at about 9:30 p.m. last night, yes. He was shot to the left side of his chest, and right leg."
Voice of Stephanie Espinosa - Mother of the Deceased
"All I know is that he said he got shot when he got up and ran in. He said that he got shot in belly and back."
Daniel Ortiz, reporter
"So, you managed to get a conversation with him after he got injured?"
Voice of Stephanie Espinosa
"Well, my oldest daughter did, yes."
Daniel Ortiz
"So, he was at the hospital right?"
Voice of Stephanie Espinosa
"Yeah, he went through the surgery. After he came out, he was in a coma. They doctor said that it was a 50/50 chance."
Dalila Ical - Love News
"Did they tell you what ultimately caused him to succumb?"
Voice of Stephanie Espinosa
"He had internal bleeding. His organs, 5 of them got really damaged. So."
Dalila Ical - Love News
"Where was he when got shot? What was he doing?"
Voice of Stephanie Espinosa
"He was going upstairs to go in his house."
Dalila Ical
"I understand that his children were at the house at the time."
Voice of Stephanie Espinosa
"Yes, they were inside."
Daniel Ortiz
"The person who shot him came for him at his home."
Voice of Stephanie Espinosa
"Yes, at his house, waiting for him, and he saw them because he identifed them - well he identified the person to the police. So, they know who he is."
Dalila Ical
"Did he manage to say why he was shot?"
Voice of Stephanie Espinosa
"Well, from what I can say, it's has one thing [to do] with an incident which happened over the weekend - well, between Saturday and Sunday."
Daniel Ortiz
"What's that incident basically, ma'am?"
Voice of Stephanie Espinosa
"They had this guy that likes to steal in the area. I think he stole a weed wacker, and they went and beat him and took him to the station. So, I guess it was after that. He has 2 daughters. They are his eyeballs. They are his whole world in fact, and he was everything, everything to them. They lived with him. So, it will be hard for them."
Daniel Ortiz
"Did he have any sort of enemies, or anybody, who had any disagreements with him, anything like that?"
Voice of Stephanie Espinosa
"Yes, yes, he did, but as I said. I didn't get into it. i just talked to him and to let him know that he needs to be careful."
As you heard, his 2 daughters, ages 2 and 4, were at home at the time of the shooting. His mother is very worried that they suffered trauma, and that the grief of loss may have lasting effects on them.

San Pedro Daylight Downtown Killing Is Due To Turf War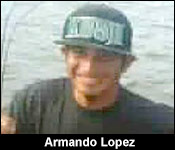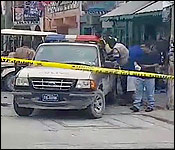 The spike in crime on San Pedro continued this weekend, and it claimed the life of 34 year-old Armando Lopez, a native of the Corozal district who had been living on the island for over 10 years.
He's the second man to be gunned down and killed in 4 days, and his shooting is the third incident in San Pedro Town in 8 days.
It happened yesterday at around 2:40 in the afternoon, in broad daylight, and in the heart of Downtown San Pedro. Lopez was sitting inside the Winner's Spot bar, an area that sees many tourists passing through.
But that prominent location didn't stop a gunman from opening fire on him in board daylight. Lopez was hit in the chest and left arm and he died on the spot.
It's a brazen execution in the heart of Belize's tourist capital - and you're probably asking what's causing the violence. Well, Police sources tell us that there may be an ongoing war over drug turf between two warring sets, and that Lopez may have been a casualty in that feud. The San Pedro Sun Newspaper reports that the suspected gunman and his accomplice were seen before the murder, conducting surveillance on Lopez.
As soon as the gunman shot Lopez, he reportedly ran to the beach, where it is believed that an escape boat was used to flee the scene.
Today, the Acting Commander of Eastern Division told the press in a briefing that the police are vigorously investigating:
ACP Edward Broaster - Acting Commander, Eastern Division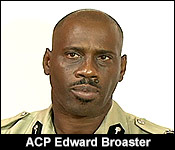 "Yesterday, we had an unfortunate shooting in San Pedro of Armando Lopez, a 34 year-old Belizean carpenter of San Pedrito, who was shot to the chest in a bar on Barrier Reef Drive in San Pedro. Since then, we have arrested 2 individuals, 1 that was on San Pedro, and 1 that was caught on the water taxi, coming to Belize City. We are looking for a 16 year-old minor."
Isani Cayetano - Ch 5 News
"Have you guys been able to ascertain a motive insofar as this latest killing on the island?"
ACP Edward Broaster
"At this present time, the investigation is in its infancy stage, and we have our investigators on the ground dealing with that matter. We have the motive at this time."
Daniel Ortiz, reporter
"Are you able to share the details as to what the initial investigation looks like, as to how the incident actually unfolded?"
ACP Edward Broaster
"Not at this time."
Isani Cayetano - Ch 5 News
"A week ago, you mentioned that efforts will be made to boost police presence on the island. This was in the wake of the shooting involving Tyndall and the two minors. However, there have been 2 murders in San Pedro Town. Can you speak to us on either crime fighting efforts, the ability of law enforcement on the island to stem these instances of violence?"
ACP Edward Broaster
"What I can say to that is that we did boost personnel in San Pedro. As a matter of fact, we'll be boosting more personnel in San Pedro. I, personally, after this, will be leaving for San Pedro, to do an assessment on the ground, and see exactly what's happening in San Pedro. And, I want to ask the residents in San Pedro to cooperate with the police, as the police will be conducting vigorous operations in San Pedro, to deal with this issue."
Daniel Ortiz
"Sir, indications to us are that this incident may be part of a drug turf war between 2 factions on the island. Can you comment on that? Are police investigating along those routes?"
ACP Edward Broaster
"That may be the case, but until we verify that it is, we're looking at all options at this time."
This evening, we approached Armando Lopez's family from San Narcisco, Corozal for interview. They told us that they would want to speak, but they are afraid of potential consequences, if Lopez's killers should find out that he is related to them. They tell us that he was a fisherman who was very friendly with everyone. The Sun Newspaper reports that he also worked as a carpenter.
On the police side, we understand that as many as 28 persons have been detained in an attempt to calm things down on the island - and that investigators do have a suspect in the Scott Charles murder which happened last week.

Cops Find High Powered Weapon On San Pedro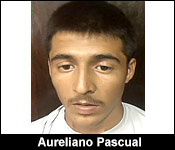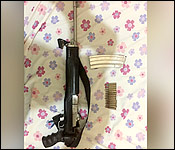 And as part of that island - wide crackdown, the police got a high powered assault rifle off the streets. They found this Ruger .223 Bolt Action Rifle along with 1 magazine, as well as one dozen .223 or 5.56 ammunition, with ten rounds of .45 ammunition, and seven rounds of .380 ammunition. Police detained and charged 18 year old Aureliano Pascual along with a 17 years old female for kept unlicensed firearm, kept ammunition without license, and kept prohibited ammunition.

Another Chopping Murder In Stann Creek
And the last murder which happened this weekend was as a result of a chopping in the Southern Village of Santa Cruz. Yesterday morning at around 9:00, Independence Police found the body of Salvadoran Juan Jose Ortega in a drain.
It appears that he had been chopped in the head and neck, but apart from those details, police currently don't know much about this murder.
The Acting Commander of Eastern Division shared what information police have at this time:
ACP Edward Broaster - Acting Commander, Eastern Division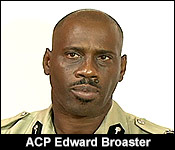 "As it relates to the Santa Cruz murder, the police were called out, where they found 1 Juan Jose Ortega, a with several chop wounds. He's a Salvadoran national, and he was pronounced dead on arrival at the Southern Regional Hospital. The police is investigating that matter at this time, and I believe that they have 2 individuals in custody, or 3. The motive for that has not been ascertained as yet, at this time."


Man Dies Days after Being Shot By Customs Officer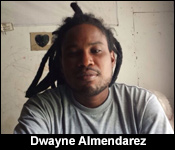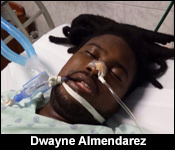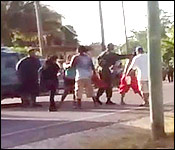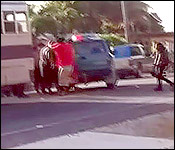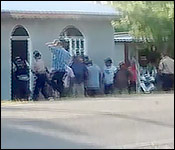 Dwayne Almendarez was shot by a customs officer last week in a violent confrontation in Yo Creek Village last week. He died from his injuries on Saturday.
As we first reported six days ago, The Customs Department and the BDF were conducting a joint search on a bus travelling from Santa Cruz to Orange Walk Town along the Yo Creek road. During the search, the passengers on the bus began to argue with the officers, leading to the bus being evacuated. The confrontation continued onto the road and things continued to escalate until one of the officers retaliated, firing several gunshots, four of which hit Dwayne Almendarez. Residents along the Yo Creek Road managed to capture some footage of the altercation, and we've pieced together what we could about the events leading up to shooting...
Alex Courtenay reporting
In the cell phone footage taken from a Yo Creek resident, Almendarez, the man with dreadlocks in the grey undershirt, can be seen arguing with the authorities along with several other men. Before the situation gets out of hand, he is talked down and pushed away by a few civilians.
He returns a few seconds later, this time wearing a red tshirt. Things get physical this time as Almendarez pushes away an officer who is trying to hold him back. He disappears behind the bus, and after another few seconds resists being pushed into the law enforcement pickup.
Almendarez was shot not long after that altercation. We cannot say for sure what happened, but the residents managed to capture footage of the customs and BDF officers leaving the scene.
Several residents chase after the pickup, and return as the police arrive on the scene less than a minute later and rush into the house where we believe Almendarez was being attended to.
Almendarez was transported to the hospital where he received surgery, and was put into a medically induced coma. He was later taken to KHMH for further treatment, but succumbed to his injuries on Saturday. Today we spoke to Almendarez's wife off camera, about what happened and what police have told her about the investigation so far...
Alex Courtenay, reporter
"The doctors they weren't able to tell you exactly what was the cause of death?"
Voice of: Victoria Novelo, Wife of Deceased
"No. They didn't tell us, until tomorrow because tomorrow they will do the post mortem. So I think they will tell us tomorrow."
Alex Courtenay, reporter
"In terms of the investigation so far, has the police given you any kind of update as to where they are in their investigation?"
Voice of: Victoria Novelo, Wife of Deceased
"Every time we go there they still say that they are investigating the case and up to now they haven't told us anything. I got some videos, I don't know if that could help. I just want justice for my husband."
"I think every time as usual, they never do justice for poor people and I know that the police are not doing their job - they are not investigating well."
Almendarez's family is currently waiting for a post mortem to be conducted to find out exactly what went wrong.

TS Harvey Dissipates, Will Dump Rain On Belize, Yucatan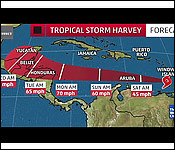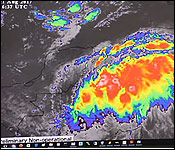 Tropical Storm Harvey had everyone on edge last week. Many people were pretty much preparing for the worst because Friday's weather report had stated that the storm was moving west at 21 miles per hour with maximum winds of 40 miles per hour. So if you were wondering what happened to Harvey, well over the weekend the storm dissipated and it is now only a tropical wave. But don't get happy too fast, this wave will still bring a lot of rain. In fact, the showers started this afternoon and according to Acting Deputy Chief Meteorologist Derrick Rudon, the rains will continue later on tonight and tomorrow morning. Here is Rudon with more on the Tropical wave formerly known as Harvey.
Derrick Rudon, Acting Deputy Chief Meteorologist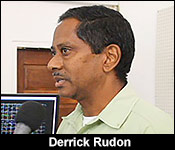 "Harvey was heading towards Belize basically all the forecast was pointing it directly at us fortunately it dissipated over the South Central Caribbean and it is down now to a Tropical wave so at present the remnants of Harvey is still heading towards us."
"We will still be affected by it, we will get rains definitely and gusty winds in the showers."
Courtney Weatherburne, reporter
"What areas? I overheard you guys saying mostly in the South, people in the South are already being affected?"
Derrick Rudon, Acting Deputy Chief Meteorologist
"Well it is going to be the whole country the coast at first, we expect Northern areas this afternoon and possibly the South tonight so the whole country will get rain and we know the south floods easily they tend to have flash flooding but all areas can expect heavy rainfall and some low lying areas there is the possibility of flooding."
Again those living in low lying/flood prone areas need to be on the alert.

Eclipse Was Blighted In Belize By Overcast Skies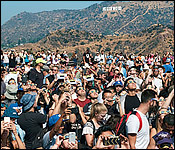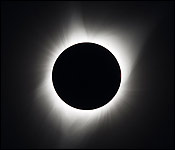 Today in the US, fans of the solar eclipse were gazing up at the sky by the tens of thousands to see this once in a lifetime celestial event. Those in places like Portland, Oregon and Charleston, South Carolina got the best view: they are in what is called the path of totality, meaning they got to see the total solar eclipse. Well, Belize was way below that point. We got about a third of an eclipse, between 11:30 am and 1:15 pm - and we didn't see any one looking up for it.
We did try to get a shot of it but all we saw was Tropical Wave Harvey's dark clouds hovering. The MET Office told us more about it:...
Derrick Rudon, Acting Deputy Chief Meteorologist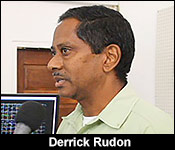 "A total solar eclipse is to occur today, an eclipse is a once in a lifetime thing but Belize unfortunately won't see the total solar eclipse, we will see a partial so about 30 to 40 percent will be covered by the moon."
The darkest time in Belize was at 12:54 PM - though we observed no difference due to the overcast skies and the rain.
This last total solar eclipse visible in the United States happened in 1979 - in 38 years ago.

Sir Manuel Puts NEAB in Check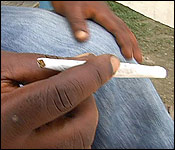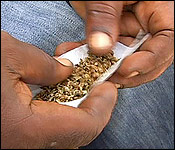 The bill to decriminalize small quantities of marijuana was taken to the House of Representatives for a first reading on Friday - and the public debate on this hot button has only just begun. NEAB - the National Evangelical association of Belize has weighed in with the most force thus far: they issued a statement saying that the Association and, quote, "it's 250+ represented churches expresses its disagreement with intent and steps of Government to decriminalize marijuana, a move that we are convinced is an incremental step towards legalization." The statement then goes unto say, quote, "As Prime Minister Esquivel stated emphatically to us in private and public meetings, "the Church is the conscience of the nation."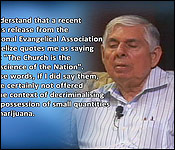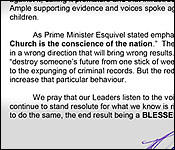 Well he's no longer Prime Minister but Manuel Esquivel did issue a statement to us, saying, quote, "I understand that a recent press release from the National Evangelical Association of Belize quotes me as saying that 'The Church is the Conscience of the Nation'. These words, if I did say them, were certainly not offered in the context of decriminalising the possession of small quantities of marijuana. It is well known that the current laws disproportionately affect certain disadvantaged segments of our population. If the Church truly wishes to be the Conscience of the Nation, it should concentrate on fighting against poverty, racism and classism."

Albert Rep On The Weed Issue
And while Sir Manuel is on the liberal side of the issue - what about the rest of the UDP? Today we spoke to the Albert Division Area Rep, Tracey Taegar-Panton about her thoughts on the expected passage of the bill, and how it could affect her constituents...
Hon. Tracey Taegar-Panton - Min. of State, Trade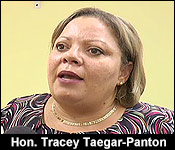 "I certainly was, am a member of Cabinet that supported that the amendments be made, I feel that far too many of our young people are marginalized because they get charged for a small quantity of marijuana. A lot of the residents in my division certainly use marijuana as a way of relaxation rather than alcohol. And so, alcohol as you know is legal, and I think that we need to do something to change the dynamics in terms of clogging up our court system for small uses of marijuana."
At this point the bill is still far from becoming law, and still needs to go through public consultation, committee review, two more readings in the House and be approved by Senate before becoming official.

PSU Has a New President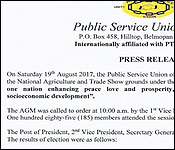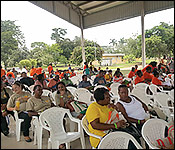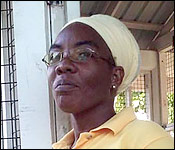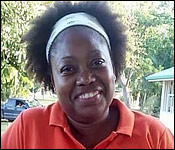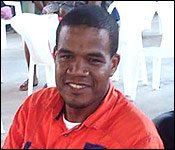 The Public Service Union has emerged from a messy internal dispute to elect a new president at its 95th Annual General Meeting held over the weekend in Belmopan. She is Doreth Obermayer Cayetano who beat out Gerald Henry by 7 votes in a close race. Herman Pastor - who chaired the meeting in place of outgoing president Eldred Neal - remains First Vice President, while Jerome Lozano is second Vice President and Fayne Nicascio is Secretary General.
185 members attended the meeting in a union which is said to have a membership in the thousands.

"Police Operations Simultaneous Everywhere"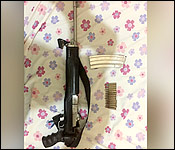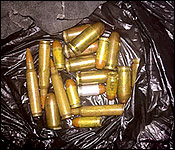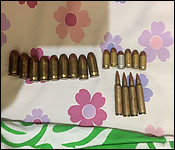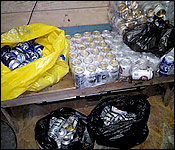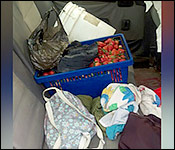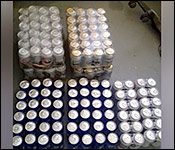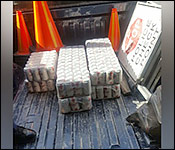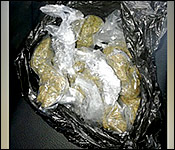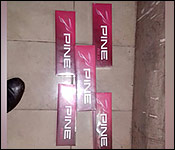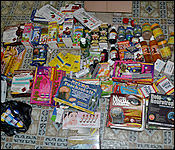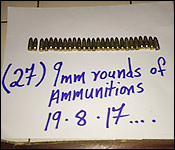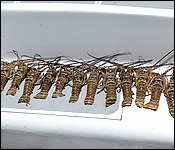 At the top of the news, we told about the 3 murders which happened over the weekend. But Police aren't just sitting on their hands.
You may have noticed that during the last few days of last week, police had an unusual increase in checkpoints all over the country. That's part of their POSE, or Police Operations Simultaneous Everywhere. Today, the Belmopan Operations Commander apologized for the inconvenience it may have caused you, but assured, that the operations were a success. Here's how he outlined the number of seizures and arrests these operations led to:
ACP Edward Broaster - Acting Commander, Eastern Division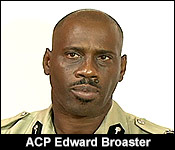 "I want to apologize to the Belizean citizenry who may have gotten caught up in the Police operation "POSE", Police Operation Simultaneous Everywhere, that occurred midnight Wednesday night, and culminated midnight Saturday. That operation was launched countrywide. We had officers directing checkpoints countrywide, raids conducted and vehicles checked. And, the result of that operation was successful, I might add. We've managed to seize over 43 pounds of marijuana countrywide. We've managed to seize 202 rounds of ammunition. We've also managed to seize 6 firearms, arrested 19 immigrants, 6 of which were female. We've also searched 2,864 vehicles, where 184 were issued citations. 1 person was arrested for bribery in Orange Walk, and we also managed to seize, in San Pedro, a .223 rifle, along with 22 rounds of .223 ammunitions, ten .45 ammunition, and 7.380 round of ammunition. 1 individual was also intercepted with a satellite radio, along with a large amount of cash for which he was dealt with by income tax and so forth."
All persons who have been criminally charged will be arraigned at the earliest convenience.

PM: Taiwan's Millions Not Free Money
Much has been made of the 60 million US dollar Memorandum of Understanding which the Taiwanese Foreign Minister Dr. David Lee signed when he was in Belize. And why not? 60 million US is a lot of money - especially in lean times.
Observers have suggested all kinds of ways it could be used, but the Prime Minister told us on Friday, don't get too excited, it's part of a continuing budgetary support program which Belize gets every year:
Rt. Hon. Dean Barrow, Prime Minister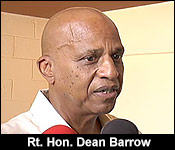 "That is the normal 4 year framework agreement that we have you know. The last one came to an end and so this is the new one. It's not any new money. It's exactly what we've been getting. It's just that as I said the last cycle ended and this is the new cycle."
The 60 million US dollars is programmed for four years.

Santa Elena Will Get New Roads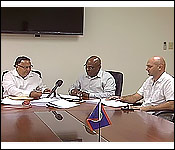 An over 6 million dollar upgrade project has been signed and now the residents of Santa Elena, Cayo will be able to enjoy new roads. The Works CEO along with Works Minister Rene Montero told us more about the streets that will get immediate attention:
Errol Gentle, CEO - Ministry of Works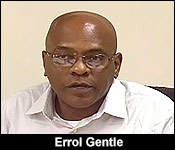 "This is part of the 4th Road Project being sponsored by the Government of Belize and the Caribbean Development Bank and as you can recall we had 4 different lots or sections of work being done under the 4th road project."
Hon. Rene Montero, Minister of Works
"This involves the upgrading of the street, the George Price Highway from Three Flags to the Hawksworth Bridge with sidewalks and electricity… lights in the middle which will enhance and improve the aesthetic view in Santa Elena."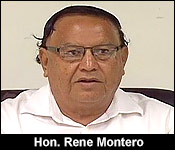 Errol Gentle, CEO - Ministry of Works
"The contract also include works along the Liberty Street and along George Price Avenue."
Belize Roadway Company got the 6.9 MILLION dollar contract for this project. It is funded by the CDB.

A Fire In The Family?
A woman's vehicle was set on fire at her Santa Elena home. 21-year-old Andra Acevedo was at her house on Friday the 18th when she picked up on the strong aroma of gasoline at 2:45 in the morning. By the time Acevedo went to check, her $11,000 SUV Mazda Tribute had been set on fire. She saw a man outside but he ran away. Our information is that it may be one of Acevedo's family members who lit her vehicle on fire.

CODICADER Delegation Cancelled Because Of Storm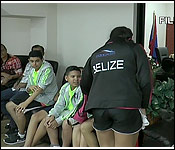 When we left you on Friday, over 100 of Belize's student athletes were ready to go to the CODICADER games in Honduras on Sunday. But in a massive disappointment for all, they didn't go after all. The looming threat of Harvey forced the cancellation of their trip. That decision was made on Saturday when Harvey was still a Tropical Storm.
It's a major letdown - especially seeing that the storm dissipated without event.
But the director of the sports council says he stands by the decision. He told us why today:...
Ian Jones, Director of the Belize Sports Council
"The delegation that was to travel on Sunday morning did not go. We had to make a decision and the ultimate decision is that we would cancel that travel. So this year for CODICADER majority of our athletes are no participating. The volleyball, team was already in Honduras so they proceeded to represent us and partake in the CODICADER games."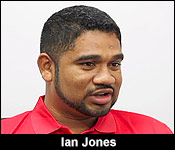 "Our head of mission has been calling the different delegates in the different sports as well as I have spoken to many of the parents because I had given my personal number to the parents and many of them had called before we had even cancelled with concern about the storm that was in the region. It was not the decision we had wanted to have to make but it was decision we had to make because at that time we were uncertain of what the outcome of the storm would be."
"I had personally called the met department and spoke to one of the senior met officers late Friday night and he told me his exact words were "Mr. Jones we will be getting something we can't say for certain if it will be a storm or a hurricane or what it will be but I would not recommend travelling to Honduras at that time." Based on that and other communications with our ministry we had to make the decision it is not something we can gamble with."
"Consultation was done with all parties that we needed to consult with in terms of making this decision and at the end of the day the decision was made by the sports council with consultation from other parties that we deemed necessary to consult with."
"Now it seems as the storm isn't going to hit but even as we speak the last report I saw from NEMO was that it will make landfall to Belize they still cannot say with certainty that it won't develop into a tropical storm or hurricane."
"I stand by the decision that we made and you know the reality of it is that things turned out or seemed to be turning out just as we would of wanted Belize to not get affected but the reality of it we could not take that chance with kids."
"There is a high probability that we still will be participating. This one as it is stated in CODICADER regulations and most contracts you would find there is always a term called force majeur it means that it was out of our control. We did not expect a storm, we did not predict a storm, we did not want a storm to come but the reality of it is that there was a storm out there, we were to travel by road and I would not risk or take that gamble with anybody's child."
The female volleyball team who was already in Honduras for a previous competition will still be there to represent Belize at the games. They played their first game today against El Salvador today and won in three sets. We will continue to share updates on their play.

Table Tennis Players Did Well Against Best Youths In World
Even though our CODICADER athletes were not able to attend their competition we had two boys from Belize representing us at the 2017 International Table Tennis Federation Junior and Cadet open in El Salvador last week. These boys went up against competitors from all over the world and made it into the second round. In fact one of them came within a few points of earning a bronze medal. We spoke to them when they returned to Belize today:
Two weeks ago Taye and Devesh made it to the semifinals at the 2017 U-13 and U11 Table Tennis Championships in Tegucigalpa, Honduras.

Another Dead Whale In Southern Waters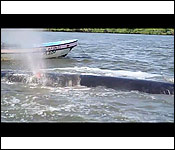 Another whale has died in the waters of Southern Belize. TIDE, Toledo Institute for Development and Environment reports that on Friday the massive 30 foot whale was sighted south of Punta Gorda in the vicinity of Orange Point. They say that the baleen whale was beached and local fishers were trying to dislodge it from shallow water. One of the fishers told TIDE that he saw the whale making an effort to swim out to the deep for at least three hours, but it kept circling back to shore. They note also that blood was coming from the whale's blowhole and one of its fins seemed injured.
It died at about 5pm. Samples were taken to determine the cause of death.
It is the second whale to have died in southern waters in a year: the first was a humpback that died near Barranco.

The Maya Massage Winners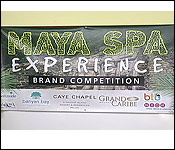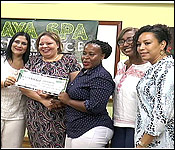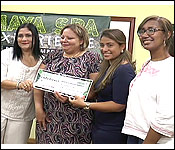 Last week we told you about BELTRAIDE and the Spa and Wellness Association's "Maya Spa Experience Brand Competition". Certified massage therapists and their teams were challenged to come up with a Maya themed spa treatment that incorporates all five senses. Each treatment was judged by a panel of Maya culture and spa experts, and today the winners were chosen. We stopped by the award ceremony to speak to the winners, as well organizers about what's next for Belize's very own spa experience...
Shari Williams - Manager, Marketing and Infor, BTEC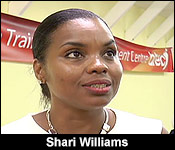 "Last week we had two days of competition trying to develop a Maya inspired spa branding that would be typical for the country of Belize. We wanted to do something like for example you go anywhere in the world and people request the Swedish massage and the massage therapist would know exactly what it is. Well we wanted to develop a brand that was identical for Belize and so we came up with a Maya inspired massage. And so to develop this brand we invited 12 teams to take part in a competition in telling us what they thought, you know a Maya inspired massage should be, and so today is the awarding of the three, four top teams. But we made it clear that even though these teams won the competition meaning they got the most points, we would draw inspiration from all the teams that showcased what their thought was, what their inspiration was and so now we're coming up with the Maya inspired branding and we're taking inspiration from all the presentations that we say throughout the two day period."
Hon. Tracey Taegarr-Panton - Min. of State, Trade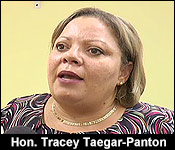 "I think it's extremely important that we create Belizean products and brands that we can export to the rest of the world, and we can use to develop our standards and our industry here and that can be exported. So it is not only a matter of new investment, new products, but also an opportunity for trade."
Dominica Busano - 1st Place/Naia Resort and Spa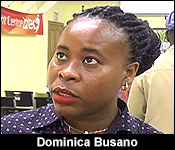 "Well first I must say that it was a lot of work, a lot of intense training. We travelled to Punta Gorda to other Maya villages and we visited some Maya, some older folks to get some idea you know. And we had help from Ms. Aurora Saki from Maya Center, she's a Maya healer for over 11 years and we also had the help of Ms. Lissa Villanueva the owner of Holistic School of Massage and Spa therapy and we just combined with other ideas and stuff and we just came up with the treatment. And we also used accessories that the Maya used in their daily lives and daily basis and then we just made the treatment and we did it."
The official treatment will be unveiled next month.

House Meeting Main Business Was For San Ignacio Town Council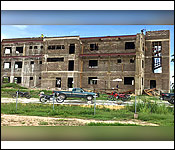 On Friday we had lots of news form the House Meeting - but not much of the actual business of the house. And that's because there wasn't much to cover. Indeed, at a shade over two hours, it was one of the shortest house meetings in memory.
For the government, the main business was a Bill to amend the town councils act to make provision for greater autonomy for funds for capital projects. It's a way to allow the San Ignacio Town Council to raise a private loan for its new town council. But the leader of the opposition was doubtful:...
Hon. John Briceno - Leader of the opposition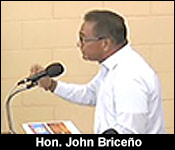 "But the question I ask is why is it that the council will have, could or may establish companies under the company's act as they said subject to section 1 "the council may establish companies under the company's act to raise funds for infrastructural projects" and I asked myself why is it that we need to be able to allow them to be able to setup these companies?"
Rt. Hon. Dean Barrow - Prime Minister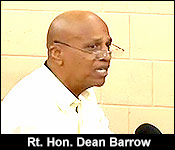 "What does the bill do? It confers greater autonomy on all the town councils. As the law now stands, the 2 city councils are able to do. What we are saying all town councils should be able to do. So this is a blow for equality. It is a blow for greater autonomy. It is a blow for capacity building. So I don't know how given all 3 of those considerations the Leader of the Opposition can have any difficulty. The reason for wanting to pass it all at once today is simple. The San Ignacio/Santa Elena Town Council is in the process of constructing a new town hall."

Musa Calls Re-Reg Postponement "Government By Decree"
That bill was passed in a single day - the only legislation passed on Friday. But, the PUP's senior member Said Musa was concerned about what was not brought to the house. He's upset with the government for delaying the re-registration exercise to next year in the manner that it did - through an instrument signed by the Governor General. Musa called it Government by decree:...
Rt. Hon. Said Musa, PUP - Fort George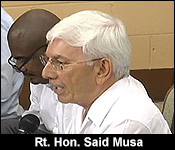 "From suggesting and indeed submitting to this honorable house that that thing has to be done over and properly brought to this honorable house if you really want to postpone the holding of the re-registration to 2018. We cannot in a post independent Belize believe we can get away with things like this. It is legislation by decree. You expect that to come from a dictatorship, not from a parliamentary democracy, especially on a fundamental issue like this where we are depriving the Belizean people of having a clean-up non-corrupted voters list which is fundamental to our a free and fair election in this country and that is why I am saying that this is a matter of public concern and I urge the Prime Minister and the government to take a real look at this matter. Why are they afraid to bring it to the house for debate so we can ventilate the matter and decide?"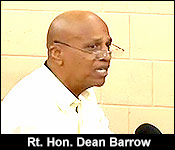 Rt. Hon. Dean Barrow - Prime Minister
"You wait until now when you well know that if we were ever to try to start the re-registration at this juncture, we don't have the money, but let's assume since you all seems to think that money falls out of the sky - let's assume some were to fall tomorrow, and we started the re-registration, you are the same ones that must know there is absolutely no practical way we can do that and have anything like a sensible list for the municipal elections in March. But since you have your reservations about the validity of that, then you go to court and get a mandamus obliging us to do the registration and you see where that will get your party in terms of the elections for next year. You all want 10, 15 and 20 people go to vote at municipal elections. Come on. Be real and stop playing games."



Briceno calls For Government to Break Sugar Standoff
And also speaking on the adjournment, Opposition Leader John Briceno spoke about the impasse in the Sugar industry. Where ASR/BSI and the Belize Sugar Cane Farmers Association cannot agree on the way forward. Briceno said he had just met with the BSCFA the night before and here's what they told him:...
Hon. John Briceno - Leader of the opposition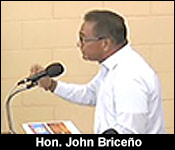 "Last night I met with the association along with the honorable member from Orange Walk South and during our discussions they made it abundantly clear. They have no intentions of disrupting the 2017/2018 sugarcane season. They want to continue to negotiate with BSI so that they can have an agreement that is going to be fair to both sides; both to BSI and to them as the cane farmers. But then here lies the problem. We have had both sides, both BSI and BSCFA going to the media, both representing their side of the story and it seems that 2 of them are trying to play chicken to see who is going to blink first. But this industry is so important for us that we really need to find a way how we can resolve this impasse and what is important to me that they are still seem to be goodwill on both sides - both on the Belize Sugarcane Farmers Association and with BSI/ASR. They both want a vibrant and strong sugar industry, but now what we need is a responsible government, a government that is willing to roll up their sleeves and prepare to work with both BSI and the cane farmers to come up with an agreement that is fair to both sides."
"Today I'm here as a canero, I'm here as a norteno, I'm here as a Belizean and that is why I am asking the Prime Minister as the leader of the government and leader of this country to let's see how we could resolve this as soon as possible, the ACP."

Home | Archives | Downloads/Podcasts | Advertise | Contact Us