Plane Took A Dive, Acting PM Survived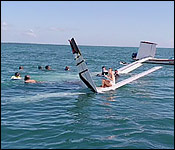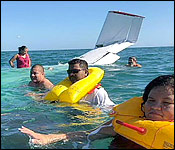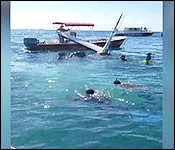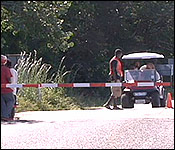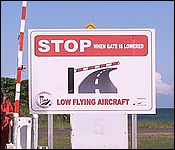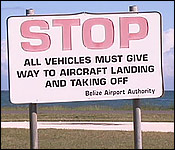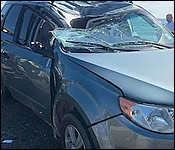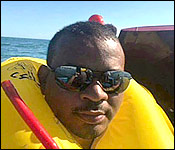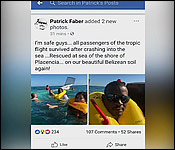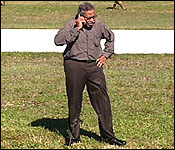 The news whipped across Belize at around 9:00 this morning when word went out that a Tropic Air plane had gone down and the Acting Prime Minister Patrick Faber was on board.
It seemed unbelievable at first, but it did happen. Very luckily, no one was hurt. Deputy PM Faber - along with his Cabinet colleague Godwin Hulse and five other passengers were rescued in the waters just off the Placencia coast near the airstrip.
The amazing part is that not only was Faber unhurt, neither was his phone! The Deputy was good enough to snap a few selfies of his strange and surprising plunge.
Daniel Ortiz reports from Placencia that the plane had a most unfortunate, but not unforeseeable mishap: it clipped the top of a passing vehicle at the Placencia Airstrip:
Daniel Ortiz reporting
When a plane takes off from the Placencia Airstrip, these 2 barriers are supposed to go down, and all road traffic is to stop and give way for the plane to take off.
But, this morning, that's not what happened - far from it in fact: a Subaru SUV passed the barrier and came right into the path of an ascending Tropic Air Cessna Caravan. The plane clipped the passenger side of the SUV.
At this time, it is unclear which safety procedures failed and caused the plane to make a forced landing in the sea.
Experienced persons tell us that whenever these planes are loaded, it takes longer for the aircraft to take off. It used up the entire runway, and hit the passing vehicle, veering off course.
A press release from Tropic Air says, quote, "The subsequent loss of airspeed resulted in the pilot conducting a forced landing in the water beyond the end of the runway." End quote.
There were 7 passengers in the aircraft, including Acting Prime Minister Patrick Faber; Minister Godwin Hulse; Christy Mastry; the General Manager of Belize Infrastructure Limited, and several members of the conservation community. They experienced that terrifying crash landing, and were dumped into the sea in front of the Placencia peninsula.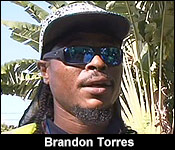 These 4 employees of the Placencia Branch of the Belize Water Services saw the entire accident unfold, and they immediately jumped into action to render aid.
Brandon Torres - First Responder
"From we got there, the barrier on our side went down. So, we stopped. We automatically know that a plane is landing or taking off. So, we stopped, and we watched on the other side; the barrier is still up. So, we said, well, how could that be? But, the vehicle is still coming, so we said, well, this is going to be a close call. Well, the driver continued, and I guess by the time he saw it, I guess he thought he could beat it, but it was right there. It was too late, it hit on the passenger side, and instantly, the vehicle came to a stop."
Donald Sutherland - First Responder
"The plane's wheel hit the vehicle, and from the time I saw it hit, I saw that it started to wobble."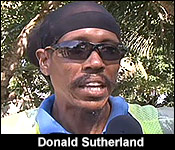 Brandon Torres
"I guess the pilot was trying to bring it back up, and then it just went and went that way. And - in the water. I thought it was gonna maybe blow up or something."
Stefan Andrews - First Responder

"We saw the wheel of the plan slam into the top of the car. All of us just jumped out of our ride and tried to help who was in the car."
Arnie White
"Me, Mr. Sutherland, and all of us tried to take out the gentleman who - well actually, it looked like he was dead to me, because the man's neck looked like it was broken. So, we just tried to take him out of the vehicle, to see what happened, and the man started to move."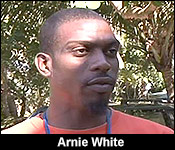 Stefan Andrews
"And then, Me and Mr. Arnie White we took off toward the sea, the beach, and we just went into the water, trying to help the people in the water. And when we reached there, a vessel arrived and tried to help same way."
Arnie White
"So, we [went] further on to the plane because we saw everybody standing up on the plane. We decided to go closer, and we thought to ourselves that it's better that we start to swim out there. So, when we swam out there, before we reached out there, a guys from Tropic had a little vessel that we tried to put the guests in."
We were actually standing on the plan to help assist the people to get into the boat from off the plane because the plane was still sinking."
Very fortunately, everyone onboard this flight survived and are safe. Knowing that the crash caused a stir all over Belize, Deputy Prime Minister posted these pictures on his Facebook page. He also commented, quote, "I'm safe guys... all passengers of the tropic flight survived after crashing into the sea ...Rescued at sea off the shore of Placencia."
Brandon Torres
"God is with us and with the people. Everybody survived, minor injuries, and I'm so thankful for my co-workers both of them. He's a licensed tour guide, and he's taking his classes right now to be a tour guide. So, these are trained swimmers. They know about CPR, everything. So, they went into action and helped save those people's lives, Minister's lives, the pilot's lives."
Donald Sutherland
"I would never like to see anything happen like that, you know. Because it can be that all those people in the plane could have died. Even from the driver of the vehicle that hit the plane could have died. But the Almighty works. Nobody is more powerful than the almighty."
So, what happened to cause this dangerous accident, and who's responsible?
Brandon Torres
"From experience, I know it would have happened someday because I used to work at the airstrip, Me and Arnie White used to work at the airstrip, and we have that experience of seeing these planes taking off with a full load, luggage passengers, and have to eat up that entire runway. So, at that time it was even worse because the barriers weren't installed as yet. It got installed now, but the workers from the airstrip, at Tropic Air, they said that they've been having malfunctions with barriers. So, they said that the put in the request to have it fixed, and I guess they didn't fix it, and they said that it was for days. They came out there running and complaining. So, obviously it's Aviation's fault, and it's also the fault of the driver. The driver should have seen the plane taking off, because even if the barrier is still up and you're a driver, and you already know. You see all these signs coming around the airstrip, you'd have to take precautions."
Despite numerous attempts, we could not reach Faber or Hulse for comment today.

Tropic Air President: It Won't Happen Again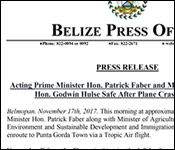 Government issued a statement saying, quote, "Upon takeoff from the Placencia Airstrip, the left landing wheel made contact with a passing vehicle that had managed to bypass one of the lowered barriers." End quote.
Tropic Air's release says, quote, "Tropic Air in coordination with the Belize Airports Authority and the Belize Department of Civil Aviation are looking at how this vehicle passed in front of the departing aircraft and what measures need to be implemented immediately to prevent another such occurrence."
That's what we spoke to Tropic Air President John Greif about today via telephone from San Pedro:...
John Greif, President - Tropic Air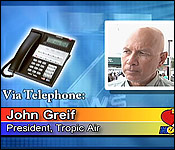 "The driver went past the warnings, and apparently past cars that were parked waiting for us to depart, so...we really don't know what we could have done differently."
Jules Vasquez, reporter
"What would you say about the skill of the pilot?"
John Greif
"Well somebody said he's the Sully of Belize. Because it took an incredibly skillful pilot to, have practically no time, being only feet above the water to make a safe landing."
Jules Vasquez, reporter
"How do we prevent a recurrence?"
John Greif
"Well, Jules, that's really where we need to dig deeper. We had thought that there were enough safety barriers in place to prevent this from happening. But obviously, we were wrong, so, I think as a community the aviation community has to, take a hard look at this."
Jules Vasquez, reporter
"Let's speak about the, the barrier itself. Was it assuredly working at the time of this morning's accident?"
John Greif
"I've gotten both reports, Jules. There are two of em: one of them is on the north side, and one on the south side of the runway. And I've gotten some reports that only the south one went down, but then I've also got reports that they both went down, so...I really, can't comment on that."
Jules Vasquez, reporter
"Does Tropic Air need to exercise more vigilance in terms of assigning a staffer, to actually be there with a manual direction, or stopping of traffic in the event that the barriers aren't working reliably?"
John Greif
"But if there were no barriers at all, there are plenty of signs warning of low flying aircraft and don't traverse this point without checking to see if the runaway is clear. And as I said it is my understanding that there were other drivers that were stopped and waiting for us to depart."
Jules Vasquez, reporter
"Is there any thought on perhaps moving the switch. I know the switch is not remote and you actually have to go into a box to open it and the box is a little ways off. We always have to factor in the human element, that sometimes people are lazy and just say "man, it's alright.""
John Greif
"Yep, that would certainly be a solution. To put the switch on the barrier itself and then if the barrier doesn't go down, the operator stays there and physically blocks the traffic."
Jules Vasquez, reporter
"And are you certain that that did not happen in this case? Insofar as, maybe it was just a neglect of responsibility and just saying, man, "it will be ok," and then, the unexpected occurs."
John Greif
"Knowing that staff there, Jules, that staff is one of our groups of stars, so I doubt that would have been the case, but like I said, I've gotten conflicting reports and having not seen it or there being no video available I really couldn't say."
Jules Vasquez, reporter
"What sort of emotional rollercoaster did you go through this morning?"
John Greif
"It's a real emotional rollercoaster. Because the first thing you think of is anybody hurt, are there any fatalities? Are there any injuries? And then an incredible surge of relief when you find out that not only were there no fatalities, but there were no serious injuries. So, it's a real emotional rollercoaster."
Greif says that all the passengers were assessed to be "ok", and a few of the passengers wanted to see Doctors in Belize which the airline facilitated.
We could not get comment from the Civil Aviation Department.

British Woman Found Murdered In Ladyville
A British woman was murdered inside her Ladyville apartment on Perez Road. 46 year old Michelle Anison's body was found this morning around 11:00. She was stabbed to her chest and neck. Reports are that she was last seen alive on Monday the 12th at her apartment. According to her friends, Anison has no family members here, only in England. We spoke to one of her close friends today at her favorite hangout spot in Ladyville.
Altereith Smith, Friend
"She is a person that comes here every other day or so to get her food, her drinks or whatever, she comes here and associate with everybody regardless of who it is. Whether you are rich or whether you are poor. She was such a lovely lady. It is hurtful to see her gone that way. So we are grieving as freinds of the restaurant of Benny. Because this was one of her main spot, beside her work at Liberty [children's home]. I hope with the police and everybody that they find the culprit and do what they have to do."
Courtney Weatherburne, reporter
"She has no family members here, it's only her."
Altereith Smith, Friend
"Her family is in England. The only family members she has here is Liberty and the children that she is taking care of right now. She took over Liberty. And that's the hurtful part that the children will miss her. So we have loss our love, because she is loved to everyone and it is so shocking the way she went."
Anison worked as a volunteer at the Liberty Children's Home in Ladyville. Her friends say Anison lived in Ladyville for about 5 years. She was well known and socialized with a cross section of persons. Police believe that one of those persons - a male - may have killed her. Her home was not burglarized, but her vehicle, a grey Nissan Rogue was stolen.

Mahogany Heights Family Claims Arson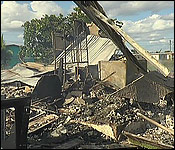 An early morning fire gutted 32 year old Sorunica Garbutt's Mahogany Heights home. The fire started around 3:00 this morning and destroyed the entire structure even her vehicle. We haven't gotten any official report from the fire department but the family believes it was arson. We spoke to Garbutt's niece this afternoon.
Voice of Niece
"I got a call about minutes to 4am, my brother got a call and then my mother came and woke me and tell me that my aunt's house is on fire. By the time we reached house, only one of the room was really on fire. The car was already on fire as well. The neighbors threw water to put out the fire and by the time they stomp down the fence to try and open the door to see if they could have saved anything - the fire was already gushing out. So they couldn't save anything. All we could have done was stand up and watch the house went down."
Courtney Weatherburne, reporter
"And you aunt or nobody else was in the house at that time?"
Voice of Niece
"No, no one was in the house. It was a frightening experience, especially when they wake you out of your bed to that. I don't know what started it, but I don't think that it's anything that was left on, because the car caught fire and it was far from the house. And both of them caught fire at the same time."
Courtney Weatherburne, reporter
"So you think someone came deliberately and set your aunt's house on fire?"
Voice of Niece
"It has to be that."
Garbutt lost everything in the fire. The Fire Department wasn't ready to comment.


Guatemalan Soliders Facey!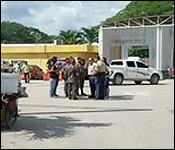 Alarms were raised today when 4 Guatemalan soldiers and a media crew appeared on what we are told is the Belize side of the Western border. Best reports say they were first in the "Champon" or "no-man's-land" area getting interviews with persons crossing the border.
But then they walked over to the Belize side, and reports say, they started to capture video of the Immigration Hall and other secure areas. They reportedly intended to go on to Arenal. Eventually police came over and they questioned the crew - who reportedly said they thought the border area was a part of "Champon." Many Belizeans expressed outrage that the Guatemalan military showed no respect for Belizean authorities or norms, and walked over freely like they were in their own country.
The Comptroller of Customs said as far as he was told they never came over to the Belize side and were only in "Champon". North police nor immigration returned our requests for comment.

Two Arrested, Two Acquitted, One Still Jailed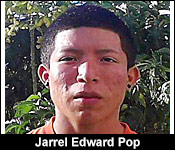 Antonio Rodriguez was a PG taxi man viciously murdered in December of 2015. He was lured to a remote location outside of Punta Gorda Town by a customer and while driving back he was stabbed multiple times. Even though he had his licensed 9mm pistol next to him, Rodriguez was caught off guard. Today 24-year-old Albert Valentine and a 17-year-old male minor that had been charged with the murder were acquitted of the charge by Justice Denis Hanomansingh in a trial without jury. Prosecutor, Senior Crown Counsel Christelle Wilson had relied on a caution statement Valentine had given to the police but it was ruled inadmissible because Valentine claimed that he was beaten by police to give the statement. Police said that he had caught in a fight in the holding cell. Without that, the case didn't hold up and two accused didn't even have to testify; the Judge acquitted them. The minor was released but even though he was found not guilty, Valentine was not because he has another trial pending for the murder of 19-year-old Jarrel Pop. His decomposing body was found in a well about one week after Rodriguez was killed. The minor had also been charged with Pop's murder but the charge was withdrawn at a preliminary inquiry.

Alcaldes Got Paid, Night After News Played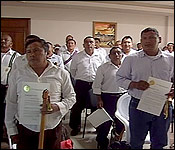 Last night on the news you saw PUP Toledo West Representative Oscar Requena calling out the Attorney General and the Prime Minister, demanding that they pay 80 Alcalde's from 40 villages their monthly salary going back to January.
Well, faster than you could say, "rapid response", we saw this release today. It says, quote, "…on November 13, 2017, funds were transferred to the Punta Gorda Sub-Treasury for onward payment of the First and Second Alcaldes. The funds include payment from January to October of 2017." End quote.
Alcaldes can visit the PG Sub-Treasury to collect their stipend.
The Attorney General explained that the delay was caused because the entire system of payment had to be regularized. In the past, the Alcalde's payment went to two private individuals who would then distribute it to them. Now, they all have accounts at the Treasury Department.

Weed On Venezuela Street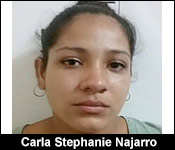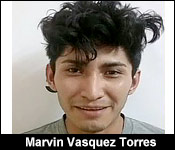 Yesterday afternoon, Belmopan police searched 23-year-old Salvadorian Marvin Vasquez Torres's home on Venezuela Street in the Capital city. They found a plastic bag with just under half a pound of weed. Torres and 20 year old Carla Stephanie Najarro who was also present at the time were both arrested and charged with Drug Trafficking.

NCFC Charge Cops With Child Exploitation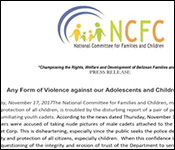 For days, we've been reporting on the misconduct of a pair of Placencia Community Police officers who took advantage of police youth cadets on a camping trip.
Today, the National Committee for Families and Children spoke out against the police in a statement. The NCFC says it is, quote, "troubled by the disturbing report of a pair of police constables accused of humiliating youth cadets….This is disheartening, especially since the public seeks the police department to ensure the safety and protection of all citizens, especially children. When this confidence is breached, the result is the questioning of the integrity and erosion of trust in the Department…"
It adds that "The allegations violate Article 16 and 36 of the United Nations Convention on the Rights of the Child, specifically the child's right to privacy and the right to protection from any kind of exploitation."
The statement concludes, saying, "Persons must…be fully aware that violations of children's rights have repercussions often punishable under the law."
In this case, the families of the children involved did not wish for court action, so the cops only faced disciplinary charges.

Tourist Dies In ATM Cave
A tourist has died in the Cayo District.
Yesterday 68-year-old American Doctor Madhukar Jiggini, his wife, and other tourists were doing a river crossing at the Actun Tunichil Muknal, or ATM cave in the TeaKettle Village when Jiggini began to feel weak and lost consciousness.
He was taken out of the water and transported to the Western Regional Hospital where he was pronounced dead. No sign of foul play or violence is suspected. The police are waiting for the results of the postmortem examination.

Family Makes Plea For Missing Grandfather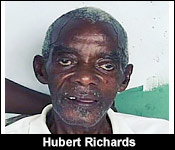 An 83-year-old man named Hubert Richards from Sandhill village is missing. His family got a call yesterday informing them that Richards had not returned home after running errands in the city. This evening the worried family came to 7News to make an appeal to the public in hopes of finding their loved one.
Kenisha Richards, Granddaughter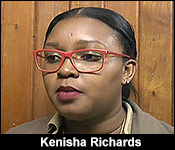 "He came to do his normal errands. He came on the bus, he was in the Coral Grove area which us where our relatives lives. Leaving there, there has been no other indication of where he went. We've heard varying reports that he was seen walking near the Haulover Bridge, he was seen through the Los Lagos Road and also he was walking towards Biscayne Village. So based on that we haven't seen any sighting of him."
"He is quite aware of his surroundings. You know with old age you kinda forget certain things, but I believe he is capable enough to know his general surroundings. But I think what probably happened was maybe he got on the bus and the bus passed his entrance to his house and probably went a little further up the road or something like that."
He was last seen wearing a white shirt, long black pants, and a black hat. If you have seen him or know anything about his whereabouts you can contact the family at 203-4784 or call the nearest police station.

Dejron Not Down With Kings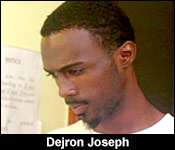 Last night on the news we told you about an alleged robber, Dejron Joseph, charged for attempted robbery. He told the court that he is a student at King's College - but today King's sent us an email refuting that the principal says he's not a student.
We stand corrected, but we are told he did attend the college last year.

Placide Preaches Peace Panacea
Trinidadian-American War Veteran and Vocalist Gerard Placide is back in Belize. He has visited a number of times to spread his inspiring message. He's back again for a concert called "Victory" tomorrow night at the Bliss Center. Today he told us it will be a Christian bashment with universal appeal:...
Gerard Placide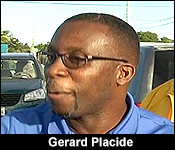 "Within the last 2 years this is 17th time here. I sing all over Belize. Tomorrow night we are at the Bliss live band, Trinidadians flying in and stuff through Panama. The musicians - live. We are going to have a stomping time. I gave your camera man a little bit of "lift Jesus higher" song."
"Who says Christians can't have fun. it's about having fun, but knowing your limits."
Tickets are $20. Proceeds go to the Salvation Army. The concert starts at 7:00 tomorrow night at the Bliss.

Celebrating Children Through Music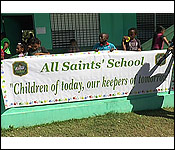 Today is Children's day and primary schools all over the country celebrated the by honouring their children with fun and games. But All Saints Primary School took it up a notch with an all-day concert. We learnt more from one of the organizers and spoke to some excited kids.
Mark Usher, President - PROTO Foundation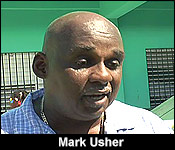 "We decided to start with All Saints so what we have done is provided them with a number of extracurricular services to All Saints, for example, today event. Today is children's day and today event is performing arts and music festival. What we are doing here is simply giving the children of All Saints and a number of others schools the opportunity to come on stage and perform whether they want to sing dance or do acting right. The next phase is this we have a lot of talented Belizean artists here in Belize but they never get to perform in front of their big audience which is primary school student so we are bridging the gap and bringing a Supa G. We are bringing a Denise Castillo here."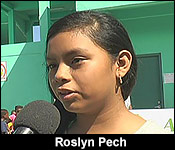 Roslyn Pech, All Saints Primary School Student
"I feel really blessed to be here and I am really glad that I have a school that will support us and have different activities and I am really blessed to be here with the rest of my classmates to enjoy this day."
Sahar Vasquez, reporter
"Can you give us a little sneak peek of your performance?"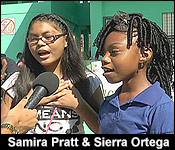 Samira Pratt & Sierra Ortega
(Singing Adele's Hello)
The event was hosted for around 900 kids from different schools that came together to celebrate.

Remembering Yurumei 2016
And that's the news for this Friday night, thanks for watching 7News I am Robin Schaffer.
We leave you on the eve of this 19th weekend with some clips of last year's Yurumei ceremony in PG and Dangriga. It's the re-enactment of the arrival of the Garinagu to these shores, a scene that will be played out in communities all along the coast of southern and Central Belize on Sunday.
Enjoy, and have a great Garifuna Settlement Day weekend - We'll see you back here on Tuesday.

Home | Archives | Downloads/Podcasts | Advertise | Contact Us