Man Killed In OW - Father Speaks Frankly About The Hope and Heartbreak of A Wayward Son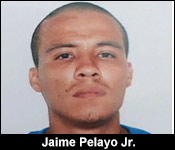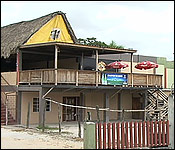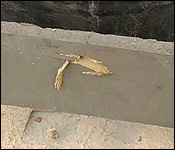 There was a murder in Orange Walk Town early this morning in front of a popular night spot. The victim is 35 year-old Jaime Pelayo, better known as "James" or "Doggy", and his own father agrees that he was notorious figure in the Town.
So, he may have had more than his fair share of enemies, but his family believes that it was not his troubled past that finally caught up with him. They say it was a random shooting. Our news team travelled north today and found his father remarkably lucid, plainspoken and heartbroken about his son's troubled past:
Daniel Ortiz reporting
Just before 35 year-old Jaime Pelayo Jr. killed this morning, he and a friend were having a few drinks at D's Gym Sports Bar & Grill, formerly known as Butchy's.
Police say that Pelayo was standing on the street in front of the business place, but his family's information is that he was on this wooden verandah when he was blasted in the chest by a man armed with a shotgun.
A few hours after the incident, when we caught up with his dad, the former soldier, he was processing the death of his second born son.
Jaime Pelayo Sr - Father of the Deceased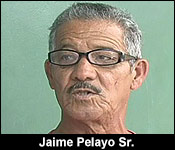 "I have buried over 60+ people because I was a military personnel for almost 35 years. So, every year, I have 1 or 2 to bury, but I have never buried one of my own. I knew what to do then, but now that it's mine, sometime it's difficult to know what to do now."
Pelayo was nearing the end of a 15 hour work-shift when the phone calls came rushing in that his son had been fatally injured. He learned that Jaime Jr., better known as "James" or "Doggy", was at his home with his wife and daughter left at around 3:30 AM to go partying with friends.
Jaime Pelayo Sr.
"And suddenly shots rang out, and unfortunately, he was the one that got hit. I would like to point out though that this has nothing to do with gang banging. This had nothing to do with anyone going to look for him etc. I was told by another reliable source who I spoke to before I came home that the fellow who did it was drunk, and he just went into his vehicle, pulled out a 16-gauge shotgun and started to fire rounds at the people, and James was the one who got the most hits in his chest, straight into his heart."
Police say that he was talking to 2 women on the street when the gunman pulled out his weapon and fired 3 shots at them. One of the women was grazed by the pellets of the shotgun blast, but Pelayo was hit in the chest, injuries which claimed his life shortly afterwards.
So, while his dad insists that this was a random shooting, he said that he had been preparing himself mentally for the day he would get that call no parent ever wants to receive. We found a father who loved his son, but who was not the least bit delusional about the man his child grew up to be.
Jaime Pelayo Sr.
"You know, as a father, with a son who is on the street - because he is my son. So, I could talk about my son who I want. My son was a really bad egg. Even the police was scared of him. The police had to go with rifles, and about 6, 8, 9 of them just for him. They were scared as hell of James. And I told my wife. I said, 'You know something one of these days, it's going to happen, and when it happens, it happens. So, what I did, I prepared myself for this day."
His dad says that his trajectory toward a life on the streets started after his mother took him and his brothers to live in the States.
Jaime Pelayo Sr.
"When James was a little boy, his mother took them - 3 of them to the States, and there is where his problems began. He was deported from the States, unknowingly, back to Belize. But, I get to understand that his mother did that. His mother deported him back to Belize, but she did that with the loving heart for him, so that they don't kill him over there, because over there, you either join a gang, or you get beat up badly everyday. So, he had to join this group, and they used to use him to go and do robberies in buildings because he is small and slim. So, they used him to get into the windows, and then, he goes and open the doors, and everybody big goes in through the door. He came back, he stayed with me, and I sent him to school. But again, friends is something very serious, you know, bad, bad, bad, bad. And he made friends with the wrong people. I tried to go back in time. You know, I sit down, I talk to my wife - because she was with me when James was living with us. We talked and said, 'What the hell happened'. You know? Where did we go wrong, where, where, where? We just can't find it. James had his ups and downs with the law, really ups and downs with the law. And I have spoken to him, more than once, stop doing what you are doing. But, he has a tendency that if he makes friends with you, and if you commit a crime, he will save you, and he will go. He has that - I don't know why he does that. He went to jail 3 years for somebody. He did nothing, but he went to jail for 3 years. Then, he went back another year, then he went back 2 years, and 3 year, and 1 year, and 6 months. You know, I make a joke of it. It's my son; he's my son. I love him very much. I make a joke of it that you know, he best get a warden's uniform because he goes there more than the wardens."
So, while this Jaime Sr. is unflinchingly honest about his son's life choices, this father remembers that he had redeeming qualities - which made this father hopeful that his son would leave the street life behind, and focus on his family.
Jaime Pelayo Sr
"James is a very loving son. He comes to me. We chat in peace. Before he goes, He wants me to hug him."
As you heard in our story, Jaime Pelayo Jr. leaves behind his 4 year-old daughter and his common-law wife. His family tells us that there had been 5 attempts on his life. He was shot in the abdomen during one of those attempts.
His father told us that he has been reliably informed that they have one man in detention. Police refused to confirm or deny that information.

The Explosion, the Aftermath, The Lack Of A Proper Permit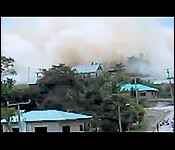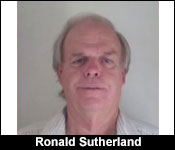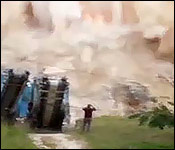 NEMO is on the ground in Santa Elena delivering relief to the 20 families that were impacted by Tuesday evening's explosion. NEMO says it has delivered Mattresses, stoves, butane tanks and food supplies, among other items to those families.
And while that is helping in the short term, Belize Roadway Construction - which had contracted Tiger Aggregates to do the blast - has been taking repair estimates from all the affected persons and is now preparing to make disbursements. The company will be working through the weekend, and some checks may be issued as soon as tomorrow. We are told two of the affected persons are making claims for new houses since their homes were completely undermined by the pommeling of huge rocks.
So while the post-explosion response is in effect - everyone is still trying to figure out what really went wrong. As we told you last night, the Inspector of Mines from the Mining Unit, Michelle Alvarez says there was no license granted to blast in this area.
Police said that Tiger Aggregates did have what is called a blasters license - which is issued from the Commissioner's office. But did he have one for that specific site in the Santa Cruz area? The police legal advisor, Senior Superintendent Bart Jones says he didn't need one. He told the media today, quote "Licenses are granted to individuals. In terms of site for quarry etcetera, those are outside the preview of the department." Now, those with experience in the field say that's not how it works - and that such a license has very strict formalities which were not observed. Police have not commented further on that rebuttal.

No Arrests Yet In Runaway Cocaine SUV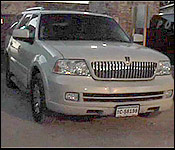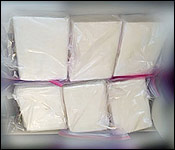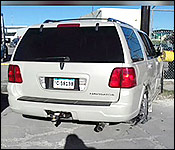 Police have still not found the driver or the owner of the Lincoln Navigator which was found with 6 kilos of cocaine at the northern border on Wednesday. As we reported, at about 2:30, the Navigator driven by a Ranchito resident was driving across the Mexican border- when customs officials there called him over for a secondary inspection. That's because the Mexican's did an X-Ray of the Navigator and saw something unusual in the dashboard area. That turned out to be a secret compartment - with a hydraulic door - which only opens when a certain key combination is pressed. Once customs figured out how to open it, they found 6 zilocked kilos of cocaine neatly stacked inside
But that wouldn't be found until after the Navigator made a dramatic high speed U-Turn at Mexican customs and raced back across to the Belize side, where he got a blowout and crashed into the fence for the Customs cargo area. From there, the driver fled on foot - and remains at large. Police have a photo of his driver's license from the Mexicans. The also know the name of the person to whom the Navigator is registered in Belize City - but no arrests have been made.
We'll keep following the story.

Rasheed Hyde And His Accomplice/Dad Get Bail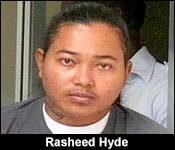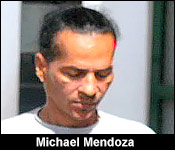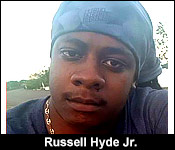 A week ago, we told you how Rasheed Hyde was charged with attempted murder for the shooting of his cousin, Russell Hyde Jr. Well tonight, Rasheed Hyde and his alleged accomplice and father, Michael Mendoza are out on bail. You heard right, Michael Mendoza, formerly Hyde is not only the alleged accomplice, but also the father of the accused.
Their attorneys, Herbert Panton and Leeroy Banner, applied for Supreme Court bail before Justice Adolph Lucas today. After hearing their arguments, as well as the input from Senior Crown Counsel Sheneiza Smith, Justice Lucas granted them both bail of $10,000. It comes with the conditions that they have to attend all adjournments; they must report to the San Ignacio Police every Friday; and that they are not to interfere with the prosecution's witnesses, particularly, the victim, Rasheed's cousin. In fact, they are not to go within 100 yards of him.
Russel Hyde was shot on December 4th, at a meat shop in San Ignacio Town. His grandmother said that he was lured there, and that the shooters waylaid him.


Judge Says No Bail For Armed Robbers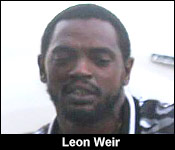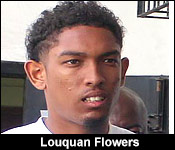 2 other men, Leon Weir and Louquan Flowers, also applied for Supreme Court bail today before Justice Adolph Lucas. They are the ones accused of the armed robbery of 45 year old businesswoman Zeneida Allen. She was at an apartment building at 4 Fullers Lane last week when a group of men barged in and snatched a bag with $8,800 in cash.
The pair were remanded on charges of aggravated burglary and wounding, and although Senior Crown Counsel Sheneiza Smith did not object, the judge refused to grant them bail.
Court reports are that police have video surveillance which captures the men committing the crime.
The strength of the evidence against them, and the prevalence of burglaries and theft around this time of the year are the reasons that Justice Lucas gave for his refusal to grant bail. He also ordered that they must be tried on or before March 14 of next year. If that is not done, then they can make another application for Supreme Court bail.

Air Canada, Come Een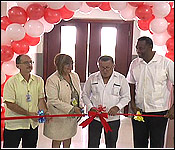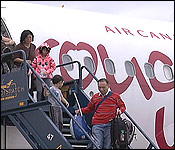 Travelers can now enjoy another direct flight from Canada to Belize. Air Canada's inaugural flight from Toronto landed at the PGIA this afternoon.
We found out how significant this new carrier will be in increasing airlift from the North American market - which is the breadbasket of the Belize tourism industry.
Jorge Espat, Belize Airport Concession Company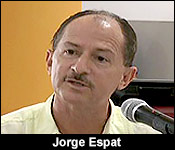 "The introduction of Canada's flagship carrier and the world's eighth largest airline, Air Canada is both remarkable and incredible. Thrill we are to welcome Air Canada to Belize. Today's new weekly non-stop service by Air Canada from Toronto Pierson's International Airport justifies the Belize Airport Concession Company's strategic investment and aims to meet and exceed both domestic and international passenger's expectations."
Hon. Manuel Heredia Jr., Minister of Tourism
"In reality it has taken a few years before this materialized. Any airline that you are courting will take a few years before it materialized. I believe that we started with Air Canada even before WestJet, so it's at least 5 years that we have been there. The important thing is that finally we have them here and we hope that they will stay for many years to come."
Reporter
"What are the possibilities with Air Canada now flying to Belize?"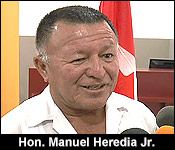 Hon. Manuel Heredia Jr., Minister of Tourism
"What will happen now is that definitely sure the number of passengers to this destination will increase. Air Canada as you heard from Mr. Jorge Espat is a very large international airline and it has connections in about 190 different countries. So we are looking that some of those passengers will be hearing about Belize and coming over here also. Also our students will have a better opportunity. The business community that have trouble passing through the US, then into Belize will now have an easier communication directly between Canada and Belize. They don't have to go through that Miami stop. A lot of people that want to come to Belize, they are so worried about having to stop or overnighting in Miami. Today we have the opportunity through WestJet and Air Canada that you can come directly to Belize in a very short time and you can enjoy more hours."
The flight will be twice per week. Heredia says that next year they are also looking to seal the deal with a US low cost carrier Jetblue. The end of this year has been quite notable in tourism with the opening of the Hilton brand Mahogany Bay Resort in San Pedro, and the signing of the Memorandum of Understanding for the new airport on San Pedro.

Long Lines At Airport Arrivals
And while the ever increasing tourists are welcomed, can they be accommodated? Belize's airport has been steadily expanding to accommodate increased visitor, but this amateur video which we saw today shows us that something's still very wrong! The video shows visitors lined up for hundreds of feet outside the arrival hall. No word on how long it took them to get processed - and we could not get a comment from the Director of Immigration. It's troubling because this footage was taken today, Friday, and there are significantly more flights arriving and departing on Saturday.

Caye Caulker Airstrip, Somehow, It'll Happen
But they're not lining up like that in Caye Caulker - and that's because that airstrip is closed for urgent repairs. But what money are they going to use to repair it? Last night we told you that the Social Security Board rejected a Belize Airports Authority loan application for the second time. That's after they trimmed down the requested amount from 7 million to 3.5 million. Well, today the Minister of Tourism told the media that they're going to find the funding one way or the other:...
Hon. Manuel Heredia Jr., Minister of Tourism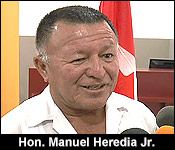 "My final word is it will be a 3.5 million either Social Security or somebody else we have 2 backup plan should in case. It will be a 3.5 million dollars hot mix airport wide and lights also on the runway."

PM Takes Leave
And he cannot ask the Prime Minister to reach into the public purse for the money - at least not until next week. That's because Prime Minister Barrow today left the country on personal leave.
He returns next Tuesday - and Deputy PM Patrick Faber will be acting PM in his absence.

Lots Or Action At Police Auction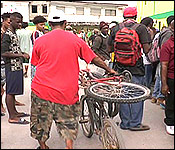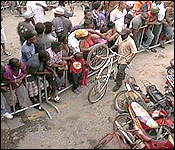 A bike for $10. Sounds unbelievable right? Well, today the Belize City Police Force made it believable. Over this year they have collected hundreds of bikes from perpetrators, crime scenes and as unclaimed evidence. And today they put them all on auction. The bike prices run so low because the majority of the them are extremely old and worn out.
But that did not stop deal-seekers from coming out in numbers, hoping for a rusty Christmas come-up. Here are what some happy customers had to say.
Sahar Vasquez, reporter
"So you bought this bike what was the price?"
Omar Martinez, Construction Worker
"$15."
Sahar Vasquez, reporter
"What interested you to buy a bike like this? It looks very old."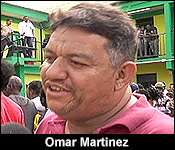 Omar Martinez
"I use it to sell the parts. I have a bike at home so I take this one for parts. I bought it to just take it for parts."
"100% satisfied."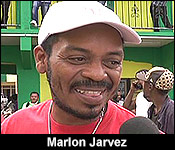 Marlon Jarvez, Fisherman
"I bought two on a deal. $20 for two. You can't go wrong, when I am done here I will paint them up like brand new. Trust me nothing here is old."
Sahar Vasquez
"How much did you get it for?"
Brian Burke, Car Washer
"25."
Sahar Vasquez
"Ok so you just bought a new bike but it looks like the tire is flat and the chain is coming off but you still bought it."
Brian Burke
"Yes I still buy it. Yes. I will be fixing it up."
Sahar Vasquez
"Did you really need a bike? Is this something very useful to you?"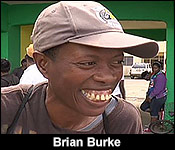 Brian Burke
"Yes ma'am it is."
In total 526 bicycles, 20 motor cycles, as well as assorted TV's, and tablets amongst other items were auctioned.
This is the 3rd annual bike auction held at the Belize City Queen Street Police Station.

Making Manatees Safer In the Sea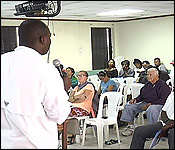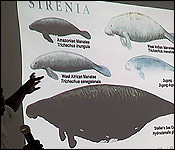 For years, manatees have been tormented by boats, whose motor blades often injure them in passing.
But, determined groups are working together to make a change for the manatees - and they're doing that by creating awareness in the people who use boats most: commercial boat captains and tour guides.
Today the fourth annual workshop was held for these vessels operators. Lead Presenter Jamal Galvez told us more.
Jamal Galvez, Sea to Shore Alliance Program Coordinator/Research Biologist
"We are providing them with information that they can actually use on their tours to their tourists. Data that they can present. The knowledge we will share between the results of the research that we are collecting. We are sharing with them so that they can know what their implications are and how they can contribute positively to a manatee conservation in Belize. It has mutual benefits here because they depend on these animals for tourism that goes hand in hand with conservation."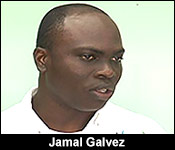 "Once they understand that I think that we can have this wildlife around us for a long time and we can continue to make tour guides make money from off these tours and stuff like that."
"Our efforts are not specific to tour guides. It is countrywide. It is to the lady at the shop. In all school. We try our best to give them this knowledge from a young age so that they are aware of these implications and know about it from a young age."
The workshop was held in collaboration with the Belize Tourism Board, The Forestry Department, and the Port Authority.

Jackpot Winner Lucked Out Just In Time For Christmas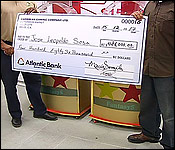 What would you do with half a million dollars with 10 days to go before Christmas? That's the happy dilemma facing one lucky Belize City resident Jose Sosa, who beat the odds and won the jackpot of $486,000 dollars.
It's one of the biggest jackpots ever, and Sosa becomes only the second winner for 2017.
But he didn't want to advertise his new wealth, and asked to appear off camera. Fantasy Five PR Karil Wallace told us that they knew a winner was out there, and were waiting for him to appear:
Karil Wallace, Public Relations Officer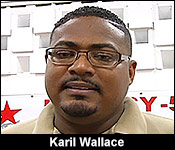 "After the draw had taken place at 8:00 we ran our tables and realized that someone had won. We realized after a little while after that the ticket was from Belize City."
"So we were hoping that the person would come in the next day because that is the norm but the person had come in today so he is here to claim his winnings. After taxes, he takes home $413,100. That is after taxes. That is how much he gets after the taxes."
Jose Sosa, Fantasy 5 Winner
"Yea I usually buy. I have been buying this number for a year now."
"I went to check the next day because I heard somebody won and when I checked the ticket I realized I won."
"I took long to come and collect it because I at the same time I could not believe it. I had to grasp it a little bit."
"I will pay off my house, my kid's education, and I will bank up the rest."
Fantasy 5 usually resets their jackpot at $150,000 but in the spirit of Christmas, they will be reloading it at $200,000.

Cops and K-9 Honored For Good Work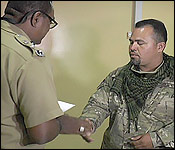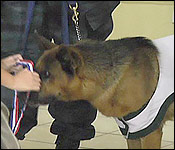 25 police officers were awarded for their exemplary work today. A ceremony was held today at the Queen Street police station to award the officers - just in time for the Christmas. Among the officers was K-9 Amigo. He was recognized for sniffing out about 23 pounds of weed this year. Here is more from the ceremony.
ACP Edward Broaster, Commander of Operations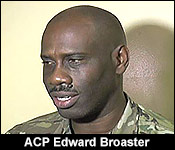 "We decided that we would award the hard working officers who have been putting in some serious work in the City to enhance citizen's security. Based on data that we have available to us through our analysis team, they selected the top 5 from each specialized unit to be awarded today. The officer commanding the K-9 Unit who work closely with the Humane Society have decided to have an award for the top dog of the year who has been "Amigo." Amigo has done a lot of great work in detecting drugs as well as firearm throughout the city, throughout the country on a whole and he is been the dog chosen for this year's award because of the significant number of seizures that he has made."
The officers got a monetary gift - while "Amigo" got a medal, and hopefully, also an extra serving of dog chow.

Hurricane Recovery Soldiers Returning From Dominica
A platoon of 35 BDF soldiers left for Dominica 6 weeks ago - and tomorrow, they are coming home. The BDF today informed the press that after assisting with the rebuilding of infrastructure on the island - the boys are coming home. They put in major work for the Dominicans - refurbishing two school buildings, and repairing the Catholic Cathedral of Dominica - among other tasks. A 7News team will be there to greet them tomorrow and you can see the story on Monday night's news.

A House With History On A Hill, for Culture
A building that was once a hospital and home to a graveyard has been transformed into the new NICH San Ignacio and Santa Elena House of Culture. After one year of renovation, the building was officially inaugurated on Wednesday.
Now, it got overshadowed by two events: the explosion in Cayo, and the opening of the adjacent 1.7 million dollar town hall. That new building has all the bells and shwitlhes while this renovated one has history. The house of Culture Coordinator told us more about it today via phone.
Lupita Ferguson, San Ignacio/Santa Elena House of Culture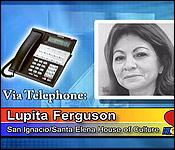 "It is a building that is over 100 years old, it was known as the Cayo Hospital and it is situated on Hospital Street. It was the second cemetery for the El Cayo as it was known then. And so presently there are still tombs at one end of the building that can been seen dating back from 1902. It has many different rooms as it was the old hospital, so we are hoping to actually have much more events, much projects to work on to liaise with the community. Let the community be a part of the new house of culture. Yes, we have 2 galleries; we have a music room, a conference room that will be for rent with a beautiful view of course of San Ignacio and Santa Elena Town. So yes, its excitement for the new San Ignacio/Santa Elene House of Culture and therefore for the twin towns."
And to celebrate the San Ignacio Santa Elena Town Hall and House of Culture, Cayo's culture scene is alive tonight with the Mr. Peetaz Bruk Dong Bram at the Falcon Field.
The Festival continues tomorrow in Belize City from 12:00 noon until midnight at the Courthouse Wharf.

Remembering The Legends
And to get you in the mood for that all day Bram - we dug into our archives for footage of the 2005 Brokdong Festival when the now dearly departed giants Mr. Peetaz himself and Leila Vernon held sway over the stage.
They did so with Kenny Morgan in an unforgettable show of kriol culture and folk music.
We leave you with that tonight, I'm Courtney Weatherburne, enjoy and join us back here on Monday.
7News for Friday, December 15th, 2017 from 7News Belize on Vimeo.

Home | Archives | Downloads/Podcasts | Advertise | Contact Us