Sayonara, Northern Explorer Hightails It Out Of Belizean Waters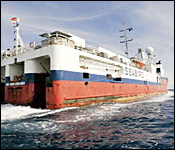 The MV Northern Explorer hightailed it out of Belizean waters this afternoon, after a muscular pushback from the citizens of San Pedro, and the conservation community. This is video taken by OCEANA at 3:30 this afternoon, and it shows the 250 foot ship travelling at something close to full throttle - seemingly in a hurry to get out of Belizean waters. OCEANA's crew followed it right up to the English Caye Channel - which is the point of departure for ships.
It's a sharp turn in events - just yesterday the Northern Explorer was conducting seismic surveys, meaning that it was blasting pressurized air unto the sea floor near San Pedro.
But in what has to be called an inspiring show of people power, San Pedranos came out in numbers yesterday to make their extreme displeasure known at a consultation hosted by the Ministry of Tourism. The Area Representative Manuel Junior Heredia got his marching orders from the community and told the Prime Minister that the islanders weren't going to stand for it. So, the government quickly had to wheel and come again, and within two hours announced that seismic operations had been suspended. Government says that it will suspend those operations until consultations can be conducted. With that, the MV Northern Explorer got a directive to cease seismic operations immediately.
That about turn surely costly someone a lot of money, and today a Texas based advocacy group representing what is called the "geophysical industry" sent out a release saying quote, "Environmental activist groups have increasingly used misinformation targeting geophysical surveys in an effort to halt oil and gas exploration and development. One such example…is their recent propaganda attempts to mislead the Belizean community to believe that seismic surveys are harmful to marine life and threaten fishing and tourism. These allegations are simply false."
It adds, quote, "Their assertions are speculative and anecdotal at best, pointing to what might or may occur, but has not occurred after more than 50 years of global seismic data acquisition."
It concludes, quote, "Unfortunately, the dialogue on this critical issue is too often marred by false and exaggerated claims from anti-oil and gas groups…positions and decisions by the government should be based on accurate and truthful information.."

PUP Calls For Referendum On Offshore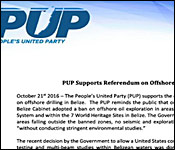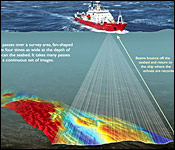 Well, opponents of those surveys say the facts are clear enough and they are celebrating tonight that people pressure pushed the seismic testing vessel out of Belizean waters. But while the MV Northern Explorer has left Belizean waters, there is still more work to be done for the environmental community. The Coalition to Save Our Natural Heritage has urged the government to hold a national referendum and allow the Belizean people to decide whether they want offshore oil exploration or not. The PUP today sent out a statement demanding the same thing, and Senator Valerie Woods explained the Opposition's position.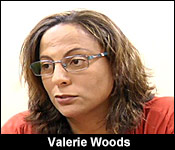 Valerie Woods - PUP Senator
"I think it's very clear based on the release. Back in 2015 the government of Belize did issue a ban or a moratorium if you will on offshore drilling particularly as it relates to the barrier reef system, and in areas that was not specific to that system but was near that system. It was very clear in the government press release back in 2015 that there should be stringent environmental studies for obvious reasons. It is a critical natural resource, and let's not forget that the world heritage site was also in danger of being put off that list. And so the PUP considering the feedback that it has gotten from the Coalition to Save Our Natural Heritage and of course on the outcry expressed from the community of San Pedro, fairly believes that the seismic survey and multibeam surveys that were already contracted by government and was about to get on the way, some indications are already started. That it not only needs to be suspended, but it should be banned and all activities related to offshore drilling should be banned so that the people of Belize can have proper ventilation on the issue, and that we feel should be done through a referendum."
Hippolito Bautista
"In terms of the environmental studies one of the things that most of the environmental community were asking for the EIA. The CEO, Mr. Alegria, he explained-attempted to explain that in this case an EIA was not necessary."
Valerie Woods - PUP Senator
"So, we obviously take issue with that feedback from Mr. Alegria and common sense dictates quite frankly that if you're going to deal with the marine resources, particularly anything relating to our Belize barrier reef, the second largest in the world, the World Heritage Site in this country, that area that feeds so many people of this country that so many industries depend on, and based on an activity that let's not forget had a people's referendum because the government rejected the call for referendum on that national issue, and the results of that people's referendum states, or clearly showed, that the majority does not want offshore drilling. So we feel that the responsible approach should be just have an official national referendum and let the people of Belize decide if they want offshore drilling and exploration or not."
Now the ball is in the government's court. The moratorium on offshore oil exploration is supposed to be on the agenda for Tuesday's Cabinet meeting. The last time the government resisted holding an official referendum, OCEANA held an unofficial one and 96% of the almost 30,000 people who showed up voted against offshore drilling.

Ministry of Education Suggests Holding Back On Docking Pay (For A Month)
Last night, we told you how the Minister of Education, Patrick Faber, made a proposal to BNTU president Luke Palacio suggesting how teachers who were on that eleven-day strike could still get paid.
The BNTU and the Ministry would work together to come up with fund out of the union's strike funds and government would chip in the rest.
Palacio has responded saying that he needs time to get instruction from his union's council of management. And so government has thrown in a sweetener. Faber now proposes that teachers will get their full paycheck come next week Friday. Here's his plan:
Hon. Patrick Faber, Minister of Education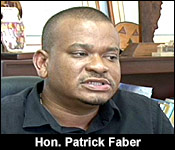 "Just a while ago we decided to delay the withholding of the salaries from this month of October. We would put it off until next month to give the BNTU ample time to answer the proposal that we have put forward. This is also being done because we have a few of the managing authorities, particularly the largest one, I think the Roman Catholic management. That is saying we have so many schools and teachers that it's hard for us to compile this information. Remember that the strike had gone up until Tuesday I believe, so we still are gathering information. It's hard for us to meet the deadline of 4:30 today, Friday. So we have said 'okay we won't interfere with the salaries for this month of October, but rather we will move with those deductions at the end of the November month."
As you would remember yesterday, the Ministry of Education sent out a memorandum to the managing authorities giving step-by-step instructions on how the deductions should take place.
Today, we asked Faber about the reason for this memo, and here's what he had to say:
Daniel Ortiz, 7News
"Another memorandum from Dr. Carol bob went out giving instructions to the managing authorities, how exactly this calculation from deduction must take place. You're not expected to do any partial deductions, for those who think that that is some move calculated at malice to make sure the teachers feel for their 11 days absence, can you speak to that?"
Hon. Patrick Faber, Minister of Education
"Well that is the instruction that went out indeed, but again I make the point that I have said to Mr. Palacio in writing that in fact we want to discuss all of these issues and I am saying now that the deductions won't be made for this month, they will be made for next month. If we want to discuss that kind of thing, if the deductions will go through and they are saying we don't have a strike fund and we can't make those contributions and the final decision would be that the deductions will be made, then let's talk about this. I am hoping that Mr. Palacio will come to the table so that this kind of discussion can be had. The fact that we have dressed down, so to speak, the deductions give us ample time to do a lot of things."

So, Why Not The Strike Fund?
So, as we told you, the premise of Faber's compromise is that the Union must use its strike fund to come up with the amount to pay all the salaries that would have been cut. If they can't meet the entire amount, that's where the Ministry steps in, and the Government will make up the shortfall.
Here's how Faber explained that:
Hon. Patrick Faber, Minister of Education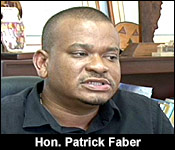 "There will be the deductions from the salaries, that has not changed, but yesterday I did write to the president of the BNTU proposing that we might be able to be of assistance to those teachers who were on strike, because we believe that we can assist if the BNTU believes that it can put forward the money that have been withheld as a monthly contribution for the teachers to go into a strike fund. that is our way to make sure that our teachers are comfortable. Especially since the children are at the forefront of whatever it is we are doing here and we believe that there is the need for makeup time to happen. now if it is that teachers aren't paid, especially from the government if the pay is withheld then that question about having teachers go back the classroom to assist overtime to help students to make up time, becomes difficult. If you don't pay more you can't expect them to go back, but if it is that there can be a kind of payment from the strike fund subsidized by the government then that gives us a foot into the negotiations to try to work out make up time for the students. In my response to Mr. Palacio after he indicated that he was unable to make the proposed time, I said to him that I am available to meet any part of the weekend."
Palacio granted an interview last night saying that is not the strike fund's purpose. According to the BNTU President, it is to cover expenses for mobilization of teachers whenever they are on industrial action, not to pay salaries. Today, Faber challenged him on that, saying that the President well knows that a resolution was passed at the 42nd Convention of the BNTU, to amend the use of the strike for just this purpose. Here he is making that point:
Hon. Patrick Faber, Minister of Education
"We believe that the union is being a bit disingenuous on this issue. While Mr. Palacio did not answer me directly to say that the strike fund cannot be used for this issue, I believe he gave an interview to some of the media folks. I certainly saw it on channel 5 and in that interview he was saying that the strike fund doesn't have that as its purpose, that in fact the strike fund is a kind of fund for activities while the teachers are on industrial action. I promptly remind him of a resolution passed at the BNTU convention, I think it was the 42nd convention held in orange walk where the resolution made clear that the strike fund was to be redefined to pay teachers who were denied a salary as a result of strike action. So unless there is something wrong and I would really love for all of you in the media to question Mr. Palacio about that resolution. The issue is that we are asking for the union to be responsible to encourage teachers to go on strike, you have been the persons who have done the interviews. You have seen the countless numbers of officials of the union and regular members of the union who have said that they don't care about the deduction of their pay, that in fact the union has their back because they pay a contribution to that strike fund. So we are asking the union to be responsible, the government wants to resolve this matter but it is not as easy as some folks would say. 'Just pay the teachers', so then what becomes of those teachers who did go to work, are they to be given additional money for the fact that they did go work? And where is that additional money to come from if it is, we're going to use the entire money available for this month to pay the teachers their full salaries."
But, is that the only reason for turning attention to the strike fund? We asked the Deputy Prime Minister if there is any move to sap the Union of its financial resources, which then limits their ability to further engage in industrial action. Here's how he answered that one:
Daniel Ortiz, 7News
"What if they make use of that fund for financing mobilization of teachers, financing food and whatever while the teachers are out on strike activities? Would this then not be a move calculated at crippling their ability to move and show their muscle to the government?"
Hon. Patrick Faber, Minister of Education
"Well we don't get into the affairs of the union necessarily, how they fund their activities when it is they decide to go on industrial action is entirely their business. But what we do know is that the teachers contribute to what is deemed a strike fund. What we do know is that in orange walk in 2012, there was a resolution passed by the membership of the BNTU to say that the money of what is deemed to be the strike fund should be used to assist teachers if it is there is a strike and that their salaries are being withheld. I think that everybody can see that it is clear that this is one such situation. So we want the union to be responsible, this thing goes both ways, they have clamored for good government, they have clamored for government to be honest, open and upfront, well let's get that same kind of transparency from them. Let them say to the membership what is really going on with the strike fund money."

Guatemalan Vessels In Sarstoon Waters Again!?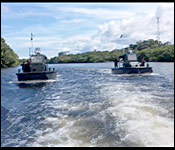 There is new video tonight showing Guatemalan navy vessels allegedly making incursions into Belizean waters. The first video is from 11 days ago and it shows three Guatemalan vessels which, we are told, paraded around Sarstoon island. Information suggests they were celebrating a navy-man's promotion.
Then one week ago on October 15th., another Navy crew came into the Belizean side of the Sarstoon - this one reportedly from a base that is more inland. They were reportedly interacting with an event in the river-side village on the Guatemalan side.
They also reportedly made incursions into the Belize side of the river and then blocked a BDF vessel - which is captured in this video. When the BDF vessel moved to avoid the Guatemalans, it was the familiar dance, as the Guatemalans moved to block them again. After this the BDF vessel took another tack, and went to check that no Guatemalan vessel had approached the Sarstoon island.
None did, but one of the vessels did reportedly pass in front of Belize's Forward Operating Base and then dart back into Guatemalan waters.
We received this video late, and were unable to confirm what the BDF response was. We'll follow up next week.

The Candle That Caused A House To Go Down
Belize City resident Anna Card is homeless tonight after a fire gutted her home at mile 2 and a half on the George Price Highway. She left her home at a little before 8 to run a quick errand, but she left a lighted candle in the house. For that single oversight, she paid the ultimate price because it is suspected, that the fire was caused by that candle.
Daniel Ortiz visited her today, and he has her story of loss and lamentation:
As you heard, Card says that BEL's accusation caused her not to have power in her home. She started using candles because she couldn't afford to pay the electricity which she says they're accusing her of stealing.
Today, we contacted BEL for comment, and a PR representative said, quote, "Whilst, we are not aware of the specific case, typically, if a customer is unable to pay their bill at the due date, a payment arrangement is offered. In cases where customers are found stealing power, they will be disconnected. Once they accept liability, a payment plan is arranged for the power consumed and they are reconnected.
We encourage customers to report when they are aware of others who are using power illegally and unsafely. Customers are reminded that they are liable for any power that is consumed through their service entrance. Customers who can't afford a service entrance, which is needed for safe and proper connection, can apply to BEL for assistance. Interested persons must make a commitment to paying their electricity bills, to be eligible for BEL's service entrance program."
Anyone wishing to assist Anna Card can reach her at phone number 627-8788.

Marlon Castillo To Pay Fine For Friendís Death Whose Family Says Let It Go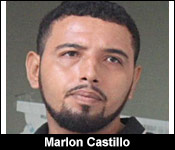 Elite cyclist Marlon Castillo was fined today for causing the death of his lifelong friend Ariel Rosado. He pleaded guilty on Tuesday to the lesser charge of causing death by careless conduct and today the court ordered him to pay a total of 13 thousand - a five thousand dollar fine, and eight thousand dollars to Rosado's Estate for his 11 year old daughter. The judge could have fined him up to ten thousand dollars.
In an interesting turn, Ariel Rosado's family asked the court for leniency for Castillo. In her mitigation plea, Dorla Rosado made it clear to Judge Lucas that the family of Ariel Rosado was seeking no compensation.
They sympathized with him and just wanted to put the traffic death of their son behind them and to remember him for the friendship Castillo and Rosado shared when he was alive.

Hon. Marin Not Moved By Tsunami of Scandals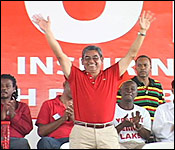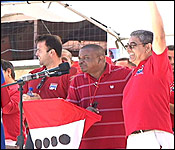 The Barrow Administration has been trying to keep its head above the tsunami of scandals and shady deals, but a couple party members have gone under. Most prominent among them is Gaspar Vega; he was forced to resign from Cabinet after his son's mega land deal was revealed. Well, Prime Minister Dean Barrow has already expressed sadness and regret following Vega's departure and today we met fellow Norteno, Minister of Health Pablo Marin and he too shared some kind words about his colleague. Marin also told us that although the party is going through a really damning time right now, all the good the UDP has done will somehow outshine the bad.
Hon. Pablo Marin, Minister of Health
"It is hard for all of us, Gaspar Vega has been a person who has worked hard for the party, he has helped a lot of standard Bearers in their time of campaign and he has been out there with the public, he is a nice person I can say that but I think his decision is more personal than anything once you encounter that, the public will condemn you , they don't see all the good you have done, they don't see all the good you have done , maybe it was a mistake that happened with his son and it is hard for us also, he is my good good friend. We will miss him."
"It will affect us we cannot say no, we just have to be strong, continue our work, the day to day contact with our people."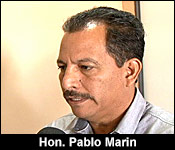 "If you see the amount of work the UDP has done in the past years, it can show that we are a working group , we give so much to the country, I don't want to bring the past with what the PUP did because we don't want to bring up the past , but what we are doing and what we have done , and I think the Prime Minister is something we can look at whenever one of our minister goes the wrong way, he deals with it, with the Penner situation , he immediately removed him and right now with Gaspar Vega, he is out and with John Saldivar , he is looking at it because he is not playing, in the PUP you can see the same old people there , you see John Briceno , you see Musa, you see Fonseca, now that is the difference with our party."

Faber Comments On Demise of Former Adversary Vega
So, while that's Pablo Marin's position on Vega's fall from grace, what's the perspective of the Deputy Prime Minister on the land scandal?
While we had the opportunity, we challenged him on the Prime Minister's handling of the case, and here's what he had to say:
Daniel Ortiz, 7News
"The teachers made a moral stance. if I'm to understand them and to be fair, to stand up for good governance and it could be perceived that 'oh the big bad government is punishing them for daring to strike at the gods', when you have a situation with Gaspar Vega whose tumultuous exit is questionable at least."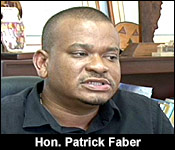 Hon. Patrick Faber, Minister of Education
"Well in your question you assume that there is some kind of letting off the hook for Honorable Vega and I can't agree with that premise. you've heard the prime minister and in fact the minister of lands, Honorable Vanessa Retreage, say that in fact there is an audit of the activities that happened in the ministry of natural resources and that in fact they will continue to pursue that and also the recovery of the monies having to do with the case relating to Mr. Vega and his son."
Daniel Ortiz, 7News
"There is this belief that more should have happened. A criminal investigation should have been triggered to handle the full weight of what is suspected to happen."
Hon. Patrick Faber, Minister of Education
"Daniel that's the point that I'm making. Nobody's saying that that is not going to happen. Nobody said this case is exempted from any.... The contrary is being said, that the attorney general is now saying this investigation will continue and I'll tell you I have a lot of confidence in the AG. We maintain that what makes the united Democratic Party different from any other political party is what we do when that corruption is proven and the facts are given. it's not that corruption is not happening, it's what is done and if you check the record of the Rt. Hon. Prime Minister, you will see that every time he is confronted with these situations and he's given he kind of evidence and facts, that he is able to do something. He tries to be fair to all parties concerned but he acts."
Daniel Ortiz, 7News
"Does it not give you cause for concern where a scandal is breaking and the maximum leader of your party appears that he is sluggish to handle the matter. Why would it not be in the UDP's interest to get out in front of the scandal? The proof was put out in the public almost in a naming and shaming fashion."
Hon. Patrick Faber, Minister of Education
"Ordinarily, I would appreciate that criticism, but given that the situation is that there is a climate of clamoring if you will for the government to fall. You have to be careful of anything that is put forward. The Prime Minister was slow in terms of his deliberation, he wanted to make sure that these claims were made."

Marin Not Worried About Senate Probe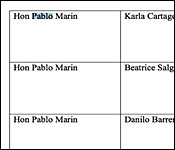 Going back now to Pablo Marin, could he like Vega and Saldivar, be next to be disciplined by Daddy Dean? His name does appear in the Audit of the Nationality section of the Immigration Department about 20 times. We asked him if he fears what will come out of the Special Select Committee investigation regarding his actions. Marin told us that he doesn't fear the outcome and that all he did was help his constituents.
Hon. Pablo Marin, Minister of Health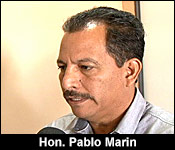 "I have confidence enough that I have already seek a lawyer to fight my case. Because what I did is sign letters and if I can give you those letters, those letters state you know what can you please help this person and it's not only one particular person. I have a list of maybe 5-6 persons at that moment. I have in 2015, the letter given to Minister Hulse at that time and it has people from 2012 asking for nationality, for residence. That is what I did and I was speaking to one of the persons in Corozal and I said you know what, how much I charge? He said nothing. From when are you trying to get your nationality? It's been years. I said why don't you take that moment and call the media and say you know what, this is what the Minister is doing. I feel confident enough that you can go in Corozal and ask the Hindus,' the Chinese, ask the Guatemalans - any person there what has Pablo done for you. Did he charge you? And you see definitely that Pablo didn't charge. Pablo give a letter trying to help because that is what we need to do in our constituency. We need to help our people and that is what they put us for."

CBB Governor Grant Defends Reserves
And while Marin defends himself, today, so too did the Central Bank. We caught its new governor Joy Grant at a Bank event where we asked her about the state of the official reserves.
This is after last week Friday, the PUP declared that Belize's foreign reserves were quote, "dangerously low" after government was forced to pay US$67.5 million to the Ashcroft Alliance. But how low is it? Governor Grant set the record straight.
Reporter
"Ma'am, since we have you here, can you address for us Belize's foreign exchange situation? We were told that the government did procure those US dollars to pay the former owners of Belize Telemedia Limited."
Joy Grant, Governor of Central Bank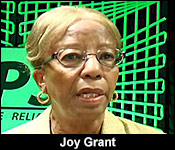 "Yes, we did the payment earlier than the court ask us to do. So that's done. We all know that with Hurricane Earl and with the productive sector, banana, citrus, shrimp - all having a down turn that we are very much engaged in reviewing our foreign currency situation, foreign exchange situation on a regular basis, even maybe more than before. And also looking to projections so that Central Bank will be able to ensure that the payments are there in the future."
"But I want to assure the Belizean public that there is no crisis with foreign exchange. We have foreign exchange. We are doing everything as a jurisdiction to make sure that foreign exchange will be there for the business community and others who needs it. However, because we have said before that there's been a large outflow within the last few months, because of these extraordinary payments that there's been a decrease but that there is sufficient foreign exchange in the system to continue to operate."

New System To Clear Checks, Make Payments And Transfer Funds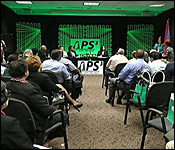 We spoke to Grant and her deputy Governor at the launch of the Central Bank's newest project. APS3, or the Automated Payment and Securities Settlement System. It's a new electronic system that will make banking in Belize more efficient. APS3 will cut the time it takes to clear checks, make payments and transfer funds in half by connecting banks to the system. He's how the bank officials put it.
Joy Grant, Governor of Central Bank
"First, its right for me to recognize the previous governor and the work that he has done. But to say that I firmly believe that for any country to develop has to embrace technology and this is a way for the financial system in Belize to embrace technology so that we become more efficient and hopefully that the cost to the consumer overtime will decrease for transactions that they do now without thinking, but that are important for the running of this economy."
Reporter
"The investment that placed into this project for the past 6 years, is it worth it what we are going to get out of it?"
Joy Grant, Governor of Central Bank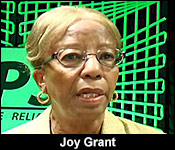 "Well we didn't say the figure, but I could tell you that its millions of dollars for the equipment and for staff time, but to echo what the chairman said, it's not a choice. We have to move into the future and to do that we have to make sure that we have the systems in place. For example, if you were waiting for 5-7 days to get funds in your account and you now could get it in one day. That means that you could do more with that money overtime. For the small transactions on an individual basis, it probably doesn't seem like much, but for large value transactions, there is a lot that can be done with those funds if they had it available in a much shorter period of time."
Reporter
"How can the Belizean public and corporations and businesses be sure that their financial information won't be hacked or taken from somebody who wants it?"
Joy Grant, Governor of Central Bank
"That's a good question, because in electronic systems there is always that possibility and if you look in the news for the last few months, you know there's been hack in the banks and I could go on and on. So initially they got to stage when we were ready to roll out, but they took the extra time to make sure that your information will be secured."
"But I am going to be the first to say that this is not something that's static. We have to constantly be reviewing our security systems to make sure that the information is 1) protected and 2) that your funds will not go somewhere where it shouldn't."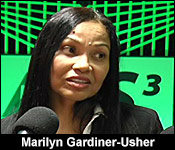 Marilyn Gardiner-Usher, Dep., Gov., of Ops., - Central Bank
"Every single domestic back right now is fully onboard. They are fully connected to the system and today they are operating via the system. So there is one payment instrument, the cheque which I don't have a problem with that will be coming on in the next 3 weeks. Why I say I don't have a problem with bringing that on in the next 3 weeks is because I really want people to try to use our electronic funds transfer instruments and services via APS3. These are much more efficient than cheques. We are going to keep cheques as an option, but we want to reduce its use. So while we won't be removing it totally from the options to the people of Belize, we encourage you to use the other electronic transfer services provided by APS3."
APS3, as of 8:30 this morning, is up and running and promises to make banking efficient and secure.

Former Taxman Takes Over FIU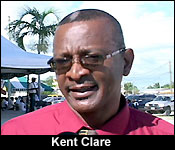 And since Joy Grant has moved from the FIU to the big office upstairs at the Central Bank, who will be the new director of the FIU? Well, former Commissioner of Income Tax, Kent Clare is the man.
The Governor General, Sir Colville Young, signed his letter of appointment 10 days ago, and Clare is now in the Director's seat.

Nothing To Doug Singh Stories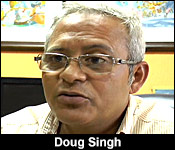 So is Clare's appointment the reason all these rumours are popping up about the FIU searching Doug Singh's office and home? We have no idea, but we can confirm that they are only that: rumors. We spoke to Singh today he confirmed that no one has searched his home or business - where operations continue as normal. He says that however persistent, the rumours are baseless and he won't dignify them with a response. He is currently travelling in the far east.

Where Tourism Makes A Difference In Health
When tourists arrive on our shores, it's all about maximizing the opportunity to generate revenue, and of course making sure they have a great time so they keep coming back for every vacation . Well the Ministry of Health and the tourism industry say, it should also be about the health and safety of the tourists during their stay, which in turn will impact the health of Belizeans. And the Tourism and Health Program will focus on this aspect of tourist arrivals. It was launched today at the Radisson and we found out more about how this surveillance program will work.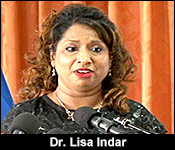 Dr. Lisa Indar, Head - Tourism and Health Program - CARPHA
"Health and safety does impact on tourism. Tourism and vice versa impact on health, safety and security. Our visitors, we want our visitors to come in, but they can bring diseases with them. First cases ZIKA, Chikungunya, H1N1 all came in through a visitor. So we want to ensure that if that happens that we have systems in place to identify very quickly so that we can have appropriate response. So you avoid spread, you avoid negative publicity, you avoid it going into your population and overall you are reducing the impact on your country."
Abil Castenada, Chief Tourism Ofc., - Ministry of Tourism
"Sometimes we have had some of our guests at our properties, in the hotels or on the cruise ships and they feel ill. However the type of information is not taken in formally, so that there is no way for us to track where it is and what symptoms they were feeling and being able to correlate with possible diagnostic etc. and then be able to then pass that over to the public health, because if we talk about diseases such as Ebola, diseases like measles and other diseases that are highly communicable, then it's an issue from a public health perspective that we need to have as much information so that we could know how to be able to stem the problem."
"It's a system that's being work along with the private sector and of course it's going to be something as was mentioned today started as voluntary for the private sector, for the hotel sectors and our tourism industry partners to assist in supporting this system, so they will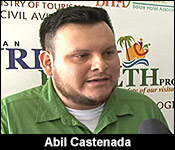 be responsible in actually collecting the data and all of that. But the program itself is developing a website platform in which they would be able to collect that data, input that data into the website platform and then that particular information would be available to the public health ministry for instance or the departments so that they be able to monitor and see well maybe this person is presenting a certain type of symptoms, then we maybe move on that. That maybe could be patient zero if we have some sort of epidemic or crisis. So that's kind of the public/private partnership that's being worked on right now."
Training has already begun for those in the hotel industry, and at the airport and border to detect and document tourists' health condition. Castaneda told us that so far for September, tourist arrivals have increased by 37 percent but this program is important to have in place just in the event of any serious outbreak.

Cops Give Props To Michael Young
Michael Young has passed, but his legacy both in the legal profession and in the social sector endures. Truth is, Michael Young, the social activist was involved in so many different efforts to mitigate violence that even the players in that sector probably didn't know all that he did. From the Crimes Commission to Restore Belize, to the Police Department, he covered all bases - you could say that finding a cure for social ills was his passion. Today the commanders of northside and rural honoured him for supporting and serving on the executive of the People's Coalition Committee.
The Charm week runs from November 20th to 27th.

Cops Say Young Death Still A Sudden Death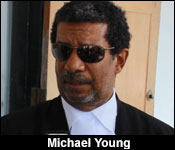 Police still cannot confirm that Young committed suicide. Today they released his port mortem which simply confirmed what we all know; that he died from a gunshot to the head. But, still, it is being treated as a sudden death. ACP Dezeree Castillo told us why:..
ACP Dezeree Phillips, OC, Eastern Division North
"There has to be a report receive from the ballistic expert as well as that from the forensics in order to conclusively conclude to the determination as to the cause of death."
Jules Vasquez, 7News
"So it's still a sudden death?"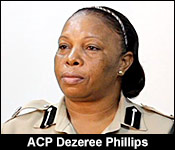 ACP Dezeree Phillips, OC, Eastern Division North
"Yes."
Castillo says that the final report on the cause of Young's death will be a collaboration between the pathologist, the forensic department, and ballistics testing.

Heart Patient Needs Help
Well known James bus line driver, 44 year old Tyron Coleman lies at the KHMH emergency room waiting for a miracle to get him to the Cayman Island for a delicate open heart surgery that could save his life.
Today, family members visited our studio to tell us why they are desperate for help:
According to studies carried out by Cardiologist Doctor John Gough Coleman has been diagnosed with coronary artery disease. Tyron Coleman is the father of a 7 year old daughter. Any one that would like to help the Coleman family can do so by contacting them at 633 -4772 or at 633- 3436 or you can make deposits to Scotia Bank account 1902322; Belize Bank account, 5514 PG Branch and Atlantic Bank account 211-49-7904.

Home | Archives | Downloads/Podcasts | Advertise | Contact Us